Introducing the NEW Spectacular Pretty Links Setup  Wizard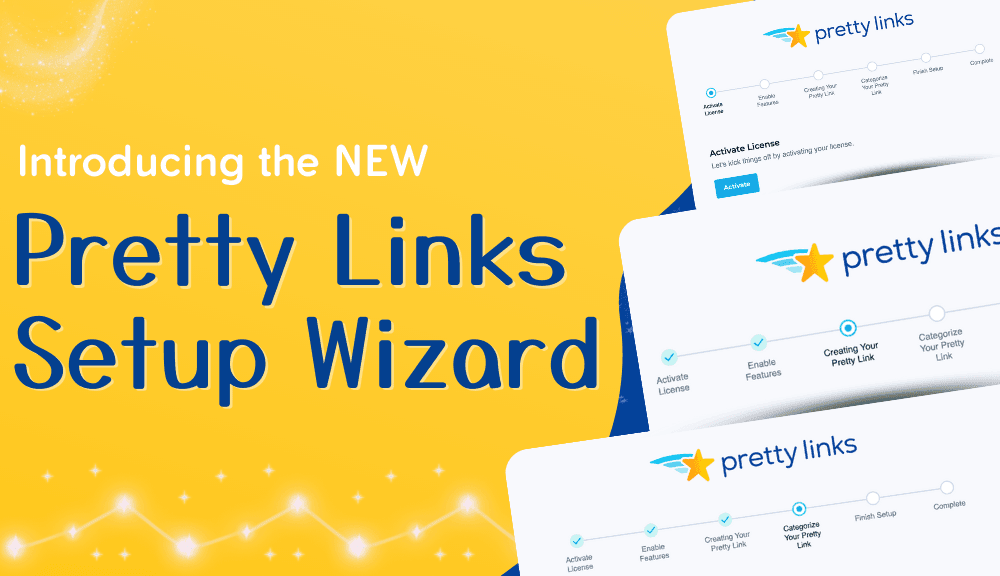 Step into the magical world of affiliate marketing with the NEW Pretty Links Setup Wizard!
Have you ever felt a magical pull toward affiliate marketing? Working from home in your wizarding robes, getting paid to promote products you love – it's quite alluring, right?
Before you get too caught up in this half-true spell, affiliate marketing comes with its own set of mythical beasts to tame.
Without the right link management tools, you'll be like a sorcerer without a sword – surrounded by long-tailed affiliate link dragons and sinister forces trying to swipe your hard-earned riches.
But fear not aspiring affiliates, for we hold the key to your triumph!
Experience the magic of the NEW Pretty Links Setup Wizard, specially designed to help beginners conquer the world of affiliate marketing with ease.
No more struggling to figure things out on your own. We'll guide you through setting up your affiliate marketing business in just 5 simple steps, so you can start earning with your very first link!
Let the enchantment begin!
Introducing Pretty Links
Pretty Links goes above and beyond your average link management tool. Our WordPress plugin simplifies and streamlines every aspect of running a successful affiliate marketing business.
From link shortening and cloaking to sharing, tracking, and automating your affiliate links, Pretty Links handles it all – effortlessly.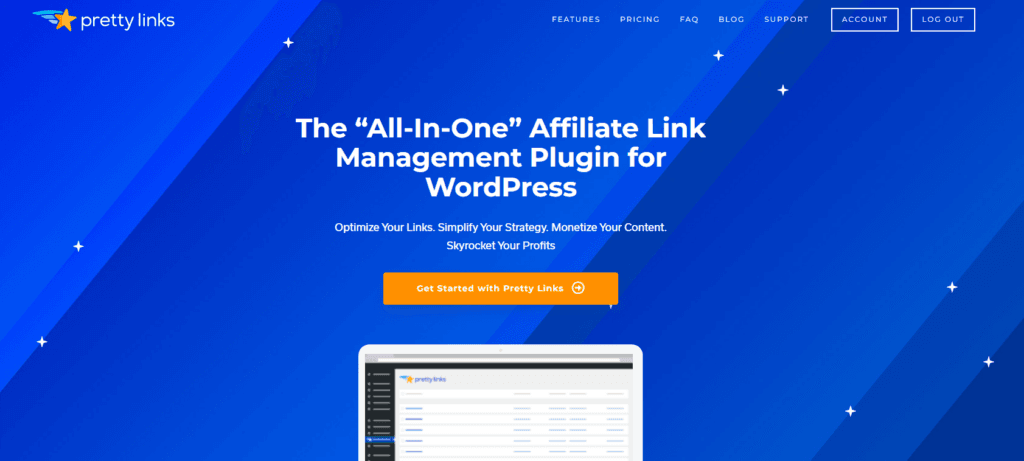 The hassle of dealing with long and clunky affiliate links becomes a thing of the past. Pretty Links works its magic to turn those eyesores into elegant and compact URLs that not only look awesome but are also super easy to remember and share with your audience.
And Pretty Links doesn't stop at aesthetics either; we've packed our plugin with an array of analytics and tracking tools that unlock invaluable insights into your link performance.
Want to know which links are driving the most conversions? No problem.
Need to track the effectiveness of your marketing campaigns? Consider it done.
Now, let's talk automation and efficiency. Pretty Links empowers you to automate tedious tasks, such as affiliate link keyword placement, saving you precious time and effort. Plus, it's 24/7 monitoring for broken URLs ensures that your links are reliable and functional, enhancing user experience and boosting click-through conversions.
Whether you're a social influencer, a passionate blogger, or a talkative podcaster, Pretty Links is your all-in-one solution to boost your brand, increase clicks, and unlock the full potential of your affiliate revenue.
Get Started with Pretty Links: 5 Setup Wizard Steps
If you've been putting off starting your own affiliate business because it seemed too complicated or you felt like you were in it alone, we totally get it. Taking that first step can be intimidating. That's why we've made it easier!
With our NEW Setup Wizard, we've simplified the process by breaking it down into 5 simple steps, ensuring that you start off on the right foot!
We'll get you rolling through the installation and activation of the Pretty Links plugin. After that, we'll move right along to creating your first pretty link and putting categories in place to help keep your marketing strategies organized.
So no more waiting around! Let's kick-start your affiliate journey today! Your dreams are well within reach, and we're right here to support you every step of the way!
Step 1: Purchase and Install Pretty Links
Before you can enter the Setup Wizard, first you need to snag a Pretty Links subscription plan. Click the button below to choose a plan that works for you…
Once you've got that squared away, log into your newly created account to download the latest version of the plugin. After that, hop over to your WordPress Dashboard and navigate to Plugins > Add New > Upload.
Upload the .zip file you just downloaded. When that's done, give that Install button a click. Then, on the next page, go ahead and click Activate.
From there, our Setup Wizard will be at your service, ready to guide you through the process of activating your license key and registering it on your WordPress website:
Step 2: Customizing Your Pretty Links Plugin
This is where the magic happens and you get to personalize the Pretty Links plugin to fit your needs. With an array of awesome features and add-ons waiting for you, the possibilities are endless!
With Pretty Links, you're in complete control, handpicking the tools that align with your unique marketing strategy. No cookie-cutter solution here – we're all about helping YOU make this plugin YOURS!
Let's take a quick look at the range of Pretty Links tools and features – giving you a better idea of what you need, what you think you need, and anything you just plain want!
Link Tracking
With Pretty Links' advanced tracking feature, you'll gain valuable insights into the performance of your links. Monitor clicks, engagement, conversions, and more, all without having to leave the plugin:
This data-driven approach empowers you to make well-informed decisions and fine-tune your marketing strategies. Know which links are driving the most traffic and conversions, and optimize your efforts accordingly.
Add a "Nofollow" Attribute
Your online privacy is a top priority at Pretty Links, and we've made it incredibly convenient for you to take control. With our powerful nofollow feature right there in the WordPress editor, you can tell search engine crawlers to keep their prying eyes off your affiliate links:
While we can't guarantee every search engine will obey the command, our nifty tool adds an extra layer of protection. It's like putting a cloak of privacy over your links, safeguarding your affiliate partnerships, and preserving the integrity of your marketing campaigns.
Indicate "Sponsored" Links
Deepen your connection with your audience by adding a "sponsored" attribute to your affiliate links. It's a simple addition that shows how committed you are to being honest and transparent in your marketing efforts:
By clearly indicating sponsored content, you create a strong bond with your audience, fostering credibility and authenticity. They'll appreciate your straightforward approach, leading to higher trust levels and stronger connections.
Create QR Codes
Pretty Links' QR code generator makes connecting with your audience easier on all levels. These eye-catching QR codes act as a bridge between your digital content and the physical world, paving the way for exciting new marketing opportunities.
Spread your brand by sharing links to your site on printed materials or products with a simple scan. The result? Instant access to your content, which boosts engagement and ultimately leads to higher conversions.
Link Health
A healthy website is crucial for a successful affiliate marketer, and the Pretty Links Link Health feature has your back!
Stay in the know with weekly notifications about any broken links found on your site, so you can quickly address them before they impact your visitors' experience: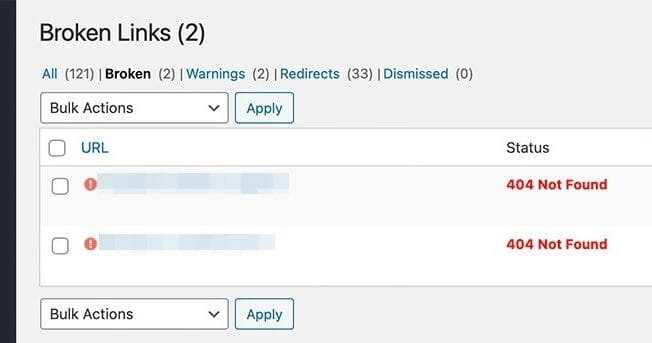 Don't let broken links hurt your site's credibility or sabotage your affiliate promotion efforts. With Pretty Links, maintain a website that's in top shape, ensuring every click leads your audience to the right destination.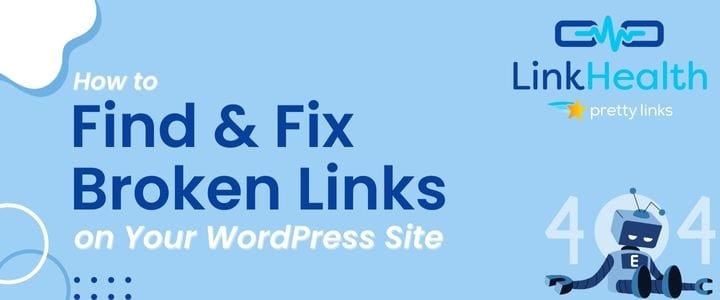 Keyword Replacement
You definitely don't want to miss out on our automatic Link Placement feature. It's the easiest and fastest way to monetize your content!
Just jot down your top keywords and phrases, then witness the magic as Pretty Links automatically replaces them with any URL you choose, spreading link love throughout your entire site:
Whether it's strategically placing affiliate links throughout your blog collection, adding social links to your About Page content, or directing readers to a resource link – you name it, we'll replace it!
This ingenious automation is designed to save you time, boost your earning potential, and create a monetization strategy that's nothing short of brilliant!
Product Displays
Transform plain ol' text links into eye-catching masterpieces that demand attention and boost conversions with the Pretty Links Product Display add-on.
Customizable to your heart's content, these showcases feature engaging descriptions that provide valuable information about each product, enticing readers to take the plunge and explore more: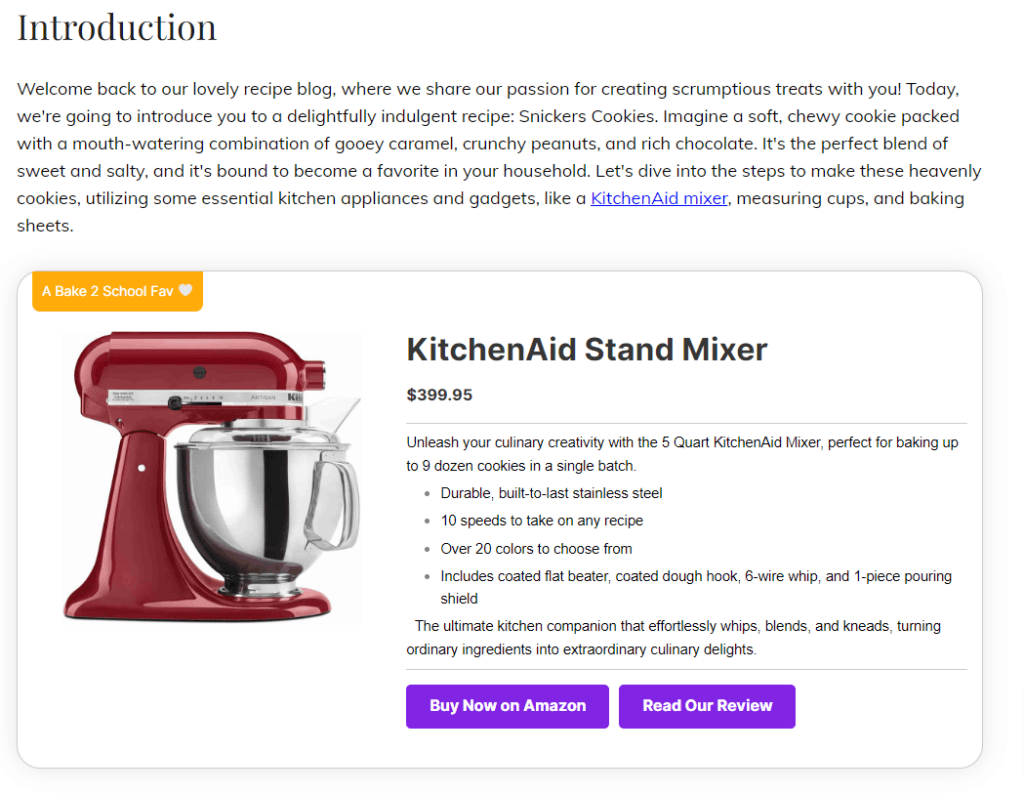 With their irresistible visual appeal and compelling calls-to-action (CTAs), you'll have your audience hooked, taking immediate action, and driving your affiliate revenue like never before.
Import/Export Links
Whether you're migrating links from another website, making the smart switch from another link management plugin, or simply want the peace of mind of having backups – Pretty Links has got you covered with our 1-click Import/Export feature: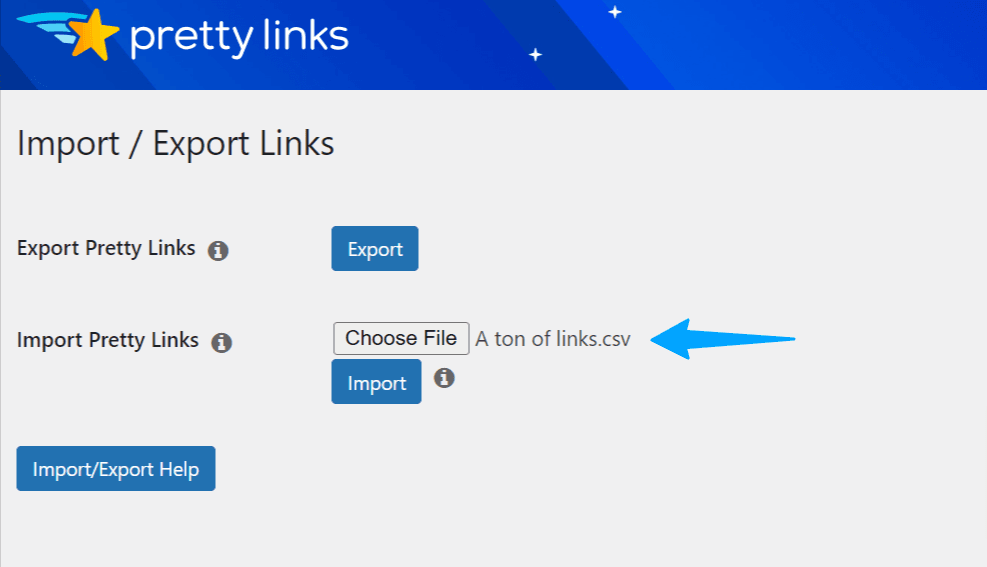 This seamless process saves you valuable time and effort, especially when dealing with a large number of links.
Integrate with MonsterInsights
Level up your affiliate marketing with the unbeatable combination of Pretty Links and MonsterInsights.
MonsterInsights is an exceptional plugin that seamlessly integrates Google Analytics with your WordPress site, streamlining the connection process and bringing all its tracking and statistics functionality directly into your admin dashboard.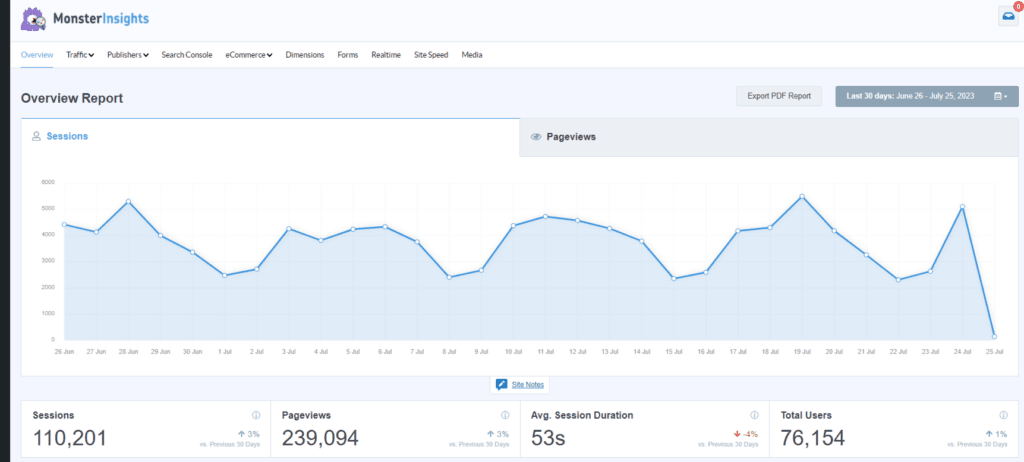 By combining both plugins, you can tap into the power of Google Analytics to track your shortened links, gaining real-time insights into their performance.
This integration is incredibly beneficial, allowing you to closely monitor your traffic, identify popular content trends, and optimize your marketing efforts for maximum success.
After you've made your selections, you can count on us to ensure all the features and add-ons you chose are up and running smoothly once you complete the Setup Wizard.
Step 3: Create Your First Pretty Link
Once you've got your Pretty Links plugin set up exactly how you want it, it's time to give it something to work its magic on – a link!
Next up in the Setup Wizard, we'll guide you through creating your very first shortened, branded link. It's as simple as filling out these 3 essential fields: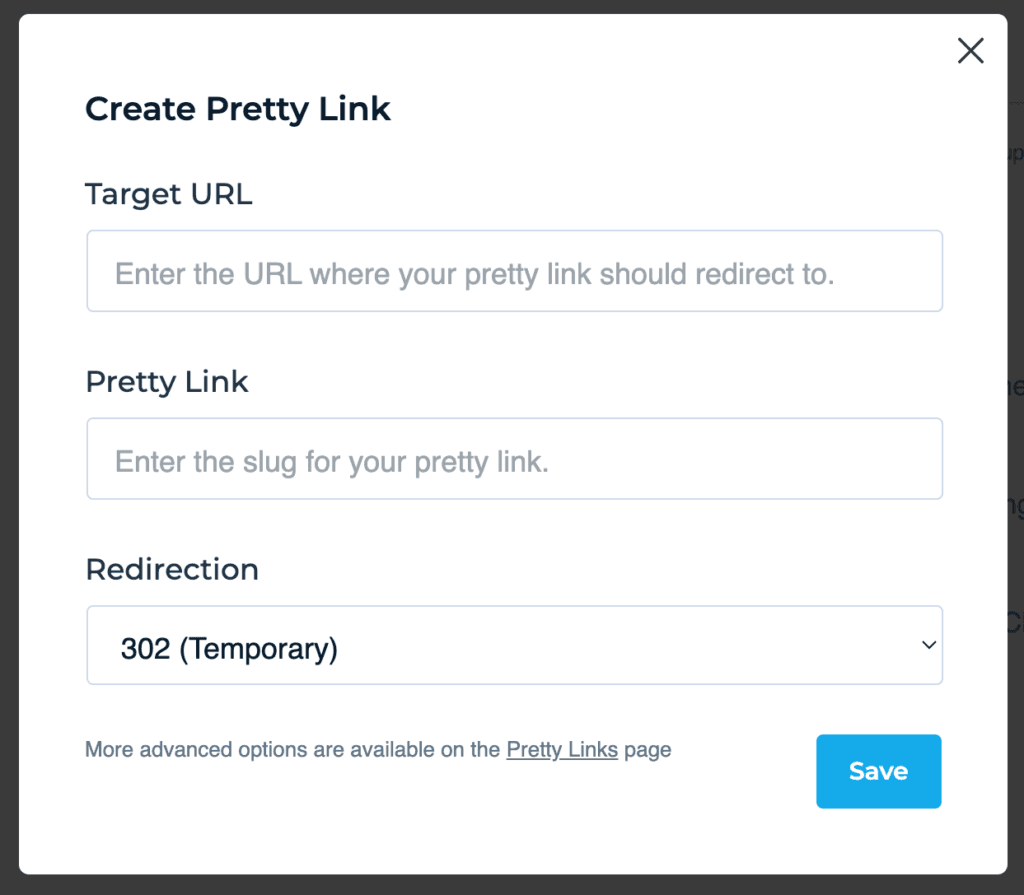 Insert the Target URL: This is the full-length link that takes readers straight to the merchant's website where they can complete their purchase.
Create Your Pretty Link: Cut out all that affiliate gibberish and replace it with a much shorter, prettier-looking slug that follows your website's domain.
Choose a Redirect Type: Decide how you want your pretty link to work when readers click on it. Read more about the different redirects here >>
Ta-da! That's how fast and easy is it to create your first, commissions-loaded Pretty Link!
Already have a long list of links you'd like to migrate into Pretty Links?
Then you probably enabled our Import/Export feature in the last step. If so, here you will see an Import/Existing Links button. Give that a click and all your links will be uploaded just the way you labeled them in your CSV Import file.
Step 4: Create a Link Category
Next on the list is setting up a system that keeps your links organized – something we like to call: link categories.
Categories act like neat little folders, helping you group your extensive list of affiliate links together for easier management and accessibility.
In this step of the Setup Wizard, you'll create a category for the link you just made. Simply give your category a name that reflects the type of links it will contain: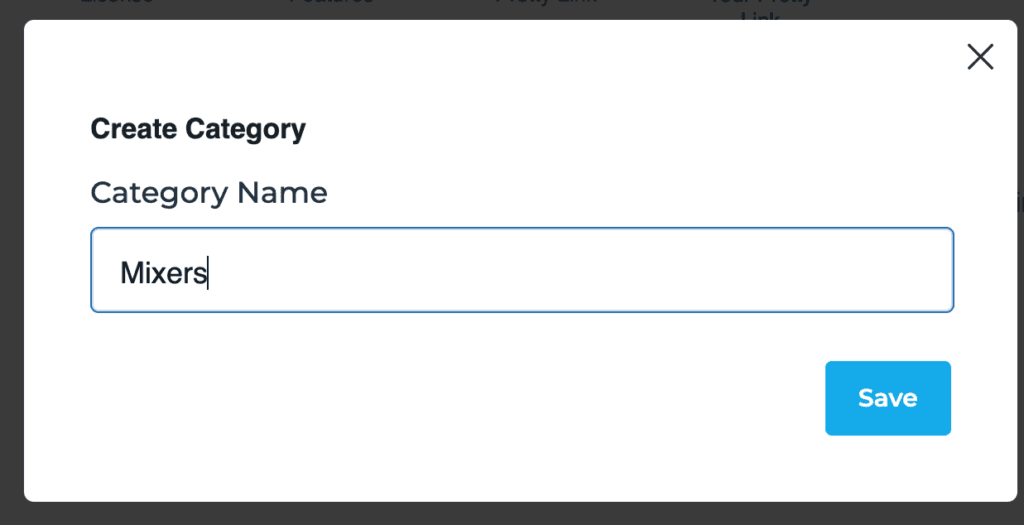 Categories are completely customizable, and you can create as many as you want. You can have really broad categories such as "Mixers", or narrow it down to be more product, brand, or campaign-specific, such as "Kitchen-Aid Mixers on Amazon".
If you uploaded a bunch of links via the Import option, don't worry! Our Setup Wizard will help you out by adding an extra "Links" field where you can create your category, then add any related links.
It's a good idea to have your import list handy so you can quickly search and add all relevant links for this category. But don't stress if you miss a few, it's super easy to go in and create, edit, and assign categories as needed.
Step 5: Wrap Up and Make Money
In the final step of the Setup Wizard, we'll review and admire all that you've accomplished in such a short time
We've also prepared a super helpful blog that dives deeper into your next steps, providing you with valuable insights on how to make the most out of Pretty Links. Click below to give it a read…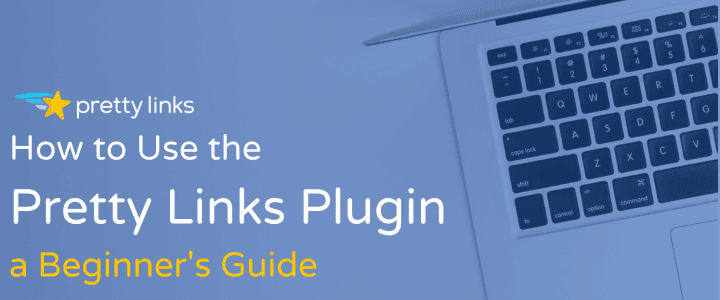 Learn how to create additional Pretty Links, add more categories, and set up useful automations that will supercharge your affiliate marketing game!
Once you click the blue Finish button, the Wizard will take you to your Pretty Links home screen. 
Here's where you'll keep the momentum going and monetize some content!
Whether you have a blog post ready to publish or want to share your latest product recommendation on social media, simply click the "Copy to Clipboard" tab next to your pretty link:
Then you're all set to share it with your audience and get some clicks!
Conclusion
Whether you're a fresh face in the affiliate marketing world or a seasoned pro seeking a smoother solution, our Setup Wizard is your ultimate guide at every turn. We understand that your time is precious, which is why we've designed our Wizard to get you going in as little as 5 steps:
Purchase, Install, and Activate Your Pretty Links License
Customize Pretty Links Features to Fit Your Needs
Create Your First Shortened, Branded, Prettier-Looking Link
Organize Your Pretty Links into Convenient Categories
Finalize and Follow Us for More Link Monetization Tips
Launching your campaigns has never been quicker! With the NEW Pretty Links Setup Wizard, you'll be on your way to earning commissions in no time. Simplify your affiliate marketing experience and unlock the full potential of your passion!
Still have questions about getting started with Pretty Links? Reach out in the comment section below, and we'll be there with answers in hand!
If you liked this article, be sure to follow us on Facebook, Twitter, Pinterest, and LinkedIn! And don't forget to subscribe to our newsletter!