How to Shorten a Long URL (In 3 Easy Steps)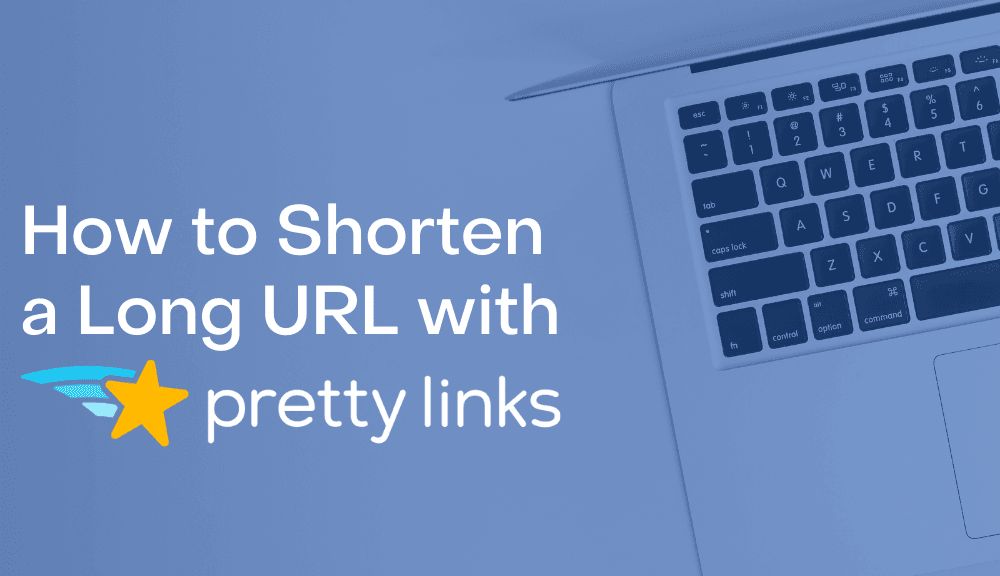 Links are essential for online marketing. From driving traffic to your site and increasing conversions to helping boost your search engine optimization (SEO). Unfortunately, most default URLs tend to be lengthy and unwieldy, making them offputting for your readers.
Fortunately, you can shorten a long URL to make it more aesthetically pleasing and shareable. Therefore, you can create more attractive, memorable, and ultimately effective marketing campaigns by condensing otherwise complex and unsightly web addresses.
In this post, we'll start by discussing the reasons you might want to shorten your URLs. Then we'll walk you through the process in three simple steps. Let's get started!
Why You Might Want to Shorten a Long URL
Short URLs are cleaner, more concise versions of default links. Here's an example of a shortened link:
Long URL: www.yoursite.com/?/post/2021/12/08/$5982-!#_ref;di(@%
Shortened URL: www.yoursite.com/post
There are many benefits to shortening your long URLs. Firstly, it makes them more trustworthy and reliable because users can see their content before clicking on them. These links are also more visually appealing and easier to remember, as opposed to random characters and letter combinations.
Short URLs are also much easier to share across virtually every platform, from email and social media to mobile messaging and landing pages. They take up less space, which is crucial when incorporating links into social media posts with character limits such as Twitter.
As a result, you can focus most of your allotted word count on more meaningful content to help engage your audience and incentivize them to click:

Shortening URLs can be an excellent practice for all businesses and marketers. Moreover, this strategy can be handy for affiliate marketers who rely on links to generate sales and earn commissions. When using this marketing method, you should consider optimizing URLs to attract clicks and boost conversions.
Unfortunately, the referral URLs that track conversions tend to be very long and unsightly. They can even look spammy. However, shortening these links can be an effective way to make them appear more professional and promote your brand.
How to Shorten a Long URL (In 3 Easy Steps)
There are a few different ways you can shorten a URL, with a variety of tools to choose from. We recommend using our Pretty Links plugin:

Unlike other free online link shortening tools, our freemium plugin lets you do much more than simply shorten your URLs. You can also use it to brand your links.
Pretty Links is an excellent option for WordPress users who want to shorten a large collection of URLs. Using our tool, you can handle multiple links directly from your WordPress dashboard. There are no third-party sites or platforms required. Plus, you can use our plugin to track all of your URL clicks and access detailed reports.
Let's look at how you can use Pretty Links to shorten your URLs in three easy steps!
Step 1: Download and Install the Pretty Links Plugin
To get started, you'll first need to download, install, and activate the Pretty Links plugin in your WordPress dashboard. We have a free and premium version available.
You can install the free version by navigating to Plugins > Add New from your admin area and searching for "Pretty Links". Then, click on the Install Now and Activate buttons:
For this tutorial, we'll stick to the free version. However, we recommend upgrading to Pretty Links Pro to unlock the full suite of features to brand, cloak, and redirect all of your URLs with just a few clicks.
Step 2: Add a New Pretty Link
Once the plugin is activated, it will add a Pretty Links menu item to your dashboard. To get started, click on it, then select Add New: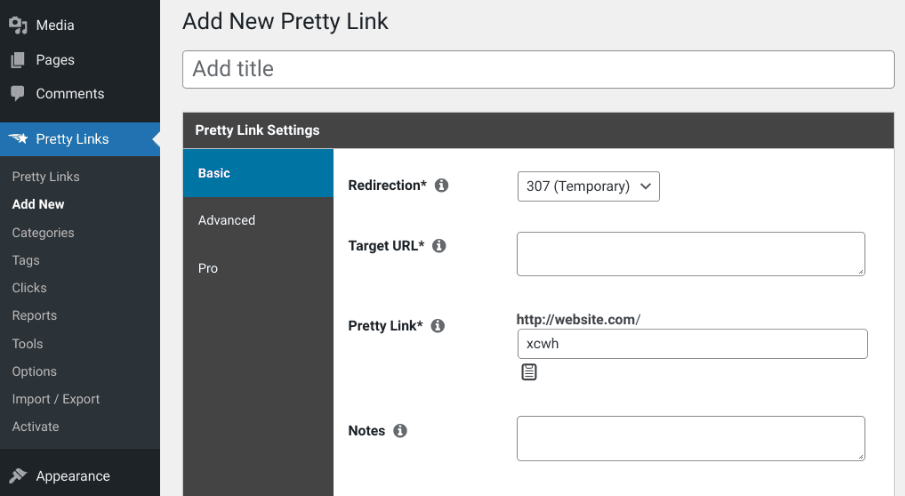 On this screen, under the Basic tab, the first option is to select a Redirection type from the drop-down menu. If you think you'll end up changing the link, we recommend using 307 (Temporary). Otherwise, you can stick with 301 (Permanent).
Step 3: Create Your Shortened URL
Next, you can enter your long (or default) web address in the Target URL field. Then, under the Pretty Link section, you can choose what you want the shortened URL to be: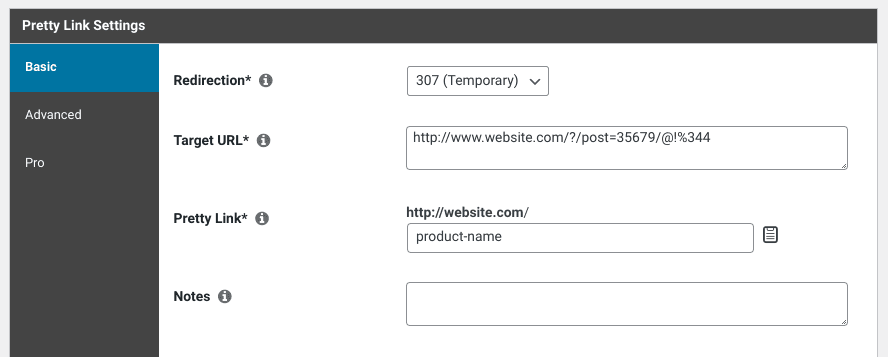 As an example, we'll enter "product-name". However, you can make this link whatever is relevant for your brand. For example, you may want to consider incorporating keywords to optimize your URLs and boost your SEO.
Next, navigate to the Advanced tab:

If you're creating a temporary link, we recommend adding a No Follow attribute so search engines know not to pay attention to it. However, if the URL is permanent and you want to keep the "link juice", you can skip this step. To enable tracking, you can select the Tracking box.
When you're finished, click on the Update button at the top-right corner of the screen. Now your short URL is ready to use!
Conclusion
Long, default web addresses can look clunky and unprofessional. In addition, they can be difficult to share and even more challenging to remember. Fortunately, you can easily condense these URLs into smaller, more practical, and attractive links.
In this post, we discussed how to shorten a long URL in three simple steps:
Download, install, and activate our Pretty Links plugin.
Add a new Pretty Link.
Create a shortened URL and save your changes.
Do you have any questions about shortening a long URL? Let us know in the comments section below!
If you liked this article, be sure to follow us on Facebook, Twitter, Pinterest, and LinkedIn! And don't forget to subscribe to our newsletter 😄
3 Comments
roof repair company Los Angeles

May 2, 2022

Howdy would you mind letting me know which hosting company you're utilizing? I've loaded your blog in 3 completely different web browsers and I must say this blog loads a lot quicker then most. Can you suggest a good hosting provider at a honest price? Many thanks, I appreciate it!

muebles de jardin

June 15, 2022

Thank you, I have just been looking for info approximately this topic for ages and yours is the greatest I've came upon so far. But, what about the conclusion? Are you positive in regards to the source?

muebles de jardin

July 11, 2022

Great post! We are linking to this great content on our website. Keep up the great writing.