How to Cloak Your Links (Link Cloaking Explained)
There's a lot of misinformation around the concept of link cloaking. While the term "cloaking" itself sounds sinister, cloaking links is actually a standard and useful practice in the world of online marketing.
With link cloaking, you can take long, complex URLs and make them more user-friendly. Cloaking also enables you to protect your valuable affiliate commissions from hijacking scripts, which makes the practice even more essential.
In this article, we'll break down how link cloaking works and why you should be using it. Then we'll talk about how to get started. Let's get to it!
An Introduction to Link Shortening
The first thing we need to do is establish the difference between link shortening and cloaking. A lot of people use both terms interchangeably, but they're not the same thing.
Link shortening involves taking a link and – you guessed it – cutting it short. Here are two quick examples:
genericwebsite.com/brand/product/2346
bit.ly/2RGKED3
As you can see, the first link is longer; whereas, the second link has been shortened.
The goal of link shortening is to create URLs that are easier to remember and share. When a visitor clicks on that second URL, they're redirected to the first one, so nothing changes beyond the look of the link.
However, links created with free online tools such as bit.ly are definitely not memorable. They also don't look particularly professional and fail to give the user any idea about the type of content they can expect on the other side.
Link Cloaking and Why It Matters
Link cloaking works in a similar way to link shortening. In fact, when you cloak a link you usually shorten it as well, although that's not a requirement.
Link cloaking is more focused on branding your URLs and protecting any sensitive information they might contain. Here's an example of a long link that has been cloaked:
genericaffiliateprogram.com/?clickid=abc12345
yourwebsite.com/product-name
The difference is subtle, but it's a game-changer. While link cloaking can come in handy in a variety of situations, it's particularly useful in affiliate marketing. With this technique, you can hide your affiliate IDs and include your brand name as a part of your linking strategy.
Hiding your affiliate IDs is essential if you're making a significant number of sales. As you're probably aware, affiliate marketing is a cutthroat world. There have been cases of malware that infect visitors' computers and seek out links with affiliate IDs in order to replace them.
This enables malicious actors to steal your commissions, and you might not even notice it happening. Cloaking your links stops this kind of attack because it hides your affiliate IDs.
Lastly, it's a common misconception that link cloaking negatively impacts your search engine optimization (SEO). Fortunately, SEO experts have repeatedly debunked this theory. If you're an affiliate marketer, there's no reason not to cloak your links.
How to Get Started with Link Cloaking
There are a lot of tools you can use to cloak your affiliate links. However, as you might imagine, we're partial to our own Pretty Links plugin.
This tool comes in both a free and a premium version, and it enables you to both shorten and cloak your links. Once you install and activate the plugin, a new Pretty Links tab will show up in your WordPress dashboard. To get started, click on it and select the Add New option.
On the next page, you can choose what type of redirect to set for your first cloaked link. As a rule of thumb, you should stick with 307 redirects for destination links that you think might change.
301 redirects, on the other hand, pass on "link juice", so only use them for URLs you're sure will stick around:

Go ahead and add your target (or original) URL now. Then you can choose what you want to use for your pretty (or shortened and cloaked) link: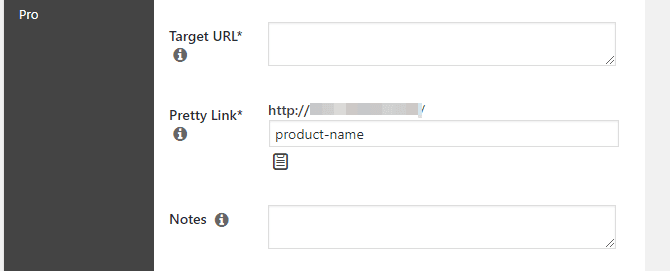 As you can see, the plugin also enables you to add notes for any links you create. This can come in handy if you need to remind yourself about any key URLs.
Before you save your new link, head over to the Advanced settings tab. There, you'll find a few additional settings that can come in handy. First, there's the No Follow attribute: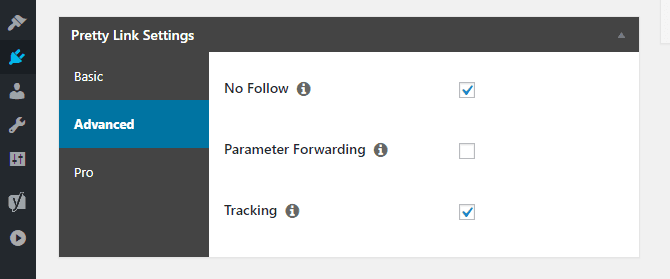 This attribute tells search engines not to pay attention to a specific link so it doesn't have an impact on your rankings. You'll want to use No Follow whenever you create a temporary link cloak, but it's optional for permanent redirects.
Finally, you can choose whether to turn on Tracking for your new link. With tracking enabled, the plugin will keep a count every time someone clicks on the link and record when it happens. With tracking, you can see how well your links are performing and brainstorm ways to improve conversion rates.
Once you're done with the Advanced section, hit the Update button under publish and your link will be ready to use. If you access the Pretty Links tab, you'll see an overview of all the links you've cloaked.
Keep in mind, the free version of Pretty Links won't automatically replace URLs on your website for you. If you're using that version, you'll want to look for the links you want to replace and do so manually by using the cloaked alternatives you just set up.
Conclusion
There's a reason link cloaking is a standard practice among internet affiliates – it works. With the right cloaking tools, you can create attractive, memorable links that give users the information they need. Moreover, you can hide your affiliate IDs from scripts seeking to hijack your sales.
If you're using the Pretty Links plugin, getting started with link cloaking is simple. All you have to do is add a new link and customize the URL you want to use, then choose which type of redirection to apply.
Do you have any questions about link cloaking? Let's go over them in the comments section below!
If you liked this article, be sure to follow us on Facebook, Twitter, Pinterest, and LinkedIn! And don't forget to subscribe in the box below.
7 Comments
Heather

February 14, 2021

Hey John, I'm pretty sure I know the answer to this question but I need to ask it because I changed the destination URL of one of my Pretty Link 301 links recently but somehow I'm still showing a lot of link clicks for that old URL in my affiliate dashboard with a particular company and I cannot figure out where and how people are still finding that link. So - extremely basic question - I can change the URL destination on any link (including 301) at any time, correct, and it will update that link destination for all Pretty Links on my website associated with it?
Syble Harrison

February 19, 2021

Hi Heather, Thanks for reaching out! If you'll contact us via https://prettylinks.com/support/, we'll be happy to help. Have a great day. Syble
Hello
March 13, 2021
Hello, Very useful information. i have a question for you, can i use pretty link for Amazon Associate? it is free or should i have to purchase a premium? Thanks
Katelyn Gillis

March 18, 2021

Hi there, Check out our blog article to read how Amazon Associates is a free affiliate program that actually has linking tools: https://prettylinks.com/blog/affiliate-programs/ Of course, adding Pretty Links to your affiliate marketing strategy will allow you to create custom links and manage them effortlessly.
William Beem
April 26, 2021
I read this article and thought, "Great!" I went and cloaked my affiliate links. Today, I sent out an email using a cloaked link. It didn't work. I checked other cloaked links. One worked, the rest didn't. A handful of people unsubscribed because I sent them something that didn't work. When I removed the cloak and tested, everything was fine. I guess now I'll go back and remove all that cloaking from my affiliate links. They're no good if they won't open the page.
Gerry
February 6, 2023
Pretty links not converting site to Pretty link. The website target url remains the same, including affiliate ID. Any solutions. I have followed directions on site and youtube.
Katelyn Gillis

February 10, 2023

Hi Gerry! You can submit a support ticket here > https://prettylinks.com/contact/ and our team will be happy to help you out!