5 Great Places to Share Affiliate Links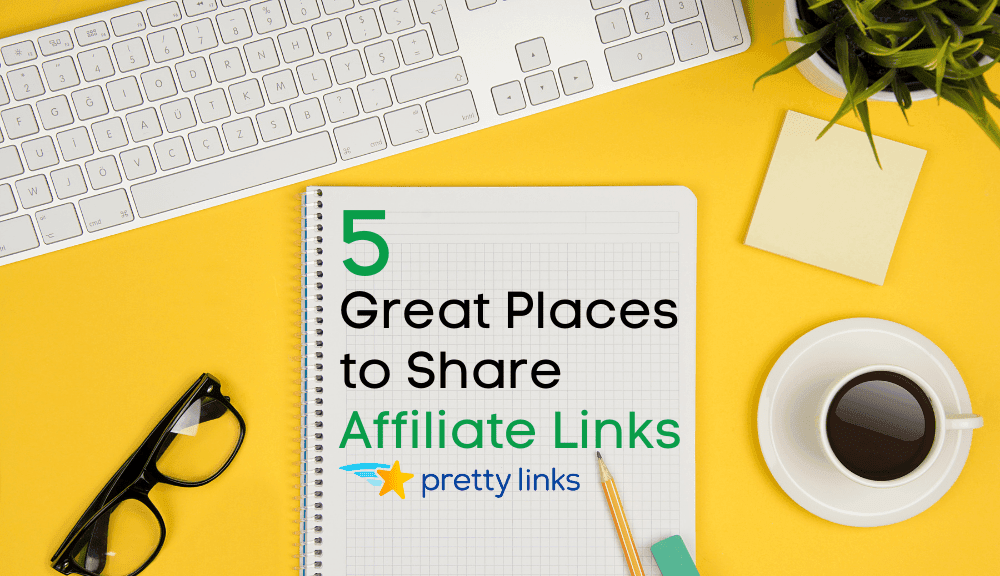 Affiliate marketing can be a powerful way to boost revenue, but it's far from a passive income stream. Successful affiliate marketing requires sharing your links in the right place at the right time to drive sales.
Fortunately, there are plenty of ways to effectively share these URLs, regardless of your usual content platforms. Whether you're a blogger, a social media master, or a podcaster, there are opportunities nearly everywhere.
In this article, we'll start by discussing the important role links play in affiliate marketing. Then we'll explore five of the best places to share your URLs, covering everything from email to video to podcasts and more. Let's dig in!
The Important Role Links Play in Affiliate Marketing
Affiliate marketing is when individuals promote another company's products and services, earning a commission for each sale they help drive. The promoter in this scenario is the affiliate. This is an excellent arrangement for both the affiliate (who can earn additional income from sales) and the company they're promoting (which gets affordable, large-scale advertising).
Affiliate marketing is a huge industry and expected to reach $8.2 billion in the United States by 2022. As many as 81% of advertisers in the U.S. are using affiliate marketing to promote their products, and 35% of affiliates earn over $20,000 per year from affiliate marketing alone.
If you want to take advantage of that momentum and bring in additional revenue, you'll need to get familiar with affiliate links. These are URLs to a page or product that include a tracking code. This code is uniquely tied to you as an affiliate and is how the companies you promote know who earned a commission on the sale.
As such, it's essential that you get your affiliate links out there and that your audience follows these links to make their purchases; otherwise, you won't get credit for them. By default, affiliate links can be a little ungainly thanks to the tracking codes added on the end (some of them can be very long). However, a tool like Pretty Links can help make them more readable and shareable, thus improving your chances of closing a sale.
5 Great Places to Share Affiliate Links
Sharing your links in the right places is absolutely vital. Since all of your affiliate revenue is tied to these links, if people don't have easy access to them, they will likely buy through other channels, costing you money. If you're not sure where to get started, these five ideas should help.
1. Email Newsletters
If you send out a regular newsletter, it can be a fantastic spot to include a few affiliate links. Of course, it's not just a matter of tossing a link in an email, firing it off to your subscribers, and asking them to buy something. You'll want to use a little nuance: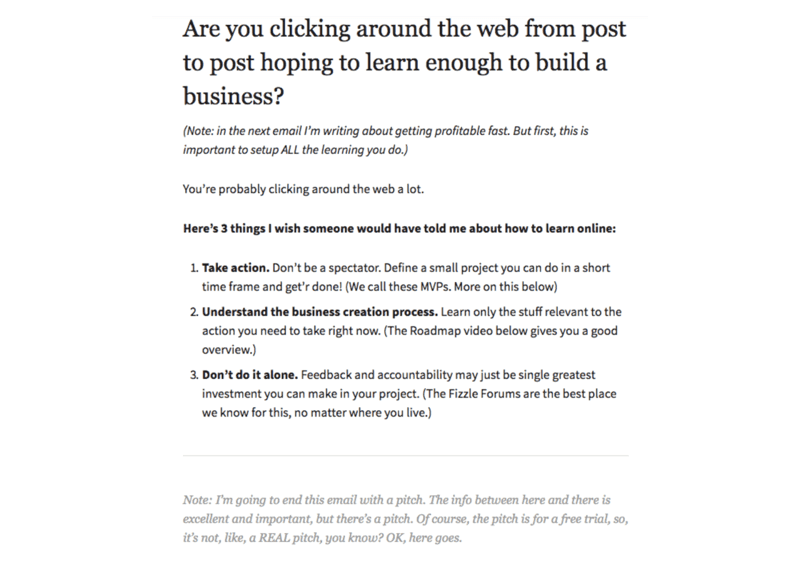 Most importantly, you'll need to be careful to avoid tripping spam filters (or just appearing spammy in general, which can earn a quick unsubscribe). The best tactic is to ensure that the email itself offers plenty of value to your audience. Then, and only then, should you include appropriate links that fit organically with the content.
2. Blog Posts
If you have a blog, it's a perfect spot to work in affiliate links. Readers are already on the site, so you know they're interested in what you have to say. There's also more room in a blog post to expand on the product you're promoting and why it's so great:
While you can fit a link into nearly any post on your blog, remember that your posts should primarily aim to provide value first. Therefore, it's best to add in links only if they make sense in the larger picture of the content. You don't want your blog to become known for shallow sales pitches.
Roundups and detailed review-style posts are some of the easiest types of content to work affiliate links into. They fit the subject matter naturally, without having to be forced. You can also use the post's content to hype up the product. Just make sure they're solutions you actually recommend and have used – people have a way of seeing through blatant sales attempts.
3. Video Descriptions
If you produce video content like YouTube videos, this can be another excellent opportunity for sharing affiliate marketing links. Many platforms, including YouTube, allow links in video descriptions. You can discuss the product in the video's content (or even just mention it briefly), then point to the link in the description for users who want to try it out or learn more about it: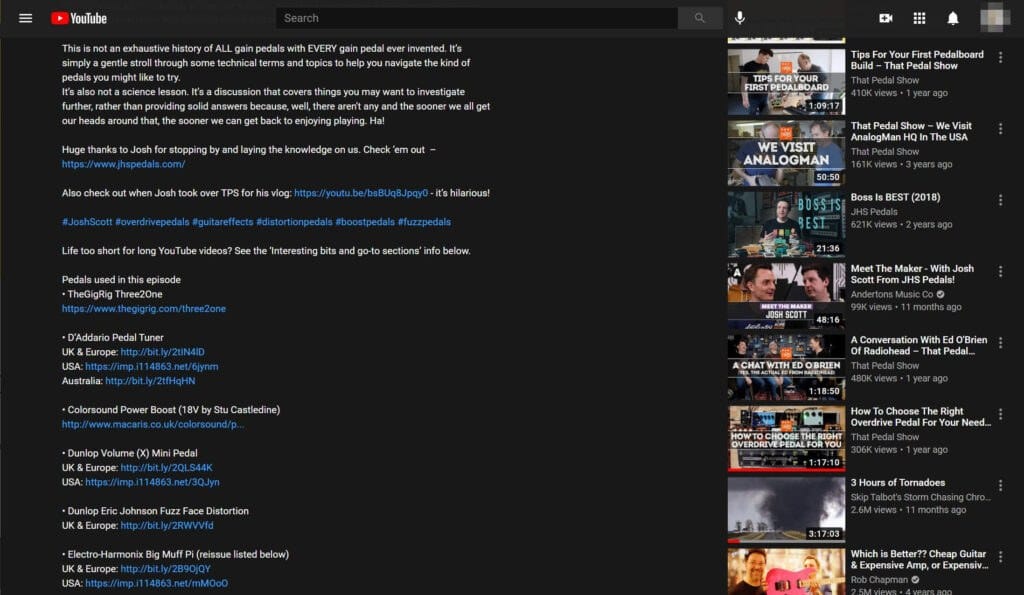 To edit your existing YouTube video descriptions, head to your Video Manager and find the one you want to change. Click on Edit, and then pull up the Info and Settings page. The description can be found under the Basic Info tab. Just remember, it's a good idea to include a disclaimer with your affiliate link for complete transparency.
4. Podcast Episode Notes
Many podcasting platforms let you add notes that summarize an episode for people who are browsing. This is an excellent place for linking products you're promoting or mentioning in that episode. Podcast metadata, such as the description, can be updated via your hosting provider, and those changes will then propagate out to platforms like Apple Podcasts: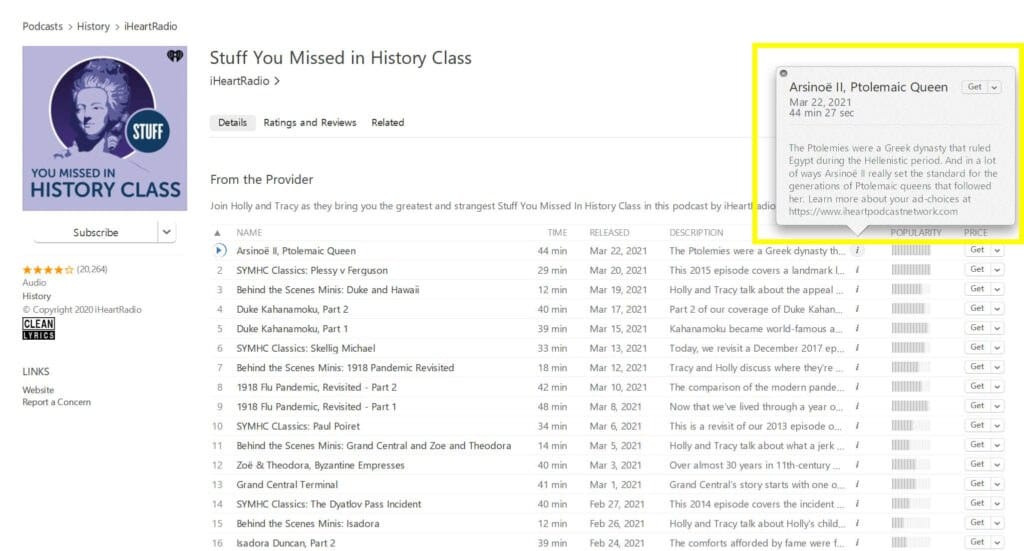 This works especially well if you're using a service like Pretty Links, because the link in the description may not always be clickable. A link shortener can help you make branded links that are memorable, so users can return to them later.
5. Social Media Profiles
Finally, your social media profiles are a perfect place for affiliate links, particularly if your social content involves discussing products you could be promoting. When it comes to social profiles, it's generally best to stick to one link since space is limited: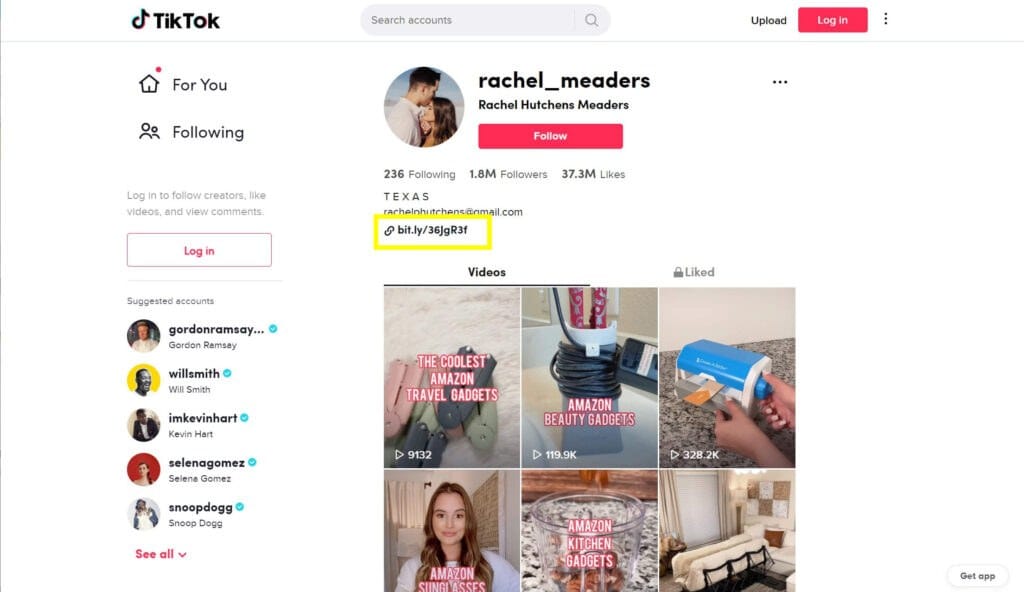 You can either link to a landing page that contains more URLs for affiliate products (such as an Amazon storefront) or promote one product at a time. Which option you choose depends on your overall affiliate marketing strategy.
Some people have great success covering a wide array of products, such as Rachel Meaders on TikTok. Others do better by diving deep into a single product at a time. Don't be afraid to experiment and find out what works best for your audience.
Conclusion
Affiliate marketing can be an enormous source of additional revenue for marketers, but it requires being in the right place at the right time with your links. Whether you're new to affiliate marketing or looking for novel places to share links and drive additional sales, there are plenty of opportunities available.
If you need some ideas, try these five great places to share your shortened affiliate links:
Email newsletters
Blog posts
Video descriptions
Podcast episode notes
Social media profiles
Do you have any questions about where to share affiliate links? Let us know in the comments section below!
If you liked this article, be sure to follow us on Facebook, Twitter, Pinterest, and LinkedIn! And don't forget to subscribe to our newsletter 😄
1 Comment
NM Brown

June 20, 2022

Sales for this great digital product ?