9 Affiliate Marketing Blogs You Need to Follow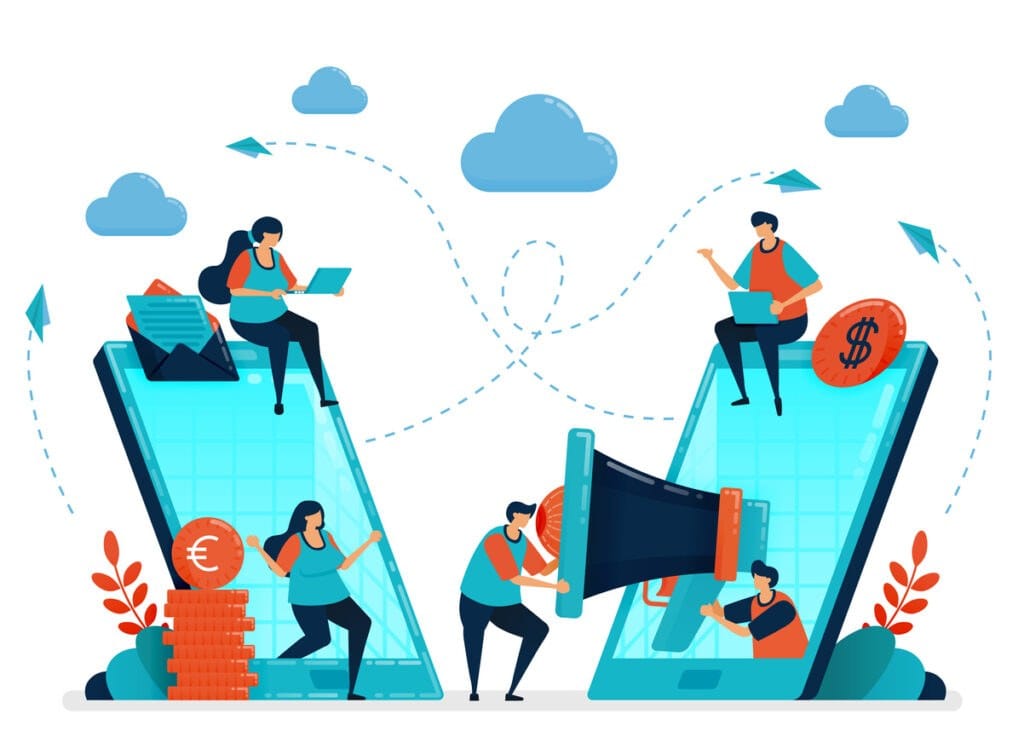 When you step into the world of affiliate marketing, gaining a solid understanding of what it is and how it works will help you succeed. However, there's so much information on the topic that you could spend all day reading. With so many voices, how do you know who to trust?
Just because someone has a website doesn't necessarily mean they have legitimate experience in the field. Fortunately, there are a handful of reputable experts that you can learn from. Each makes their own contribution to the world of affiliate marketing and shares knowledge with practical, helpful blog posts.
In this article, we'll give a rundown of nine blogs every affiliate marketer should check out. We'll tell you what makes them stand out and why each is an essential addition to your reading list. Let's get started!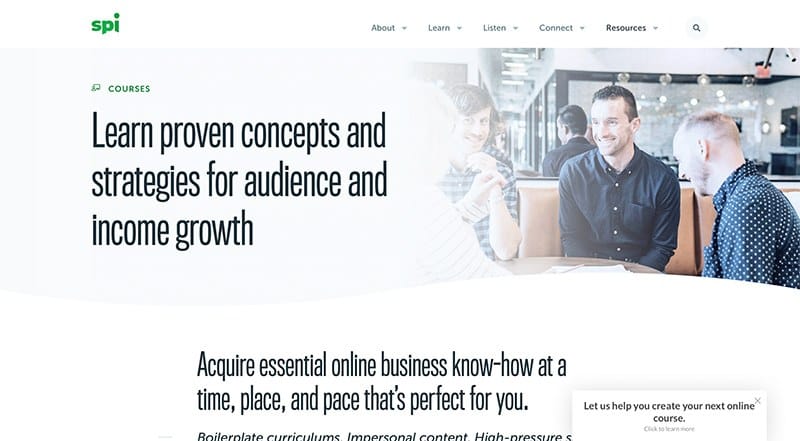 Pat Flynn, creator of Smart Passive Income, didn't start out as a blogger. He graduated from college and got a job with an architectural firm. His story from architecture to becoming an independent, wealthy guru of passive income is full of lessons learned and a gritty determination to succeed.
Pat carved out a means to provide for his family and was never afraid to venture into new territories of online business. On his website, he shares his knowledge about it all, including:
Affiliate marketing
Blogging
Publishing
Course creation
Podcasting
And more
If you have an idea you believe in, Pat and his team can help you grow it.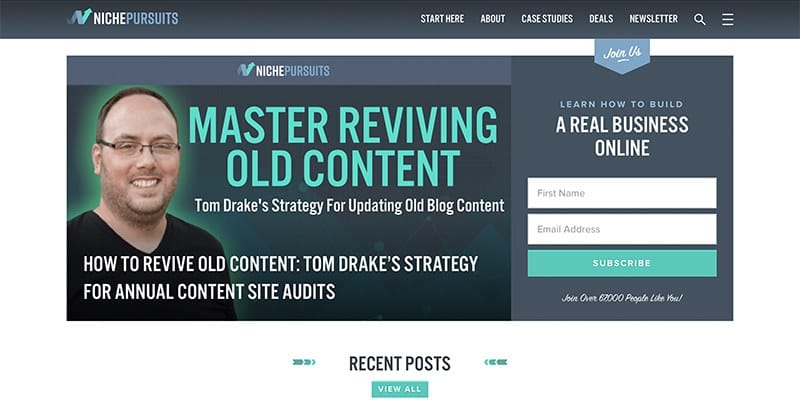 Spencer Haws has been excavating marketing niches since 2006. He'll be the first to tell you he had some painful failures along the way. However, he learned from them. About five years into his endeavors, his monthly income hit $10,000, so he quit his job.
If you're interested in growing a niche website that will produce a healthy income, Niche Pursuits will help you from the ground up. You'll learn how to identify promising areas and develop your ideas into income. Along with the blog, Niche Pursuits offers instructive case studies, helpful tools, and other resources.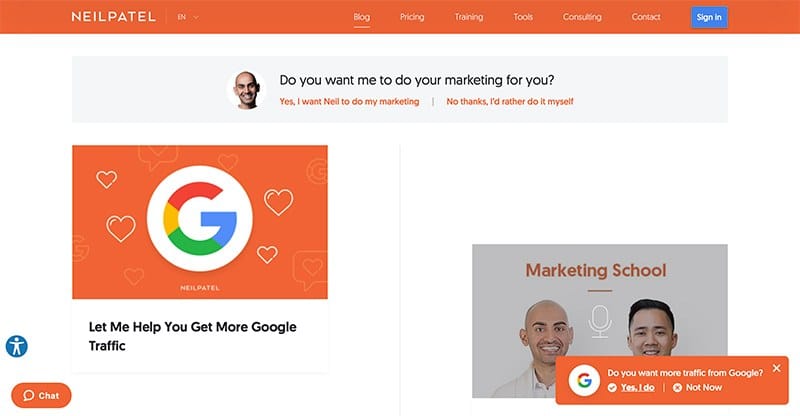 Neil Patel is a Forbes top ten marketer and a New York Times bestselling author. He's also a co-founder of Crazy Egg and Kissmetrics. Neil's blog posts are easy to follow, and he stacks them with plenty of real-world examples, interesting statistics, and practical how-tos.
If you're trying to figure out search engine optimization (SEO) and learn how to get more traffic, then this is the blog for you. Currently, on his site, you can sign up for a seven-week personalized training program offering a solid SEO plan to increase your traffic.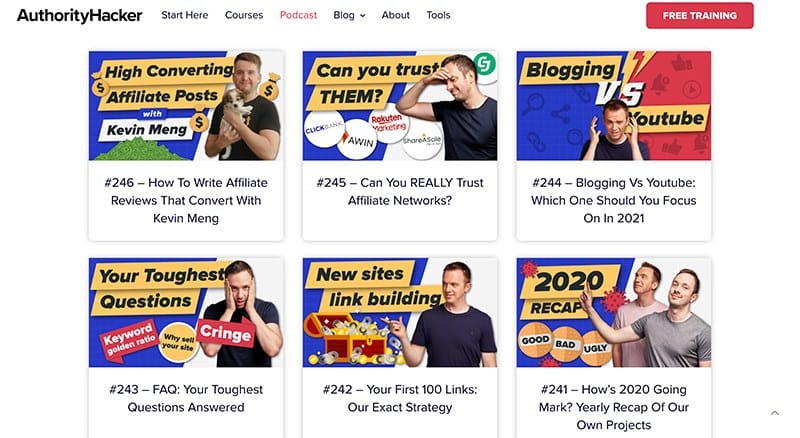 Featured on top-notch marketing sites such as HubSpot, Ahrefs, and Entrepreneur, AuthorityHacker publishes fresh and relevant information about the best practices of content marketing. Its blog articles get down to business, providing up-to-date information on the techniques and tools to use for success online. The site also offers online courses that have helped over 6,000 people develop their online businesses.
This blog feels like a multi-purpose tool in your kit, empowering you to generate content and drive traffic to your website. Check back regularly to find content geared toward multiple aspects of growing your affiliate marketing business online, including practical tips on how to put yourself ahead of your competition.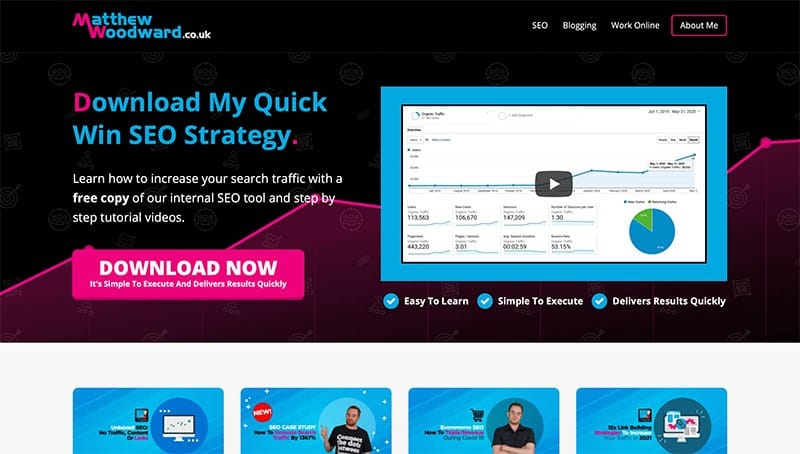 Matthew Woodward started building websites before Google existed. He tinkered around with creating sites as a kid, and that curiosity and eventual bank of knowledge landed him a job in digital marketing. He's helped develop multi-billion-dollar brands, and now he's helping people like you find success online as well.
When trying to establish yourself within a marketing niche, it's easy to feel like you need a better strategy. If that's the case, Matthew Woodward's content may be exactly what you're looking for. It can help you learn the nuts and bolts of SEO, building a successful blog, email marketing, and more.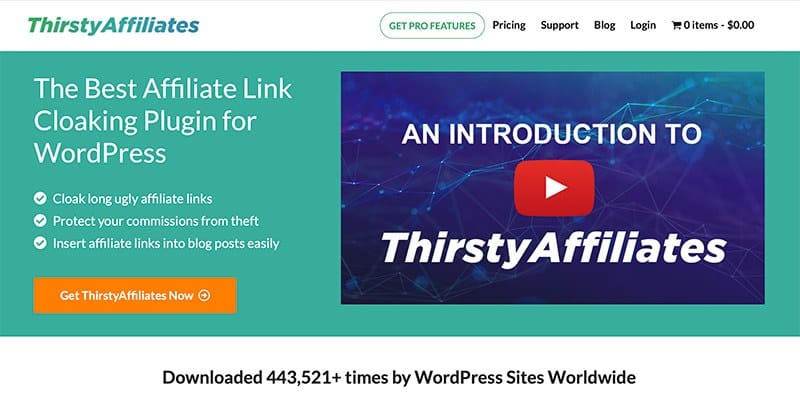 Committed to helping you turn blog traffic into income with its link-cloaking WordPress plugin, ThirstyAffiliates provides the scoop on how to monetize your blog with content such as this free downloadable guide. It's full of tools, tips, and techniques for beginners.
If you're just getting started with affiliate marketing, we also recommend checking out the Affiliate Marketing 101 section in the blog's sidebar. Once you have the basics under your belt, you can dig into the deep library of content that's available. You'll find no shortage of articles exploring how to go about generating affiliate income from your blog.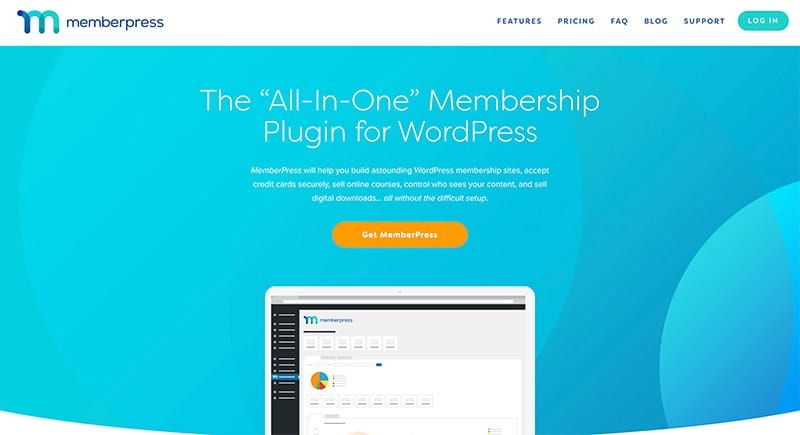 If you're wondering why a membership website plugin is on the list for affiliate marketing blogs, the answer is simple: MemberPress. MemberPress is all about building and growing your business online. It recently launched a new feature that enables website owners to build a learning management system (LMS) on their sites – an incredible revenue booster.
MemberPress blog topics hit on essentials such as social media, online courses, and writing skills. Plus, if you're ready to take the next step and create your own membership site, or if that's on your list of long-term goals, this resource will equip you with everything you need to know.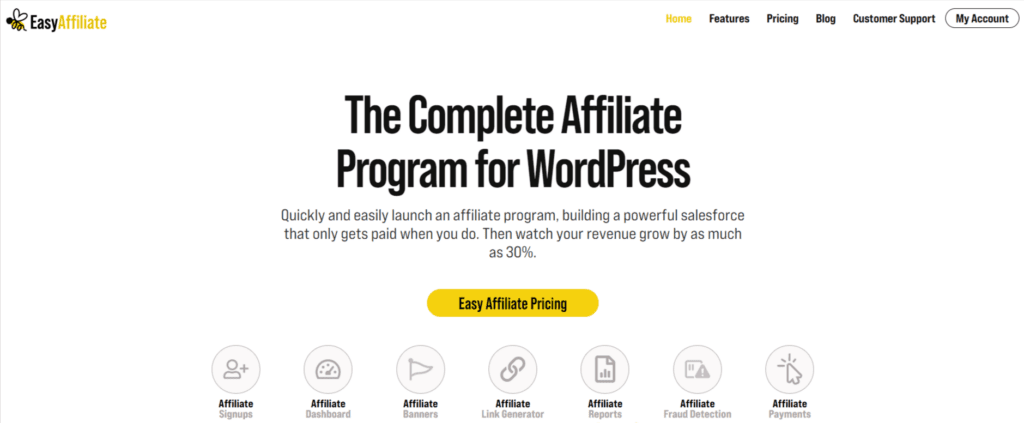 Easy Affiliate is an all-in-one affiliate marketing management tool. Unsurprisingly, its blog serves as a well of information and tips for starting and running an affiliate program.
One of the aspects we like best about this blog is, there is advice for both affiliate marketers and publishers. Even if you don't use the plugin yourself, you're still guaranteed to find useful content that helps you succeed and grow within your niche, especially if you're just starting out.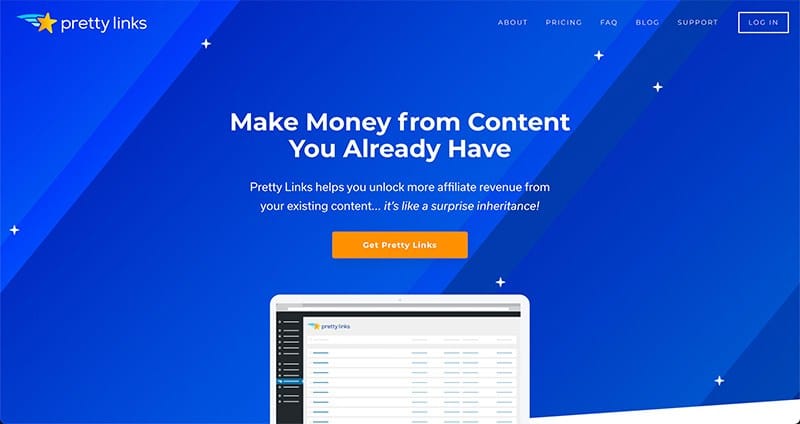 Of course, we might be a bit biased with this last entry. However, there's more to Pretty Links than shortened links. Our powerful tool is built to help you fully manage every aspect of your URLs to maximize your income, including your affiliate marketing revenue.
Our blog is dedicated to helping you grow your online business, with articles regularly covering affiliate marketing-related topics such as SEO, website tips, and email marketing. Plus, we share the secrets of unlocking higher revenue from the content and links on your site. If you want to get more out of your site by working smarter (not harder), our posts can help guide you!
Conclusion
With so many blogs on affiliate marketing, it's important to refer to experts with proven practical knowledge on the subject. Their experience can give you insight on what to do (and what not to do) to grow your affiliate income.
In this article, we discussed nine blogs every affiliate marketer should read. Each offers unique observations and perspectives within the industry. Whether you're interested in learning more about SEO topics, linking tactics, website tips, or a combination of those subjects, these resources are worth checking out.
Do you have any questions or suggestions regarding affiliate marketing blogs? Let us know in the comments section below!
If you liked this article, be sure to follow us on Facebook, Twitter, and LinkedIn! And don't forget to subscribe in the box below.
20 Comments
Alaina

March 1, 2021

You're missing Lynn Terry of ClickNewz.com. She's been in the affiliate marketing game for 20 years.

Dawid

March 9, 2021

Why there's no email newsletter on this website?
Katelyn Gillis

March 18, 2021

Hi David, Thank you for bringing this to our attention. We have now added a subscription sign-up box beneath all our blog articles. You can check it out on our most recent post: https://prettylinks.com/blog/url-redirect-wordpress/. Sign up today and you'll be added to our weekly newsletter email!
sheldon
April 4, 2021
I've been doing my own work on our website and have paid a lot of attention to Authority Hacker... Never knew about the others on this list I plan on checking them out tonight! Thanks!!!
Chetan Rohilla
June 25, 2021
Hi! ReadyMadeCode is also a good affiliate program. Just Join Free and Earn Through ReadyMadeCode - Affiliate Program You can Earn Upto 20% Commission For Every Membership Joined Through Your Affiliate Link https://www.readymadecode.com/affiliate-account/
Emma
September 30, 2021
Thank you John for this wonderful article.
MUHAMMAD ISHFAQ
October 10, 2021
This is an amazing article for information about affiliate marketing
Ivan
November 17, 2021
Thanks for these amazing resources John!
John Hughes
December 3, 2021
Thanks Muhammad :)
John Hughes
December 3, 2021
You're welcome, Ivan and Emma :)
Shamsher Khan
December 26, 2021
Great and very informative content. Thank you for sharing this article with us it's very interesting.
GOURAV KUMAR
January 19, 2022
Hello David, Thanks for sharing this article with a lot of different and meaningful conversations.
Utilize Your Business
February 5, 2022
Thanks for sharing the best affiliate marketing blogs. It really amazing and helpful.
Freelancing Training
February 11, 2022
Your article was very beautiful. I bookmarked it. If there is any problem, I will read it again next time
Wayne
March 29, 2022
this is a great post, at the same time maybe introducing some new affiliate tools or affiliate apps would be great, such as: https://woorise.com/ https://prowly.com/ https://bilrost.io/ https://www.airmeet.com/ https://www.hubspot.com/ and more in the market that we know which one of them is useful
sonali
May 5, 2022
This post really helped understand affiliate marketing better. Thank you so much.
Pranab Paul
September 2, 2022
Great and very informative content. Thank you for sharing this article with us it's very interesting.
Peter Tajedo
September 6, 2022
I have been reading some of the blogs listed above. They have really influenced my perspectives and knowledge about affiliate marketing and SEO. Am planning to learn more and earn more money as I apply these tips into my blog. Thanks John for this great post. Bookmarking this.
Steve Dryden
February 2, 2023
Great article on affiliate marketing blogs, thank you for sharing!
Weekend Growth
September 13, 2023
This article is such a great read. Every affiliate marketer has something to focus on depending on his interest. Whether you're interested in learning more about SEO topics, websites, etc. Superb!