3 Actionable Linking Tips for Your Next Email Campaign
Effective email campaigns can engage readers and increase conversions – and an essential element of these campaigns is links. Unfortunately, you may not be incorporating links as effectively as you could be, and this can lead to poor reader engagement and ineffective campaigns.
When you overlook linking within your emails, you can decrease user engagement and even lose subscribers. Fortunately, there are various linking techniques you can use in your campaigns to make them successful and keep your readers subscribed.
In this post, we'll discuss the importance of links in your email campaigns. We'll then outline three actionable linking tips (including one that can be followed with the use of Pretty Links) and discuss how you can incorporate them into your next campaign. Let's get started!
The Importance of Links In Your Email Campaigns
Email campaigns are simply dedicated marketing emails sent to your subscriber list. You can use them to sell a product or service, promote a class or webinar, or even just educate and engage your audience. They can be singular, or part of a series.
In addition, email campaigns incorporate many elements, including images, videos, and long-form content. However, links are key to any campaign and can offer additional benefits. For example, they can:
Increase reader engagement. By linking to your website, you can keep your readers engaged with your content.
Improve website traffic. With links to additional content on your website, you can bring readers to your website more regularly.
Establish brand authority. By linking to high-quality sources, you can establish yourself as an authority within your industry.
As you may expect, links are an easy element to add to your campaign. However, there are a few tips you can use to increase their effectiveness.
3 Actionable Linking Tips for Your Next Email Campaign
While our list doesn't encompass all of the available advice, the three tips below will offer you a wealth of value. Let's take a look!
1. Increase Interaction by Incorporating Links Into Images
While links are commonly attached to anchor text (more on that later), you can also incorporate them into images. This can help break up content, which is good for reader engagement and readability.
When adding links to your images, there are a few guidelines to follow. These techniques will make both your links and your images more effective. For example:
Make the link obvious. You'll want to use images that convey a message or action. For example, "Learn more" or "Connect on Facebook", as seen above in Verick Wayne's email campaign.
Choose images with contrasting colors. For the images to stand out from your email, use those with bright or noticeable colors. Notice how the blue image stands out against the white background.
Keep in mind that incorporating images does not mean you can slack on your content. While images can make newsletters easier to digest, you should still convey your information in the main email body.
2. Improve Readability by Using Highly Descriptive Anchor Text
Anchor text is commonly used as a way to associate links to a word or words, which helps search engines when ranking content. This means the anchor text you use can often be just as important as the link itself.
First, anchor text should be highly descriptive, and should tell readers exactly what to expect once clicked. Second, descriptive and organic anchor text is easier to incorporate more naturally into the surrounding content. There are a couple of tips we recommend:
Use descriptive text. In Pink Hexagon's newsletter above, the link is incredibly descriptive so there's no confusion.
Keep anchor text between 2–5 words. This makes the links clearer to see, but also offers a usability boost for those browsing on mobile devices.
Finally, look to write your content first, before finding suitable text to attach your links to. This makes it easier to naturally add links without breaking the flow of content.
3. Find the Best Placement by Tracking Your Links with Pretty Links
Links can be placed just about anywhere within your email newsletters. However, that doesn't mean that all locations are created equal. In fact, some link placements will work better than others.
Fortunately, it's possible to track your links to find the best placement. This can tell you which links are most clicked by readers, which improves newsletter effectiveness and reader experience.
Pretty Links – the all-in-one link management plugin – makes it easy to track your links. To begin, go to Pretty Links > Pro Reports on your WordPress dashboard, and click Add Report: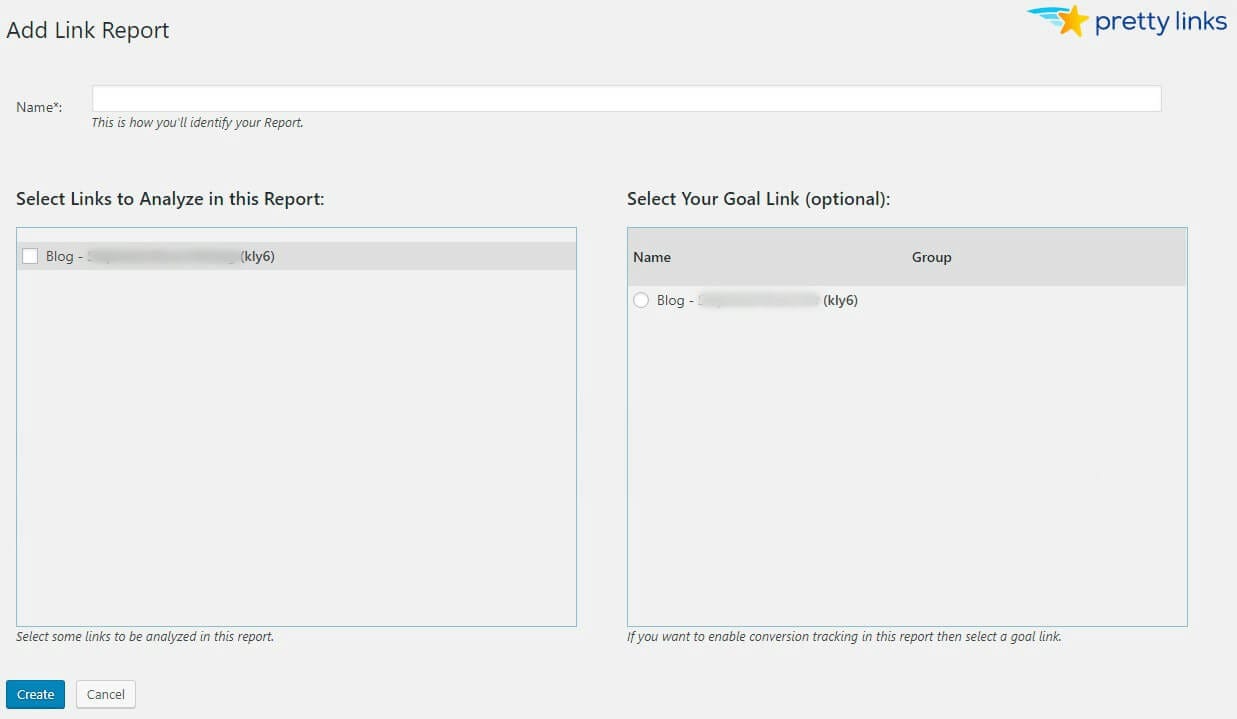 If the Select Links to Analyze in this Report section is blank, you may have to enable link tracking. To do so, go to the Pretty Links tab within WordPress and select the link you'd like to track, then go to Advanced Options and enable Tracking:
Now back in Pro Reports, select the link you'd like to track and click Create. A new report will be created that you can view at any time.
Conclusion
The success of your next email campaign all depends on your initial approach. One way to increase the odds of engagement with your campaigns is through linking. Fortunately, there are many ways to add links to your campaigns.
In this post, we've discussed the importance of linking within email campaigns. We've also offered three actionable tips for incorporating links optimally throughout your next campaign. To recap:
Increase interaction by adding links to images.
Improve readability by using highly descriptive anchor text.
Find the best placement by tracking your links with a plugin such as Pretty Links.
Do you have any questions about linking within your email campaigns, or how Pretty Links can help? Let us know in the comments section below!