How to Become an Amazon Affiliate (In 5 Steps)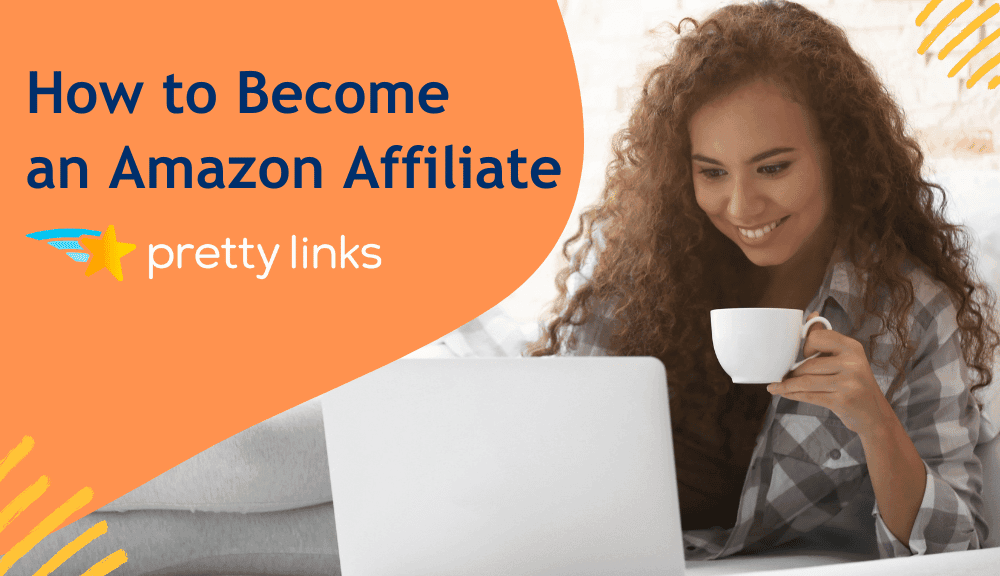 Attention affiliate marketers on the prowl for the ultimate program – your search ends here with our comprehensive guide to Amazon Associates!
Amazon flaunts an incredible selection of products, spanning every niche you can imagine. It's the online shopping haven where you can uncover and introduce your readers to those must-have essentials they can't live without.
Consider this post a crash course on Amazon Associates. We're here to give you a quick introduction to Amazon Associates and lay out all the incredible perks that come with joining the world's most renowned affiliate program.
Then we'll walk you through the 5 steps on how to become an Amazon affiliate, covering everything from setting up your account to getting your hands on affiliate links for your all-time favorite products.
An Introduction to Amazon Associates
Say hello to Amazon Associates, or as it's more commonly known, Amazon's Affiliate Program. As the largest ecommerce company in the world, there's an awesome opportunity for website owners, bloggers, and all you cool content creators to earn some serious cash.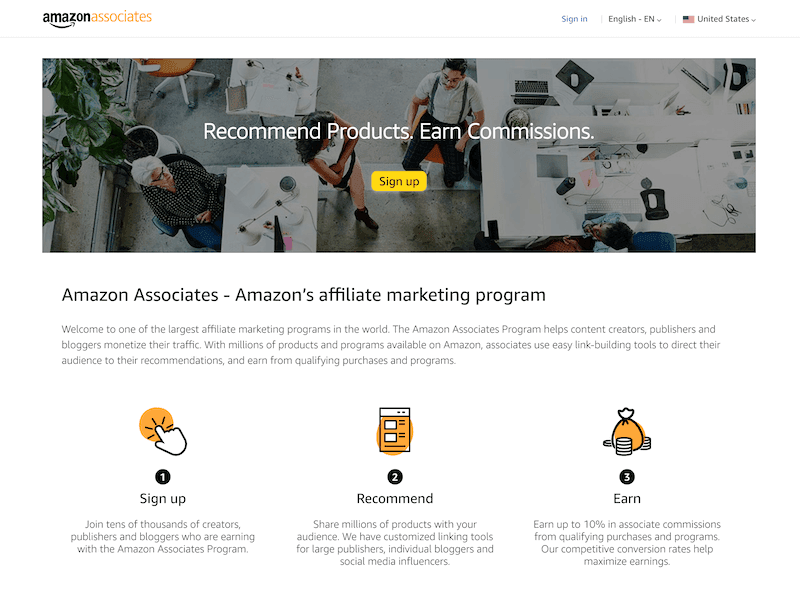 Here's how it works: You pick out awesome products you think your audience will go nuts over. Amazon's got a whopping 12 million options up for grabs, so you're bound to spot a bunch of cool stuff.
Then, Amazon hooks you up with these personalized referral links that you can slip into your content – whether it's a blog article, an unboxing video, or a social media post.
Whenever someone clicks on your special link and ends up buying something on Amazon, cha-ching! You pocket a commission based on what they bought.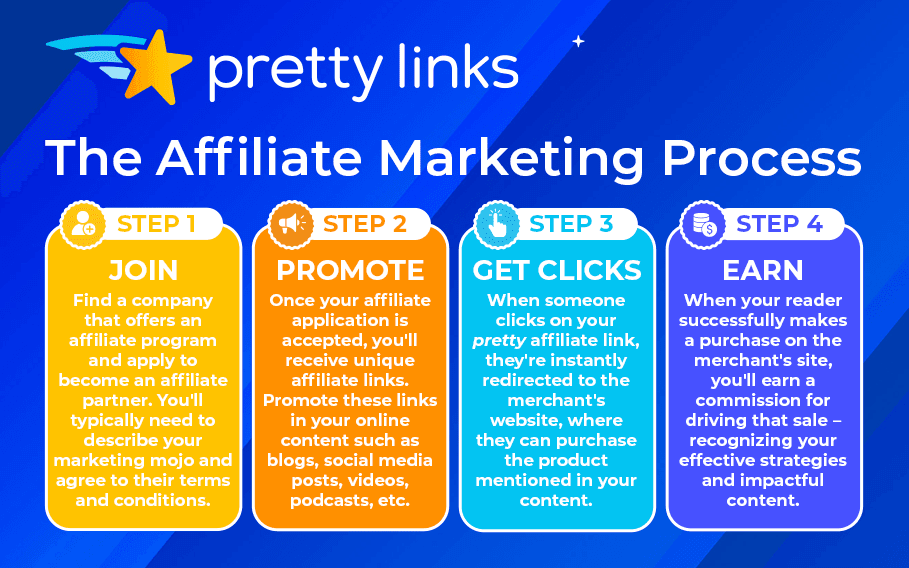 The Benefits of Being an Amazon Affiliate
Now let's talk perks that come with being an Amazon Affiliate…
It's FREE and EASY to Join. Getting on board as an Amazon Associate is a breeze. There are no upfront costs or membership fees. Anyone can sign up, making it a great opportunity for individuals looking to dip their toes into affiliate marketing without any financial commitment.
Product Diversity: Amazon is a one-stop shop for just about anything imaginable. As an Associate, you have access to a colossal range of products across various categories – from tech gadgets and fashion to kitchen appliances and books. This means you can align your promotions with your audience's interests and preferences.
Earn on Additional Purchases: The magic doesn't stop with the products you recommend. If a user clicks your referral link to buy one item and ends up loading their cart with other Amazon treasures, you still earn commissions on those additional purchases.
Reporting Tools for Insights: Amazon provides robust reporting tools that give you insights into how your referrals are performing. You can track clicks, conversions, and earnings, helping you refine your strategies and tailor your promotions to what your audience resonates with the most.
Customizable Promotion Options: Associates have the flexibility to choose how they promote products. You can generate different types of referral links, including text links, image links, and interactive product widgets.
In a world where clicking "add to cart" has become second nature, teaming up with the big kahuna of ecommerce just makes sense.
How to Become an Amazon Affiliate (In 5 Steps)
First things first, to be eligible for the Amazon Affiliate program, you'll need to have a qualifying website or social media influence.
For the bloggers out there, your site should sport a minimum of 10 posts, with a handful of them freshly published within the last 60 days.
Or, if you're more into the social media scene, you can dish out those Amazon affiliate links on Facebook, Instagram, YouTube, TikTok, and Twitch. Just one rule: You have to have at least 500 followers.
While meeting eligibility gets you in the door, it's your brand, audience, and content that really amp up your game in the Amazon Affiliate program. Remember: Your true power lies in building a standout brand, connecting with your audience, and consistently sharing content that clicks.
Step 1: Sign Up for the Amazon Affiliate Program
At the bottom of the Amazon Associates home page, you'll spot a straightforward "Sign up" button. Go ahead and click on that to kick off your application process:

The next page will prompt you to log in using an Amazon account you already have. And if you're not on the Amazon boat yet, no worries – simply tap the "Create your Amazon account" button, and that will lead you to a registration page: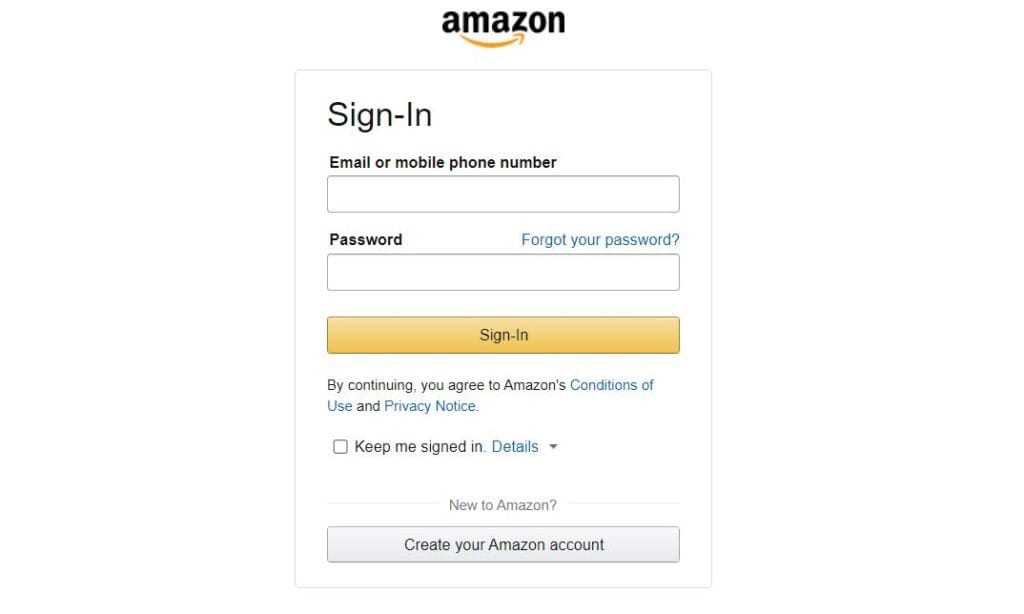 Once your account is all set up, head back to the Amazon Associates homepage where you can start filling out your actual application for the affiliate program.
Step 2: Enter Your Personal Details and Website Address
Starting with the Account Information page, you'll need to provide and double-check your personal details – things like your name, address, and mobile phone number: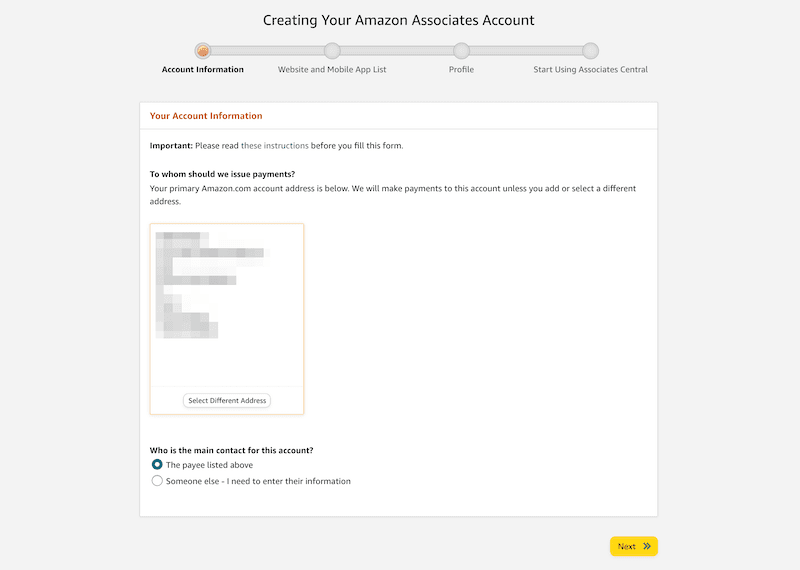 Towards the bottom of the page, you'll choose the main contact for the account you're setting up. You can make yourself the payee by selecting The payee listed above. Alternatively, if there's another contact, you can add them by picking the second option.
When you're done, tap that "Next" button to move on to the Website and Mobile App List page: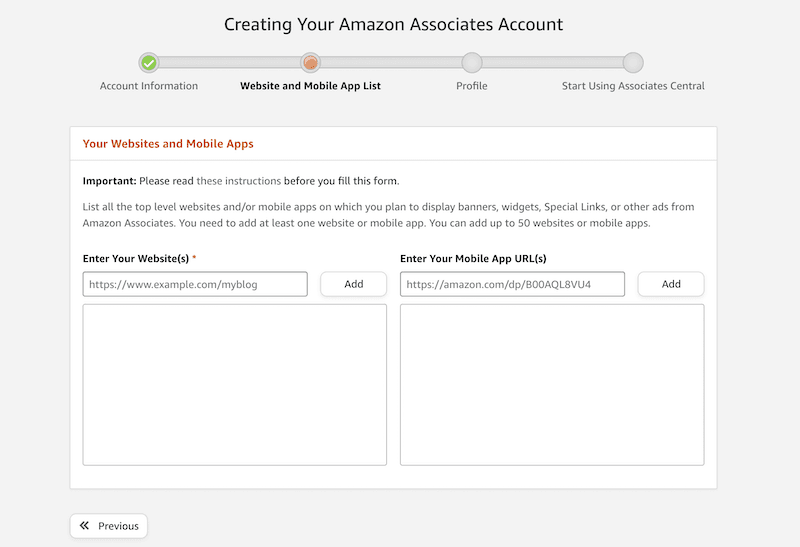 This is where you can list the web addresses you're planning to use for promoting Amazon products. Feel free to toss in websites, blogs, social media handles, and mobile apps – basically anywhere you'll be spreading the Amazon goodness.
Step 3: Build Your Profile
The Profile page will prompt you to provide details about your website(s), social platform(s), or mobile app(s). Begin by setting up your Associates ID. You can either use your name or your website's name for this. Keep in mind: this ID will also appear in your affiliate links.
Next, in the Tell us about the content you create section, jot down a couple of sentences to explain the essence of your content. This gives Amazon an insight into the kind of products you'll be promoting.
Then, pick the option that best aligns with your content – whether you're a dedicated blogger, someone who hunts down awesome deals and coupons for your site, and so on: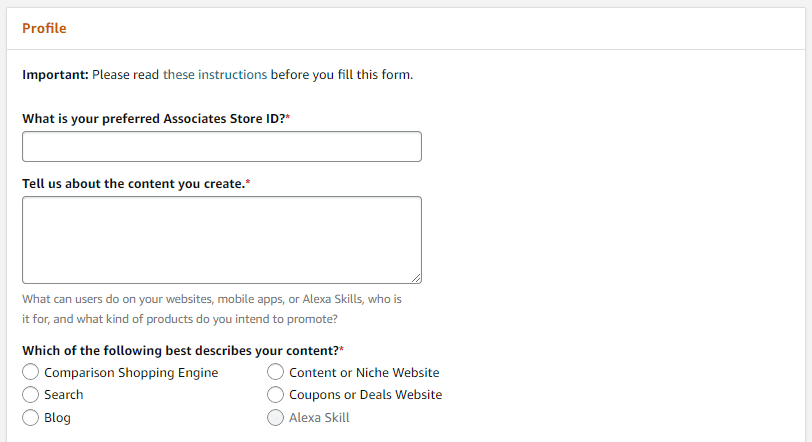 Before hitting that "Finish" button, make sure to give the Associates Program Operating Agreement a read-through. It's always a good idea to know the rules of the game before getting started.
Step 4: Select Your Payment Preferences
After you've put together your profile, a page will pop up, confirming that your application is officially in. You'll also get a few pointers on handling your Associate ID and finding your way around the affiliate program.
Amazon will take a look at your application once that first sale rolls in through your website. Just a heads up: if you don't manage to notch up at least 3 sales within the next 180 days, your application will be waved off.
Oh, and on this page, they'll prompt you to input your payment info and tax details, but don't stress – you can totally choose to tackle that later on: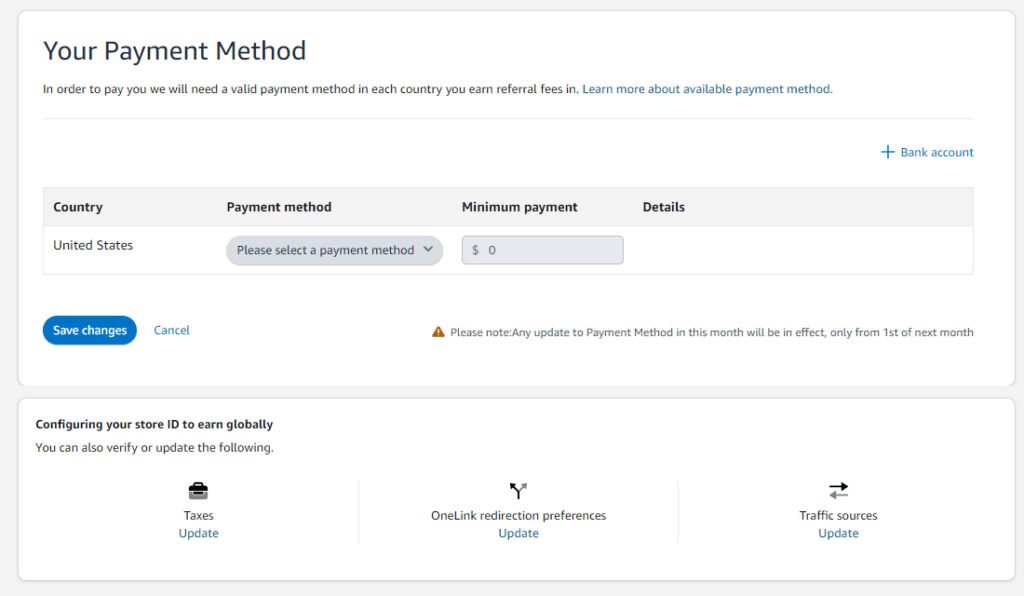 Step 5: Start Generating Your Affiliate Links
In the past year, Amazon has gone the extra mile to make their affiliate link generation super simple. All you need to do is browse Amazon as if you were doing some shopping yourself.
Once you stumble upon a product you're eager to promote, Amazon's SiteStripe tool steps in:

Amazon offers a couple of options to flaunt the product on your website: Text, Image, or Text and Image.
If you choose an image option, you'll get an HTML code to add to the page or post where you wish to display the product: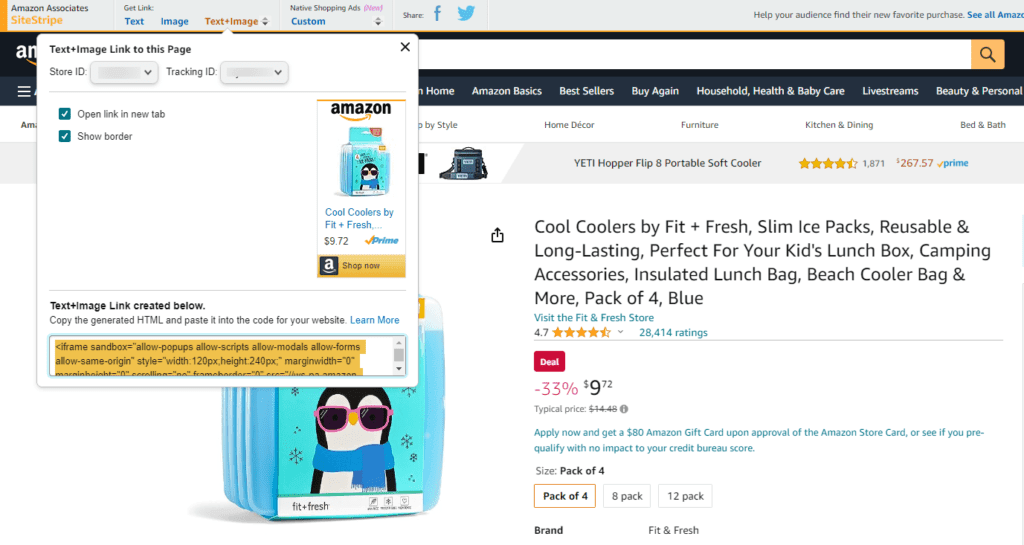 If Text only is more your jam, you can snag a link instead of the whole code hassle: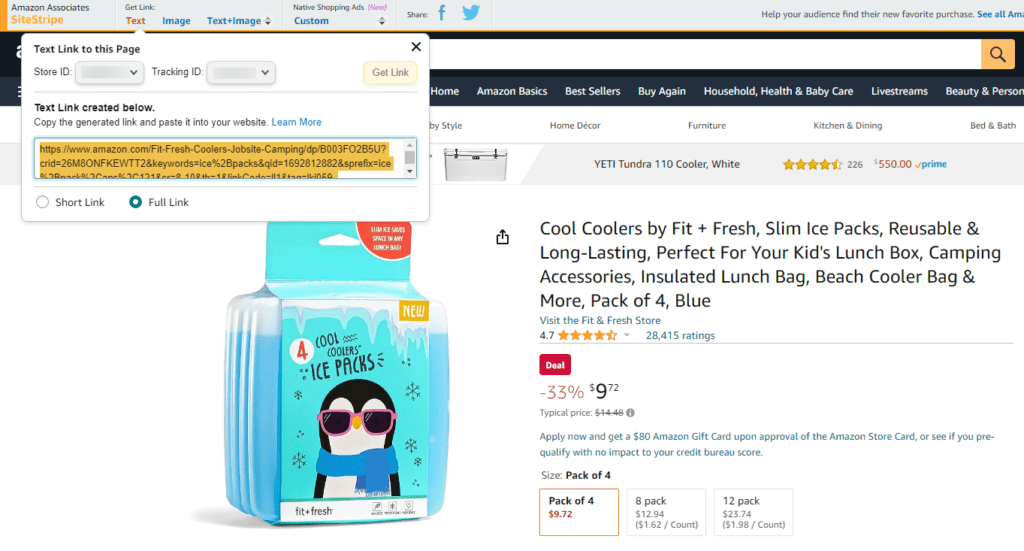 Elevate your affiliate marketing by giving your Amazon URLs a polished and professional touch with Pretty Links!
Pretty Links allows you to trim and customize your Amazon affiliate links, making them short, sleek, and backed by your brand. No more sharing lengthy and confusing links!
With Pretty Links, you can create short, memorable links that resonate with your audience and skyrocket your click-through rates!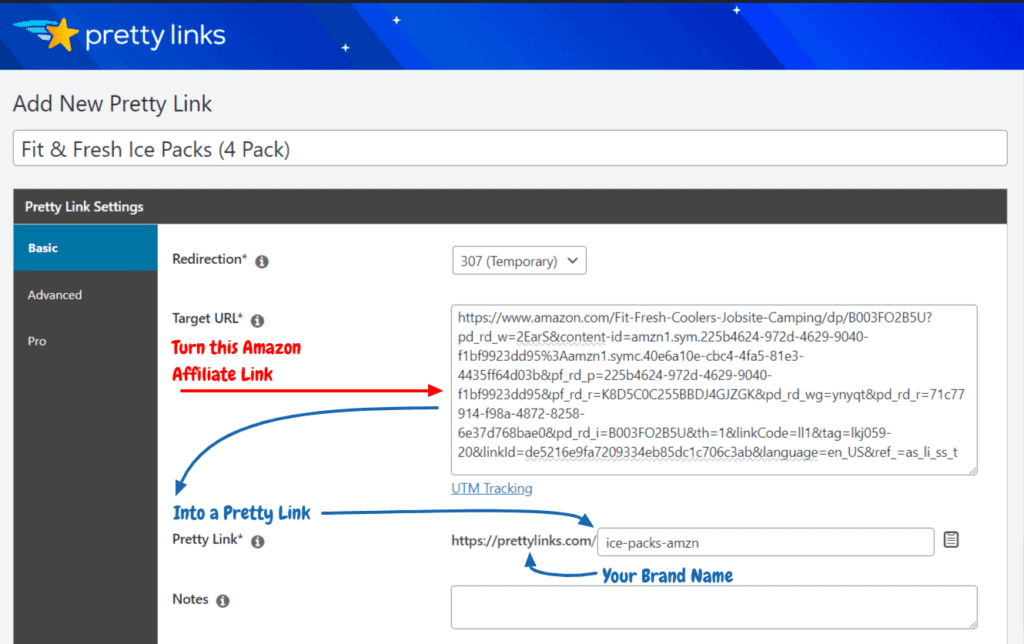 Plus, there's the awesome Pretty Links Product Display add-on that lets you whip up your own product displays without any coding headaches! Create these super cool image displays with snazzy descriptions and customized CTAs that seamlessly fit right into your WordPress blog: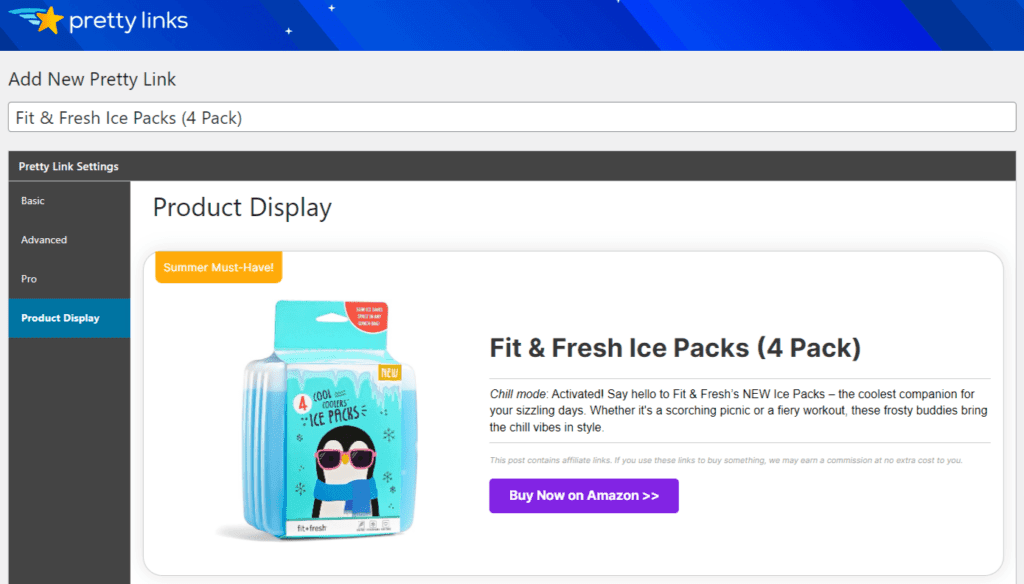 Conclusion
In a nutshell, Amazon Associates is the affiliate program to be in. With its competitive commissions and an extensive product range, it's a no-brainer for anyone looking to monetize their online presence.
As long as you've got a dedicated online following, diving into the Amazon Associates world is a breeze. So, if you're ready to turn your online influence into some extra cash, there's no better time to jump on board.
To review, here's how to join the Amazon affiliate program:
Sign up for the Amazon affiliate program.
Enter your personal details and website address.
Build your profile.
Select your payment preferences.
Start generating your affiliate links.
Do you have any questions about becoming an Amazon affiliate? Let us know in the comments section below!
If you liked this article, be sure to follow us on Facebook, Twitter, Pinterest, and LinkedIn! And don't forget to subscribe to our newsletter 😄
17 Comments
Rachael Adegbola

May 1, 2022

Good evening, I'm sorry to disturb you with my request. I want to become Amazon Affiliate but i don't know if i can get a mentor to be communicating with on WhatsApp or any other social media for guidance? I will appreciate that.

bindeba franco

May 8, 2022

Quite an exhaustive guide on how to become an Amazon affiliate.Thanks.I now know what to do and how to it.

My Coffee Wiki

July 19, 2022

Gonna join the program and good to read this article. This lets me have a thorough pic before registering. Thanks for the great info.

amith raj

July 22, 2022

Hey, nice article about "Amazon affiliate ". I will definitely follow these for my company to give the best possible services to my customers. Keep on adding this type of valuable content again and again. Hope to read more from you. Thank you!

Leslie

August 2, 2022

I recommend at least a dozen Amazon products every week to my clients, through my newsletter, social media, my private FB group. Maybe not so much through my website. Is that a problem? Of course, with an Amazon affiliate link, I will add my favorite products to my site.
Katelyn Gillis

August 5, 2022

Hi Leslie, It's great that you're utilizing so many different platforms to promote your amazon product recommendations! Whether you include affiliate links on your website is entirely up to you! But including them on your website (in a blog post for example) is another click-through opportunity! So why not? 😄
abia bashir
August 9, 2022
this is very informative content I got a lot about Amazon associates its wonderful
Caty
August 18, 2022
How do I create a website to join Amazon affiliate
Katelyn Gillis

August 19, 2022

Hi Caty! Here's a great article (and video) by WPBeginnner on How to Make a WordPress Website >> https://www.wpbeginner.com/guides/
Dareen Jaamour
September 13, 2022
Thank you for all the info given , it is very informative, but I need to ask when you mentioned (website or mobile app), doest that mean If I only have an active business account on instagram that would be enough to be an Amazon Affiliate? so I use my Instagram account stories/reels to promote for amazon product ? thank you Dareen
Robin berkery
January 15, 2023
Hello! Great article ! My question: regarding Amazon affiliate program- do I have to send the affiliate link to get commission or can I get credit when my followers purchase something through my "Amazon favorites" list? Thanks so much!
John Gurung
February 24, 2023
Thank you for the blog post on becoming amazon affiliate. In order to earn more with amazon affiliate choose a niche you're passionate about and select relevant products to promote. Use eye-catching banners and links on your website or blog. Write informative and engaging product reviews to help your audience make informed decisions. Take advantage of Amazon's seasonal promotions and deals. Build your audience and promote your content through social media and email marketing. Cheers :)
Muzik
February 28, 2023
Hi, so in the url part I can put any url I find on Amazon to help them sell their product and earn commission? Do I need to get permission for this?
Katelyn Gillis

March 10, 2023

Hi Muzik, Thanks for the comment! Glad you enjoyed our article! We encourage you to visit the Amazon Associates webpage to learn more about becoming an Amazon affiliate and the rules to abide by.
Yayush Mamo
June 19, 2023
I don't have a website so would the system assign me with one
Jennifer Oconnell
June 25, 2023
Do Amazon affiliates buy the product they promote. Do they return it after they promote it?
Susie Cabrera
July 25, 2023
I am glad i found this page. I wish i could find some more to guide me to become an Amazon Affiliate member.