How to Increase Social Media Engagement for Your Business (4 Tips)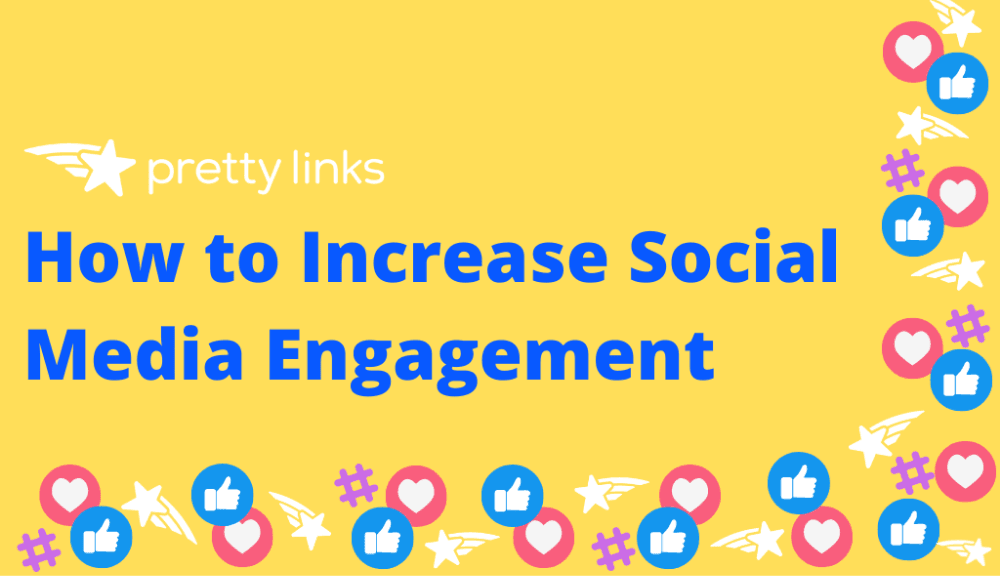 Social media is a big part of most of our lives. It provides the potential to reach new users, making an active brand presence on these platforms crucial. However, you might not know the best way to increase audience engagement.
Fortunately, there are a few tried-and-true methods to boost user interactions. By implementing a few key strategies, you can start attracting more likes and clicks than ever before.
In this article, we'll discuss the importance of increasing engagement on social media. Then, we'll walk you through four tips for taking your site's outreach to the next level. Let's dive right in!
Why Social Media Engagement Is Important
If you run your own website, you probably don't need us to tell you how important social media is. These platforms can give you multiple opportunities to attract new fans.
However, success is not just about how many people are viewing your posts. Engagement is a huge part of a successful social media presence.
Engagement can take many different forms, including:
Likes, hearts, or reactions to posts
Comments directed at your brand or other fans
Users sharing content beyond the platform
These actions are significant to sites that use artificial intelligence, such as the TikTok algorithm. On platforms like these, users who engage with your content will end up seeing more of it. Therefore, people have more chances to have repeated exposure to your brand.
Moreover, each type of engagement leads to more online visibility beyond social media. It might not directly improve your site's search engine optimization (SEO) ranking. However, that doesn't mean visibility isn't essential: it's a crucial source of organic traffic. Thus, getting even a few more likes is probably worth your time.
4 Tips for Increasing Social Media Engagement
Here are a few pieces of advice to get you started. Try using them together for maximum effect!
1. Focus on Your Audience
A target audience is a group of people you're trying to appeal to the most. They're usually those most likely to respond to efforts like affiliate links. As such, they should be a top priority for your brand. The same principle applies to social media: appealing to your biggest fans is key to engagement.
One approach is to pay attention to how your target audience talks about your brand. For example, many users joked that the language learning app Duolingo sent threatening notifications. Instead of resisting the image, the company used it to its advantage by leaning into the joke on social media: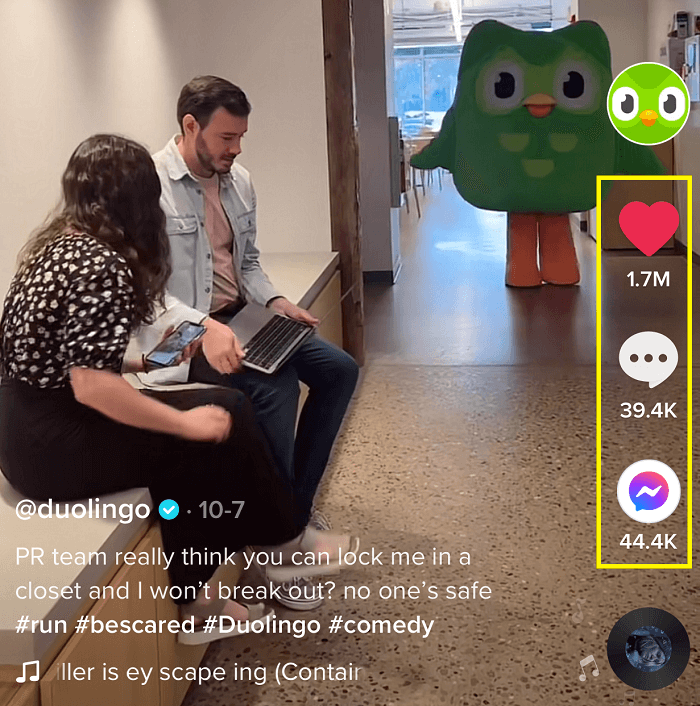 Not only will focused content like this reflect your audience's views, but it can also show that you're listening to them. Therefore, it might make your fans more likely to continue communicating. Then, you'll also be able to use this new engagement to repeat the process and keep your users invested in your brand.
2. Collaborate with Other Brands
Chances are, you're not the only brand in your niche. However, you might not have to view all of the other companies as competitors. If you can find ways to collaborate with them on your social media channels, you could quickly boost audience engagement.
Consistent interactions can make your brand feel more human and relatable. That means your followers might feel more willing to jump in on your conversations. Collaboration is also a valuable opportunity to polish your brand image and voice.
These partnerships don't have to be big productions, either. Even simple interactions can be effective, such as:
A casual conversation where you're replying to each other
Small giveaways with products from each party
A good-natured competition about who has the best fans
If you choose to go this route, we highly recommend you keep a schedule. Doing this can help ensure that both brands work on a consistent, high-quality content strategy to get the most interaction possible.
3. Give Your Users Motivation to Respond
It can be challenging for your users to comment if they don't know where to start. Whether you're sharing a recent post or advertising a new product, try to include an invitation to interact.
For example, you could directly ask a question about your brand and request responses in the comments. You could also recommend that users tag friends that your content made them think of. As long as it's clear, pretty much any call to action (CTA) can work.
Don't be afraid to get creative with your interactions, either! Domino's Pizza recently posted a tongue-in-cheek question, promising replies to everyone who got the obvious answer:
It resulted in 673 different audience interactions. As a bonus, the lighthearted approach led to over a thousand likes as well.
You may also want to include links to your site in posts like these. That way, users will be able to go straight to your brand's main page if they want. This is yet another reason to make sure that your website is optimized for mobile users.
4. Measure Your Progress
Let's be honest: this tip could be applied to most aspects of marketing. It's hard to improve if you don't know which parts of your strategy are working. The more you understand which content gets more clicks, the better you can create your next posts.
That's why we highly encourage you to use each social media's built-in analytics. Each one has a different approach that might tell you additional information. A few examples include:
Facebook analytics can help you understand who visits your page and takes different actions
Twitter analytics can tell you your unique optimal posting times
TikTok can show you when your traffic spikes and which other content your users are engaging with
Consider applying insights from one social media account to the other platforms. Some metrics will almost certainly be platform-specific, but they may also represent your audience's overall preferences. The data might also help you see how your brand's personality evolves in different environments.
Conclusion
Social media is crucial to a brand's performance – and that doesn't appear to be changing anytime soon. Therefore, boosting your engagement on these platforms will continue to support your site. Fortunately, a few simple adjustments to your strategy can help you maximize your performance on social media platforms.
In this article, we shared four tips for increasing your brand's social media engagement:
Focus on your most active audience members.
Collaborate with other brands to create a more casual image.
Use CTAs to encourage responses.
Apply feedback from platform-specific analytics.
Do you have any questions about how to improve your social media strategy? Let us know in the comments section below!
If you liked this article, be sure to follow us on Facebook, Twitter, Pinterest, and LinkedIn! And don't forget to subscribe to our newsletter 😄
1 Comment
Scovelo Consulting

April 28, 2022

Nice blog. It will be really helpful for me.