5 Ways to Optimize Your Mobile Site for Better Conversion Rates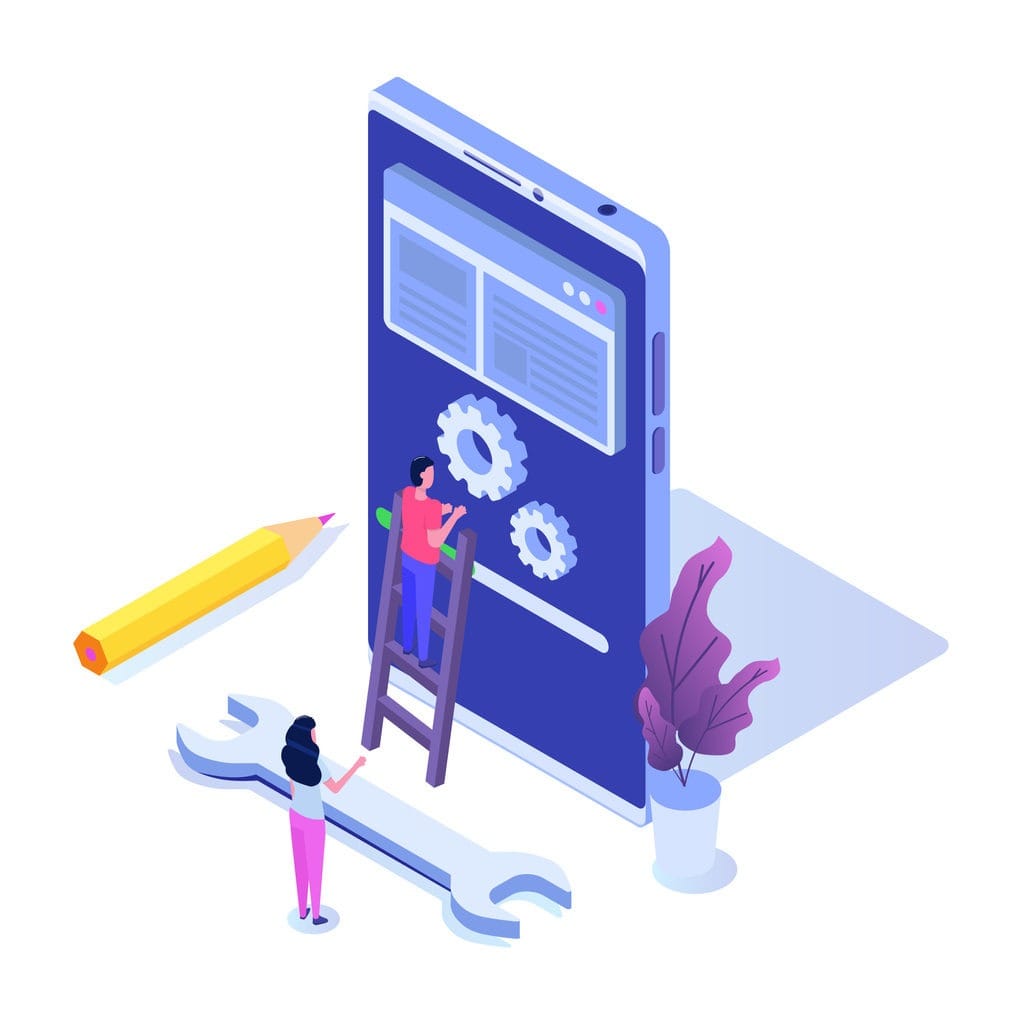 Are mobile users turning away from your site? Whether you're trying to get people to sign up for your courses or click on your affiliate links, you might be wondering why your mobile conversion rates are low and what you can do about it.
If visitors are ignoring your call to actions (CTAs), you probably need to optimize the mobile version of your site. This may require tweaking the pages and elements to improve the user experience (UX), and in turn, increase your conversion rates.
In this article, we'll look at the importance of optimizing your mobile site. Then we'll discuss five ways you can increase your conversion rates. Let's get started!
Why You Should Optimize Your Mobile Site
Many people browse the web from their mobile phones. In fact, more than half of web traffic worldwide comes from mobile devices, followed by desktop computers and tablets.
This figure highlights the importance of having a mobile-friendly site. While your website may seem fine on your laptop, the mobile version may need a bit of adjusting.
Optimization can do wonders for your mobile site. For starters, it can lead to faster loading times, encouraging users to spend more time on your pages. An efficient mobile site also offers a better UX and may prompt visitors to perform key actions, such as filling out subscription forms or purchasing products.
5 Ways to Optimize Your Mobile Site for Better Conversion Rates
There are several strategies you can use to boost your mobile conversion rates. Let's take a look at five ways to optimize your content.
1. Track and Analyze Your Link Performance
You may want to start by identifying the areas on your site that need to be optimized. You can do so by tracking visitor conversions. This will show you which pages on your site are driving results and which are performing poorly.
Our Pretty Links plugin can help you understand user behavior and engagement, so you can optimize your site accordingly. For example, you can create short and identifiable links for your products, which will make it easier to track their conversions: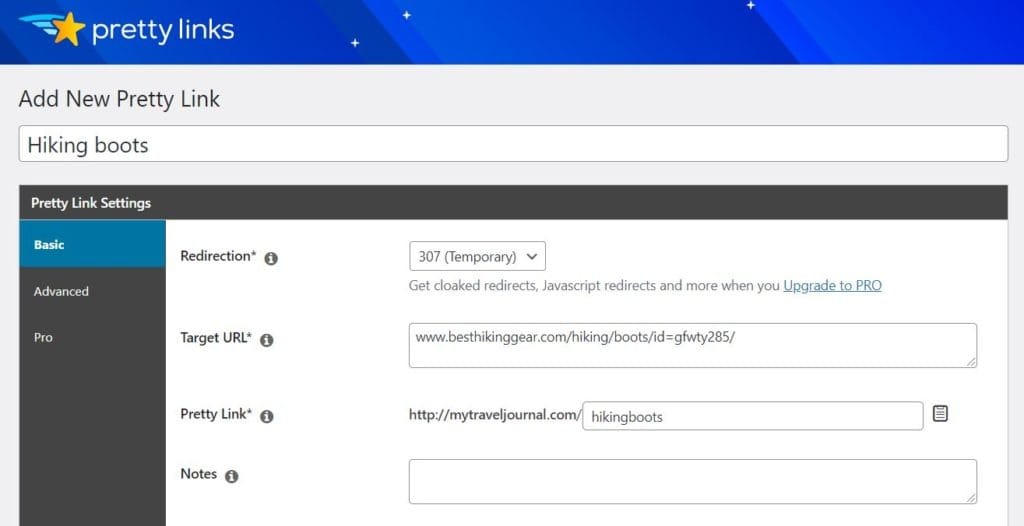 You can also use the plugin's Conversion Report to analyze the performance of different elements on your site. This data will help you focus on those weak areas to improve for better mobile conversion rates.
2. Ensure That Your Buttons Are Visible
Another effective way of optimizing your site is to ensure that all important buttons are visible and accessible. Visitors may be unable to complete an action, such as subscribing to your newsletter, if buttons are buried at the bottom of a page or blocked by other elements.
It may be a smart idea to spend some time browsing your mobile site to ensure that your CTA buttons on forms and product pages are noticeable. You might also want to pay attention to "close" buttons on pop-up windows and banners. If readers can't figure out how to get rid of a pop-up, they'll likely abandon your site.
The hamburger button is another element worth checking. Most mobile sites do not display menu items:

Instead, they are replaced by a three-line button that users can click on to view and access other pages on the site. Therefore, you may want to ensure that the menu button is prominent on all of your pages.
3. Keep Your Pages Simple
If you want to increase user interaction, it's important to design neat and simple pages. A cluttered site may put off visitors, especially if they're trying to navigate your pages on small screens.
For example, your landing pages don't need to contain a lot of information. They can just include your main CTA and accessible links that direct users to other pages on your site or your social media accounts: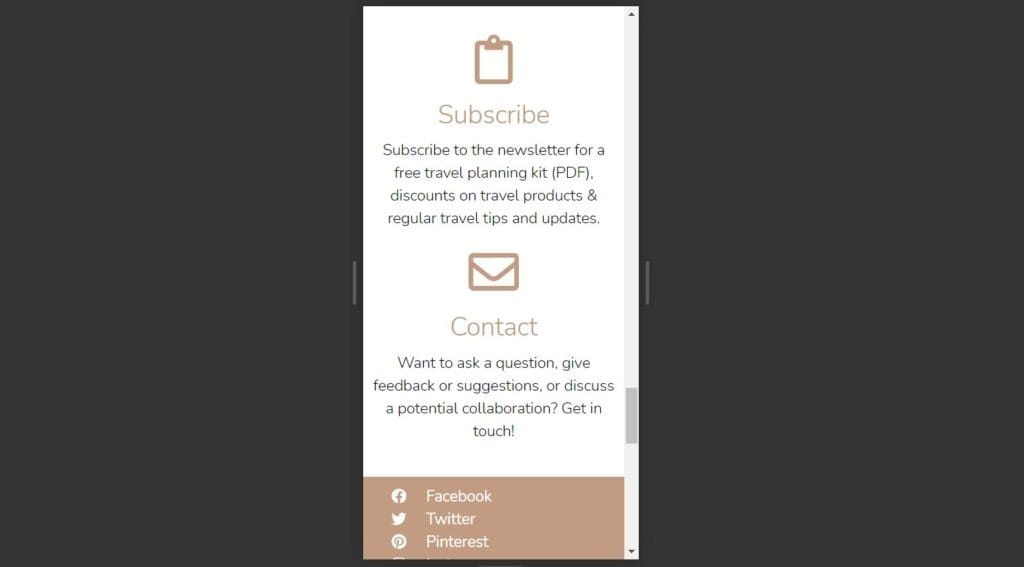 You can also make your other pages tidy by deleting unnecessary features. These may include decorative visuals such as banners and galleries, which can also slow down your site.
Finally, you might want to keep pages on your mobile site to a minimum. You can remove the ones that are unimportant and do not affect your conversions.
4. Make Your Content More Digestible
If you run a blog on your site, it's smart to ensure that your posts are digestible. This will encourage visitors to read your content and check out related posts. It can also lead to more clicks on the affiliate links embedded in your pages.
One way to achieve this is by utilizing white space. Having large chunks of text can discourage users from reading a full post. Thus, you can create bite-sized paragraphs and leave enough space between sections: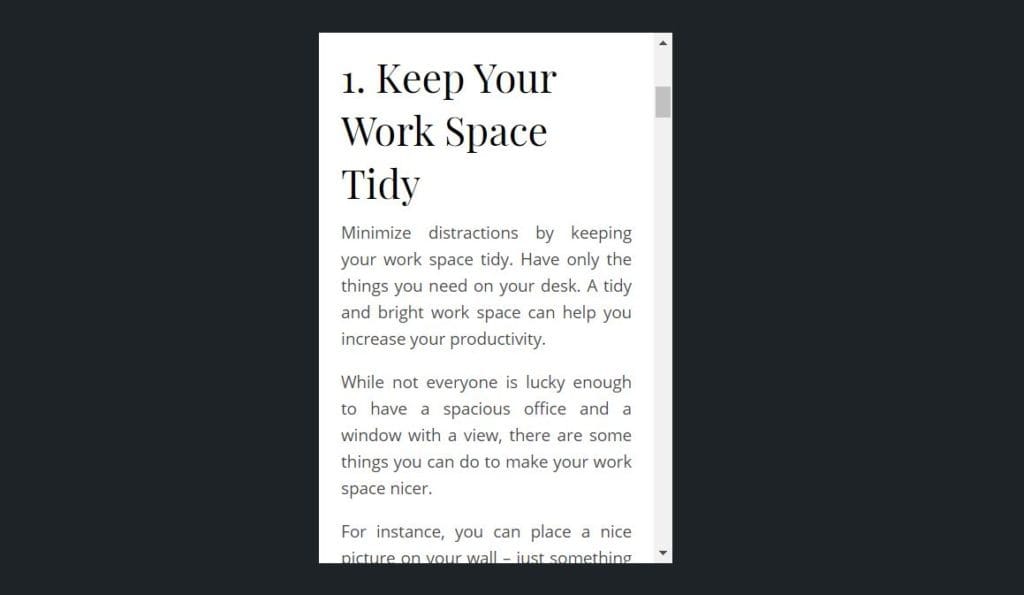 We also recommend checking to make sure your content is readable on all devices. For instance, your text may be clear on your laptop, but difficult to read on smaller screens. It might be helpful to increase the size of your fonts for the mobile version.
You can improve the readability of your posts by choosing clean, sans serif fonts, like Open Sans and Montserrat. Additionally, consider shortening your titles and headlines to keep your posts tidy.
5. Conduct Regular Site Speed Checks
Once you've optimized your mobile site, you may want to keep track of its performance by performing regular speed checks. This is especially important if you are constantly adding new pages or features to your site.
For reliable site speed tests, you can use Google's PageSpeed Insights. This free tool shows you how your site fares on both mobile and desktop devices. It also offers suggestions to help you make your site load faster: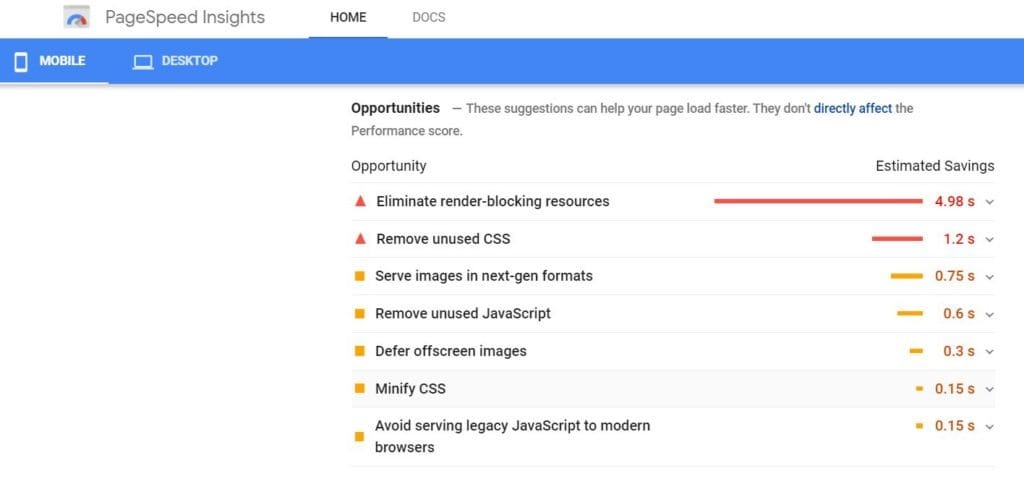 You can use the results from the speed test to further optimize your mobile site. For example, you may want to consider removing heavy plugins or converting your images from PNGs to JPEGs.
Conclusion
A slow and inaccessible mobile site can harm your business. If site visitors cannot perform their desired actions, such as buying your products or signing up for your newsletter, you're probably losing money and customers. Therefore, it's essential to optimize your mobile site to improve your conversion rates.
There are five main steps you can take to do this:
Track and analyze your link performance using our Pretty Links plugin.
Ensure that your buttons are visible.
Keep your pages simple.
Make your content more digestible.
Conduct regular site speed tests using a tool such as PageSpeed Insights.
Do you have any questions about optimizing your site for better mobile conversion rates? Let us know in the comments section below!
If you liked this article, be sure to follow us on Facebook, Twitter, and LinkedIn! And don't forget to subscribe in the box below.