5 Ways to Integrate Your Social Media Accounts With WordPress
These days, it's crucial for businesses to maintain an active presence on social media. However, it can be hard to drive engagement on social platforms. Posting daily can be time consuming, especially if you have a small team without a dedicated social media manager.
Fortunately, it's easy to connect your social media accounts to your WordPress website. This enables you to set some of your social marketing on auto-pilot. For example, including social share buttons on each new post is a passive way to drive engagement.
In this article, we'll explain why it's a good idea to integrate your social media accounts with your WordPress site. Then we'll introduce several tools that can help you do it. Let's get moving!
Why You Should Connect Your Social Media Profiles to WordPress
If you want to attract attention and increase conversions through social media, you'll need to put plenty of effort into the task. That means choosing your target platforms carefully, and remaining active on them over time.
For most online businesses, it's recommended to post about once per day on each social media platform you use. If your channels haven't been updated lately, your business may look like it's been abandoned, which can turn away potential customers. However, this can take up a great deal of time, especially when you combine creating and posting regular content for multiple sites.
Connecting your WordPress account to your social media profiles is an easy way to generate and share some of that content automatically. At the very least, you can ensure that your accounts are updated every time you publish a new blog post. This is a way of putting your social media partially on autopilot, and getting double duty out of your website's content.
You can still log in to write a new social post every time you have a special event or want to comment on something current. Still, connecting your social accounts to your website ensures a certain amount of steady content. This frees up your team for more high-level tasks.
5 Ways to Integrate Your Social Media Accounts With WordPress
Fortunately, there are several tools you can use to integrate your WordPress site with your social media accounts. Let's look at five of the most useful.
1. The Jetpack Plugin's Publicize Feature
The Jetpack plugin is a popular tool for adding various security and performance optimization features to your site:

What you may not know is that it offers a feature called Publicize, which enable you to auto-post to your social media accounts every time you update your blog.
Jetpack is a 'freemium' plugin, and often comes pre-installed with WordPress. That makes this an excellent basic option if you don't have complex social media needs. You can set Jetpack up to post to platforms such as Facebook, Twitter and LinkedIn on the free version.
You can connect your social media accounts by visiting Jetpack > Settings > Sharing in your WordPress admin dashboard (after installing the plugin). Hit the Connect button, and log into any platform you'd like. You can also use this plugin to display social sharing buttons underneath your posts and pages.
2. The WordPress to Buffer Plugin
Another "freemium" service, the WordPress to Buffer plugin offers slightly more advanced options than Jetpack does. Buffer is a social media scheduling service, and its WordPress plugin enables you to connect social accounts directly to your WordPress posts and pages: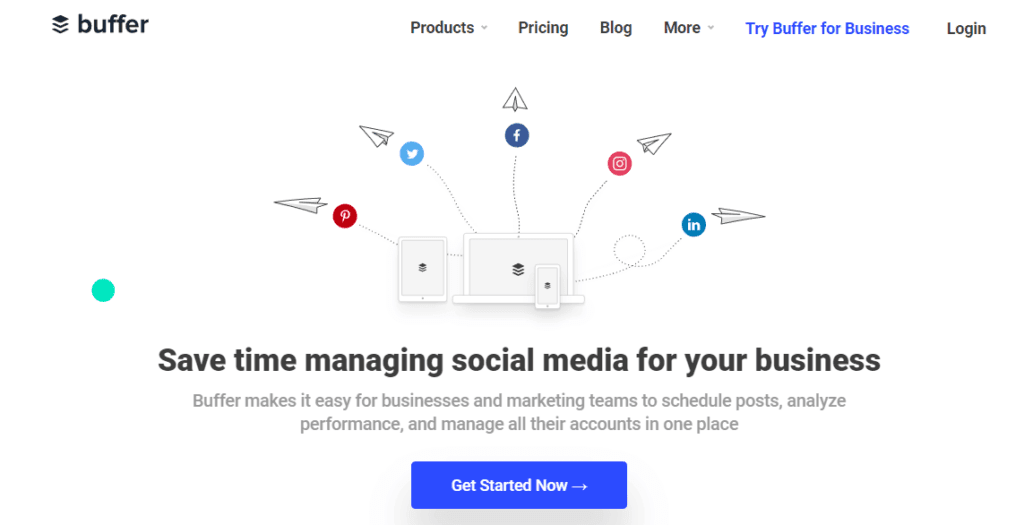 The free version of this plugin lets you post once per social media platform, every time you publish a WordPress blog entry or page. The paid version enables you to schedule multiple messages per platform, and customize what your posts will look like on each site. Pricing for that tier starts at $39 per year.
You also may want to upgrade your Buffer account, which you can do for $15 per month. The free version of Buffer only permits 10 scheduled posts at once, but a basic plan lets you schedule up to 100 posts at a time. You can also connect up to eight social accounts with an upgraded plan.
Either way, installing the WordPress to Buffer plugin is simple. You'll also need to create a free Buffer account, and connect your social channels to it. Once you have the plugin installed, you can connect your Buffer account in your dashboard, and start scheduling posts.
3. The If This, Then That (IFTTT) Service
If you're looking for an option that doesn't require you to install a new plugin, you may want to check out If This, Then That (IFTTT):

This solution enables you to automate a specified action whenever a particular trigger is met (these are called "recipes"). For example, you can set up a recipe that auto-publishes a post to your Facebook page or Twitter account every time your WordPress website has a new blog entry.
One benefit of using this method is that it can help you connect to more social accounts than Jetpack or Buffer would. For example, let's say you have a 10-person team, and each person wants to auto-post to their personal Facebook accounts every time your blog updates. They could do this by creating their own IFTTT accounts, and connecting the site to their individual accounts.
There are numerous ways to integrate IFTTT with WordPress and social media sites. For example, you can find your site's RSS feed and create a recipe that connects it to Facebook. There are many other pre-built recipes you can use, so it's worth exploring the site to see what you can find.
4. Pretty Links' Social Sharing Buttons
Another easy way to promote engagement is by adding social sharing buttons to your site. These are icons that display alongside each post or page, and enable readers to share your content to their personal accounts at the click of a button: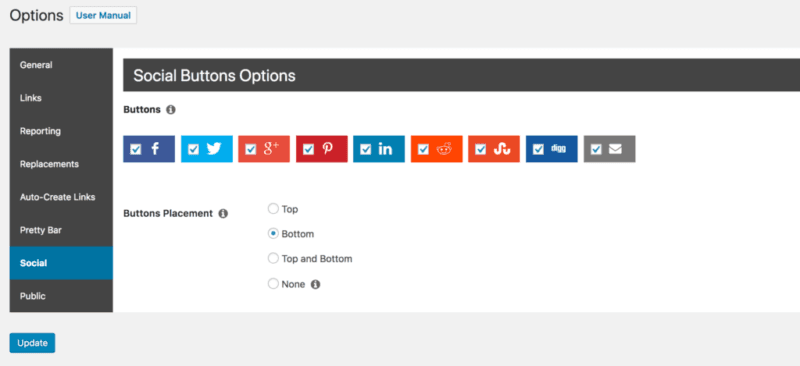 This is a good idea, because it expands your reach and gets your content in front of new audiences. Plus, visitors can engage with and share your content without leaving your website.
You can use Pretty Links to add social sharing buttons to your site, by configuring the settings in your WordPress admin dashboard. Remember to track your links as well, to see how much engagement you're getting.
5. The Feed Them Social Plugin
Finally, you can use the Feed Them Social plugin to add social media feeds to your website:

This tool lets you quickly show visitors what you've been up to on social media, and display your latest news right on your website. The versatile plugin generates shortcodes that you can add almost anywhere on your site, such as in the sidebar or footer.
There's a free version of Feed Them Social that you can try, while the premium version starts at $50. Either way, installing and setting up the plugin should only take a few minutes.
Conclusion
Maintaining a presence on social media is crucial for most businesses, but it can be very time consuming. Fortunately, you can reduce your team's workload by connecting your social media accounts to WordPress.
Five ways to integrate social media with WordPress include:
Do you have any questions about integrating social media with WordPress? Let us know in the comments section below!