How to Conduct a Target Market Analysis for Your Website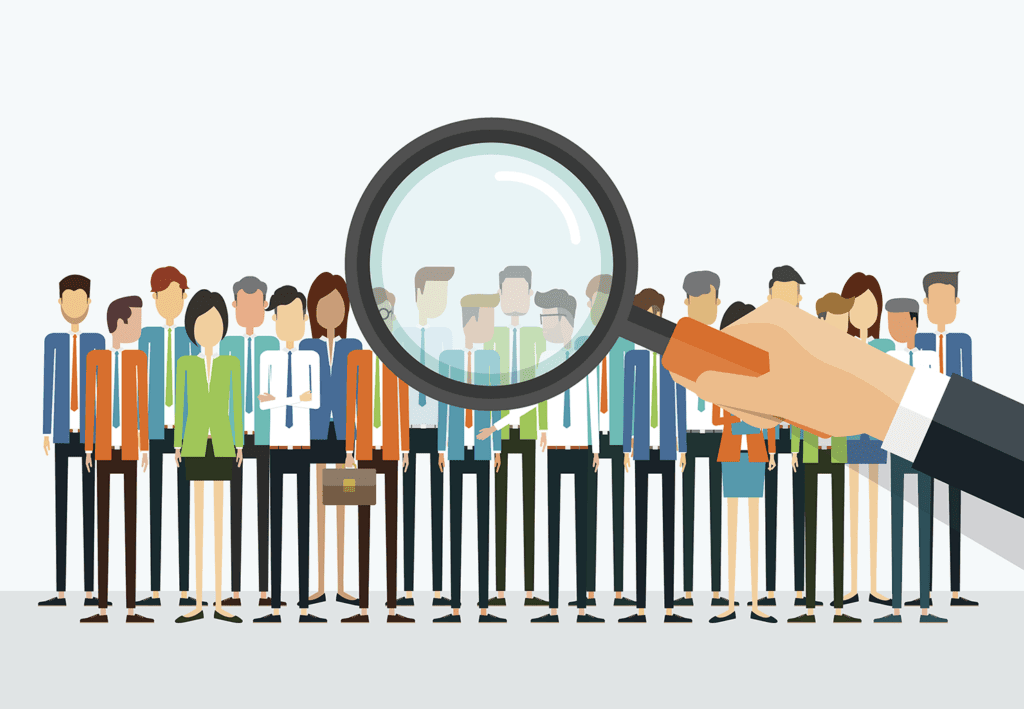 If you want your online content to be successful, it's vital to have a clear understanding of your core audience. Without that, you'll have a hard time producing content users will be interested in, which can lead to low conversion rates.
For this reason, performing a detailed study of your audience – a target market analysis – is essential. When done right, this process can enable you to increase your site's traffic. What's more, directly responding to the needs and wants of your audience can improve their brand loyalty.
In this post, we'll discuss what a target market analysis is and what it involves. Then, we'll explain how to carry one out effectively. Let's get started!
What a Target Market Analysis Is
Before producing content for your website, it's important to know who your audience is. A clear understanding of the people who will actually visit your site is vital to its success. Without that, you'll have no way of knowing what kinds of content your visitors will be likely to engage with.
Target market analysis is the process of learning everything you can about your target audience. There are a number of ways to do this, but they all focus on gathering information through research and tracking.
When carrying out any form of target market research, it's important to look for answers to a few key questions. These are often referred to as the five Ws:
Who are your potential customers?
Where is your audience located?
Why might consumers purchase from you over your competitors?
When are customers are likely to buy your products or services?
What type of content is your audience most interested in?
You can (and should) look into other factors, of course, such as your audience's typical browsing and purchasing habits. This will give you a better idea of the kinds of products or services your target customers are most likely to engage with.
Why Conducting a Target Market Analysis Is Important
In an ideal world, you could market your products or services to all. It's impossible to appeal to everyone, however, which is why target market analysis is essential. Some people simply won't be interested in what you have to offer, and that's okay – but attempting to market to those individuals is a waste of time and money.
Instead, focusing your efforts on a select group of consumers enables you to produce content you know they'll love. This offers your audience a high level of value, and increases the likelihood of securing conversions. After all, people are more likely to engage with products that reflect their interests.
What's more, a clear understanding of your audience can also lead to increased website traffic. Visitors want to feel like they are listened to, and providing content that directly appeals to their wants and needs is a perfect way to show that you're paying attention.
How to Conduct a Target Market Analysis for Your Website (In 3 Steps)
At this point, you may be wondering how to actually go about performing a target market analysis. While the process will no doubt differ depending on your specific industry and goals, let's walk through the three steps that are essential to getting this task done effectively and efficiently.
Step 1: Define Your Target Audience
Before starting the research process, you'll first need to decide who you're going to market your content to. It's likely that you already have some idea who your target audience is, although it's important to update this information as the needs of your business change.
Carefully examining your core audience will help you produce more effective content further down the line. First, you'll need to figure out the specific need your product or service fills – what problems does it solve? You can then refine your target market by determining what characteristics define consumers with that particular need or problem.
The best way to do this is by developing a thorough buyer persona: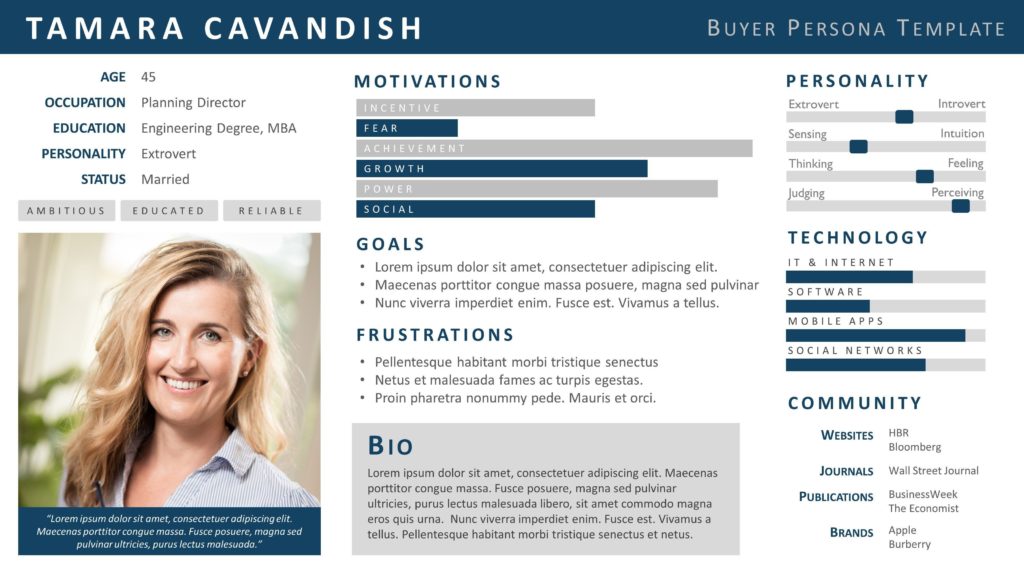 A buyer persona is a description of your 'ideal' customer, detailing everything about them – age, income level, gender, location, and so on. To craft a strong persona, you'll want to include as much information as possible, which is much easier if you use a template to guide the process.
Step 2: Carry Out Research on Your Audience
After you have a crystal-clear picture of your intended audience, you can then begin to learn more about them. There are a number of ways to do this. For example, using social media can be particularly effective.
Distributing surveys is also a valuable method, and one that can be done on your website or through email (or both). You'll want to ask for generic identifying information, and include more specific questions about the kinds of content those surveyed would like to see. Tools like SurveyMonkey can make this process fast and efficient, and will usually offer detailed information on your responses.
Last but not least, Google Analytics is one of the most well-known analytics tools out there: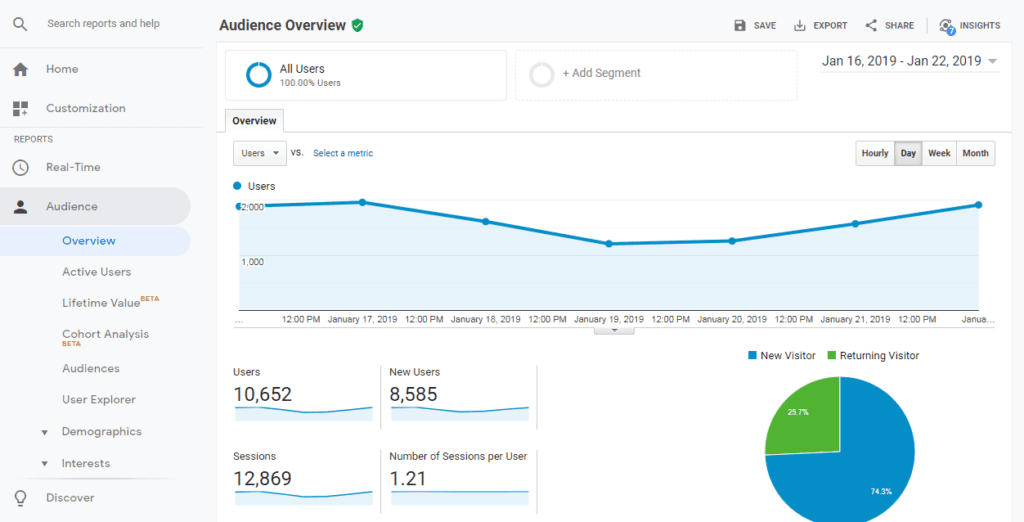 This solution provides incredibly detailed information on your site's existing audience, and is completely free. By using the 'demographics' and 'interests' sections of the Google Analytics dashboard, you'll be able to uncover the common characteristics that connect your current audience.
Step 3: Apply Your Findings
The final (and perhaps most important) step is to actually apply your findings to the content you produce. It's vital to take what you've discovered into consideration, even if it challenges your previous assumptions.
You may find, for example, that you have a larger following from a certain demographic than you first thought. In that scenario, you'll need to ensure that any new content you create speaks to the needs of that particular audience.
It's also important to remember that analysis is an ongoing journey. You'll want to conduct additional research every 6 to 12 months, and constantly adapt and refine your audience. As your website grows, your audience will too – and you need to remain current on their needs and characteristics.
Conclusion
Producing content that your users find valuable is crucial, as this can lead to increased conversions, higher site traffic, and better user satisfaction levels. In order to create successful content, however, you'll first have to carry out some research.
In this post, we've talked you through how to conduct a target market analysis for your website. Let's recap the steps involved:
Define your target audience in detail.
Carry out audience research, by using social media, surveys, and tools like Google Analytics.
Apply the findings to your website and future content.
Do you have any further questions on the process of conducting a target market analysis? Let us know in the comments section below!