Your Complete Guide to Creating Branded Links (In 4 Steps)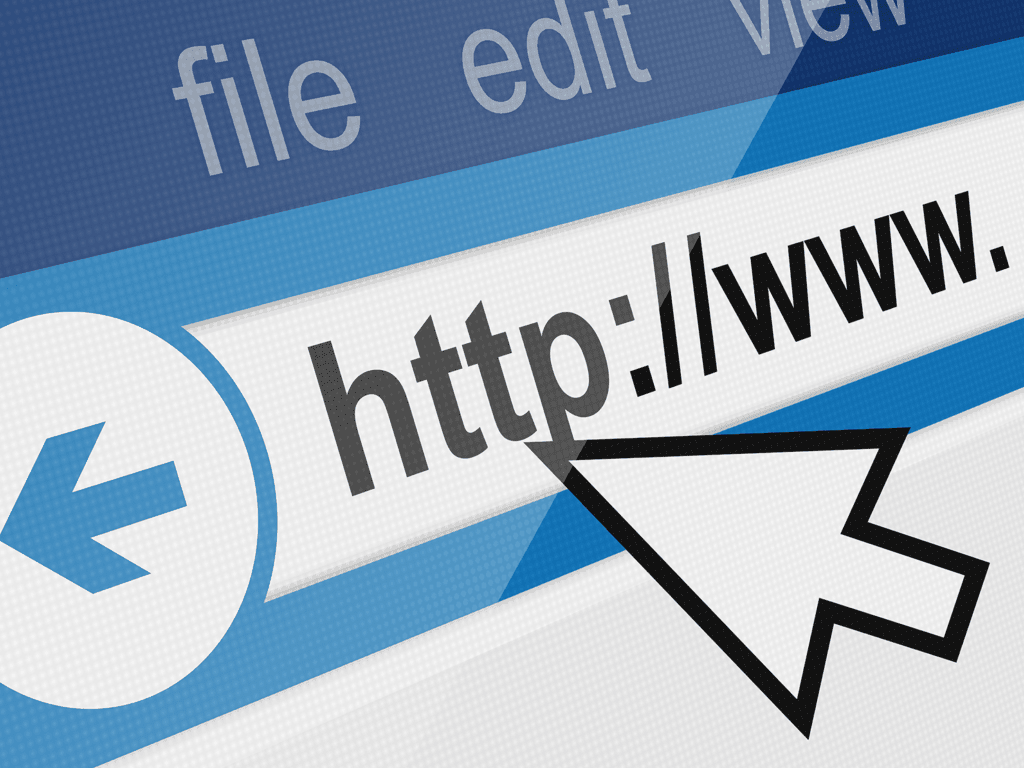 Shortened URLs have gained a lot of popularity over the years. However, some businesses overlook the opportunity to take their shortened links to the next level by branding them.
URLs from most link shortening tools use generic domain names and random slugs. On the other hand, branded links incorporate your business' name into the URL directly. Therefore, they offer a practical and useful strategy for optimizing links in a way that benefits your brand.
In this post, we'll discuss what branded links are and the benefits of using them. Then we'll show you how to create branded links in just four steps, using our Pretty Links plugin. Let's get started!
An Introduction to Branded Links
Branded links are shortened URLs that are specific to your business. There are multiple ways to create these kinds of links. You can shorten your site's existing domain name, for example, or you can use what's known as 'vanity URLs'.
A vanity URL is a domain you can buy that reflects your brand or business name. You can then use this branded link as a cloak for other, non-branded URLs. Each vanity URL will redirect visitors to a target web page, whether it's a landing page, blog post, website home page, etc.
You may have seen branded links used on social media by major companies. For example, take a look at this tweet from National Geographic:

This tweet includes a shortened, branded link. When you click on the link, it directs you a blog post on the company's website that, as you can see below, actually has a much longer and more complicated URL:

Vanity URLs are used for marketing purposes, since they offer concise links that are both more presentable and memorable. Branded links can be used on social media, within email marketing, and even in offline marketing channels.
The Benefits of Using Branded Links
Along with the benefits we've already discussed, branded links offer a handful of aesthetic and functional advantages. Shortened and branded links are useful to your business because of how they:
Make you appear more credible. By including your brand name, these links help to establish trust and promote brand awareness. Plus, they let you build a cohesive brand identity across various platforms.
Help with Search Engine Optimization (SEO). Creating vanity URLs that are based on your brand or target keywords gives you safe anchor text you can use for backlinks. They also present an opportunity to associate your URL(s) with relevant keywords.
Are social media-friendly. Branded links are shorter and better-looking, which make for friendlier social sharing. In addition, they're practical on mobile devices where the visual space is limited.
Can increase Click-Through Rates (CTRs) and conversions. Branded links appear more professional, which can increase the chance that audience members will click on them.
Thousands of links are shared every minute on Facebook alone. So it's critical to make sure yours are presentable, memorable, and perhaps most importantly, shareable.
How to Create Branded Links Using Pretty Links' Shortlink URL Feature (In 4 Steps)
Now that you understand the benefits of branded links, you're probably ready to start using them! One of the easiest ways to create branded links is by using our own Pretty Links WordPress plugin:

The Shortlink URL feature available in the premium version of Pretty Links lets you shorten URLs and turn them into branded links. To get started, all you need to do is follow these four steps.
Step 1: Pick and Purchase a Domain for Your Vanity URL
First, you need to own the vanity domain you intend to use for your branded URLs. Fortunately, there are many places online where you can buy domain names for low prices.
One tool you can use to find available domain names for your existing brand is Domainr. For example, let's say we're trying to find a vanity domain for the (made up) company Toddler Training With Tricia: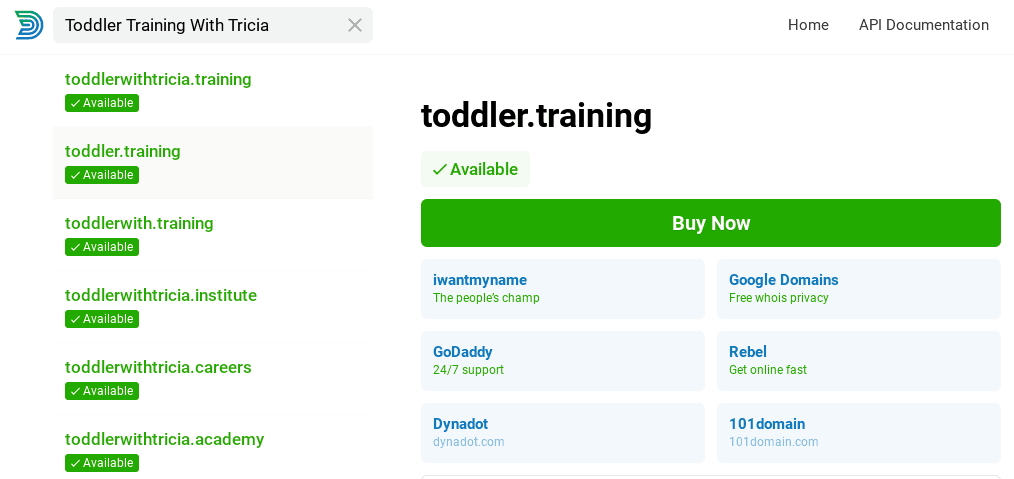 You can type in your company's name or relevant terms to get a list of possible results, as you can see above. Then, all you need to do is find one that concisely and accurately reflects your brand. In this case, "toddler.training" would probably be the best option.
Once you purchase a domain, the next step is to map it to your WordPress site. The instructions for doing this depend on your web host. So you'll want to check your provider's documentation or get in touch with support for advice on how to connect your new domain.
Step 2: Install the Pretty Links Plugin and Upgrade It
Once your domain is mapped to your WordPress site, the next step is installing the Pretty Links plugin. The simplest method for doing this is to go to your WordPress dashboard and visit Plugins > Add New: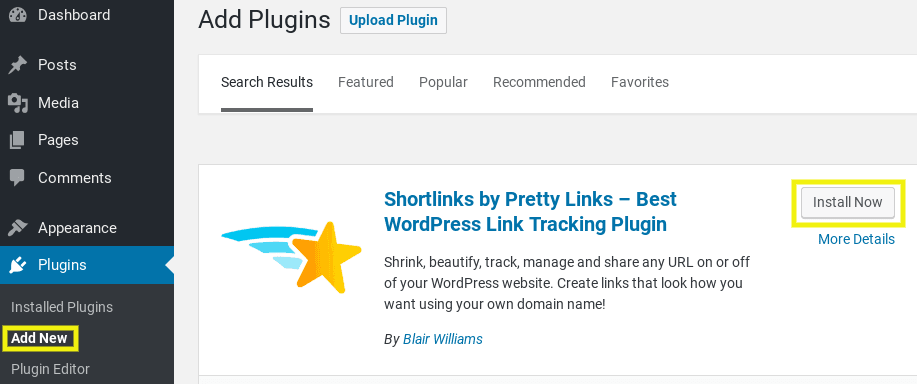 Type "Pretty Links" into the search bar, and the Pretty Links plugin should be the first option to appear. Then, click on Install Now and Activate in turn.
Once the plugin is activated, you'll need to upgrade it to the premium version. While the free version enables you to create shortened links from an existing domain, branding links with your vanity URL requires the premium tier.
To do this, navigate to Pretty Links in your WordPress dashboard, and select the Upgrade option: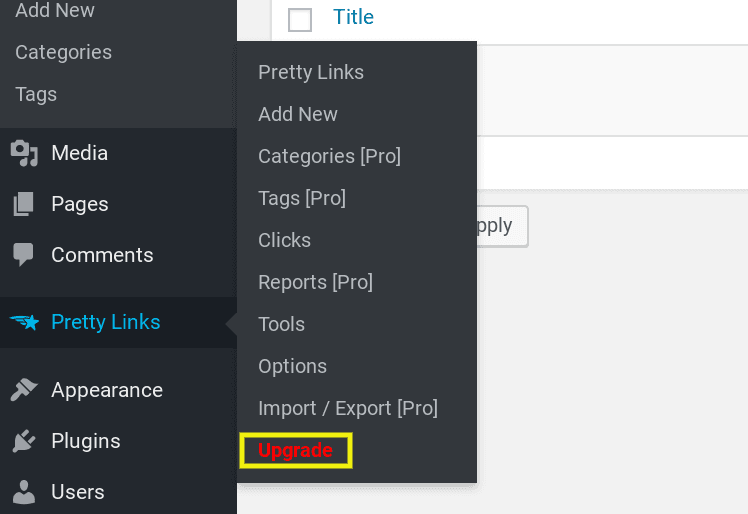 This will bring you to a screen asking you to activate your Pretty Links Pro license key. To get one, you can visit our site and choose your preferred plan: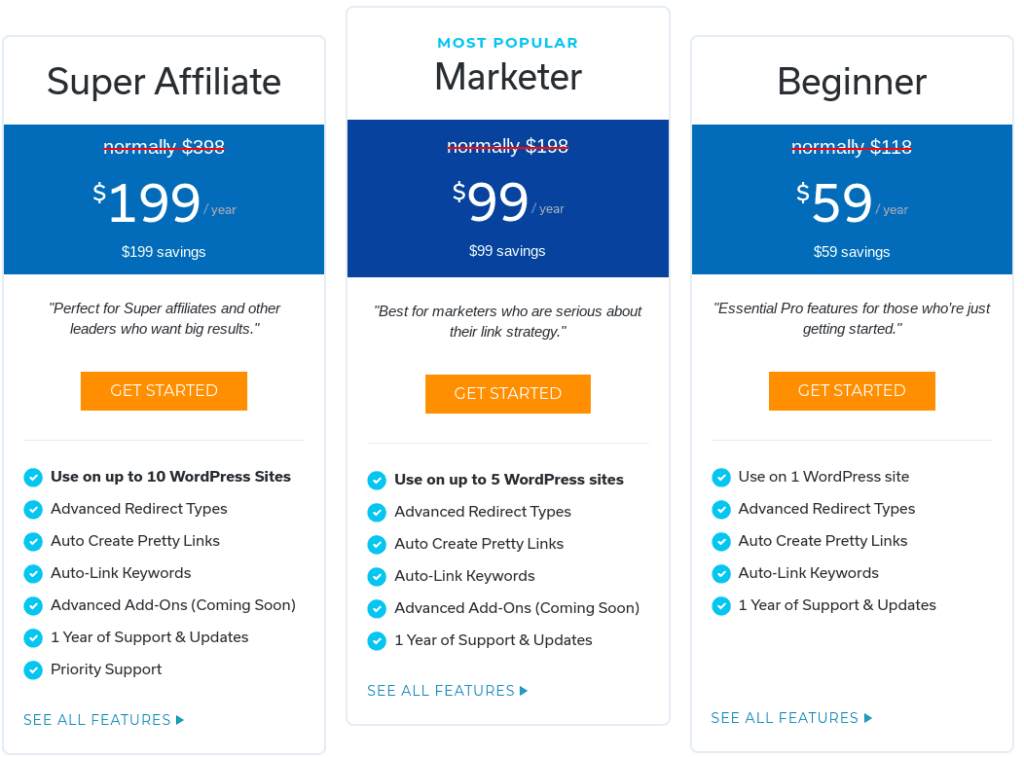 Once you enter license key in WordPress, you'll need to activate it by going to Pretty Links > Activate. Then, you're ready to start using all of Pretty Links' features.
Step 3: Locate the Shortlink URL Option
Once you have the premium version of Pretty Links set up, you're ready to start creating your branded links. The next step is to locate and enable the "Shortlink URL" field. To do that, navigate to Pretty Links again, and select Options: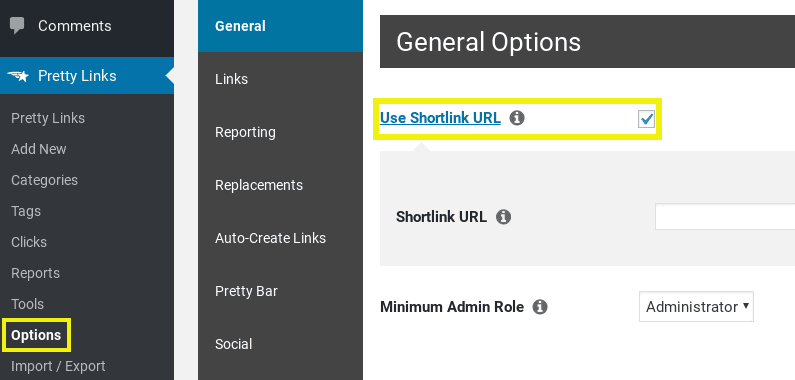 Under General, check the box next to Use Shortlink URL. The field that appears right below is where you'll enter your vanity URL. Make sure to Update your changes when you're done.
That's it! Pretty Links will now use the vanity URL for branded links, instead of your domain name.
Step 4 (Optional): Add a New Link for an Existing Domain
There are some cases when you may want to keep your current domain name instead. For example, if your URL is short, concise, and already reflects your brand, you may not feel the need to create a vanity URL.
If this is the case, it's still a good idea to shorten your URLs with the Pretty Links plugin. To shorten links with your existing domain name, navigate to Pretty Links > Add New. On that page, paste the link you want to shorten into the Target URL field: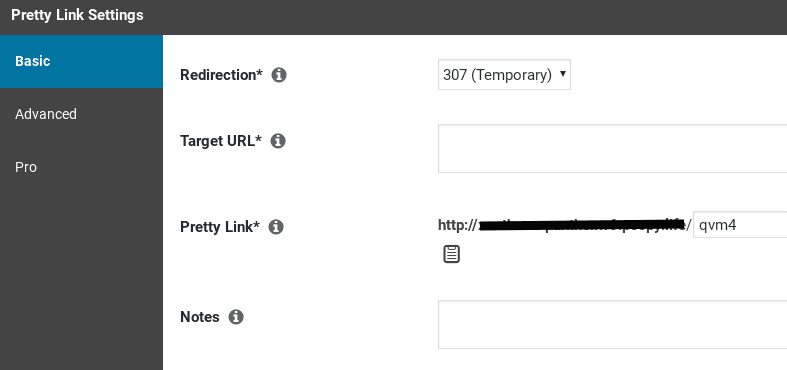 The next field, Pretty Link, shows how your shortened or branded link will appear. You can change the slug as you see fit. Just keep in mind that you can't use the same slug more than once, so choose wisely. You can also change the link's Redirection method as needed.
Conclusion
Shortened, branded links offer a wide variety of benefits. They can help you increase click-throughs and conversions, improve search rankings, encourage trust in your audience, and much more.
By following these simple steps, you can use Pretty Links to easily brand and shorten your URLs:
Pick and purchase a domain for your vanity URL.
Install the Pretty Links plugin and upgrade it.
Locate the Shortlink URL feature.
Optionally, add a new link for an existing domain.
Do you have any questions about creating branded links? Let us know in the comments section below!