How to Create an Affiliate Product Display on WordPress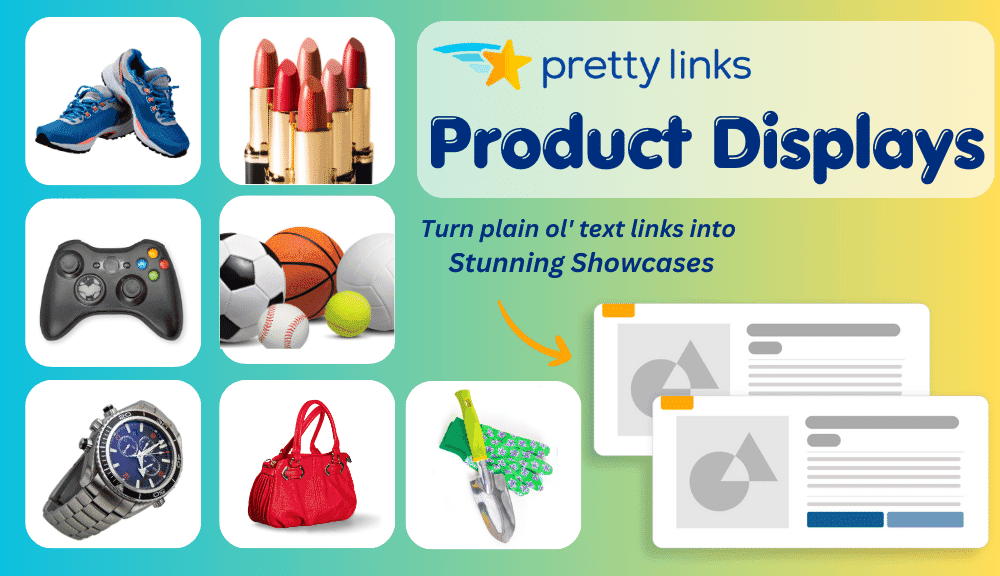 Create a seamless shopping experience that visually promotes affiliate products on your site & skyrockets your commissions!
---
When you're shopping online, what catches your eye? Is it a plain, text-only link, or a beautiful image of the product you're interested in?
Think about it – You're searching for the perfect pair of running shoes on Amazon. With a single search, suddenly you find yourself looking at hundreds of different shoes to choose from.
When you stumble upon a pair you like, you click on the image to get a better look. As you read the description and skim through a few reviews, you're convinced these are the shoes for you. Without hesitation, you confidently Add to Cart and Checkout.
And just like that, you have a new pair of shoes on the way.
With the Pretty Links Product Display Add-on, you can recreate this same convenient shopping experience on your own website – only better! Give readers all the information they need to shop your affiliate products with speed and ease using product displays that:
Grab the attention of curious customers
Showcase products in a visually appealing way
Highlight important product features and benefits
Encourage readers to engage with your content
Drive click-through rates & commissions through the roof!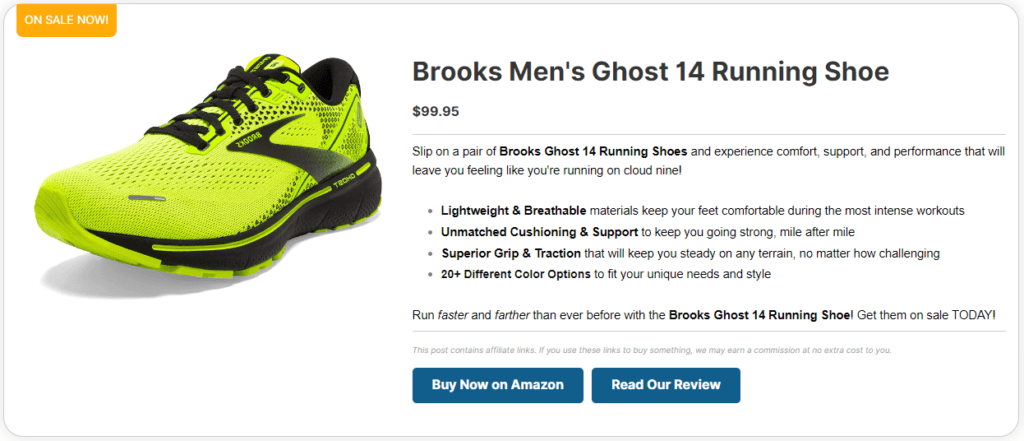 Learn how to transform your affiliate links into a stunning ecommerce store, complete with an array of product displays just waiting to be explored!
The Power of Product Displays
Product displays can showcase products in a way that captivates and engages customers like never before. From stunning images and videos to interactive elements and 360-degree views, they provide a more immersive experience than traditional product pages.
Product displays are an essential tool for any affiliate marketer looking to enhance user experience on their website and drive more sales. They serve as powerful visual representations of the products you're promoting and provide readers with all the information they need without having to leave your page.
Most importantly, product displays have the power to drive conversions like you've never seen before! By presenting products in an attractive and informative way, you entice customers to click and make a purchase the moment your display catches their eyes.
This not only helps customers make more informed purchasing decisions, but also builds trust and credibility with your brand. Whether you're promoting clothing, electronics, or any niche in between, product displays help give you a competitive edge in a crowded market.
An Inside Peek at Pretty Links Product Displays
Blogging is widely considered one of the best platforms for affiliate marketers, opening up endless opportunities to pop in your links no matter what you're writing about.
From in-depth product descriptions, ravishing reviews, a listicle of products you love, or handy how-to tutorials, a blog post always has room for your all-important affiliate links.
And now, with Pretty Link Product Displays, you can take things up a notch and give your blog posts an extra layer of pizazz with beautiful displays that are just as versatile as you are.
Scroll-Stopping Affiliate Links
It's every blogger's dream to have readers interested and immersed in their every word. But let's face it, your captivating content can sometimes overshadow the affiliate links in your post.
With Pretty Links Product displays, your blogs become more than a sea of text – no more endless scrolling or searching required!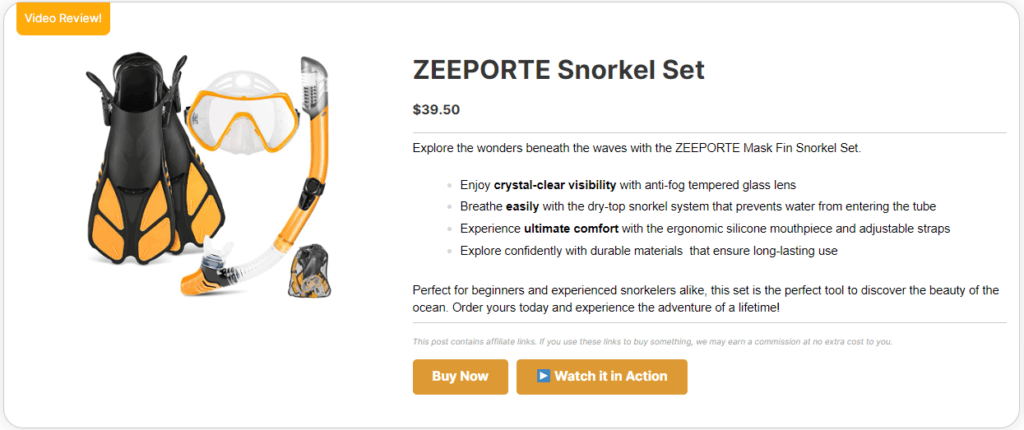 This powerful add-on allows you to seamlessly integrate affiliate links into your blog content in an attention-grabbing way, without disrupting the flow of your writing. As a result, readers will be irresistibly drawn to the products you're promoting and be much more engaged with your blog.
Maximize Your Online Visual Merchandising
With customers unable to physically touch or see an online product, it can be a real challenge for them to understand its features, quality, and value.
A product image can make all the difference, giving customers a crystal-clear idea of the product's size, color, texture, and overall appearance. And with a visual preview of what they're getting, customers can feel more confident that the product is high-quality and worth buying.
Luckily, affiliate programs typically provide the images you need. All you have to do is save the image and upload it right into your Pretty Links Product Display: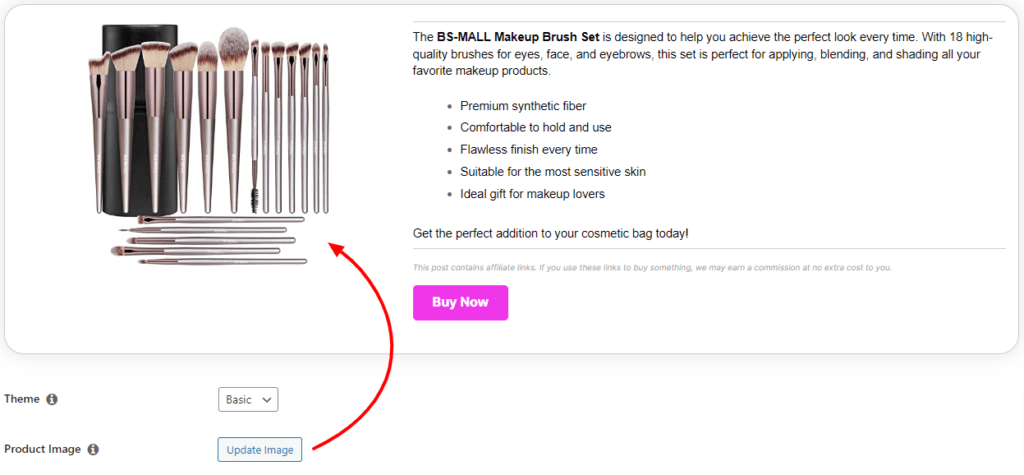 Whether you insert a single product display or a group of displays, you're sure to make your pages more memorable and much easier for readers to shop your affiliate products.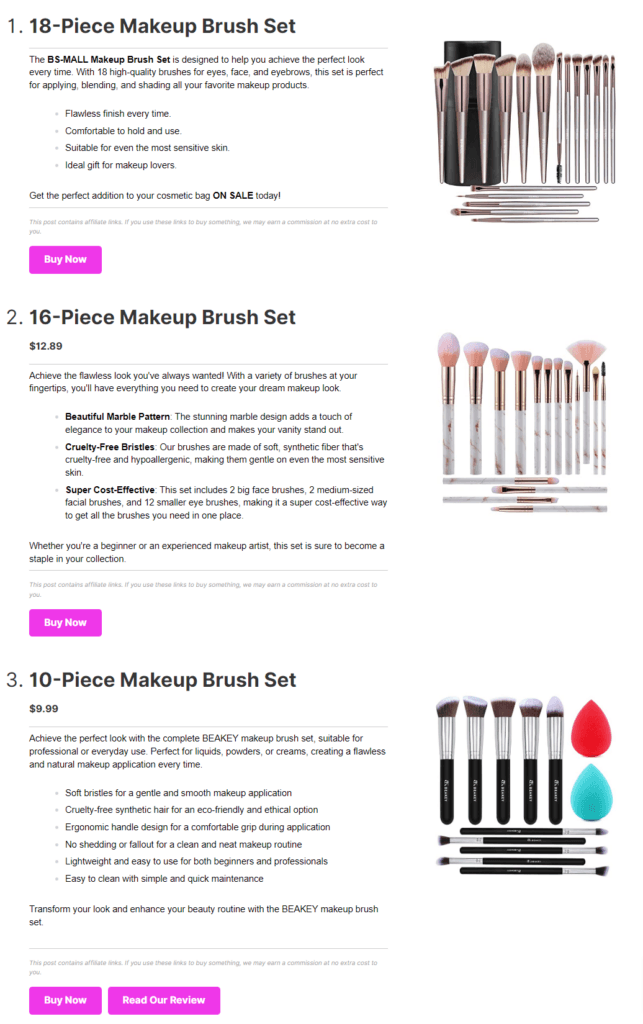 Brace yourself, because here's the best part: every time someone clicks on one of your captivating product display images, your chance at earning a commission just got way better!
Compelling Descriptions that Convert
It's no secret that visuals are an essential component of any product display. They catch the eye, spark interest, and can even evoke an emotional response from your readers.
But even though an image may be what initially draws customers in, it's the product description that seals the deal.
A well-crafted product description can be the deciding factor in persuading a potential customer to proceed with their purchase. It's where you'll highlight key details, including main features, benefits, pricing, and any relevant promotions.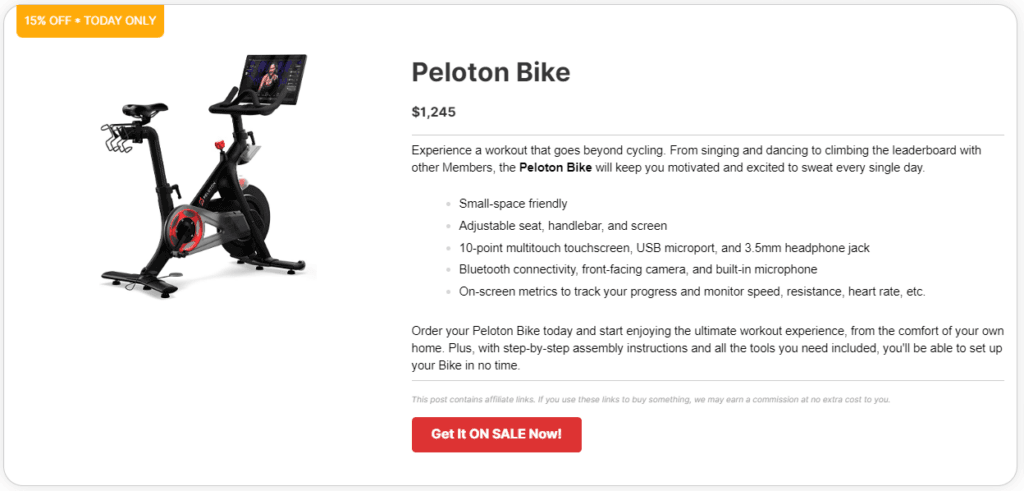 Pretty Links Product Displays help you showcase a product's prime selling points, without bombarding your readers with too much information.
Harness your knack for persuasive language, then let our intriguing format do the rest to pique readers' interest and encourage them to click through and make a purchase.
Build Stronger Relationships with a Review Link
One of the main reasons why readers turn to you instead of shopping directly on Amazon – or any other top ecommerce site – is because they trust your honest recommendations.
But how are you supposed to squeeze in your full review in such a small space? We thought you might ask that… Don't worry, we've got you covered!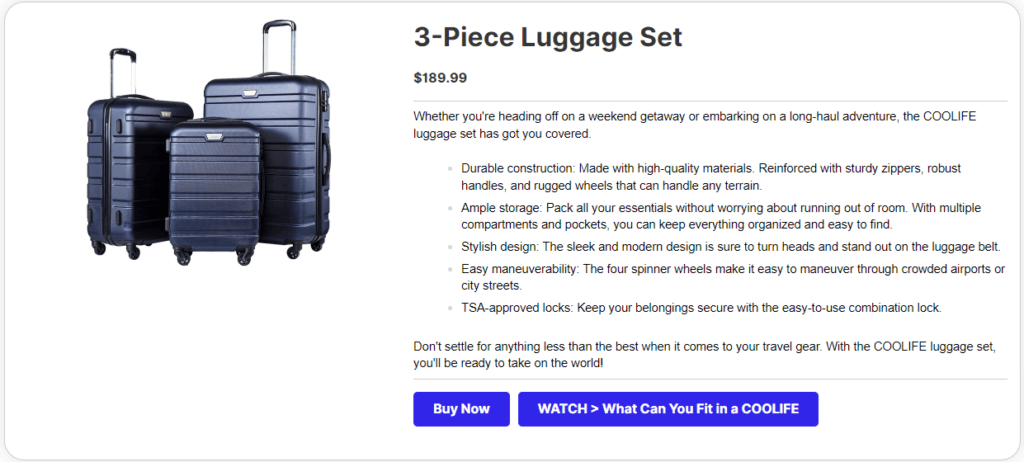 Take readers on an exclusive behind-the-scenes tour of your product with just one click! By adding a review link to your Pretty Links Product Display, you'll steer them to a separate, more comprehensive post (or video) where they divulge every detail of the product.
This is your chance to show off your expertise and share your insider knowledge with readers. They'll be blown away by the amount of information you provide and appreciate the extra effort you put into giving them a complete picture of the product.
You also have the option to add a personal stamp of approval badge to products you particularly love: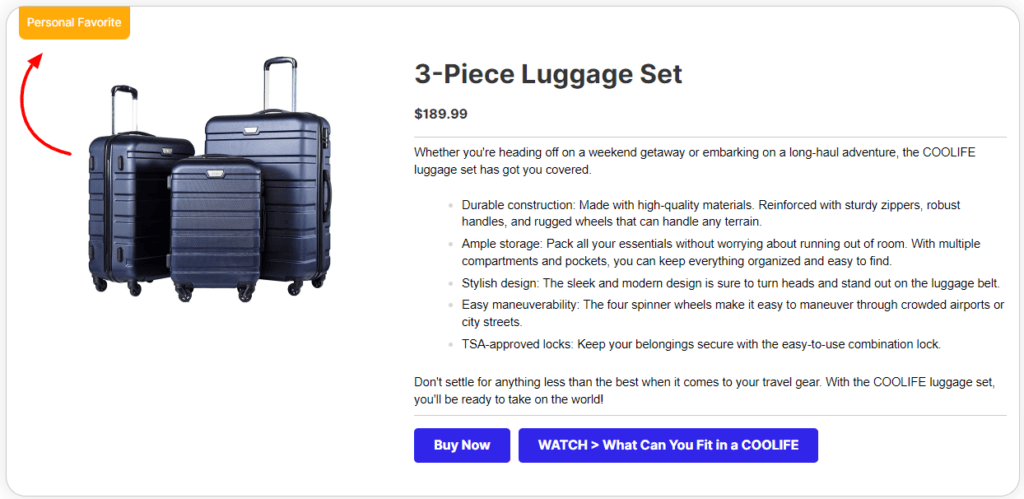 Affiliate marketers who are willing to go the extra mile for their readers and provide tried, tested, and approved products are more likely to build a loyal audience that will keep coming back to your blog for future purchases.
Clear and Customizable Call to Action
Once you've revamped your affiliate link into an eye-catching image, a compelling product description, and a convincing review all wrapped into one display, it's time to focus on the most important element: a clear call-to-action (CTA) button.
A well-designed CTA can work wonders in driving conversions and boosting your affiliate sales. It's the final push that nudges your readers to click on the link and make a purchase.
This brings us to the fantastic Pretty Links Product Displays feature that allows you to customize your CTA button to match your brand's style and messaging.
Personalize what you want your CTA button to say and choose high-contrasting colors that make it stand out from the rest of your display. You can also match your color choice to the look of your website to help reinforce your brand in the customer's mind.
How to Create an Affiliate Product Display with Pretty Links
Now that you've seen what Pretty Links Product Displays can do, let's go over how you can make one (then hundreds) for your affiliate marketing site!
1. Activate the Pretty Links Product Display Add-On
First things first, you need to get your hands on this add-on. You can grab it in your WordPress dashboard by going to Pretty Links > Add-ons: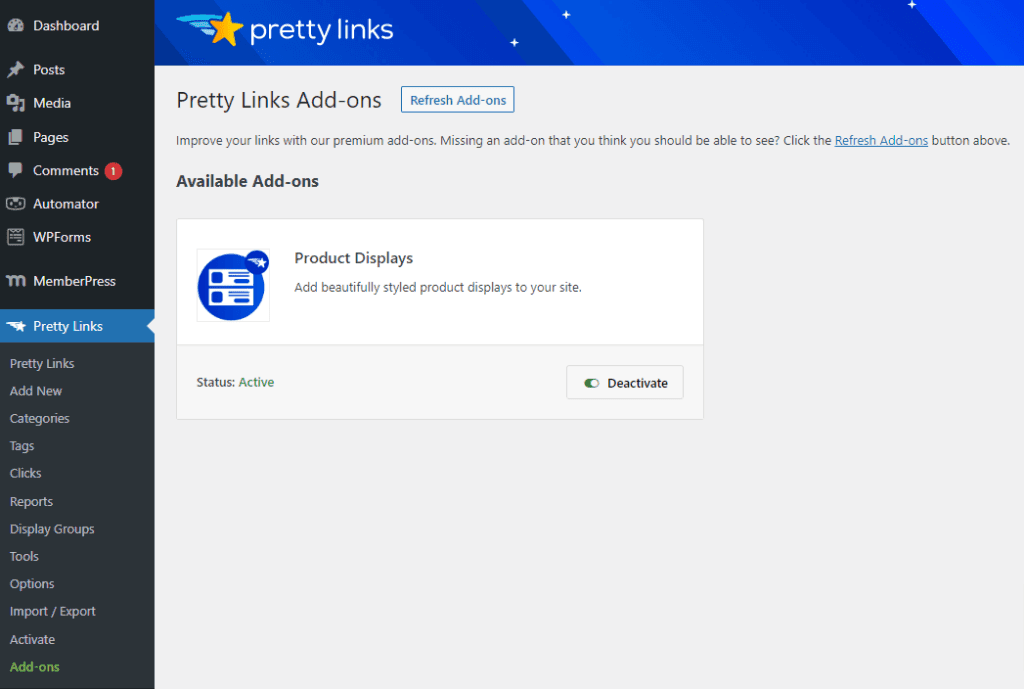 Go ahead and toggle that "Activate" switch and we can get going once you see green!
Add-on not available? The Pretty Links Product Display add-on is included in our Super Affiliate plan. Click the button below to upgrade your plan NOW…
2. Choose Your Affiliate Link
This step may look a little different depending on whether you want to create a product display using a NEW or EXISTING affiliate link.
If you want to create a Product Display for a NEW affiliate link…
Go to Pretty Links > Add New.
Type in your title (this is usually the name of your affiliate product), choose your redirect type, paste your affiliate link in the Target URL box, create your shorter, prettier-looking link, then click "Update":

If you want to create a Product Display for an EXISTING affiliate link…
Open up your Pretty Links collection, find and hover over the affiliate product/link you want, then click "Edit":

3. Create Your Product Display
Now that we're all on the same screen, let's all jump down to the Product Displays tab together:

This is where the magic happens! Keep following these next few steps on personalizing your product display.
Choose Your Display Theme
The display theme determines the overall look and feel of your display. You have the option to choose from three different themes: Basic, Boxed, or Sharp.

Want to see how each theme looks before making a final decision? No problem! Simply make your selection changes and get a preview of each option.
This allows you to choose the perfect theme that will match your unique style and complement the products you recommend.
Upload Your Product Image
The image is the first impression customers get on a product, and it can influence their decision to click or move on. High-quality product images can make a product look more appealing, which can lead to higher conversion rates and increased sales.
When uploading an image, make sure to select one that fills the available space and accurately represents the product. This will help customers get a clear idea of what they're purchasing and what they can expect to show up on their doorstep.
Type in Your Product Description
A good product description provides potential customers with a clear idea of what the product is, helping them make an informed decision about whether or not to make a purchase.
However, in the fast-paced world of ecommerce, it's important that your description is also short and to the point.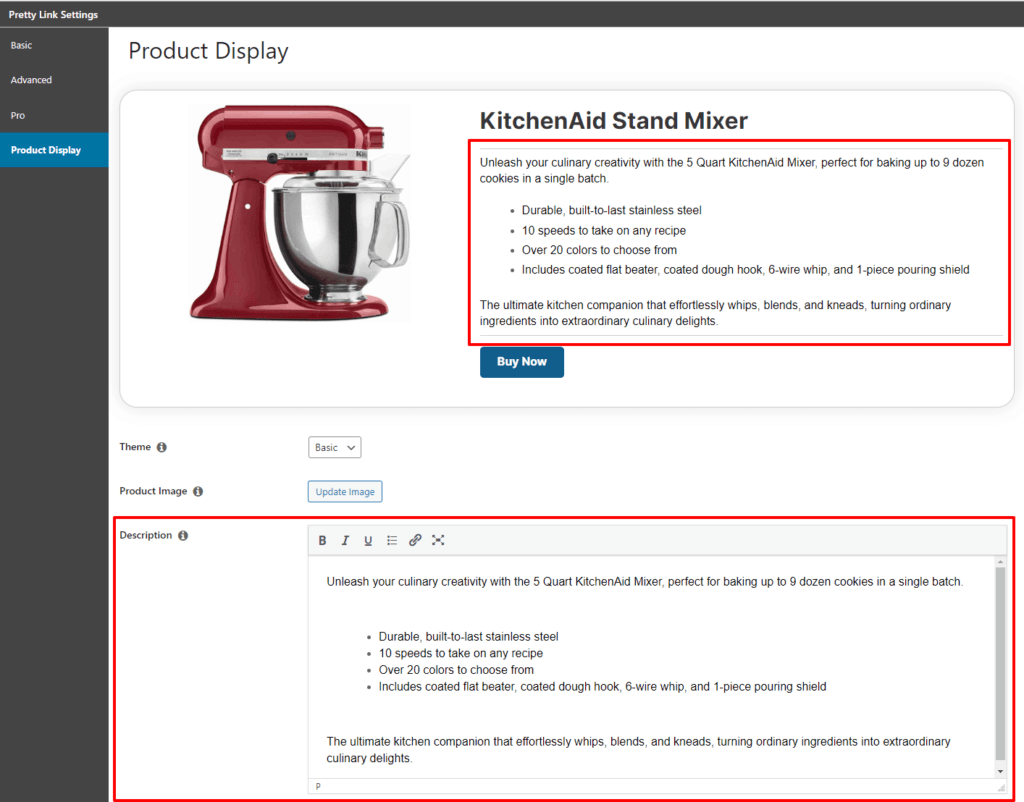 By focusing on the most important and unique features of a product, a short product description can still effectively communicate its value. You also make it easier for customers to quickly grasp the most important information about the product.
Paste in the Price
Price is an important aspect of any product description. As an affiliate marketer, it's important to be transparent and upfront about the cost of the product you're promoting.
Customers want to know what they're getting for their money, so it's important to include the price of the product in the description.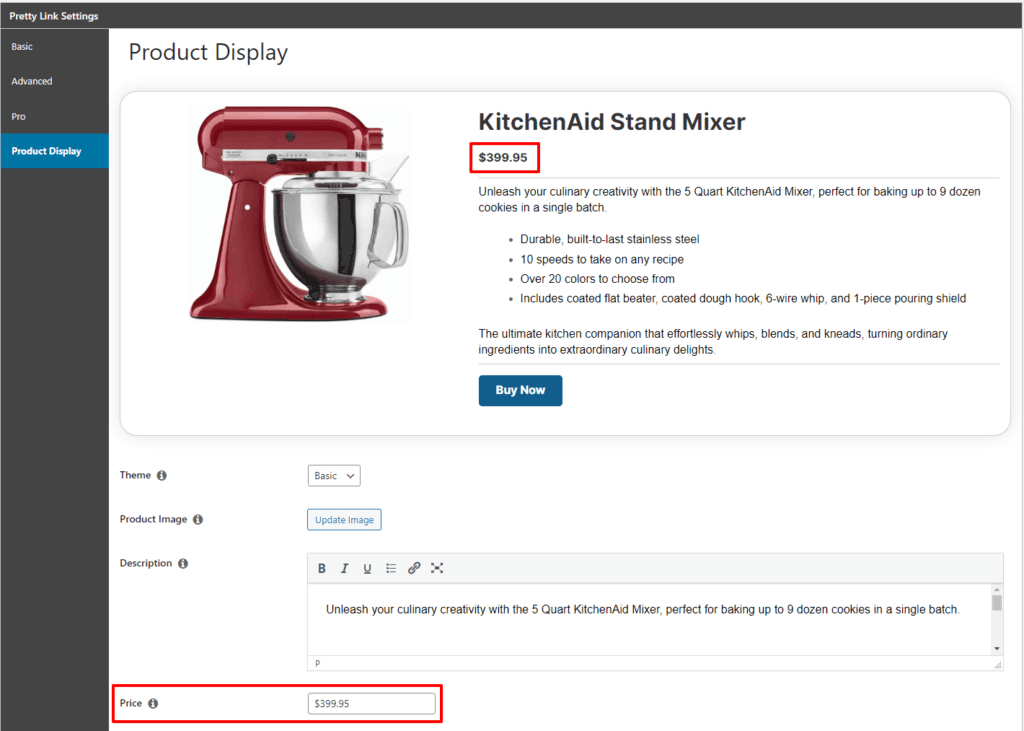 Keep in mind: Your product description should also help explain why the price is worth it. Customers may be willing to pay a higher price if they feel they're getting a quality product that meets their needs.
Add a Personalized Badge (Optional)
Badges are a great marketing tool to help draw attention to specific products. For example, you could use badges to highlight best sellers, personal favorites, limited-time deals, free shipping, or any other special promotions.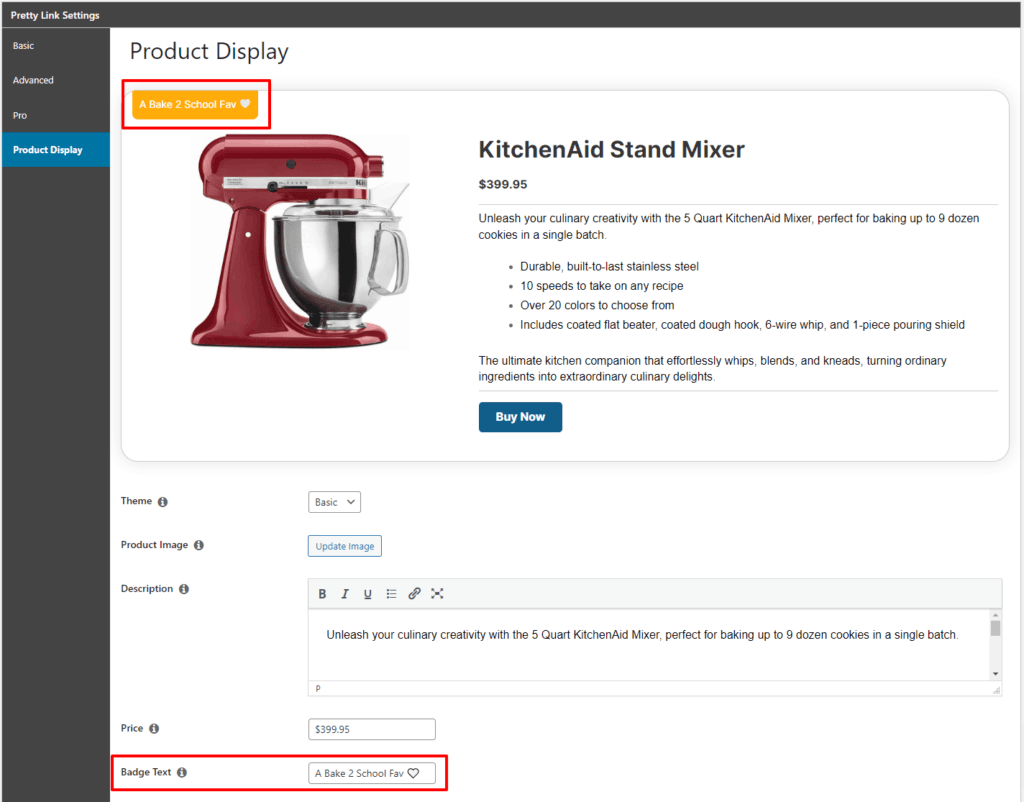 A bit of advice on badges, it's important to use them strategically and ensure they're relevant to your audience and add value to your content.
Customize Your Call to Action
The CTA plays a significant role in influencing the visitor's decision to act. Using compelling and action-oriented language can help create a sense of urgency, making visitors more likely to react and engage.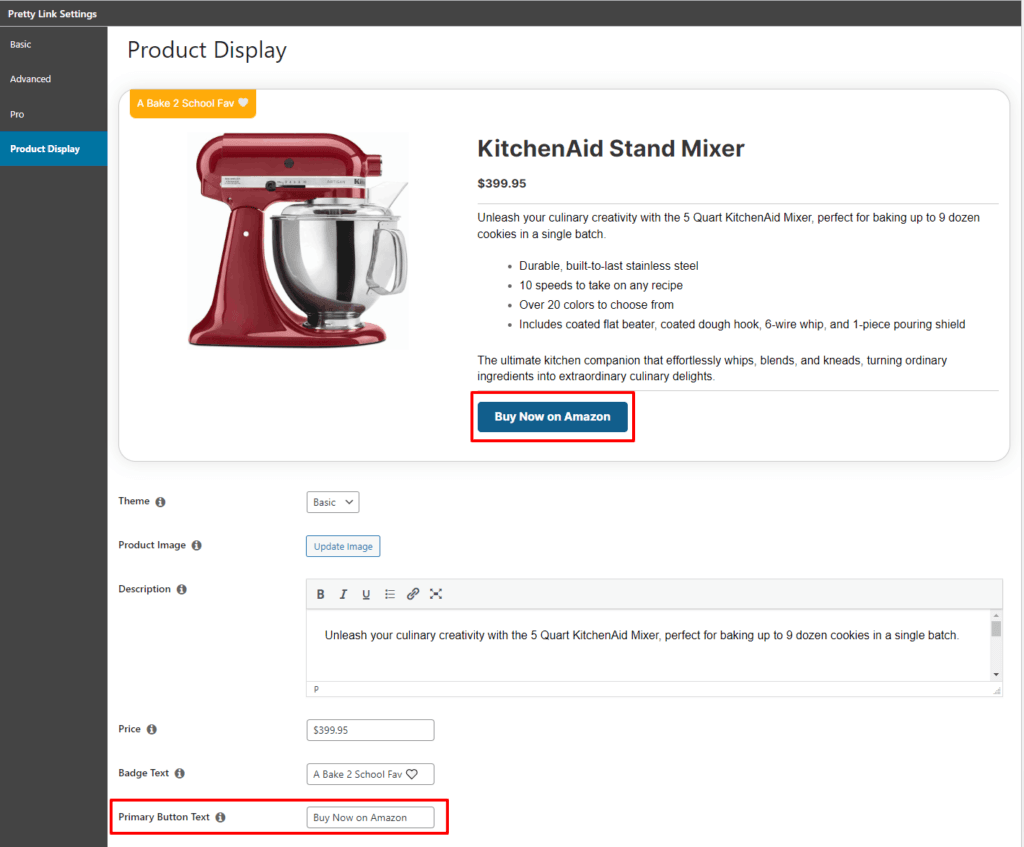 A good CTA provides a clear and concise message that highlights the benefits of taking the desired action, making it more likely that visitors will follow through.
Customize Your CTA Colors (Optional)
Why settle for just a good CTA when you can have an amazing one? That's right, we're talking about a CTA that not only sounds great but looks stunning too!
That's why we've made it easy for you to customize your CTA to match your brand's colors and style.
IMPORTANT TIP: Do this step AFTER you've successfully published your affiliate link product display to avoid losing any data you may have entered so far.
Over in your WordPress dashboard, go to Pretty Links > Options. In the Product Display tab, you can choose the perfect color combination for your CTA, including the button background color, text color, and hover colors:
Readers won't be able to ignore the urge to click on these customized CTAs, that's for sure!
Include Your Review (Optional)
Now for the cherry on top of your delicious display sundae, a review link. By adding a review to your product display, you create an even more engaging and persuasive shopping experience.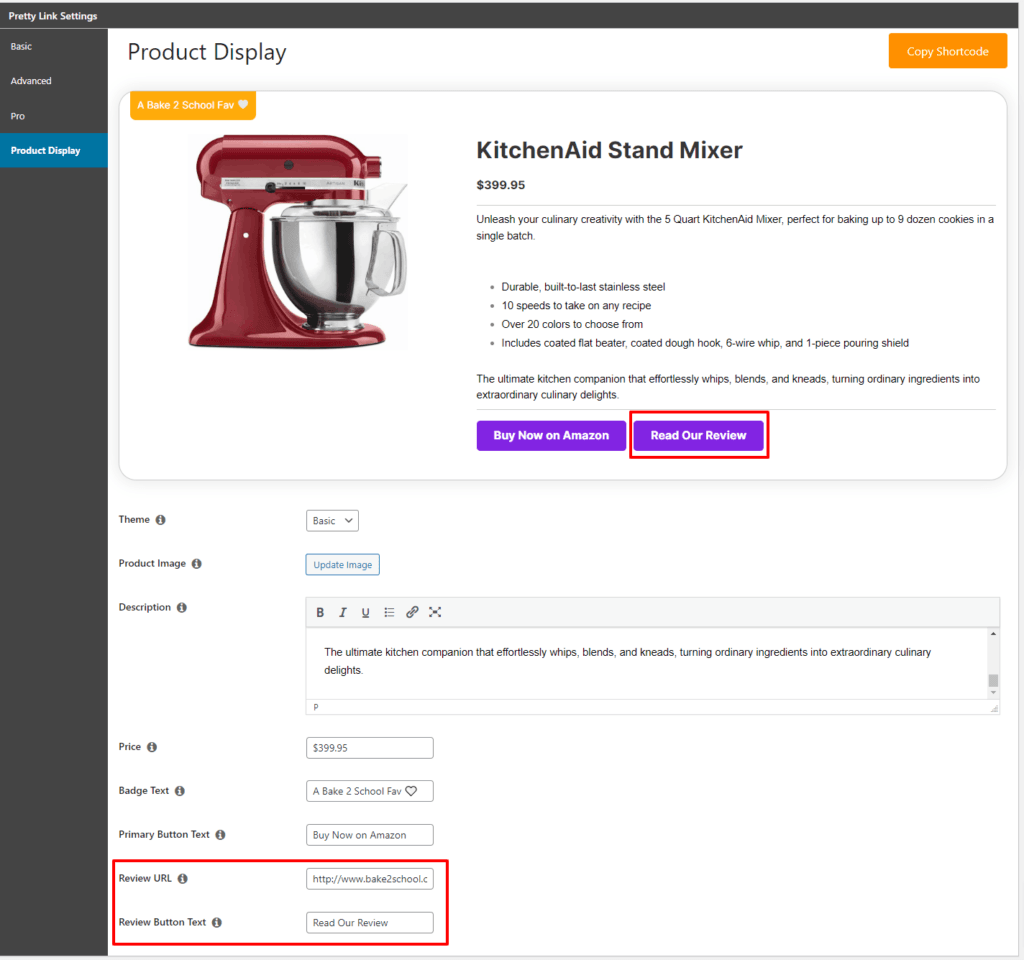 Readers can learn more on what you have to say about a product beyond the display box. You can link to a separate blog post (or video) dedicated to this product specifically and share a more in-depth review and maybe even your personal experience with the product.
Moreover, adding your review adds a level of authenticity and credibility to your website. Your audience knows that you're not just promoting the product for the sake of it, but that you have actually used and tested it.
This helps to establish your website as a trustworthy source of information and recommendations.
…
That should do it! Take a moment to admire your hard work and see how it's all come together in the product display preview. Check every detail, from the image to the description to ensure it's exactly how you envisioned it.
Then click "Publish".
Now, it's time to get your product display out there for the world to see. Next, we'll go over the details of where and how to post your Pretty Links Product Display, so you can start seeing the results of your hard work in action.
How to Insert Your Affiliate Product Display in a Blog Post (2 Ways)
Pretty Links Product Displays are designed to seamlessly blend into your blog content. To get started, select the blog where you want to showcase your product display. This tutorial will meet you there!
The placement of your display is totally up to you, but good practice is to have it near the section of text that mentions your affiliate product.
We want our KitchenAid Mixer Display to go here:
There's actually a couple of different ways you can insert a display into your blog post. Whether you choose to use the WordPress Block Editor or copy and paste the display shortcode, our user-friendly platform ensures you can do both quickly and effortlessly.
Option 1: Add a Product Display Using the WordPress Block Editor
With this first method, you don't even have to leave the backend of your post – as long as you're using the WordPress Block Editor.
In a new paragraph, click on the black + icon on the right-hand side to open up your WordPress Block collection: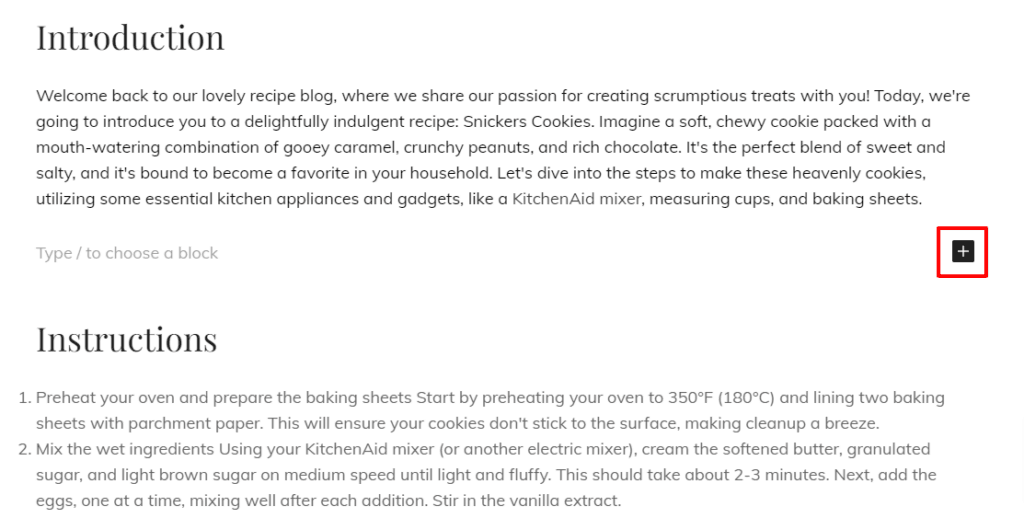 Select the PL Product Display icon. If you don't see it in your top 6 blocks, simply search for "Product Display":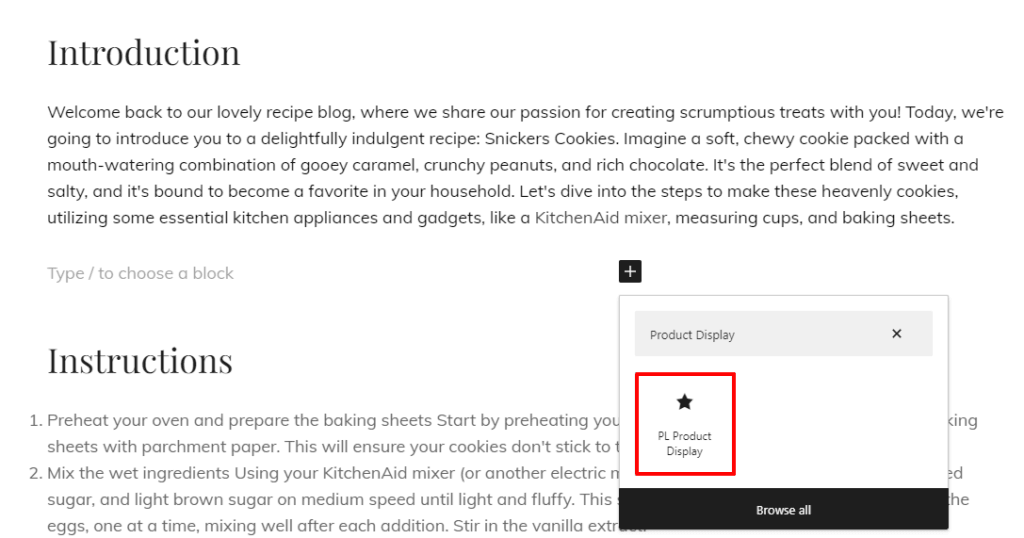 Click the "Add Display" button:
Next, click the drop-down arrow and select Single Link (we'll get into that Display Group option later on):

Here is where you select which affiliate product display you want to insert. Start typing the name of your affiliate product in that second box and Pretty Links will auto-populate any related links:
Pick your affiliate product, and voila! The display is added instantly.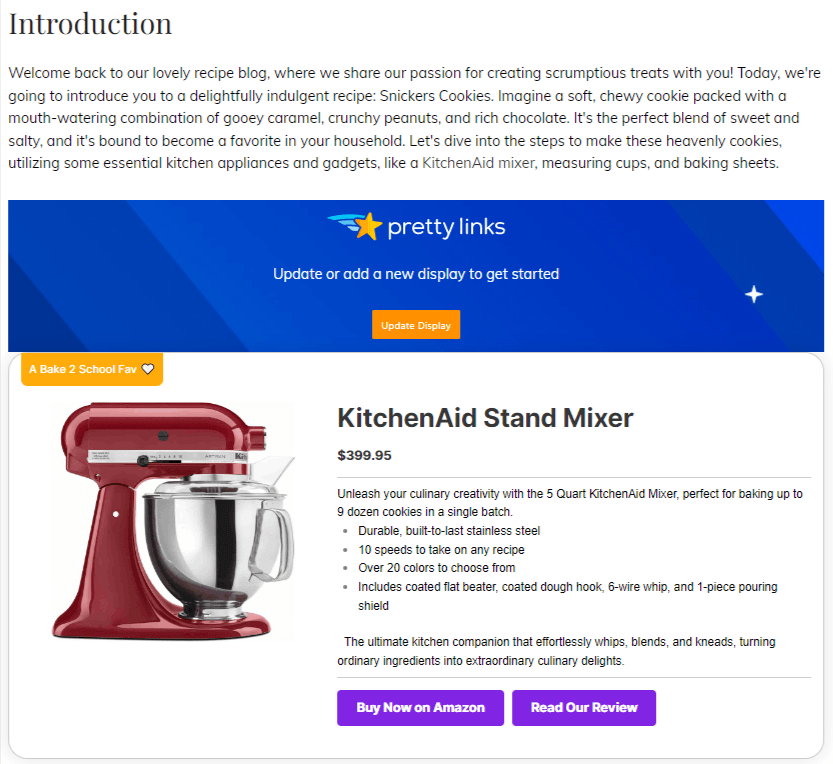 NOTE: The Pretty Links popup will not be visual on the front end of your post. Take a look for yourself using the Preview tab.
Option 2: Add a Product Display via Shortcode
You might find that a simple copy and paste maneuver might be an even quicker way to add your product display.
For this approach, navigate back to your Pretty Links collection, find the affiliate link you're looking for, hover over the link, click "Edit", then hop back down to the Product Display tab: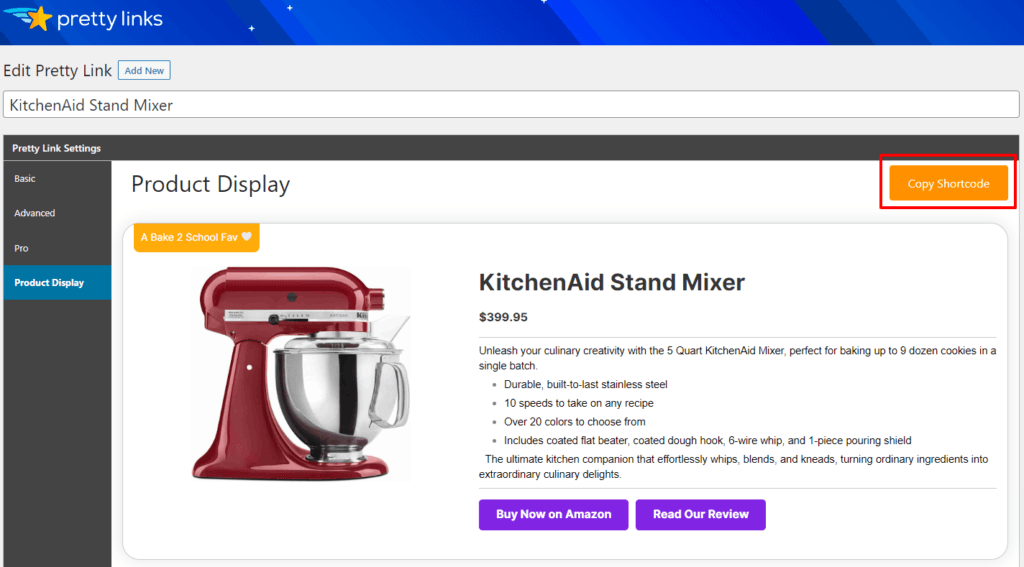 New to this screen is a "Copy Shortcode" button. Go ahead and give that button a click and Pretty Links will save it to your clipboard automatically.
Now hop back into your blog post and scroll to where you want to place your product display. Simply right-click to paste in your shortcode: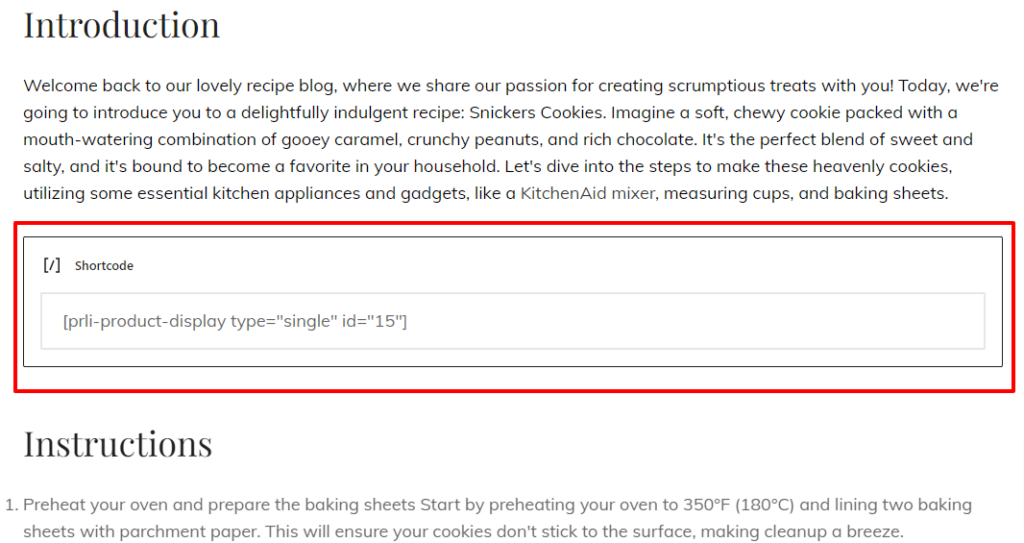 It may not look like much here, but again, you can get a front-end view of things by clicking the Preview tab: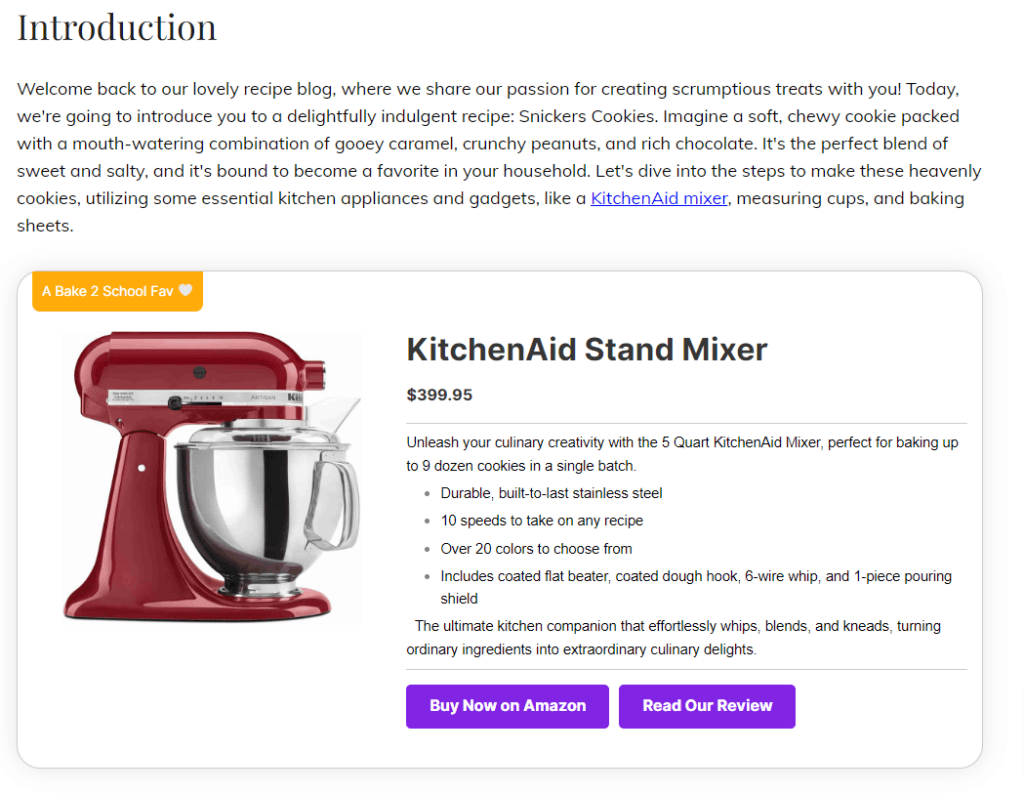 And that's how you make an affiliate link POP!
How to Create and Insert a Product Display Group
Say you want to fill an entire page with your carefully curated selection of affiliate products and create this incredible ecommerce shopping experience we've been talking about.
With Pretty Links Product Display Groups, you can effortlessly post a whole bunch of displays at once, saving you precious time and energy. It's the ultimate game-changer that'll take your affiliate marketing efforts to the next level.
Your audience won't know what hit them when they're met with a stunning collection of products, all conveniently located in one easy-to-access location.
1. Create Your Product Display Group
In your WordPress dashboard, go to Pretty Links > Display Groups > Add New:

Give Your Group a Title
The name of your group should describe the collection of affiliate products you'll be adding. For example, we'll be adding 4 different mixers to our group, so we kept things simple and went with Mixers:

Select the Group Type
There are 2 ways you can format your group: List or Grid. See how both versions look in the video above. You can also come back and change this at any time.

Add Your Affiliate Links
Pretty Links automatically pulls up the name of your links as soon as you start typing them in. So when we type in "Mixer", it auto-populates all the links we need:

Once you have all your affiliate products added to the list below, you can drag-and-drop to rearrange their order for how you want them to appear in your List or Grid display.
With everything in its place, click "Publish".
After you hit the Publish button, you'll see a familiar "Copy Shortcode" button. Go ahead and click that button and we'll use the copy and paste method to insert this group into a blog post.

Note: You can upload the group using the WordPress block method as well.
2. Insert Your Product Display Group in a Post
Adding a product group to your blog post is just as easy as inserting a single display.
Open up your blog post and create a new paragraph where you want your display group to go. Then, with the shortcode copied to your clipboard, simply right-click and paste it into your blog content.
Again, you can see how awesome it looks on the front end by clicking the "Preview" button at the top right-hand corner.
This is how our display group turned out. What do you think?
Pretty sweet, right? Now readers can easily scroll through a variety of product options, giving them the freedom to explore and find exactly what they're looking for.
All while you sit back and watch the clicks and commissions start pouring in from your Product Displays!
Let's Wrap it Up
The time has come to take your affiliate marketing game to the next level with Pretty Links Product Displays! We're excited to see how our users will unleash the full potential of this tool to create stunning displays and bring in more affiliate revenue than ever before.
And the best part is, the unbeatable click-tracking capabilities you've come to know and love with Pretty Links are available for Product Displays too!
You heard that right – Pretty Links Product Displays pack the same punch as your pretty links with advanced click-tracking features that will empower you to analyze and optimize your affiliate link performance like never before!
Elevate your affiliate website to new heights and create an unforgettable shopping experience that will keep readers coming back for more with the Pretty Links Product Displays add-on!
…
If you liked this article, be sure to follow us on Facebook, Twitter, Pinterest, and LinkedIn! And don't forget to subscribe to our newsletter!
2 Comments
Konrad

April 17, 2023

I have used Prettylinks in the past and it's incredible to see how far this plugin has come. Love the new feature. Keep up the amazing work :)
Katelyn Gillis

April 17, 2023

Thank you Konrad!!! We can't wait to see how our users use Products Displays!