How to Use Jasper to Generate Better Content for Your Site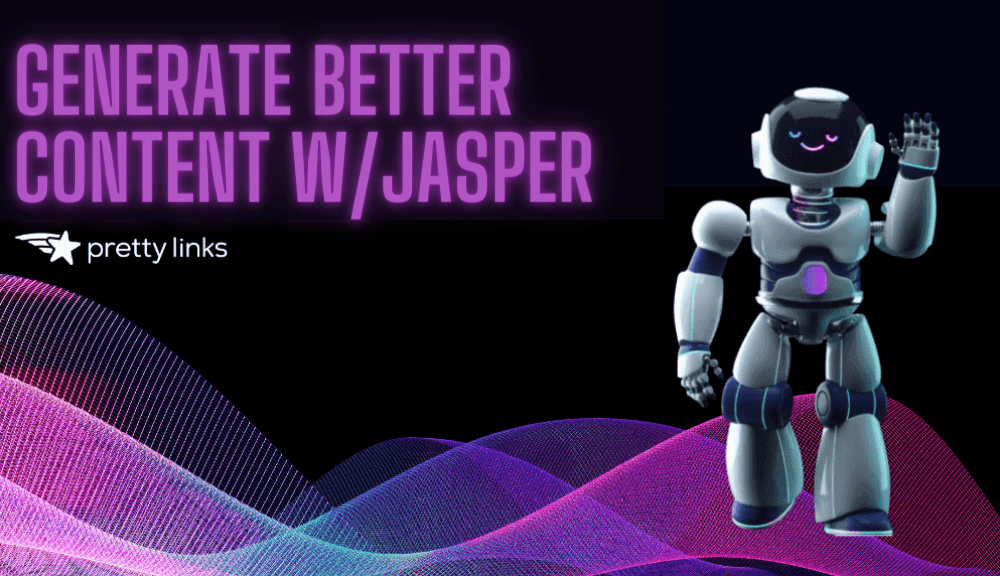 As a professional blogger, you probably spend most of your days writing new posts and optimizing old ones. This can be pretty exhausting, especially if you have to produce large amounts of content in short amounts of time.
Fortunately, an AI-powered writing assistant can make your job a lot easier. Although machine-generated content isn't a replacement for human ingenuity, tools like Jasper (previously known as Jarvis) can help you write better content, come up with blog post ideas, and much more.
In this post, we'll take a closer look at Jasper and how it works. We'll also help you decide if this is the right tool for you. Let's get started!
What Is Jasper?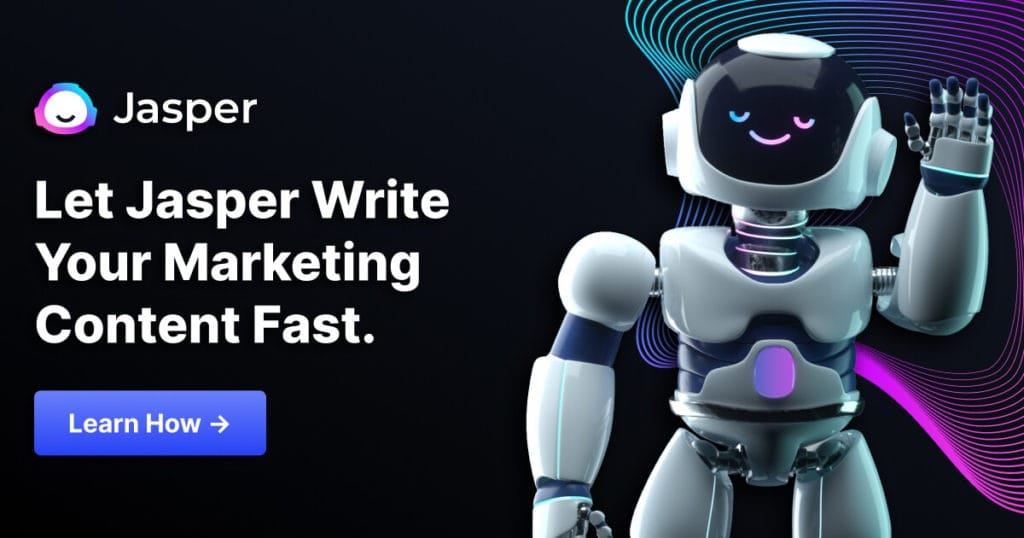 Jasper is a service that enables you to generate blog posts, articles, and other types of content. This tool utilizes neural networks to understand what you want to write about, then produces sentences, full paragraphs, and even entire articles based on this information.
If you spend a lot of time working on blog posts, using a service such as Jasper can be a gamechanger. To be fair, you shouldn't simply let the tool generate full blog posts and publish them without any changes. Instead, you can use its features to help you improve sentences, come up with ideas on what to say, and answer questions that users might have about specific topics.
On paper, Jasper sounds amazing. However, the best way to judge a tool is by trying it out. That's precisely what we're going to do in the next section.
How to Use Jasper
There are two ways to use Jasper. The first approach involves using the tool's editor, which enables you to write blog posts within the platform. Once you start writing, you can tell Jasper to generate further content automatically. Here's what that looks like in action: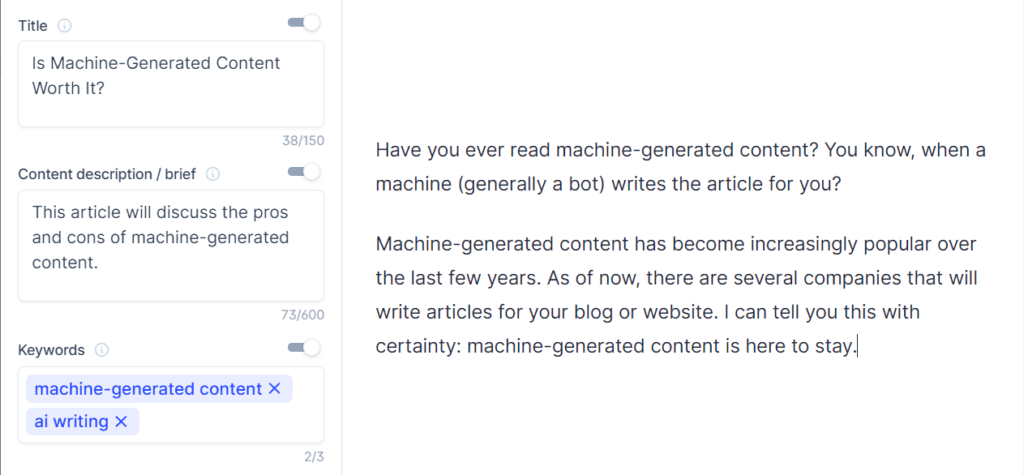 Those first sentences are all Jasper's work. To get the ball rolling, we set a title and a description for our blog post. We also added a couple of keywords, which Jasper has tried to work into the content.
Moreover, you can generate short, long, or medium-sized paragraphs. Jasper will even ask you to make some edits before you can produce further content: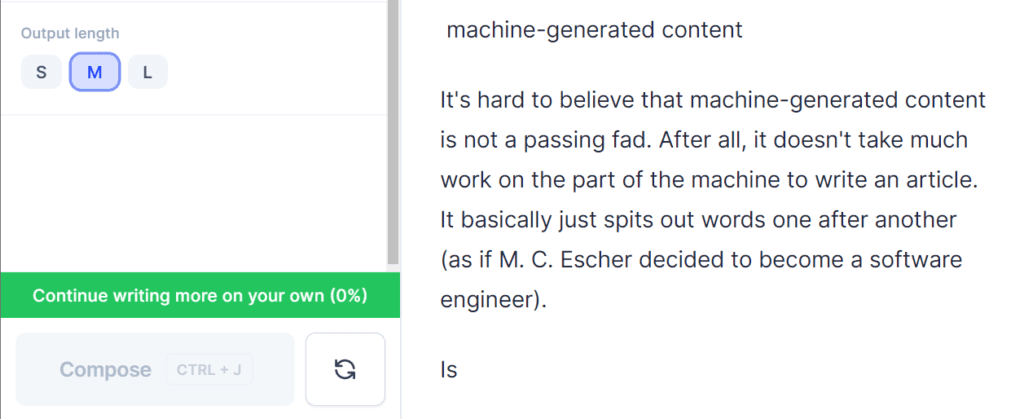 In our experience, Jasper works best if you use it sparingly. If you ever feel stuck while writing, you can have the tool compose the next few sentences and use those as a starting point. In a way, Jasper can act very much like a writing partner, if you don't mind the fact that that partner is a neural network.
If you don't want to start with a blank slate, Jasper also offers content templates. You can choose from a broad range of content types, such as long-form articles, social media posts, and ads: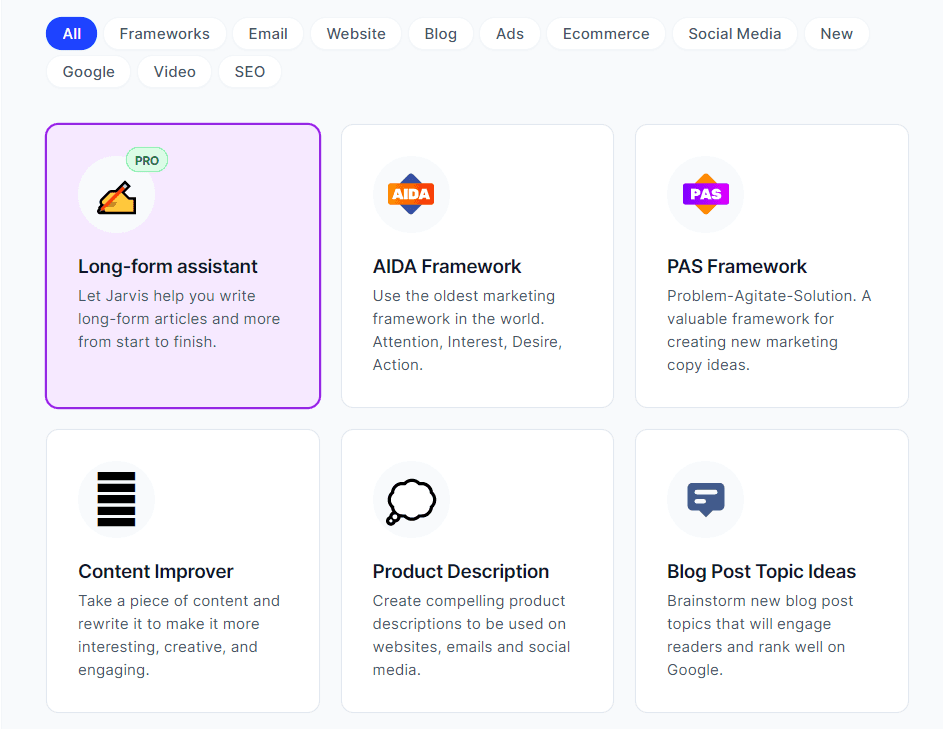 For example, if you choose the Product Description template, Jasper will ask you for the product's name and what it does. Then, it will generate one or more product descriptions that you can use as starting points: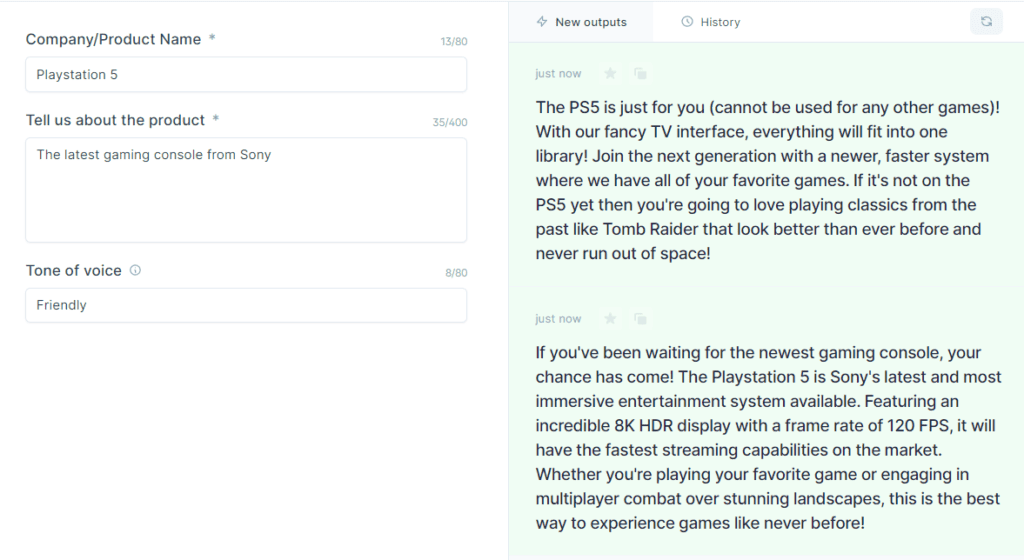 Templates can be more hit and miss than using Jasper to help you write content on your own. If you look at the examples above, they definitely read like they were written by a computer. Therefore, it's always a good idea to edit and tweak this AI-generated content in order to make it sound a bit more natural.
Should You Use Jasper?
If you only write a couple of blog posts per month, a service such as Jasper can be overkill. It's not cost-efficient to spend $29 per month if you're not going to take advantage of the 20,000 words this service offers you.
On the other hand, if you publish blog posts regularly and you struggle to finish articles or come up with topic ideas, Jasper is more than worth its cost. For example, if you run an affiliate site, Jasper can help you publish content more often and spend less time working on it. Ultimately, that can translate to an increase in traffic and revenue.
Keep in mind, if you really want to get the most out of Jasper, the Starter plan doesn't offer the best value. To get access to unlimited generated content, you'll need to opt for the Pro plan or beyond:

Spending over $100 per month on any tool for your website is a big ask. If you're just launching your site, we recommend that you take some time to create your own content before using machine-generation services.
Conclusion
Machine-generated content has come a long way in the last few years. In fact, many AI writing assistants like Jasper can produce content that reads naturally and looks professional.
In a way, using Jasper feels very much like having a writing partner. You can use it to generate different types of content which you can later edit and build on. Moreover, you can use this tool to explore new topic ideas for your blog.
Do you have any questions about how to use Jasper to generate better content for your website? Let's talk about them in the comments section below!
If you liked this article, be sure to follow us on Facebook, Twitter, and LinkedIn! And don't forget to subscribe to our newsletter.
2 Comments
Roufaa

December 11, 2021

This is really great information. I have visited so many blogs however, I found the most relevant info here.

John Hughes

December 15, 2021

Glad you found it helpful, Roufaa :)