How to Make a Full-Time Income with Affiliate Marketing (3 Tips)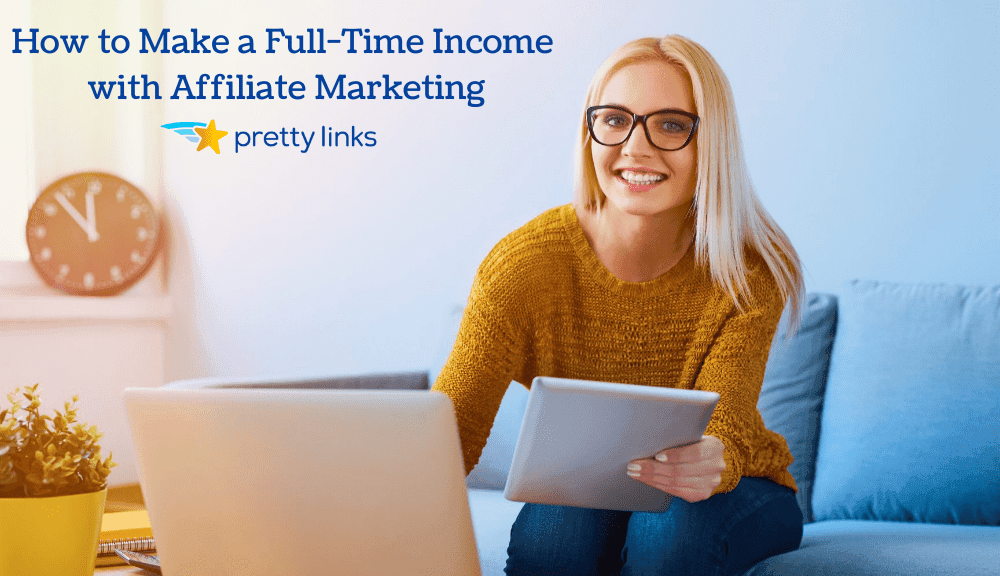 Affiliate marketing rightly gains a lot of attention as a way to earn some extra cash. However, generating a full-time income can be more of a challenge.
Fortunately, there are tried-and-tested techniques and industry secrets that can elevate affiliate marketing from a lucrative sideline into a full-time job. Following a few simple steps can help you grow your affiliate income – possibly to the point where you can quit your day job.
In this article, we'll discuss how it really is possible to earn a living from affiliate marketing. Then we'll share three tips for maximizing your affiliate income. Let's get started!
An Introduction to Affiliate Marketing
As an affiliate marketer, you'll promote a merchant's products or services on your site using unique links. These URLs contain codes that the seller can use to track sales that originated from your content. You'll then earn a commission from each confirmed sale.
It's possible to launch a successful affiliate marketing business with minimal startup costs. That makes this channel an accessible way to generate additional income.
There are also plenty of opportunities to expand your business. Once you've created your affiliate site, you're free to partner with multiple merchants, meaning you can promote many different products from various brands.
Affiliate marketing is a popular way to generate revenue, with U.S. spending forecast to reach $8.2 billion by 2022. However, in most affiliate programs, less than ten percent of affiliates drive 90% of conversions. So if you want to earn a full-time income from your affiliate marketing activities, it's vital that you break into that top ten percent.
How to Make a Full-Time Income With Affiliate Marketing (3 Tips)
While it's possible to generate a healthy income from affiliate marketing, doing so does require careful planning and a lot of hard work. Here are three ways to set yourself up for success.
1. Find a High-Converting Niche
As with any business, the largest profits lie in finding a high demand and low supply niche. If you already have one in mind, it may help to evaluate the number of people searching for keywords relating to this niche using a tool such as Google Trends: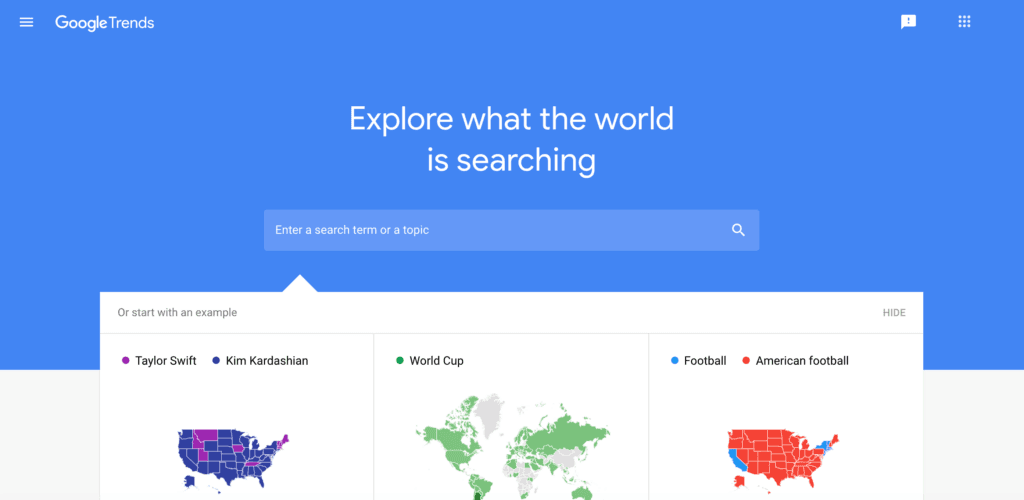 After all, sometimes a niche is under-represented because there isn't the potential for affiliate marketers to make enough profit. Before deciding on a sector, it's important to verify there's enough interest to support your business, including future growth opportunities.
After confirming there's a large enough audience, you can move onto finding an appropriate program. A quick search will reveal hundreds of affiliate programs. However, when researching, it's important to balance commission against the appeal.
You might want to opt for products with low payouts but mass appeal, such as Amazon's affiliate program:

If you choose to join these programs, you should have no issues finding relevant products for your chosen niche. However, a low commission means you'll need to drive a lot of traffic to your affiliate site in order to generate a full-time income.
Alternatively, some programs have mass appeal and pay high commissions, such as credit card affiliate programs. However, they tend to be highly competitive. You may need to invest more time into growing your audience before you start securing conversions.
Cross-referencing potential niches against the available affiliate marketing programs can be a time-consuming and frustrating process. However, it can lead to finding a niche in high demand, low supply, and having an appropriate corresponding affiliate program. By taking the time to check all of these boxes, you'll be in a strong position to earn a full-time income.
2. Use Keywords to Create a Killer Content Marketing Strategy
As an affiliate marketer, your revenue is completely dependent on how many people visit your website. According to the search engine optimization (SEO) specialists at BrightEdge, over 53% of all traffic comes from organic search. This means you may be able to significantly boost your revenue by optimizing your content for search engines.
When creating your content, you should strive to solve problems and answer questions that your target audience is entering into search engines. You can find these hot topics by performing keyword research using tools such as Semrush's Keyword Overview, Keyword Magic, and Keyword Difficulty: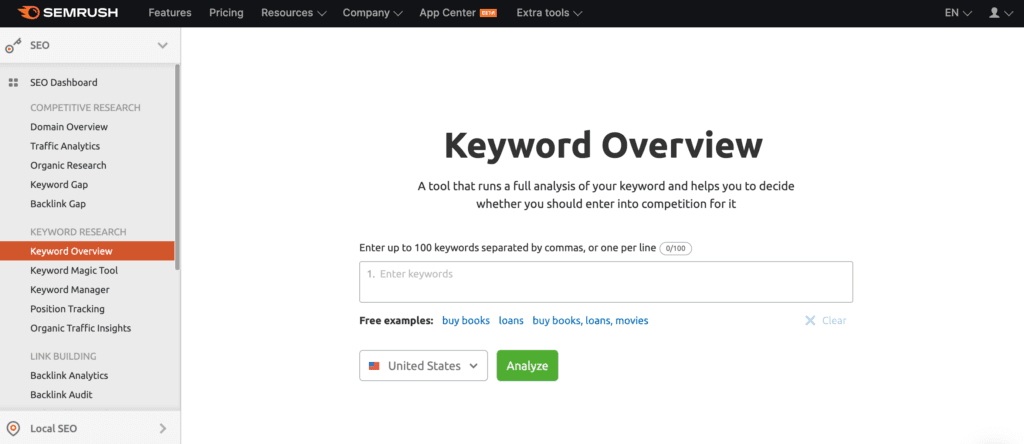 Ideally, we recommend trying to find highly specific keywords that have a decent search volume and low competition. These are referred to as "long-tail keywords".
It may also help to study your competitors. Wherever possible, we suggest identifying at least five affiliate marketers who operate in your chosen niche and seem to be attracting a significant audience. Then you can use a tool, such as Moz's Keyword Explorer, to see the terms that these affiliate marketers currently rank highly for:

You can use this research to identify missed opportunities. For example, you might create content that targets keywords your audience is searching for but your competitors aren't currently providing.
Alternatively, you could be more aggressive and aim for keywords that are generating lots of traffic for your competitors. By consistently producing high-quality content around these keywords, you may be able to outrank the competition and funnel the traffic to your site.
3. Shorten and Cloak Your Affiliate Links
Once you're successfully driving traffic to your affiliate website, the next step is convincing users to engage with your affiliate links. However, privacy-conscious visitors may hesitate to interact with links that contain obvious tracking codes.
To help increase click-through rates (CTRs), you may want to consider cloaking your links. This is the process of replacing a long, unfamiliar URL with a short, descriptive alternative that doesn't contain a publicly visible tracking code.
Using a tool such as our Pretty Links plugin, you can craft a more concise, user-friendly link that won't raise alarm bells among even your most suspicious visitors: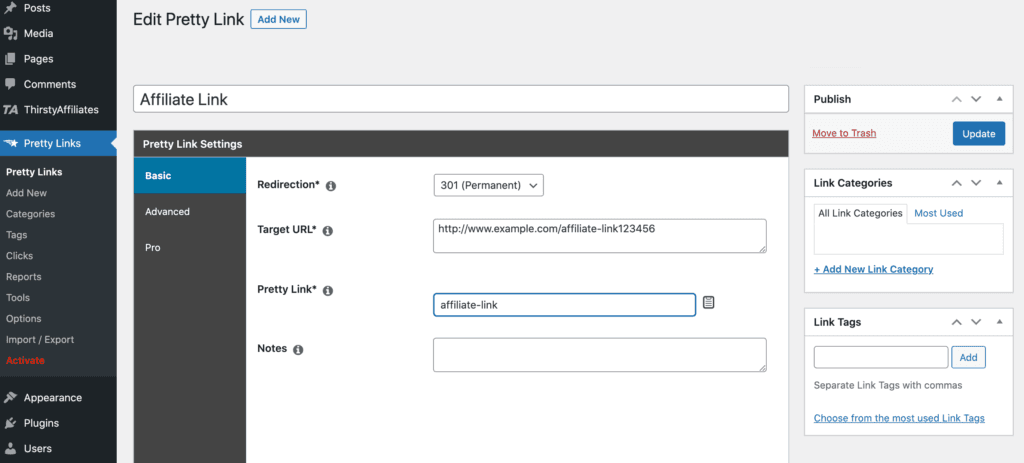 After installing and activating the Pretty Links plugin, you can start cloaking your links by navigating to Pretty Links > Add New Link. Next, add your original link in the Target URL box. You can now replace this unfamiliar URL with an alternative that can help you achieve higher CTRs and ultimately boost your affiliate revenue.
Conclusion
Affiliate marketing is often perceived as an additional revenue source. However, with the right advice and plenty of planning, it is possible to turn affiliate marketing into your full-time job.
Let's recap our three tips for earning a full-time income from your affiliate links:
Find a high-converting niche.
Use keywords to create a killer content marketing strategy.
Shorten and cloak your affiliate links using our Pretty Links plugin.
Do you have any questions about earning a full-time income with affiliate marketing? Let us know in the comments section below!
If you liked this article, be sure to follow us on Facebook, Twitter, and LinkedIn! And don't forget to subscribe in the box below.
3 Comments
Jyotish

July 4, 2021

Hello Sir, Great Job! "I really like your blogging skills, keep it up". Do you know? This article was overall fantastic and well understood. The one thing that I noticed that, you always provide informative and needed information and I really enjoyed this article and even I also shared it with my friends. I am just over 2 years into blogging and I learned a lot of things in blogging. The informations you provide us are always best and beneficial. That's why we are always excited to read your upcoming articles. And the information which I was searching on the internet I got on your website and I am so glad that you have provided this article on my needed query. And to be honest, I am also excited to read your upcoming articles because when we read your articles we learn many useful and interesting knowledge. Ok take care and have a great day, again thank you so much for providing so much help to us.

Nazreen Daud

February 6, 2022

3 awesome steps laid out nicely. Great insights on affiliate marketing. I would personally want to make affiliate earnings as a full-time income while running a web agency. We use Pretty Links on our website and love it! Easy to use and simple interface to navigate through. Thumbs up!
John Hughes

February 9, 2022

Thank you, Nazreen!