How to Optimize Link Tracking With Pretty Links (3 Key Tips)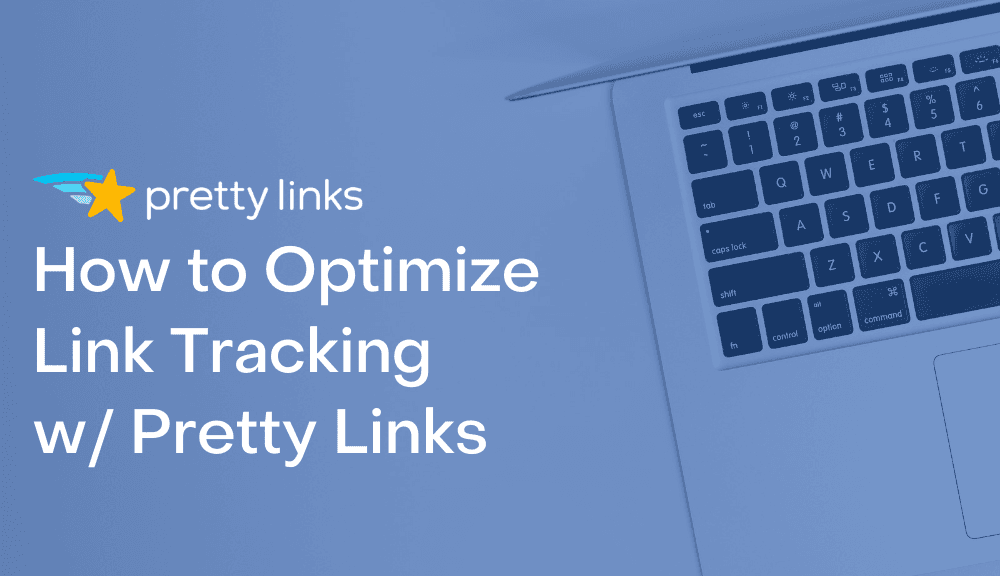 Link tracking allows you to get a better understanding of your users' behaviors and fully understand how visitors interact with your links. You could be overlooking crucial information if you aren't optimizing your link tracking.
Fortunately, you can easily optimize your link tracking efforts by using a link management tool, such as Pretty Links. Its various features enable you to track more than just clicks (such as conversions and user behavior). In addition, you can collect more advanced information and put it to use immediately.
In this post, we'll introduce Pretty Links and its various link tracking features. Next, we'll outline three tips for optimizing your own link tracking efforts and explain how to implement each one. Let's get started!
An Introduction to Pretty Links' Link Tracking Features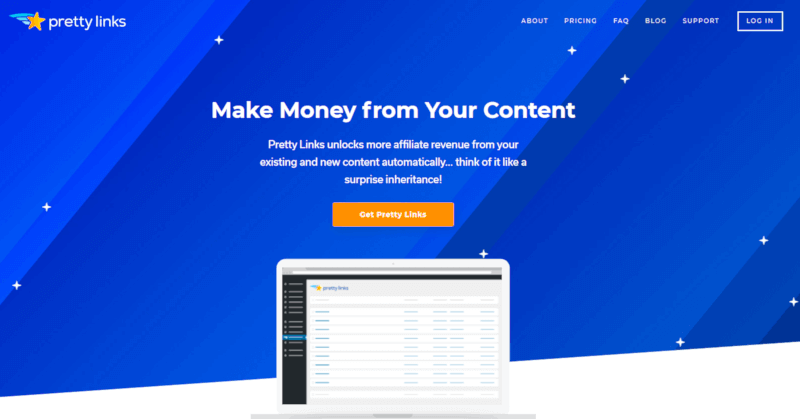 Pretty Links is a link management WordPress plugin that enables you to shorten, brand, and track links both on and off your website. More importantly, it enables you to optimize your link tracking.
A quality link management tool needs to include tracking functionality. For example, Pretty Links includes clicks and conversion tracking, while also offering an Google Analytics integration. You can use the resulting data to improve your linking campaigns and increase conversions.
How to Super-Charge Your Link Tracking with Pretty Links (3 Key Tips)
Let's look at the various ways you can optimize your link tracking. All of this can be done with the help of Pretty Links.
1. Perform Split Testing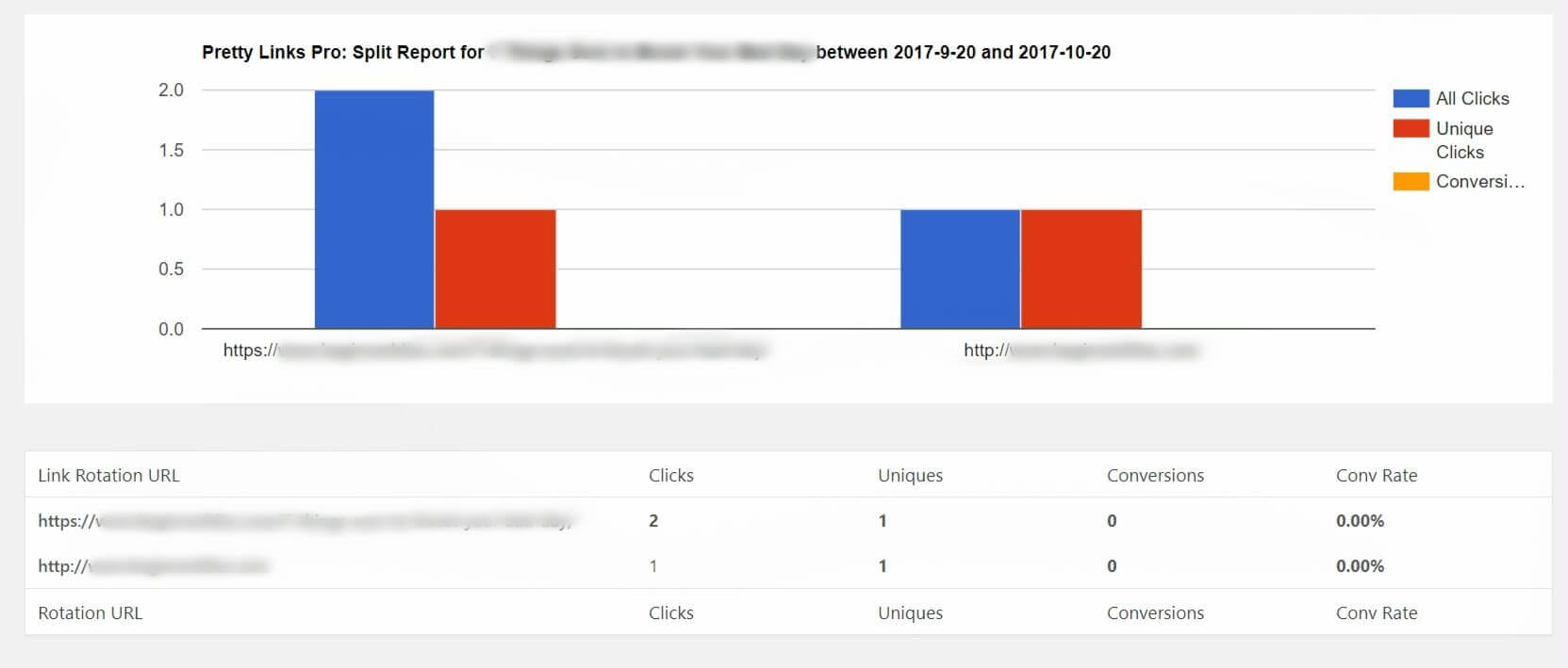 In simplest terms, split testing is a technique used to test different aspects of a marketing campaign. It enables you to compare multiple links against each other, see how many clicks they receive, and determine their strengths and weaknesses.
To do this, you can set up split testing using Pretty Links:

When implemented effectively, this feature will allow you to distinguish which links are performing well and which links need to be improved.
You can better understand user behavior based on the links they follow and the ones they ignore. With this information, you can optimize the placement of your links both on and off your website.
2. Integrate With Google Analytics

Google Analytics is designed to collect advanced website information, including the data on clicks and conversions. You can gain valuable information on how well your links perform by integrating Google Analytics with your website (or your linking tool).
You can use this new and improved understanding to adjust your current campaigns, as well as create better ones in the future. To get started, you can integrate Google Analytics with Pretty Links by installing a dedicated plugin on your website, such as Google Analytics for WordPress.
Once your chosen plugin is configured, you'll need to set up the integration in Pretty Links. Navigate to Pretty Links > Options > Link Options, and check the box next to Google Analytics:

Each new link you create will have integration enabled. Additionally, this will give you access to even more link tracking features in the Google Analytics dashboard.
3. Trim Your Clicks Frequently

A click is recorded every time a visitor interacts with one of your links. When using a link management tool, such as Pretty Links, this information is commonly stored in the Reports or Statistics section.
However, the clicks saved in your database can build up over time, create clutter, and make it more difficult to track your recent results.
One way to improve your link tracking is to clean up these results, also known as trimming. Trimming clears dated results from your website's database and makes it easier to gain useful information with future data. If you use Pretty Links on your website, you'll be happy to know that trimming your clicks is simple.
Simply navigate to Pretty Links > Tools > Trim Clicks in your dashboard and make your selections:

If you're just getting started, you may want to start with a clean slate by deleting all clicks. After that, you can choose to delete clicks older than 30 or 90 days as part of your regular website maintenance.
Conclusion
Using a link management plugin such as Pretty Links gives you access to valuable data to improve your linking campaigns. If you fail to optimize your link tracking, you might miss out on critical information.
In this post, we introduced some of Pretty Links' most helpful features. We've also shared three tips on how to optimize your link tracking efforts, including:
Perform split testing
Integrate with Google Analytics
Trim your clicks frequently
Get Pretty Links for all your link tracking needs!
Do you have any questions about link tracking, or how Pretty Links can help? Let us know in the comments section below!
If you liked this article, be sure to follow us on Facebook, Twitter, and LinkedIn! And don't forget to subscribe in the box below.
3 Comments
Deja

November 6, 2018

Can the tips above be used with both the free and paid version of Pretty Links or will we need to upgrade to Pro (Paid) in order to use them?
Paul C

November 6, 2018

The first two features would be for the Pro version. You can trim your clicks in the free version though.
Richard Dickson
August 7, 2021
I've been using Pretty Links in my email newsletter to distinguish clicks there from those coming from social media. Pretty Links shows a large number of clicks usually. However, my email provider, AWeber shows a number of clicks that is radically lower than Pretty Links. I've questioned them and I thought it only fair to check with you, why this difference is occurring. I love this functionality, so I'm hoping that you can provide some assistance with this conundrum. Blessings, Richard