How to Make Money with Your Podcast through Affiliate Marketing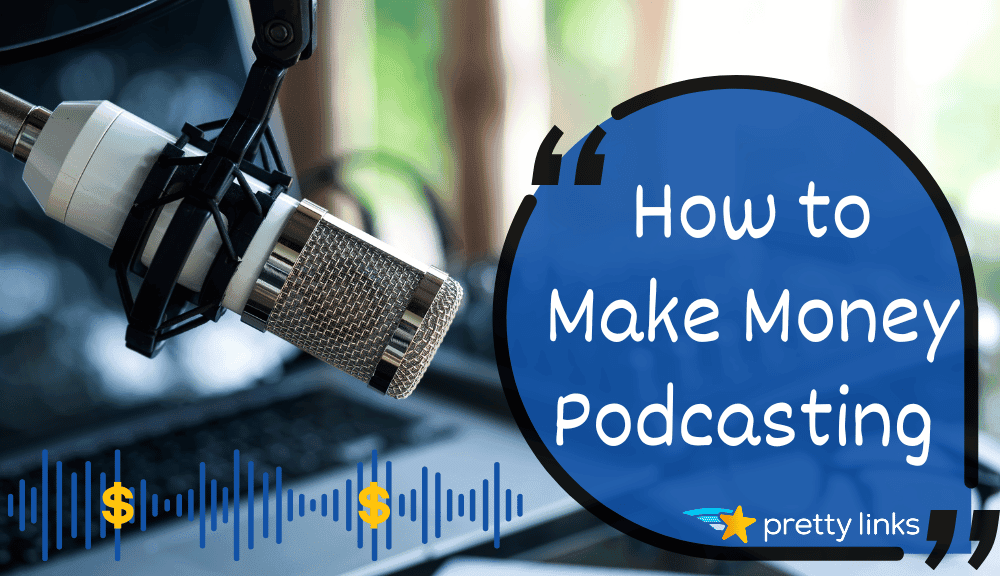 Whether you're a podcasting pro who's not so sure about affiliate marketing, or an affiliate marketer who's interested in getting behind a mic – this blog's for you!
---
Gone are the days when podcasting was just a pastime hobby. Now, it's a thriving content entertainment platform with millions of avid listeners tuning in daily to their favorite shows.
This surge in popularity presents an amplified opportunity for podcasters to cash in on their mic skills. One way to do it is with affiliate marketing.
In this blog, we'll break down what affiliate marketing is, how it works, and why it's a great addition to any podcast.
Then, we'll show you how to harness the affiliate marketing tools packed inside Pretty Links so you can bring in some serious dough with your next show.
We'll take the mic on this one! So grab your headphones and let's get started!
What is Affiliate Marketing?
Affiliate marketing is a partnership between you (the affiliate) and a company (the merchant). As an affiliate podcaster, you'll promote the merchant's products or services on your podcast, website, or other marketing channels using a unique affiliate link.
When listeners type in or click on your affiliate link, then follow through to make a purchase, you earn a commission.
For example, say you're a natural-born comedian and you have a knack for making people laugh. You decide to share your talent with the world by starting a podcast. It's an instant hit!
As your audience grows week after week, you start to wonder, Can I make this my full-time gig?
With affiliate marketing you can!
When you partner with affiliate programs, you can rake in some serious cash while your readers get a kick out of the awesome products you recommend – such as funny t-shirts, quirky trinkets, or even comedy club tickets:
This way, you can share your love of laughter with your audience and earn cash at the same time!
Why Should You Add Affiliate Marketing to Your Podcast?
As a podcaster, you put in countless hours of work to produce high-quality content for your listeners. From researching topics to recording and editing your episodes, you pour your heart and soul into your show.
Why not monetize all that hard work? There are several reasons why podcasters should consider affiliate marketing as an easy and effortless way to earn extra income.
For starters, it's a great way to diversify and add to your income streams. While sponsorships and advertising can bring in revenue, they can also be unpredictable and difficult to secure. Affiliate marketing provides a near reliable cash flow that grows over time as your audience and reach expand.
As an affiliate marketer, you also have complete freedom over what products you promote. That way you can carefully select products within your niche that you truly believe in and will be of value to your listeners.
Then perhaps the most exciting aspect of affiliate marketing for podcasters is how it fits perfectly with the very nature of podcasting itself. Podcasters are known for their authenticity, storytelling, and trust-building. These characteristics make your unique content delivery ideal for integrating affiliate marketing in a way that feels genuine and personal.
By incorporating affiliate marketing in a way that adds value to your content, you can leverage your podcasting platform to earn commissions while maintaining the integrity of your show and the trust of your audience.
Pretty Links: The Missing Link in Your Podcast's Affiliate Marketing Strategy
Now that we've talked about some of the affiliate marketing perks for podcasters, what's stopping you from giving it a go?
Let's be real, one of the biggest challenges is dealing with affiliate links themselves. They can be a real pain in the you-know-what. Not only are they super long and clunky, but trying to pronounce them can be a real tongue-twister.
For example, your average Amazon affiliate link typically looks something like this:

This affiliate link isn't doing you any favors. It's over 100 characters long and filled with meaningless gibberish that won't make any sense to your listeners. So instead of clicks and conversions, you're left with a confused audience.
Thankfully, there's a solution to this problem: Pretty Links!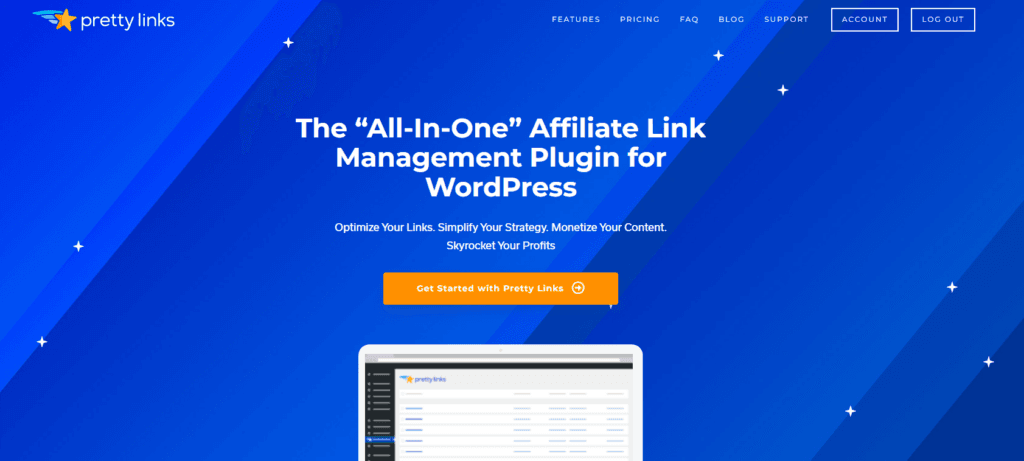 Pretty Links allows you to create short, memorable links that take listeners and readers straight to your recommended affiliate products. No more getting choked up by a bunch of complicated #$@!%.
For example, you can take that mouthful of a URL and create a prettier-looking link, like this:
www.yourpodcast.com/amazon-product
That rolls off the tongue much easier, doesn't it?
In addition to creating short, easy-to-say links, Pretty Links also provides detailed analytics and tracking data. So you can see which shows are getting more engagement and which products are generating the most revenue.
How to Monetize Your Podcast with Affiliate Marketing (In 6 Easy Steps)
Ready to take your podcast from passion project to a profitable venture? Follow along as we go through the 6 steps to monetizing your podcast with the power of affiliate marketing and Pretty Links.
1. Partner with an Affiliate Program
The first step is to choose an affiliate program. One of the most well-known affiliate networks is Amazon Associates: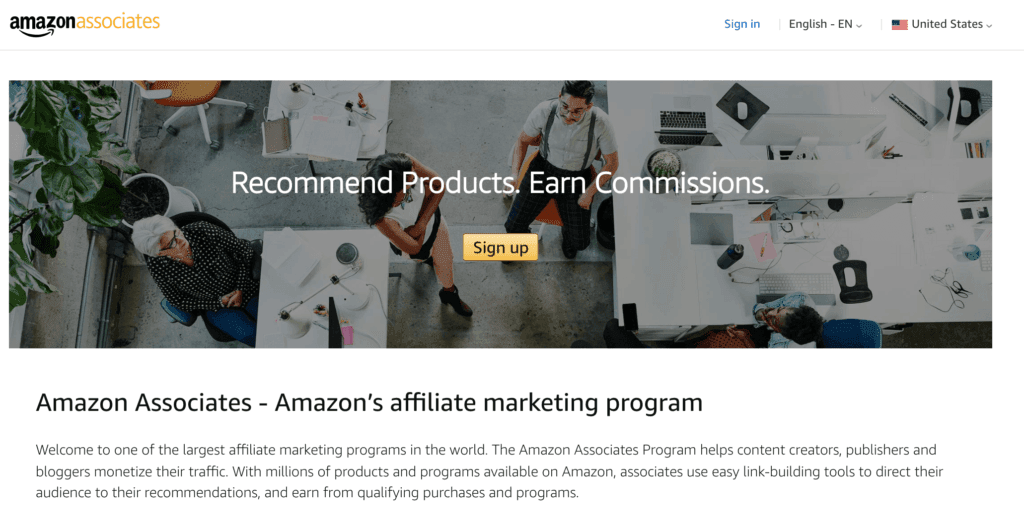 Many podcasters choose Amazon Associates because of its reputation and vast selection of products. Whether you podcast on true crime, life and wellness, or parenting advice, you're sure to find a product you can sell to your audience.
2. Find Affiliate Products to Promote
After becoming an approved affiliate for your chosen program(s), it's time to dive into product selection.
One of the best ways to select products is to focus on items that you're interested in and would even use yourself. This authenticity not only makes promoting the product easier, but also builds trust with your listeners.
Additionally, choosing products that fall within your podcast's niche and audience ensures listeners will find your promoted products useful and relevant to their interests too.
3. Put Your Podcast on WordPress
If you're looking for a reliable and affordable platform to host your show, then you should definitely check out WordPress. The best thing about this content management system (CMS) is, it's extremely easy to customize and make your own.
You can create a personalized podcast website that matches your brand and style perfectly. Plus, getting started is a breeze when you choose from the variety of pre-designed podcast themes:
And the best part? WordPress has a ton of plugins specifically designed for podcasters, like Seriously Simple Podcasting or Blubrry PowerPress – and let's not forget Pretty Links!
These tools make hosting, publishing, promoting, and profiting from your podcast a walk in the park.
4. Purchase and Install Pretty Links – ON SALE!!
If you haven't already, head on over to our pricing page to purchase the Pretty Links plugin. Click the button below and we'll take you exactly where you need to go…
Next, you'll need to install and activate the plugin on your site before registering it with your license key.
To do this, log in to your WordPress dashboard and download the latest version of Pretty Links from your account page.
Once you've downloaded the .zip file, venture back over to your WordPress dashboard and navigate to Plugins > Add New:
On this page, start by clicking the "Upload Plugin" button at the top. Then select the .zip file you downloaded just a moment ago. To wrap things up here, click "Install Now", followed by "Activate".
Now for that License Key (which you can also find on your account page), go to Pretty Links > Activate. Paste it in there to enable your subscription features.
5. Create Easy-to-Say Affiliate Links
Now you're ready to create a pretty podcast link! Simply head over to your WordPress dashboard, locate the Pretty Links plugin, and click "Add New".
First, type in the name of your affiliate product. Then, enter the long affiliate link provided by your program in the Target URL box. Finally, type in a much shorter slug in the Pretty Links box:
Click here to learn more about the importance of adding categories and tags too >>
Save your link by clicking the blue "Update" button in the top right-hand corner.
6. Promote Your Pretty Affiliate Links
Now for the fun part: promoting affiliate links on your podcast!
One obvious way to do this is by giving them a special shout-out during your show, remembering to incorporate them naturally into your discussion. You can also mention that you have a special link for that product in the episode notes:
Apart from mentioning them in your notes section, you can also include them in your transcript. That way readers can follow along and click on your links in the heat of the moment: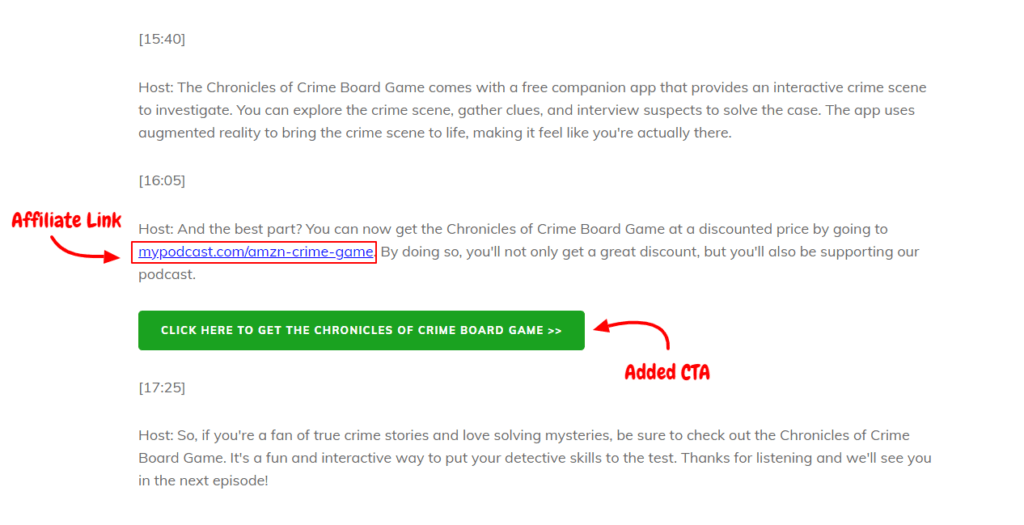 Want your transcript to be more than text and timestamps? Turn your affiliate link into an attention-grabbing product display:
With the Pretty Links Product Display add-on, you can showcase the products you're promoting to give readers a glimpse of what they can expect and increase your click chances.
Lastly, you can promote your pretty affiliate links on social media or through email newsletters to drive more traffic to your WordPress podcast site and attract more attention to your affiliate products.
Conclusion
As a podcaster, you have a unique platform that allows you to connect with your audience by sharing your stories and expertise. But making money from your show is the ultimate dream, right?
Affiliate marketing can help turn that dream into a reality!
By promoting affiliate products to your listeners, you can generate additional revenue streams plus reach a wider audience. Then, with the link shortening super powers of Pretty Links, you can seamlessly promote and recommend products without disrupting the flow of your show.
Feeling inspired to try your hand at podcasting and affiliate marketing? If you have any more questions about how to get started, feel free to drop them in the comments below. Don't forget to come back and share your success stories with us too!
If you liked this article, be sure to follow us on Facebook, Twitter, Pinterest, and LinkedIn! And don't forget to subscribe to our newsletter!