5 Best Email Marketing Tools to Maximize your Campaigns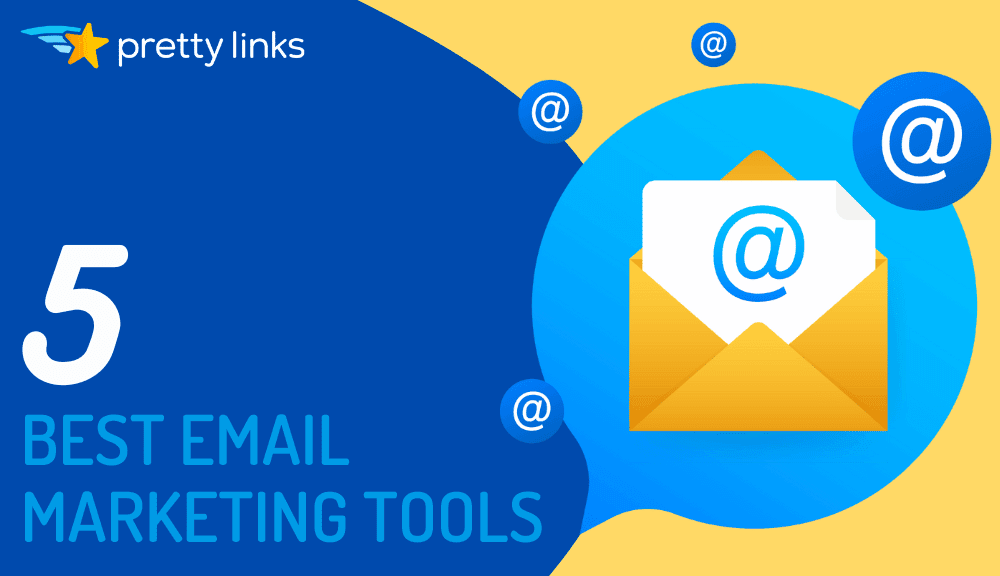 Email marketing can be a powerful way to build relationships with your audience, nurture leads, and promote affiliate products. However, creating and managing an email campaign can be challenging if you don't have the necessary tools to pull it off.
When you find the right email marketing software for your business, you can start building your mailing list with ease and skyrocket your sales. Many tools can also help you organize, schedule, and completely automate your campaigns.
In this post, we'll explain the benefits of using email marketing tools as an online business owner. Then, we'll share 5 of the best options and their features to help you get an idea on how to put them to use in your marketing.
The Benefits of Using Email Marketing Tools
There are many positives to email marketing. First of all, the format gives you a wide audience. There are currently 4 billion daily email users. What's more, email generates an astonishing $42 for every $1 spent, which means it's highly efficient and has one of the best return on investment (ROI) you're going to find.
So, it's no surprise that 64% of small businesses use email marketing to reach customers.
Email marketing is also a great way to help you stay in touch with customers and reach them in real-time. Plus, recipients are more likely to engage with email than other types of communication. This is because marketers can deliver highly targeted messages.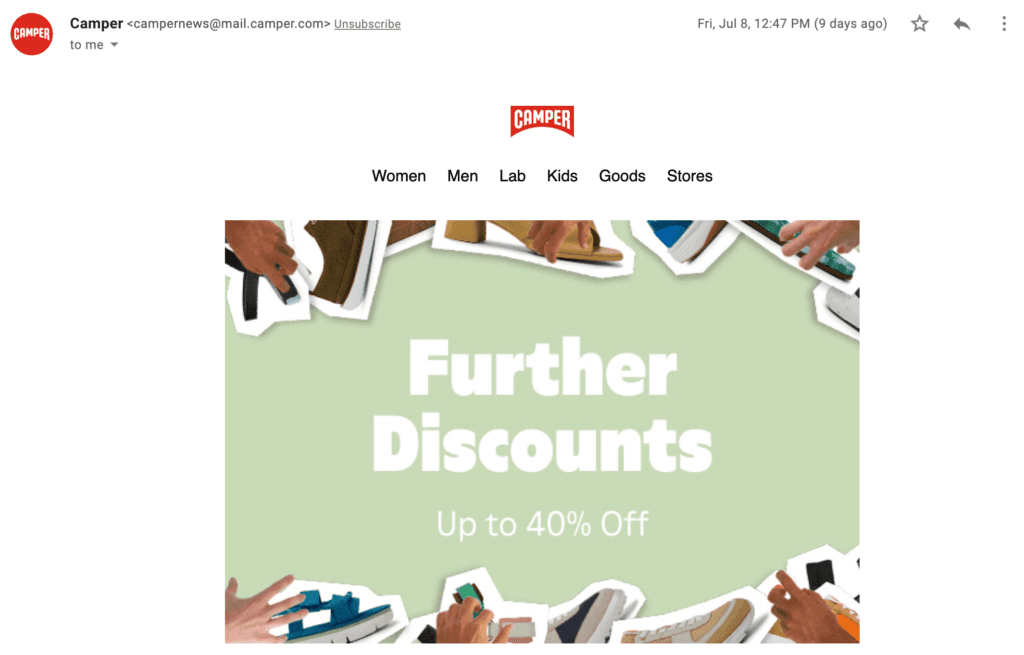 When you use email marketing, you can measure success through analytics. Then, you can use your findings to further develop and refine your overall marketing strategy. Moreover, email marketing can be more affordable than traditional paid advertising.
However, to reap all these benefits and more, you'll need to use the right email marketing tools. The software you choose should accomplish essential functionality as well as meet the needs of your business.
For instance, your tool should be able to send emails through your chosen method, upload contacts, and schedule campaigns. More advanced features might include contact list segmentation, automated emails based on interactions, and lead generation forms.
5 Best Email Marketing Tools for Your Online Business
Now that you know a bit more about the many benefits of using email marketing tools, you're probably wondering how to select the right one for your needs. Here are our top 5 choices!
1. Omnisend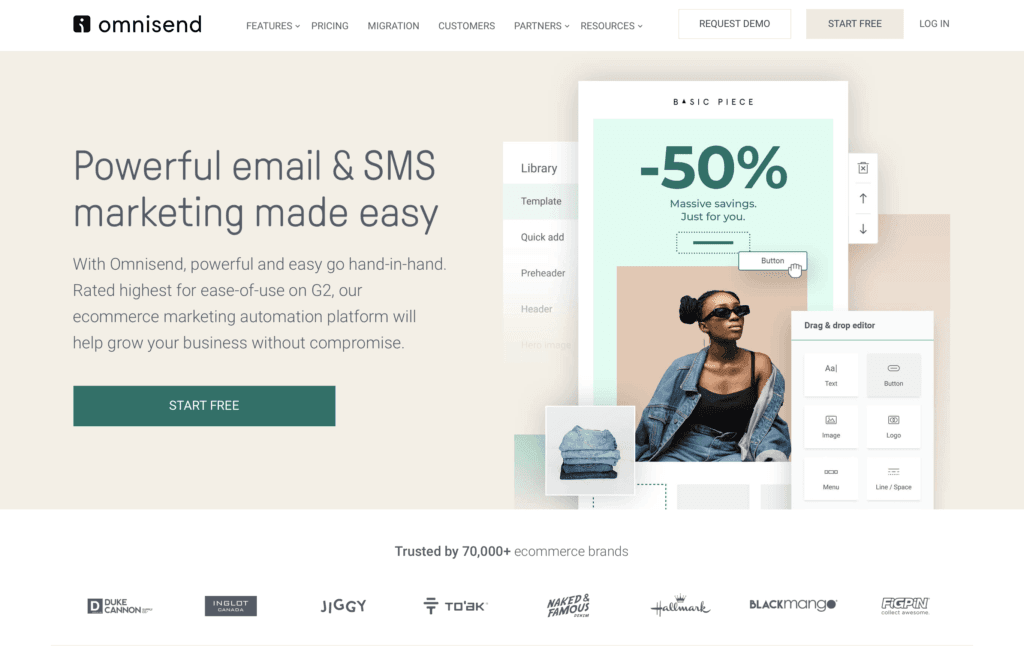 Omnisend is one of the leading email marketing platforms for online stores. This tool includes full automation across email, SMS, and push notifications.
With 70+ app integrations, the possibilities are endless. Since the platform focuses on ecommerce specifically, every aspect is ideal for shopping.
Templates include designs such as "special offers" and "abandoned cart reminders". These can save you lots of time when managing your online business. Moreover, the platform is compatible with major ecommerce platforms such as Shopify and BigCommerce.
Key Features:
70+ integrations
Popups and forms
Marketing automation
Pricing: You can have up to 250 contacts and send 500 emails monthly with Omnisend's free plan. Otherwise, paid plans start at $16 per month for up to 500 contacts and 6,00 emails (monthly).
2. ConvertKit
ConvertKit is built with creative entrepreneurs in mind. It's the preferred email platform for many musicians, bloggers, artists, influencers, and more. That's because spending time learning how to use an email marketing tool isn't an option for many creatives, and ConvertKit makes sending emails easy.
The software has several attractive features, including visual email automation and powerful tagging and segmentation. It also boasts a 99.7% email deliverability rate, making it a dependable option.
However, the email template library is small when compared to other tools. Furthermore, there is only limited mobile functionality.
Key Features:
Landing page templates
Email sign-up forms
Automations and integrations
Pricing: ConvertKit offers a free plan for up to 300 subscribers. Paid plans start at $9 monthly.
3. Moosend
Moosend is an excellent option for those working with a small budget. The platform offers a user-friendly, drag-and-drop editor which makes it easy to create and send attractive emails.
Additionally, the tool includes plenty of templates, which can speed up your workflow. However, the real selling point is Moosend price plans. Essentially, you can choose how you pay, either by the number of subscribers or the number of emails you send.
This means you can always choose the most affordable option for you. There are some downsides, however. Moosend offers somewhat limited integrations and can't send emails from Gmail or Hotmail.
Key Features:
Email segmentation
Drag-and-drop email editor
Custom plans
Pricing: As we mentioned, with Moosend, you can customize your payment plan. However, if you choose its standard Pro plan, it will cost you $9 per month. It also offers a 30-day free trial.
4. EmailOctopus
If Moosend isn't for you, but you're looking for an affordable option, few can beat EmailOctopus. The platform acts as a bridge for Amazon's Simple Email Service (SES).
Amazon SES boasts excellent deliverability and value, but Amazon hasn't built its user interface for creating campaigns. Therefore, every campaign, text alteration, or email sequence must be done as a development task. If you're not a developer, this can unnecessarily use up your time and resources.
EmailOctopus solves this problem by building on Amazon SES, giving you its benefits with the addition of a straightforward user interface (UI). Although simplicity is a perk, one downside of this tool is that it offers few advanced features.
Key Features:
Pre-designed email templates
Drag-and-drop builder
Pricing: EmailOctopus is free for up to 2,500 subscribers and 10,000 emails per month. However, with this option, the company's branding will appear on all your marketing materials and you'll only have access to reports for 30 days. Paid plans start at $8 per month for 500 subscribers and 10,000 emails.
5. Mailchimp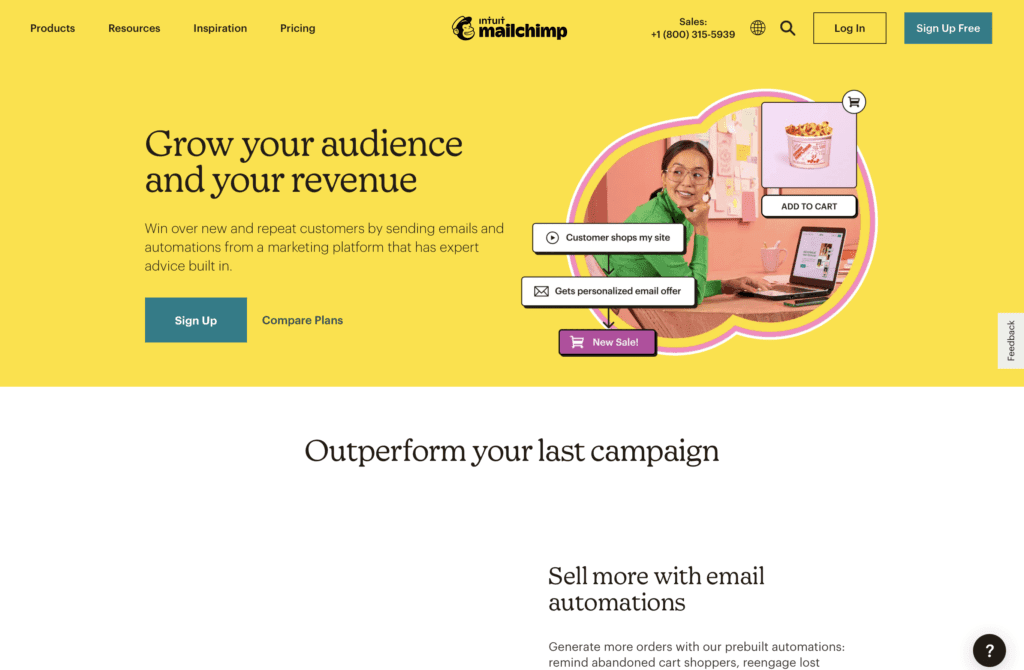 Mailchimp is perhaps the best-known email marketing software, and with good reason. It offers an all-in-one package that's great if you're looking for a no-fuss tool from a big name. The platform includes everything from campaign scheduling to advanced analytics.
Simplicity and a vast range of integrations also make Mailchimp an excellent choice. Using this tool, building sign-up forms and entire email campaigns is a breeze.
Some plans even include advanced features like predictive segmentation. However, if you exceed your allowed number of emails or contacts, Mailchimp will charge you overage fees.
Key Features:
Customer Journey Builder
Powerful automations
Award-winning customer support
Pricing: Mailchimp's free plan is quite generous, allowing you to send up to 10,000 emails per month. Paid plans start at $11 monthly but you'll likely need a bigger plan if you run a larger business.
Conclusion
Email marketing tools are essential to the success of your online business. They can help you easily build your marketing list and reach people at every stage of the sales funnel. By choosing the right email marketing tool, you can save time, money, and effort.
In summary, here are 5 of the best email marketing tools:
Do you have any questions about what these email marketing tools can offer you? Let us know in the comments section below!
If you liked this article, be sure to follow us on Facebook, Twitter, Pinterest, and LinkedIn! And don't forget to subscribe in the box below.