5 Best Ecommerce Plugins for Your WordPress Site
Running an online store can be challenging. If you're inexperienced with ecommerce platforms, it can even feel overwhelming to set up your shop and optimize it for sales. The last thing you need is complicated software making your job even harder.
Fortunately, there are various user-friendly ecommerce plugins that can take away some of the stress. They can enable you to set up your online store, configure its layout, and market it effectively to your target customers.
In this guide, we'll look at five of the best ecommerce plugins for WordPress sites (in no particular order). Let's get started!
1. WooCommerce
WooCommerce is one of the most popular ecommerce plugins for WordPress. It's specifically designed for this content management system (CMS) and uses open-source software. As such, developers can customize its settings on a much deeper level.
One of the main strengths of WooCommerce is its financial tools. It supports almost any payment gateway you can imagine, which means you can make sales from almost any country. Additionally, it includes features like automated tax calculations and shipping rates.
WooCommerce can be overwhelming if you don't have the time to learn the ropes. Therefore, we recommend it for larger businesses that can benefit from its broad range of powerful features.
Pros:
Customizable interface
140+ payment gateways
Sophisticated financial tools
Cons:
Not the most user-friendly option for beginners
Price: The WooCommerce platform and plugin are free. However, you can pay extra to add extensions and themes in order to improve the online store experience.
2. MemberPress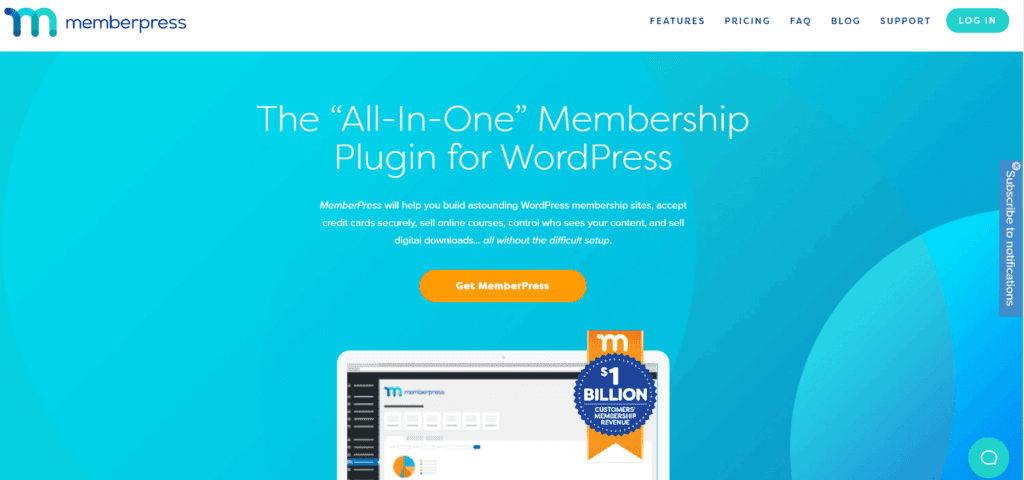 MemberPress is an excellent choice if you want to make money from subscriptions and members-only content. For instance, you can set up a community site, online coaching portal, or lessons hub.
The plugin integrates seamlessly with various tools. For example, you can use it with payment platforms such as Stripe and PayPal. Additionally, it works with marketing applications such as ActiveCampaign and ConvertKit.
MemberPress comes with many customizable settings. You can design your own membership plans and set different member levels. Moreover, you can control your subscriptions by setting up billing periods and offering free trials.
If you're looking to create your own online business and generate a passive income, MemberPress could be the right choice for you.
Pros:
User-friendly dashboard
Customizable settings
Multiple integrations
Cons:
Pricier than other platforms
Price: MemberPress plans cost from $129 to $349 per year.
3. Easy Digital Downloads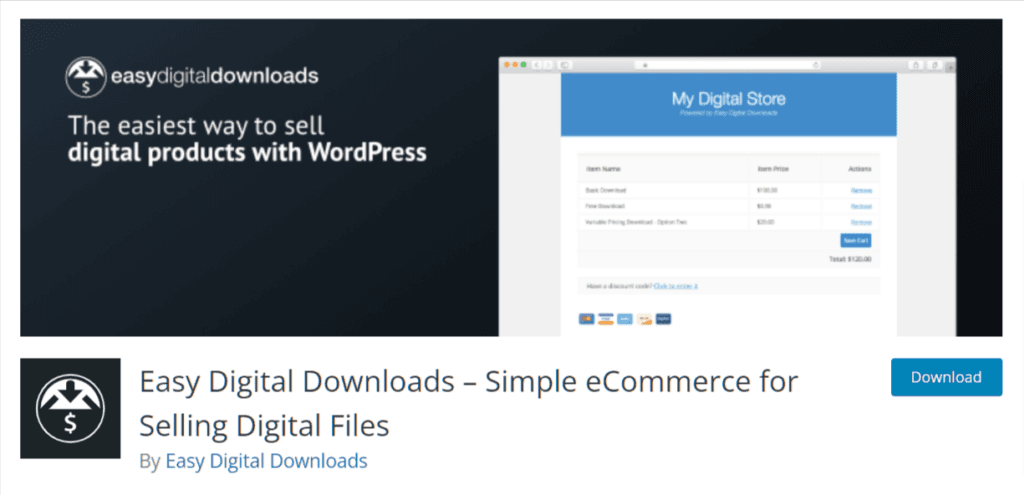 Easy Digital Downloads could be the perfect choice if you want to sell online products like e-books, e-courses, or videos. It has a simple interface that enables you to upload your files and categorize them in just a few minutes. Your customers can then download them and pay via PayPal or Stripe.
This platform has a customizable dashboard that lets you set up payments, receipts, and taxes for each transaction. You can also access detailed reports on your transactions and track the performance of your online store.
The core plugin is very basic, so you will need to pay for add-ons if you want more functionalities. Therefore, Easy Digital Downloads could be a more affordable choice if you run a very simple online store.
Pros:
Value for money
Simple design
Customizable dashboard
Cons:
Need to pay for most add-ons
Price: The plugin is free. However, you can also purchase a pass that includes extensions for email marketing, payment gateways, and more. These plans run from $99 to $499 for the first year.
4. WP Shopify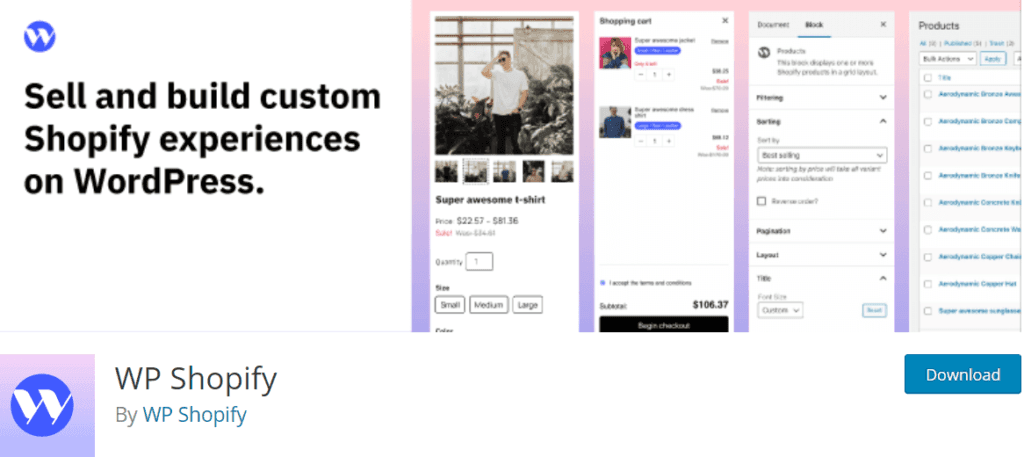 WP Shopify is a plugin that enables you to connect your Shopify account to your website. You can use the add-on to make your products visible on your site, receive payments, and customize your storefront to make it more user-friendly. You can also display customer reviews to increase the trustworthiness of your business.
Shopify is one of the most used ecommerce platforms worldwide, and for good reason. It has a beginner-friendly interface that enables you to manage every aspect of your store. You'll also have access to a dedicated support team.
This plugin includes multiple analytical features, such as reports for traffic, referrals, and overall conversions. Furthermore, you can integrate the dashboard with Google Analytics and receive detailed data on your store's performance.
The platform offers more than 100 payment gateways. However, there are percentage-based transaction fees for each sale. As such, we recommend the ecommerce plugin for businesses that are already turning a profit.
Pros:
Multiple payment gateways
In-depth analytical reports
User-friendly features
Cons:
Transaction fees on each sale
Price: A Shopify pricing plan costs between $29 and $299 per month.
5. WP EasyCart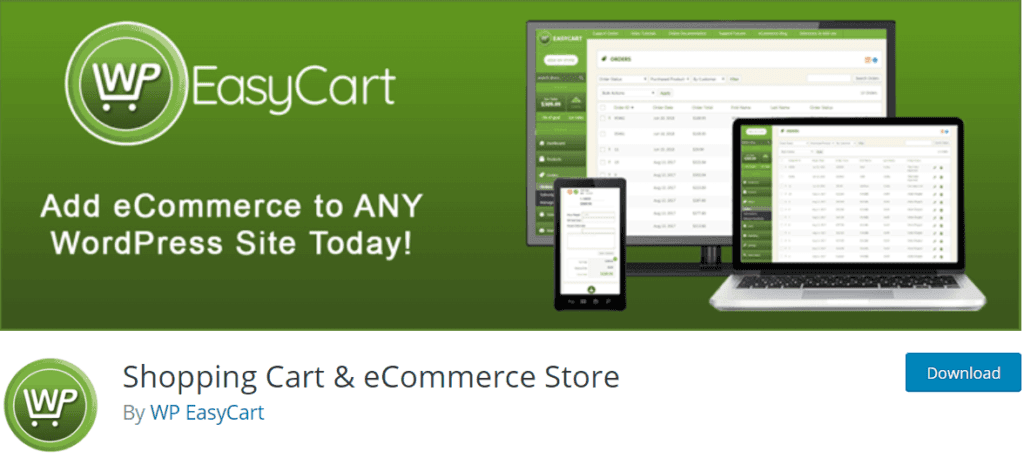 WP EasyCart is one of the best beginner-friendly ecommerce plugins for WordPress. It has a simple interface that enables you to add products, handle shipping, view reports, and track sales. Each of the settings is clearly marked and easy to use, making it less of a challenge to master the different functions.
This plugin supports three common payment gateways, and you can add as many products as you like. Although it doesn't offer the same number of features as other ecommerce plugins, you can easily manage a simple store.
Note that WP Easy Cart charges transaction fees. As such, we recommend it if you run a small to medium-sized store and if you lack technical expertise.
Pros:
Affordable
Beginner-friendly
Easy to receive payments
Cons:
Price: You can use the plugin for free. Alternatively, you can choose a WP EasyCart paid plan that includes more payment options, technical support, and handy tools for online marketing. This will set you back either $69 or $99 per year.
Conclusion
Choosing the best ecommerce plugin for your online business is essential. There are multiple options available, so it's necessary to pick the one that suits your store size, level of experience, and types of products.
Here's a recap of five of the best ecommerce plugins for WordPress:
Do you have any questions about using ecommerce plugins on your WordPress site? Let us know in the comments section below!
If you liked this article, be sure to follow us on Facebook, Twitter, and LinkedIn! And don't forget to subscribe to our newsletter.