How to Join the Amazon Affiliate Program in 2022
As a blogger, you can monetize your online content by promoting products. Amazon Associates is one of the most popular affiliate programs among publishers.
When you sign up for Amazon Associates, you can use affiliate links on your website and social media pages. You can choose products that fit your niche and earn a commission on each sale.
In this post, we'll take a closer look at Amazon Associates and how you can benefit from joining the program. Then, we'll show you how to become an Amazon affiliate in just 4 steps. Let's get started!
An Introduction to the Amazon Affiliate Program
Amazon Associates is an affiliate marketing program that enables content creators to promote Amazon products on their platforms while making a passive income.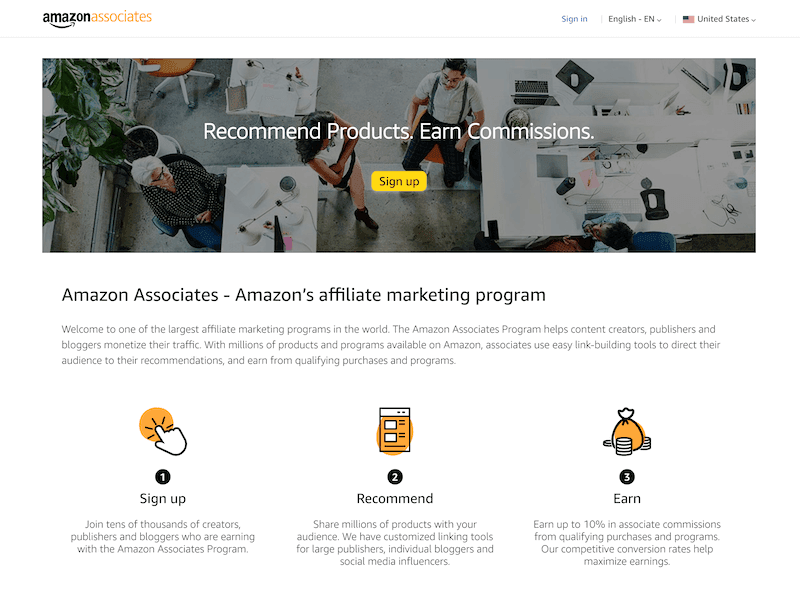 Once you sign up, you can start recommending products to your audience using affiliate links, widgets, and more. Then, when someone makes a purchase through your site, you can earn a percentage of that sale.
To be eligible for this program, you'll need to have a qualifying website or mobile app. If you're a blogger, you'll need to have at least ten posts on your site, some of which were published within the last 60 days.
Alternatively, you can share Amazon affiliate links on social media. Amazon accepts promotions on Facebook, Instagram, YouTube, TikTok, and Twitch. The only requirement is that you have at least 500 organic followers.
You can also apply with a mobile app. To qualify, your software needs to be available in the Google Play, Apple, or Amazon app stores. Furthermore, it should have original content and be free to download.
The Benefits of Becoming an Amazon Affiliate
Many creators partner with Amazon Associates because it's free and easy to join. If you have an online following, you can start earning commissions by simply sharing Amazon products.
Based on the product, you could receive a high payout. Amazon Games is the most profitable product category, paying a fixed commission income rate of 20%. However, most creators earn closer to 10% in commissions.
Plus, Amazon has millions of products on its platform. As an Amazon Associate, you can easily find affiliate products within your content niche. For example, if you're a fashion blogger, you can start sharing links to clothes and accessories:
Amazon makes it easy to share affiliate links with your followers. You can customize each link as an image, text, or widget. Additionally, Amazon will automatically generate an HTML code that you can embed in your online posts.
How to Join the Amazon Affiliate Program in 2022
Before you get started with Amazon Associates, it's important that you review the requirements that we discussed earlier. By making sure that you meet these guidelines, you can increase your chances of being approved.
Step 1: Create an Amazon Associates Account
The first step is to visit the Amazon Associates website and click on Sign up. Then, you can sign in to your Amazon account or create a new one:
To set up your Amazon Associates account, you'll need to fill in your name and address so that Amazon can send you payments. If you used a pre-existing account, it will automatically import this information: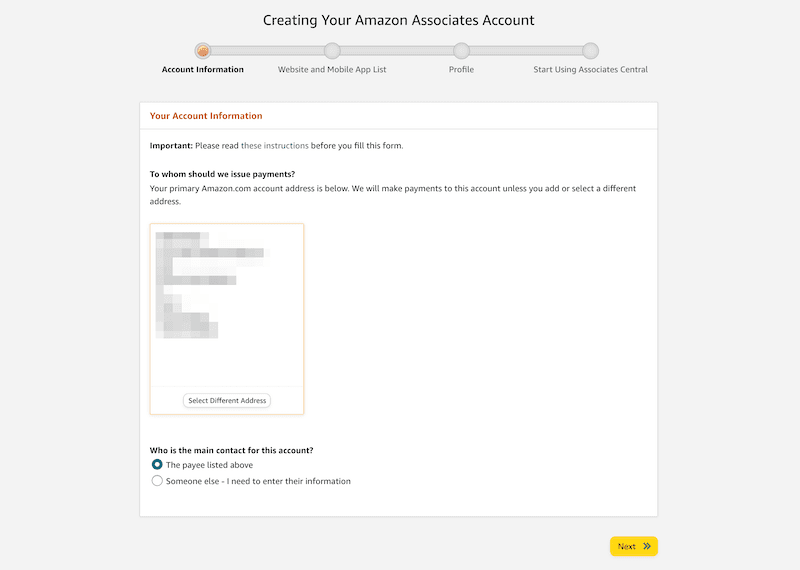 If you want to list yourself as the main contact for this account, select The payee listed above option. You can also enter someone else's contact information if needed. To continue, click on Next.
Step 2: Enter the Link for Your Online Platform
Next, you'll need to specify where you'll be promoting your affiliate products. If you have a website, add its URL to the box on the left: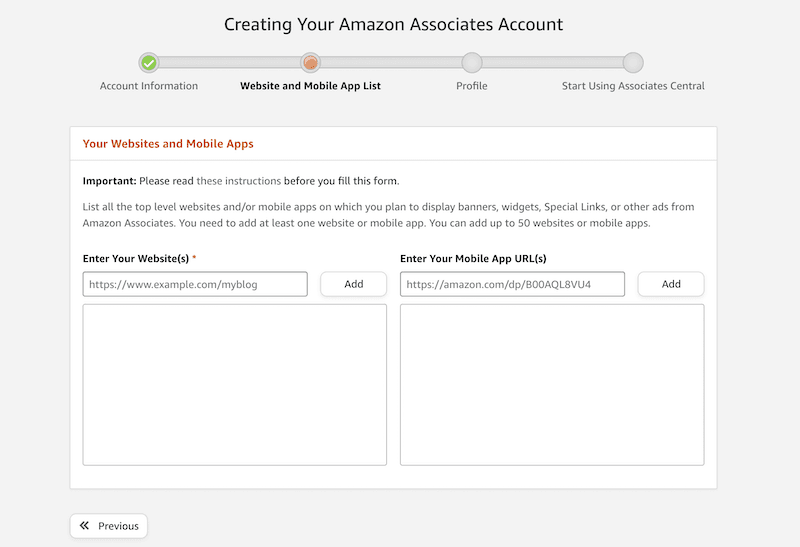 Here, you can also add the link to your social media account. You'll need to insert direct links to your profile, such as "https://instagram.com/yourusername/" rather than just "https://instagram.com":
For a mobile app, you can enter its download URL on the right-hand side of the page. When you're finished, you can continue to the next step.
Step 3: Customize Your Profile
Now, you'll have to fill out some information about your website. At the top of the page, you'll need to choose an Associates ID, which will be the unique identifier that appears in your affiliate links. Then, write a brief explanation of your site and its content: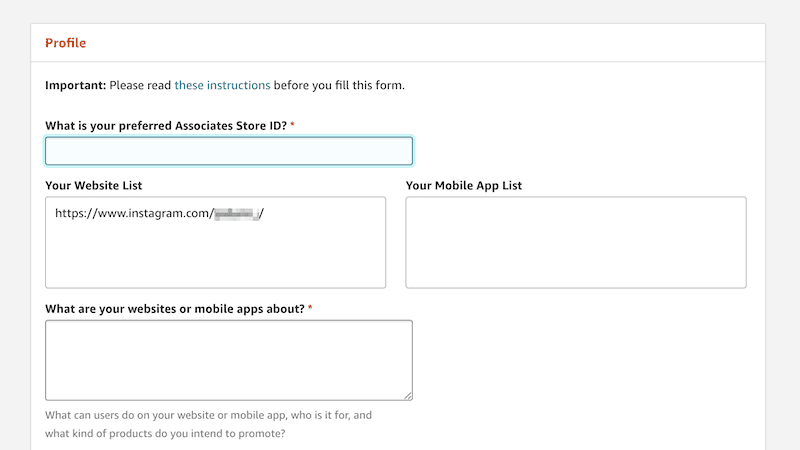 You'll also need to set a primary and secondary topic for your content. If you cover more than two topics, you can select Add Another Topic:
Next, you can choose some items from the list of product categories. This will give Amazon an idea of the type of products that you'll promote:
Lastly, you'll need to define the type of website that you own. You can set a primary and secondary type, and add additional options if needed.
Step 4: Specify Your Traffic Generation Method
In the final section, you'll have to tell Amazon how you drive traffic to your website. This can involve building an email list, improving search engine optimization (SEO), social media promotion, and more:
Then, you'll need to show Amazon how you generate income from your site. If you aren't already monetizing your content, you can select Amazon Associates is the only way I monetize my site.
You'll also have to inform Amazon Associates about your link building strategy. Next, you'll need to specify the number of monthly visitors you receive:
Finally, you'll need to provide the reason you're joining Amazon Associates and how you heard about the program. After you agree to the terms and conditions, you can submit your application!
Conclusion
Amazon Associates is a well-known affiliate program, thanks to its competitive conversion rates and variety of products. You can easily become an Amazon affiliate as long as you have a dedicated online following.
To review, here's how to join the Amazon affiliate program in 2022:
Create an Amazon Associates account.
Enter the link for your online platform.
Customize your profile.
Specify your traffic generation method.
Do you have any questions about getting started as an Amazon affiliate? Let us know in the comments section!
If you liked this article, be sure to follow us on Facebook, Twitter, Pinterest, and LinkedIn! And don't forget to subscribe in the box below.