How to Repair Broken Links On Your WordPress Website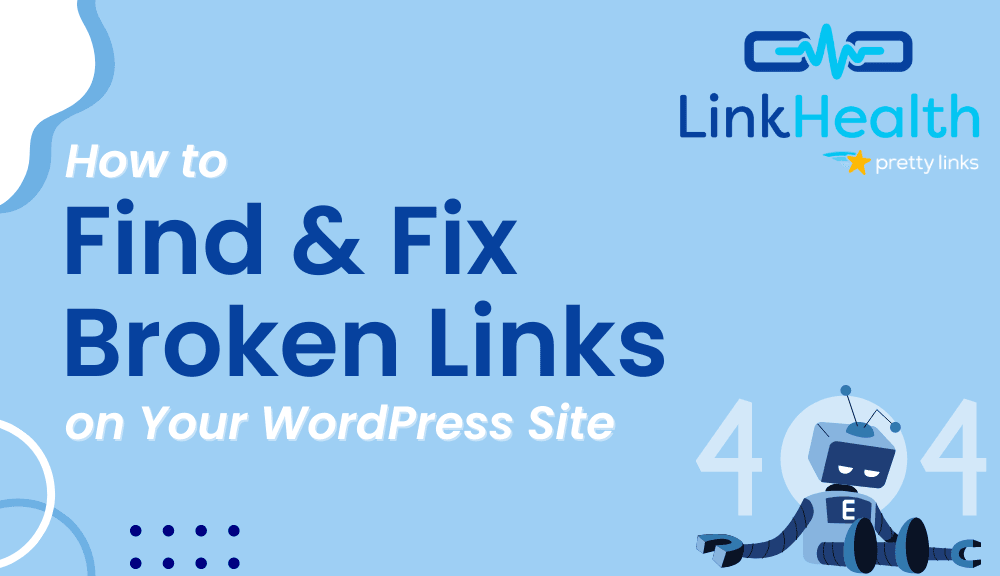 Checking for broken links on your website is an important part of site maintenance. But it's not something most online entrepreneurs think about… until it's too late.
A broken link can do a lot of damage. The more you have and the longer they go undetected, the more problems they create on your site. And the worst part is, most of the time you don't even know you have broken links – because they're almost impossible to find.
Don't let a broken link be the thing that breaks your business!
In today's post, we'll define what broken links are, and we'll talk about the damage they can do on your website and your affiliate marketing efforts. Then we'll introduce our well-loved link management feature that will help you find and fix any broken links lurking on your site.
Let's get to it!
What is a Broken Link?
A broken link is exactly what it sounds like. It's a URL that doesn't work. When you click on a broken link, you're typically led to a page that displays a 404 error or a "Page Not Found" message: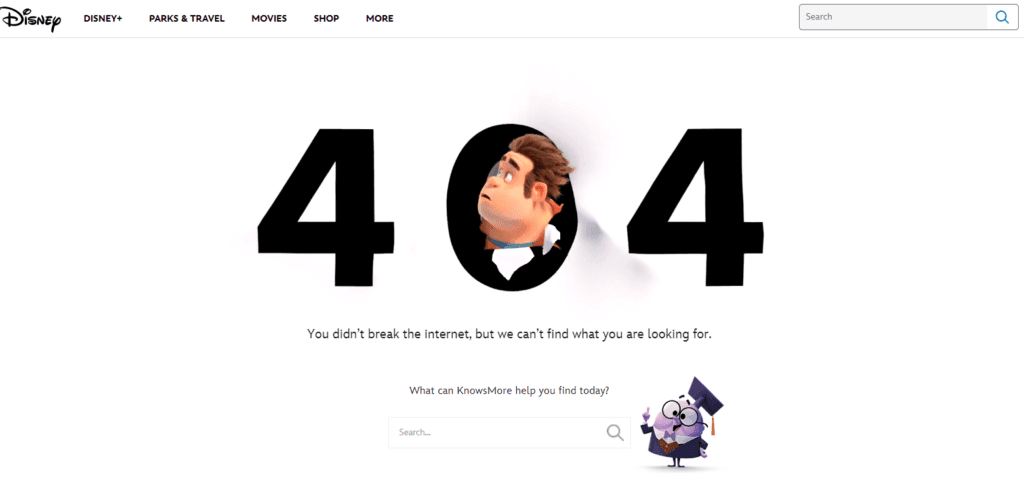 Broken links can occur for all kinds of reasons, such as if a page has been moved or deleted, or the URL was changed. Sometimes, even a silly typo can be the culprit causing a broken link.
You've probably encountered your fair share of broken links, so you understand how frustrating they can be. The last thing you want is for visitors to feel that same frustration when they're on your website.
How Can a Broken Link Damage Your Website?
Broken links aren't just annoying, they can also damage user experience (UX) and destroy your search engine rankings.
Poor User Experience. If a reader stumbles across a broken link on your site, they become irritated. And an irritated user isn't going to stick around hoping the next link will work. They'll take their search elsewhere – probably to your competitor.

Lowered Search Engine Rankings. When a reader leaves in a hurry it affects your bounce rate. Meanwhile, broken links also cause crawlability issues. If a search engine is tripped up by invalid links on your site, your authority will take a hit and you'll sink lower on search engine result pages (SERPS).
These are the least of your worries, though. When it comes to broken affiliate links, the damages can be financially catastrophic!
How Can a Broken Link Ruin Your Affiliate Business?
In most cases, a broken affiliate link is the fault of your partner company, when the product or service is no longer available. However, the defective link is on your site. And the only thing it leads to is much bigger problems on your hands.
A broken affiliate link will cost you in more ways than one. In addition to the negative impacts listed above, they also:
Waste Everyone's Time. Creating content centered around a broken link ends up wasting your time and effort – when you could be focusing on links that do lead to a potential sale. You also end up wasting your reader's time by taking them down a dead end road.

Make Your Business Seem Unreliable. Promoting a product that isn't available for purchase can ruin the relationship you have with your readers. Even if it's unintentional, when you don't deliver on your word, readers feel misled and may not trust you as a reliable source.

Generate Fraudulent Reports and Commission-Less Clicks. Broken links add an unnecessary variable as to why your clicks aren't leading to conversions. This circles back to more time wasted with you trying to figure out why clicks aren't earning you the commissions they did before.
As an affiliate marketer, you can't afford to have broken links that don't convert. That's why you need a link management tool that constantly monitors the effectiveness of your links.
You need Pretty Links.
Introducing Link Health: How Pretty Links Can Find and Fix Broken Links on Your WordPress Website
A responsible affiliate program owner should notify their affiliates of any changes that may affect a product's link. But we're here to tell you that you won't always get the opportunity.
That affiliate link you posted in last week's blog article? It could already be sending readers to a 404 error page, and you have no idea.
If you've been blogging for a while now, think back to any major changes you might've made over the years…
Manually maintaining your links would take a millennium. Our Link Health feature can do it in 5 seconds flat!
What is Links Health?
Link Health by Pretty Links scans your entire WordPress website in seconds and notifies you if a broken link is detected.
Get weekly reports clearly showing the number of broken links on your site and where you can go the get them fixed in a snap: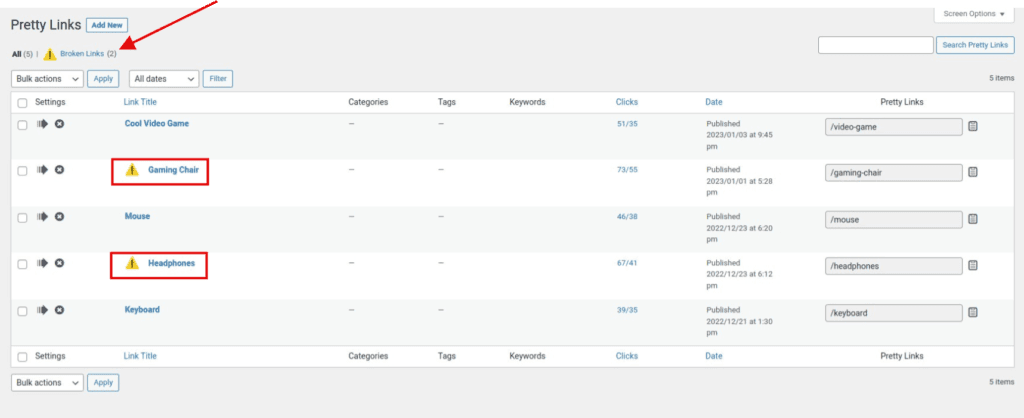 Link Health also prioritizes your best-performing links, checking on their status first to ensure you aren't missing out on click-through commissions. Then, if you do have to repair a broken link, Pretty Links will immediately do a recheck once the link is updated.
How to Activate Link Health in Pretty Links
Start at your WordPress dashboard, then hover over Pretty Links > Options > Links:
Check the box next to "Enable Link Health". A drop-down box will automatically appear with the option to "Enable Link Health Emails":

We strongly suggest you take advantage of this extra perk. That way you get broken link notifications sent to you via email as well.
When you check the "Enable Link Health Emails" box, another drop-down box will appear. By default, your WordPress Admin email will be listed. But feel free to add as many email addresses as you'd like:

Click "Update" and Link Health will go to work immediately! Simply hop back to your Pretty Links homepage to see if any broken links were found on your site.
When was the last time you checked for broken links on your site? Don't take on this impossible task on your own. Get Pretty Links today, and let Link Health keep your links converting!
If you liked this article, be sure to follow us on Facebook, Twitter, Pinterest, and LinkedIn! And don't forget to subscribe to our newsletter below 👇