How to Design A/B Spilt Testing with Pretty Links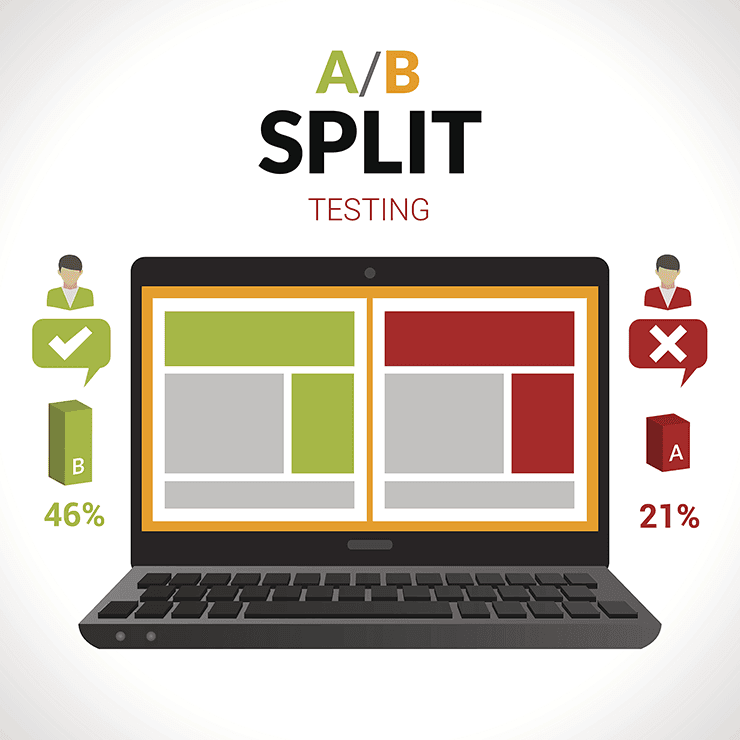 When setting up your website or sending out email campaigns, it can be difficult to know how readers will perceive different aspects of your design and content. This is true for many things, including link placement and usage.
With split testing, you can get as close to mind reading as possible. Ultimately, with a better understanding of your audience's behavior, this technique will enable you to increase your conversion rate and grow your profits.
In this post, we'll introduce you to split testing (also called A/B testing), specifically using links. We'll show you how to use this type of testing to get a better understanding of your audience, resulting in a boost to your bottom line. We'll also show you how Pretty Links can be used to split test your links. Let's get started!
What is A/B Split Testing? Why Should You Use It?
Split testing is a method used by marketers to test out different aspects of their marketing strategy and implementation. A/B testing is actually a more controlled form of split testing, where only two variants (A and B) are tested at the same time.
There are numerous benefits that marketers can reap through the use of A/B testing. Two of the mains benefits are:
It gives you insights into target audience behavior.
It helps you to tweak your current practices to better provoke desired audience behavior (e.g. making purchases).
While there are alternative techniques available (such as experimental design), A/B split testing is one of the simplest and most direct methods for improving conversion rates. This makes it a good option for marketers, as it can provide you with clear results with very little effort on your part.
How to Use A/B Split Testing to Improve Your Business (3 Key Tips)
Whether you're new to marketing or a veteran in the field, A/B split testing can drastically improve your business methods. Let's take a look at how!
1. Compare Link Placement Methods
As a marketer, you depend on your readers to click the links on your website and in your email campaigns. What you may not have considered is the importance of where you place such links. For example, a 2016 study revealed how links placed in the "top-left region" of an email newsletter had a higher impact than those placed elsewhere.
Studies like the one above are just the tip of the iceberg. You only need to consciously observe your own behavior on websites to quickly realize how link placement drives what you click on and what you choose to ignore (or even miss entirely).
Fortunately, A/B testing enables you to gain access to data that can show you where links should be placed for maximum impact.
More specifically, you can test two different placements of the same link, and run a test that determines which placement attracts the higher percentage of clicks. Once you've concluded the test, you can adopt the optimal placement, and enjoy higher click-through rates (CTRs) as a result.
2. Track Your Links' Conversion Rates
Conversion rates tell you how many of your site's visitors (or email readers) have picked up on the cues you've used in an attempt to "convert" them. This may mean they click a link that brings them to a product's sales page, or sign up for your email list, or even just follow your social media page.
Tracking these links is vital to understanding your readers. If you want to know what makes them click, you need to have solid evidence to back it up.
Among other things, A/B split testing enables you to track link conversion rates. How can this data help you?
It helps you better understand your audience.
It enables you to improve future practices, increasing your conversions.
Don't make the mistake of relying on CTRs alone. Conversion rates are a more important indicator of your business's success, and tracking conversion rates enables you to improve upon them.
3. Test Different URL Destinations
Not all landing pages are created the same. However, if you aren't testing the destinations, you won't know which ones are better for your business.
Testing different URL destinations – and variations of each – can improve your business significantly. Most of all, it can lead to:
Increased understanding of visitor needs. The pages your sites visitors react to more positively will tell you what they're looking for from you and your niche.
More effective landing pages. A/B testing will show you which landing pages are more effective for sales or other conversions.
Landing pages are the main platform for your sales pitches. This is why it's essential to tweak them to perfection based on your visitors' needs and behavior.
How Pretty Links Can Help With A/B Split Testing
As a link shortening plugin, you may think that Pretty Links' features end there. Among its wide variety of other features, Pretty Links also offers A/B testing.
One of the greatest things about Pretty Links' A/B testing feature is how easy it is to set up. In just a few minutes, you can create split links for all the website and email links you'd like to test.
Then, once users have begun using the links, you can check out the results by clicking Split Test Report under the links you're testing on the Pretty Links page.
Conclusion
Links are the foundation of your marketing efforts. That means it's vital to know the best practices for their use on your website, on social media, and in your email marketing campaigns. With A/B split testing, you can do just that by learning about – and taking advantage of – audience actions and behavior.
In this post, we showed you how to use A/B testing to improve your business. To recap, you can:
Compare link placement methods.
Track your links' conversion rates.
Test different URL destinations.
Do you have any questions about A/B split testing, or how Pretty Links can help? Let us know in the comments section below!
If you liked this article, be sure to follow us on Facebook, Twitter, and LinkedIn! And don't forget to subscribe in the box below.