How to Create Compelling Content for Every Stage of the Buyer's Journey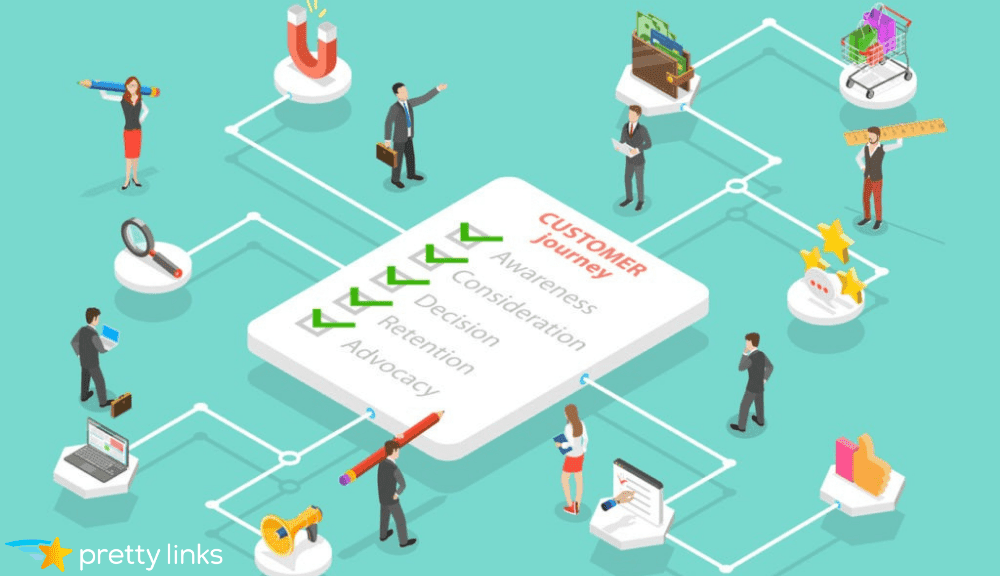 Up to 70% of marketers are actively investing in content marketing. That's not surprising, considering how much marketers can achieve with the right content.
Content drives marketing efforts and carries the message of the salesperson or business to the minds of the buyers. But only very few marketers have a grasp on how to create compelling content.
Every customer goes through certain stages before deciding to click the purchase button. Marketers often refer to these stages as the buyer's journey.
A crucial part of your marketing strategy lies in your ability to guide buyers through this journey using content. For that, you need to create engaging content tailored for each stage of the buyer's journey.
We're here to help you do just that. This article will provide effective hacks on how to create compelling content for customers in different stages of the buyer's journey.
But before we begin, what is customer engagement? And how exactly does it relate to content creation?
What Is Customer Engagement?
Most definitions of customer engagement are related to the ongoing interactions between a company and its customers.
Customer engagement describes how your brand communicates with customers, whether directly or indirectly. It defines how you present your brand to customers and how they respond to your brand.
Many businesses make the mistake of treating all buyers the same while creating content. However, not all buyers are the same. Each buyer is a unique individual seeking a solution to a pain point.
If you want to trigger customer engagement, your content marketing strategies need to incorporate content that addresses each buyer's specific needs. That's what genuine customer engagement entails.
During content marketing, you pass messages across to prospects and existing customers. But since a buyer's journey is in stages, it only makes sense for you to create relatable content tailored to each stage. If the audience can't relate to your brand's content, the odds are high that they won't respond to it.
What Is a Buyer's Journey, and How Can You Create Content for Each Stage?
Simply put, a buyer's journey involves all the processes, decisions, and circumstances that lead to a customer making the eventual purchase. The buyer's journey is the path the buyer traverses before making a purchase.
For the most part, a buyer's journey occurs over at least three stages. These stages are essential pointers marketers use when finetuning their SaaS content marketing strategy.
The best marketers craft out strategies to maximize opportunities with prospects according to the stages of the buyer's journey. They arrange these strategies in marketing funnels which mirror the buyer's journey.
A marketing or sales funnel is a marketer's model of a buyer's journey. The funnels feature the different steps that buyers take leading up to their purchase. Marketers develop content for every stage of a buyer's journey by following the marketing funnel.
The top of a sales funnel mirrors the beginning stage of the buyer's journey. The bottom end of the funnel indicates the point where the buyer makes the purchase. The parts of the funnel between the top and bottom represent the process buyers go through en route to making a purchase.
Each step in a marketing funnel represents a stage in a buyer's journey. Therefore, you can't build an effective marketing funnel without adequately understanding the buyer's journey. The marketing funnel will prepare you to meet the buyers at every stage of their journey.
Just meeting the customers at these stages is not nearly enough; you need to engage them with compelling content. That's how you'll drive engagement, develop profitable relationships with your customers, and boost brand visibility.
Below we have the various stages of a buyer's journey and what you need to do to create compelling content for individual stages:
The Awareness Stage
The awareness stage is usually the first stage in most buyers' journeys. The awareness stage is when the buyer identifies a problem or pain point they need to resolve. For instance, a buyer looking to purchase productivity software may realize they need it to reduce staff turnover and encourage efficiency.
Buyers at the awareness stage are only aware of their needs but do not know how to meet these needs. That's why they'll often direct their efforts to find a solution on the internet. Most customers liken the internet to fulfillment centers where they'll always find solutions to their needs. This part is where the attraction stage of your marketing funnel begins.
How to Create Content for the Awareness Stage
The buyer is probably testing the waters and has no prior knowledge of your brand. You can expect the buyer to be scanning through multiple options as quickly as possible.
Therefore, time is of the essence and you need to attract the buyer's attention in as few words as possible. Your content at this stage must capture the interest of the buyer and hold on firmly to it.
Content forms that work well in the awareness stage include:
Blog posts
Whitepapers
Social media content
Videos
The header, tagline, or theme of your content should be captivating. The meta description of the content must resonate with the immediate need of the buyer.
For the body, focus on educational and informative messages to guide the buyer through their journey. Prioritize solving the buyer's problems as quickly as possible without focusing too much on your business needs.
For example, an awareness content stage for an SaaS brand offering an employee productivity tool can be a blog post on tips to boost productivity in a work environment. The productivity tool shouldn't be the focus of the blog. Instead, the article should center on productivity tips while you subtly bring awareness to your product.
The Consideration Stage
Buyers enter this stage of the journey when they become aware of the solutions available to them. Right after the awareness stage, the buyers begin to carefully consider all the different options. During this stage, they compare and weigh the options against each other to determine which is best.
Buyers engage with different types of content at the consideration stage. That's why some marketers also call it the engagement stage. At this stage, buyers are looking for more specific information about the available solutions, and that's precisely what you need to provide.
How to Create Content for the Consideration Stage
The content should help your buyers pick a solution from all the options provided. You want to portray your solution as the best fit for the buyers and convince them to run with it. Compelling content at this stage should be in the form of product guides, case studies, and in some cases, promotional offers.
Say your brand offers video conferencing tools. At the consideration stage, the buyer will be considering which video conferencing tool is best. Your content should explore the features of your software and why buyers should choose it over that of your competitor's product.
For example, if your video conferencing tool has virtual background settings, a long-form blog is an excellent choice. It describes what the feature is, why it's important is a great way of promoting your product while driving traffic to your site.
Content for the consideration stage shouldn't just describe products; they should also incorporate means to nurture leads. You want to convert random shoppers into leads with your content.
A good idea is to inform buyers about solutions to their needs and also get them to sign up to your mailing list. Content for the consideration stage must be descriptive, engaging, and include a clear CTA prompting the audience to sign up.
The ideal channels you can use to reach customers at this stage include web content, email marketing, social media, retargeting, geolocation advertising, and webinars.
Decision Stage
Eventually, the buyer will decide on a solution for their needs. At the decision stage, all that remains is for the customer to make the purchase. In some instances, the buyer may still have some doubts and may be willing to reconsider their options.
How to Create Content for the Decision Stage
The content at the decision stage should have one aim: closing the sale. To accomplish this, the message must be convincing enough to make the buyer commit. The content needs to be interactive while not being too long.
Compelling content for the decision stage should be concise and punchy. It should highlight everything the buyer stands to gain from choosing the solution.
You may also offer incentives at this stage with strong CTAs to entice the buyers. For example, you may offer trials, demos, discounts, and other freebies to your customers.
It's best to distribute content for the decision stage via email marketing and behavioral emails, newsletters, and landing pages. You can also make it easier for the buyer to interact with your brand and ask questions.
If your brand uses call centers or IVR tech, be sure to tell your customers about it through your content. If you don't know the first thing about IVR meaning, a bit of research will be useful. At its most basic, IVR is an automated, interactive system that makes it easier for your customers to get answers to their urgent queries.
A Buyer's Journey Matters
According to CMO, 90% of buyers say content has moderate to significant effects on their purchase decisions. That's nine out of every ten customers!
But, if the content doesn't address each stage of a buyer's journey, you'll potentially lose customers. If you can't diversify your content according to the buyer's stages, you'll inevitably lose sales.
Use the tips above to create effective, compelling content for your buyers.
If you liked this article, be sure to follow us on Facebook, Twitter, and LinkedIn! And don't forget to subscribe to our newsletter.
1 Comment
Rozefs

May 6, 2022

Decision stage is the real deal. I found this article helpful, Thank you!