How to Give Your Outdated Blog a Complete Makeover (In 5 Steps)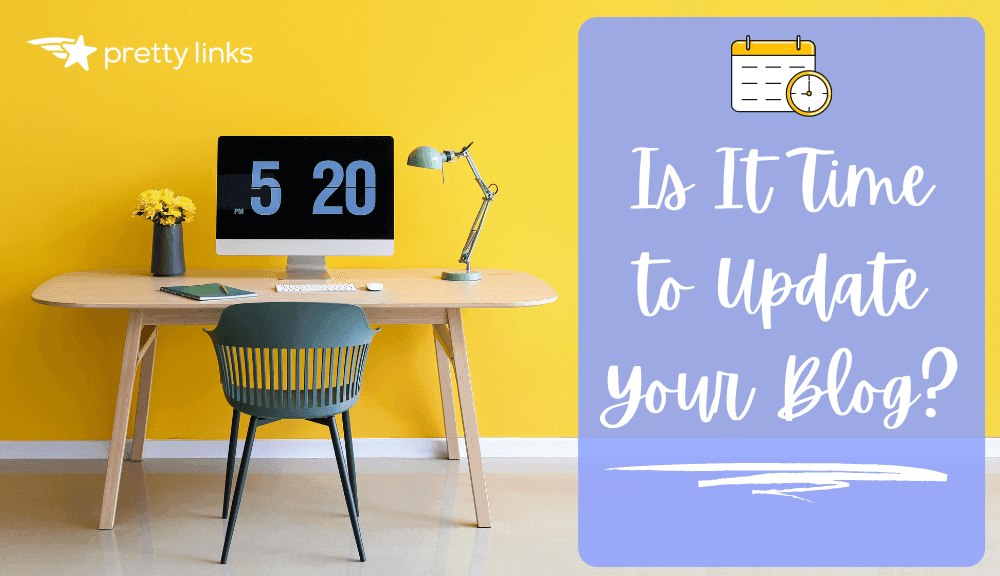 Blogging takes up a lot of time, whether you're a small business owner, professional blogger, or marketing guru. If time is money, then you've most likely spent a lot of precious dollars writing content. Over time, those posts you worked hard to produce could become irrelevant or outdated, which might mean fewer readers and lost capital.
There's a simple solution to this problem: updating your blog. Reviewing older posts and editing them with new and relevant content is an excellent way to improve your credibility and authority in your niche. At the same time, you can make changes that increase your content's value and help it rank more highly in search engines.
In this post, we'll explain why updating older blog posts can be beneficial. Then we'll walk you through how to refresh your content and drive more traffic your way. Let's get to work!
Why You Should Consider Updating Your Old Blog Posts
Outdated information can negatively affect a website in many ways. For example, broken links and statistics that have changed since the time of publication can have an adverse effect on your site's credibility and SEO.
What's more, according to Delante, websites that perform best in Google's Search Engine Results Pages (SERPs) are the ones that have the most authority, not the oldest content. If you want to have a site with a strong brand image that ranks high in search engines, you should consider updating your old posts.

It's possible to repurpose copy you already have and leverage it to gain more organic traffic. This way, you aren't reinventing the wheel – just updating it!
How to Give Your Outdated Blog a Complete Makeover (In 5 Steps)
There's something to be said about keeping good content – just because it's old doesn't mean it's bad. However, it is necessary to replace outdated information, so that your posts are reliable and optimized for gaining organic traffic.
This doesn't mean rewriting every single post you've ever produced. Instead, it involves reviewing old posts to see what information still holds up and what is no longer relevant, optimizing for search engine optimization (SEO), and adding pertinent content. With this in mind, here are five steps to help you start updating your posts.
Step 1: Review Your Existing Content
First, you'll want to reflect on your website's overall goals. For example, you might focus on providing information, or you may aim to sell a product or service.
With this in mind, you can conduct a quick review of your posts to see if they align with your objectives. Take a few notes to determine what you want to keep, and what should be removed or altered since it's not relevant to what you're trying to accomplish.
You can further divide your list in two. First will be the posts that are not at all consistent with your brand's current goals – these can simply be removed. Then you'll be left with the content that isn't perfect, but that can be tweaked and improved throughout the following steps.
Step 2: Verify the Accuracy of Your Information
Next, you'll want to check for accuracy in the posts that remain. Anything that was written a few years ago might not be true today, so be sure to fact check older content.
It's important to double-check any data and statistics, and to back up this kind of information with current quality sources. Don't forget to check other numbers as well, such as pricing details. In addition, this is a good time to check for broken links, and replace any you might find: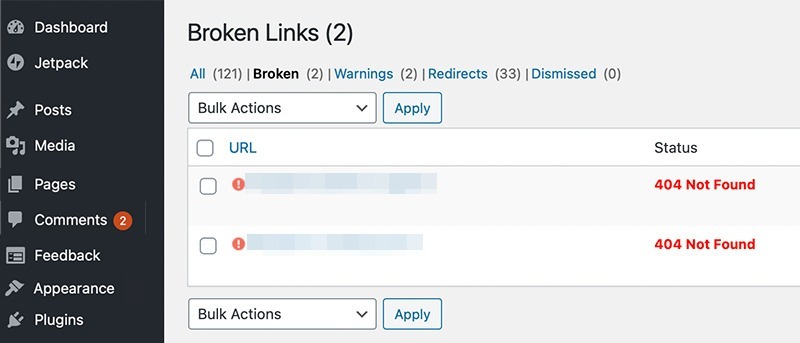 If more than half of the information in a post is inaccurate, or its topic is simply no longer relevant, you might consider deleting altogether. Moving forwards, you can avoid this problem by focusing more on "evergreen content".
Step 3: Optimize Your Posts for SEO
You may have started your blog before you knew much about SEO. Even if you were search engine-savvy, SEO best practices have most likely evolved since you wrote your first posts.
Therefore, it's a good idea to conduct an SEO audit, and put some time into optimizing your older content. This can include making sure each post is focused around a relevant long-tail keyword, optimizing your images with alt text and structured data, and creating shortened pretty links.
These are just a few examples – the world of SEO is vast. Before getting started, you'll want to familiarize yourself with the many ways to update your blog for SEO.
Step 4: Add Length and Value to Your Posts
According to HubSpot, the ideal content length for SEO is between 2,100 and 2,400 words. Of course, the length of your articles will depend partly on your niche and target audience. However, most research does suggest that longer posts tend to do well, since they offer more value.
If you have older posts that are relevantly short, consider expanding them by adding new facts and information that wasn't available at the time of writing. If you have a comments section, you might want to check it to see what kinds of questions readers still have, and then address those questions in the content itself.
You can also use the "Skyscraper" technique, which involves reviewing quality content on third-party sites and finding ways to create bigger and better versions. This is an excellent way of both creating new posts and adding more value to existing ones.
Step 5: Repost Your New Content
If you've completely revamped a post, you can repost it as a new piece of content. For articles that you've made minor tweaks to, you can change the publication date in WordPress to indicate that it's been updated:
This way, you can stay transparent with your readers about what posts have been changed notably since they were first published. Plus, you'll draw attention to your newly-updated work, pushing it to the top of the queue so readers will notice it.
For articles that you barely changed, you can simply update them. If you've optimized for SEO, don't forget to keep an eye on your posts' analytics, so you can see what's working and what still needs to be improved.
Conclusion
It takes a long time to write quality articles, and your hard work doesn't have to go to waste. By giving your old posts a makeover, you can repurpose content you've already spent time creating, while also optimizing your site for SEO.
Here are the five actions we recommend:
Consider your website's goals, and review your posts to determine what you want to keep and what can be removed.
Check for accuracy in older articles, and update or remove anything that is no longer true or relevant.
Optimize posts for SEO by using keywords and a link shortener such as Pretty Links.
Add length and value to your posts by updating information and adding new content.
Repost any content you've altered significantly, to draw more attention its way.
Do you have any questions about how to give your blog posts a makeover? Share your thoughts with us in the comments section below!
If you liked this article, be sure to follow us on Facebook, Twitter, Pinterest, and LinkedIn! And don't forget to subscribe to our newsletter 😄