7 Best Social Media Tools for Your Online Business
Social media marketing presents a huge opportunity for businesses, but it can also be a massive undertaking. Creating content and managing post schedules for multiple networks is challenging enough – and then you also have to engage with your followers. It's truly a full-time job.
Fortunately, there are plenty of social media tools on the market that can make this task easier. From full-featured management suites to simple solutions for creating graphics, there's a vast array of options to help you take your social media game to the next level.
In this article, we'll explore what to look for in a social media tool. Then we'll run through seven of the best options to consider for your online business. Let's get to work!
What to Look for in a Social Media Tool
Social media marketing is a big business, so it's no surprise that the market is absolutely saturated with tools to facilitate and manage it. There's a wide variety of options available.
To help you decide which would be the most beneficial for your specific needs, it may help to ask yourself a few key questions, such as:
Which social media-related tasks do you currently spend the most time on and would like to streamline or outsource?
What are your primary goals for your social media marketing?
What efficiencies and capabilities are you currently lacking?
Once you decide the functions you want the tool(s) to fulfill, it becomes easier to narrow your focus. Additionally, some factors that we recommend looking for to help choose the best solutions include:
Ease of use. The purpose of adopting third-party software and services is to make your life easier. Therefore, user-friendliness should be a top criterion.
Detailed analytics. Access to data is critical for growing a social media presence. If you're looking for something to help manage your social accounts, it should provide deep analytics and flexible views into them.
Scalability. The tools you choose should be capable of handling the needs of a growing business. You don't want to have to look for a new solution down the road and risk disrupting your workflow.
Price. Naturally, you'll want to stay within your budget. Fortunately, there are plenty of capable options that are relatively affordable.
These factors should get you pointed in the right direction and give you a better idea of which tools will most benefit your online business. In the next section, we'll recommend some of our favorites.
7 Best Social Media Tools for Your Online Business
In the crowded sea of social media tools, a few stand out. The following seven are exceptional pieces of software that can make managing your social networks easier and creating content more effective.
1. Buffer
Buffer is a powerful social media management tool that manages to be both feature-rich and easy to use. The headlining feature is post creation and scheduling for multiple networks (simultaneously), so you can set up a publishing schedule for the whole week in one sitting.
In addition, Buffer offers excellent reporting and analytics tools. It can help streamline engagement with an intuitive grid view of new comments.
Buffer has a limited free tier. Premium prices start at $15 per month for publishing features and $35 per month for analytics, making it ideal for small businesses that need an affordable solution.
2. MeetEdgar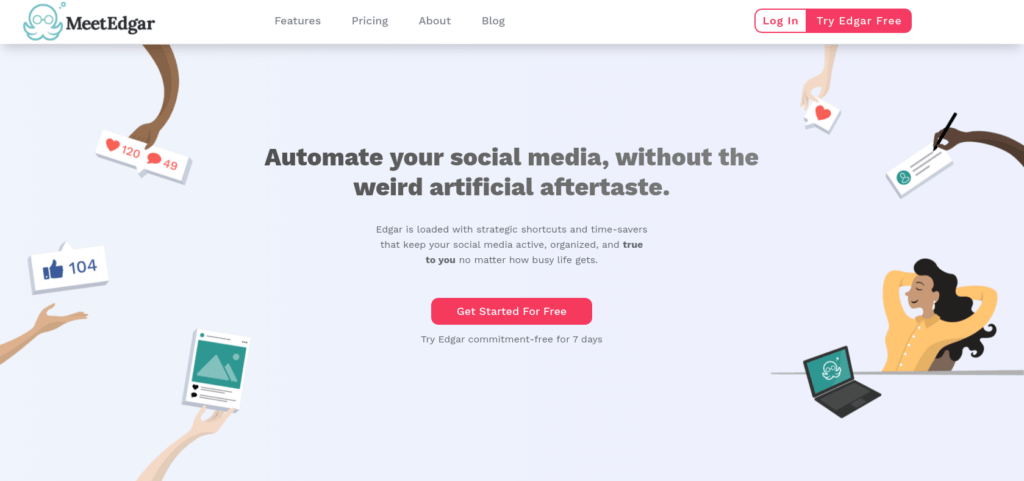 MeetEdgar is another social media scheduling and publishing tool. It's a bit similar to Buffer, but with a twist. "Edgar" saves and automatically recycles your old posts at intervals, resulting in a much more automated social media management system.
Posts can be placed into customizable categories. Then Edgar can share a post from those categories on whatever schedule you like, so you never have to worry about running out of content. You can also create and schedule new content quickly and easily. Finally, there are detailed analytics and even A/B testing available.
Edgar starts at $19 per month, although that tier is a bit limited. To unlock the full automation potential, you'll have to jump up to $49 per month. This tool is excellent for solopreneurs and small businesses that don't have time to create a constant stream of posts.
3. CoSchedule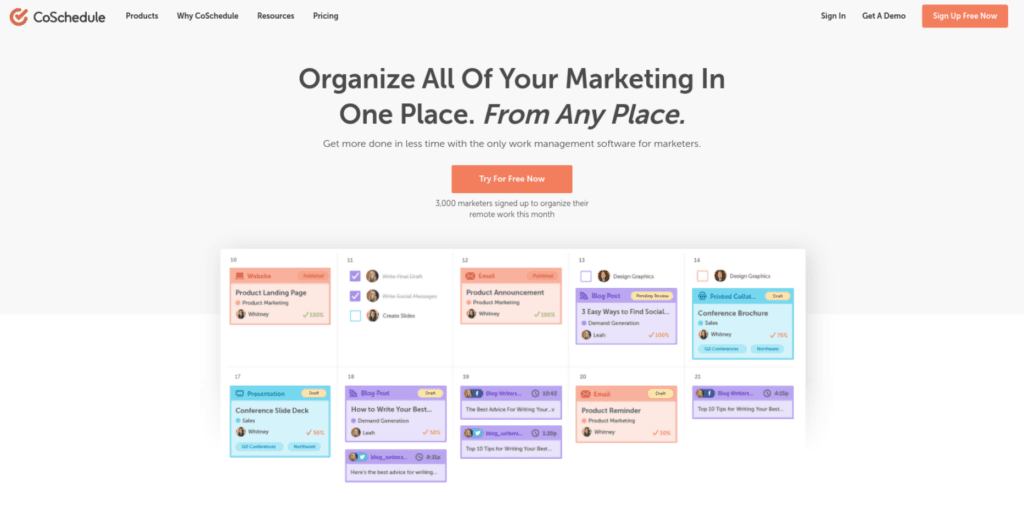 CoSchedule does offer social media publishing, but it's much more than that. It's a full-featured planner and calendar for all your marketing projects, from social to blog content to offline media. It's an ideal tool for teams looking to coordinate their marketing efforts and stay on the same page.
The complete marketing suite includes a unified calendar, content organizer, workflow planners, and categorized storage for brand assets. This makes it a one-stop shop that contains everything you need for marketing work. If you need to collaborate marketing efforts (social media included) across multiple members or departments, CoSchedule is an excellent way to do it.
Prices start at $29 per month for the calendar features. You'll have to request a consultation to get pricing for the full marketing suite.
4. Canva
Canva is a fantastic choice if you need help creating images and other visual assets for your social media content. It's a combination of a graphic design and editing tool, as well as a media library that makes it easy to create stunning posts.
Features include an enormous collection of graphics, templates, and photos, along with cloud storage and collaborative commenting – all for free. You can also upgrade to a premium plan to unlock additional tools, such as social media scheduling, extra storage, audio and video content, and more.
Premium prices start at $9.99 per month. However, you can try Canva Pro free for 30 days.
5. Clipchamp
Want to create eye-catching videos without spending too much time and effort? You can rely on the free online video editor Clipchamp. This video editor can be fully accessed and used on Google Chrome and Microsoft Edge without any downloads or long installations. It's a drag-and-drop style video editor so it fits both video editing beginners and pros alike.
It's a great social media marketing tool because it has advanced features which are easy to use. Clipchamp has trimming, captions, filters, and a large library of customizable templates to choose from. The templates help you create and enhance post-worthy video clips in no time. It also has a webcam and screen recorder, green screen, text-to-speech, and integrations to Google Drive, Dropbox, Zoom, YouTube, LinkedIn, and more which are useful if you want to use them for sales or in your corporate marketing efforts.

Clipchamp allows you to share and export 480p videos watermark-free. It's a good option for growing online businesses because you can upgrade to a paid plan to unlock even more premium features and tools starting at just $9/month.
6. Motionbox
Motionbox is another great video design platform that features an arsenal of tools that cuts down the effort of creating any visual content. It features a huge library of templates that can be used as-is or may serve as the foundation of your design. It also has a collection of fonts and multimedia files that include audio, images, and videos, most of which you may freely
use for your project.
Motionbox is quite easy to use, thanks to its drag-and-drop interface that brings creativity out of its users. With features such as music visualization, video meme maker, video trimmer, and video calendar, it offers an unlimited possibility when it comes to design.
A Motionbox Pro Subscription starts at $15 per month.
7. Pretty Links
Pretty Links is our full-featured link manager that offers link shortening and cloaking, along with powerful tracking and analytics. Since so much social content comes in the form of links, having complete control over how they look and behave is extremely useful – and that's exactly what you get with Pretty Links.
Whether you're an affiliate marketer who needs to make your links look nicer, or you want to track click-through rates (CTRs) on your posts, Pretty Links has you covered. You can use the free version of our Pretty Links plugin for basic link shortening.
However, for more advanced features, premium plans start at just $49 per year. We include one year of support and updates, and offer a 30-day money-back guarantee!
Conclusion
Whether you're building a new business and want to get a running start, or you're already managing multiple accounts and need something to make the job easier, social media tools can help. From post schedulers to link shorteners, there are plenty of options available.
We recommend starting with these seven:
Do you have any questions about using social media tools for your business? Let us know in the comments section below!
If you liked this article, be sure to follow us on Facebook, Twitter, and LinkedIn! And don't forget to subscribe in the box below.
1 Comment
Peter Parker

March 29, 2022

Very good and meaningful article.