Affiliate Programs to Watch in 2021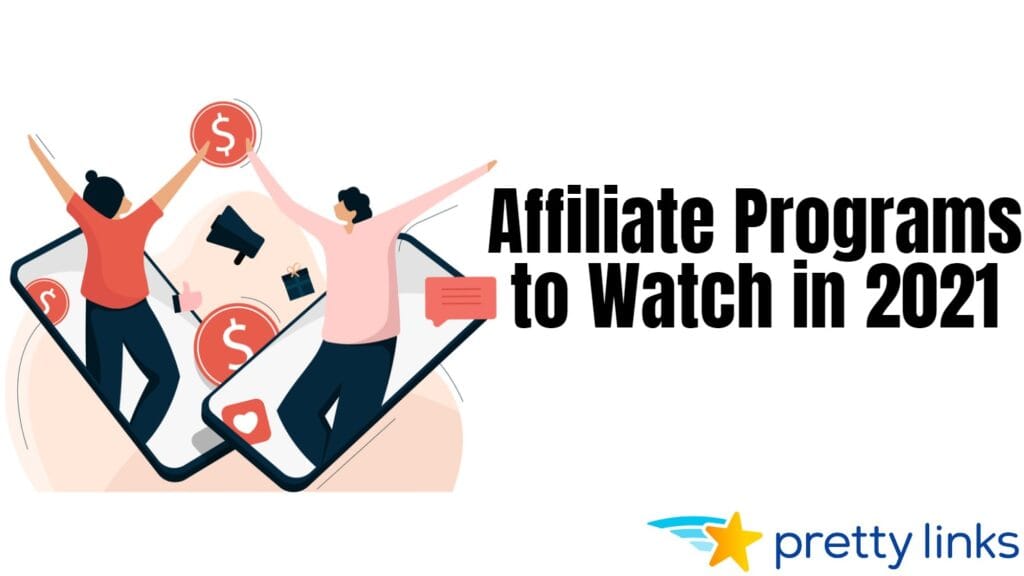 Are you excited and ready to take the new year by storm by actively pursuing affiliate marketing for your small business?
There are countless affiliate programs available featuring anything you might be interested in promoting to your audience while earning a nice passive income at the same time. But with so many to choose from, how can you know which programs are indeed the best?
In this post, we'll take a look at a few affiliate programs you should check out if you're interested in starting your year off with a bang!
Create a passive income with your content quickly and easily using Pretty Links – sign up today and get started!
Types Of Affiliate Programs And Commissions To Consider
There are all kinds of affiliate programs with various commission structures available to users. Which programs you use depends on your audience and their interests and behaviors. So it's essential to understand your audience, their needs, and where you can find them before you get started.
Following are a few different types of affiliate programs you might want to look into as you continue your search:
Recurring Affiliate Commission – This type of commission is common with subscription-based programs. In this situation, an affiliate is paid an affiliate commission as long as their referral is a subscriber.
Pay Per Lead (PPL) – This type of program pays affiliates for leads. So, if a referral visits a website and fills out a contact form or subscribes to an email list, you will be compensated. This is a common structure for insurance companies or businesses interested in building their contact lists.
One-Time Affiliate Commission – Unlike with recurring commissions, affiliates are only paid one time for one referral. This is a standard commission structure and is commonly used by retail businesses.
Pay Per Sale (PPS) – With this type of program, affiliates are paid only when an affiliate clicks to the referring website and makes a purchase. Typically, the commission you make is determined by the cost of the product or service purchased.
Pay Per Click (PPC) – This is another of the more common commission structures in affiliate marketing. It's also one of the lower-paying structures. An affiliate is paid when site visitors click over to a website. Your referrals are not required to make any sort of purchase for you to be paid.
Affiliate Programs To Watch in 2021
Now that you have a basic understanding of the commission structures out there, let's take a look at a few affiliate programs worth taking a look at in 2021.
Amazon Associates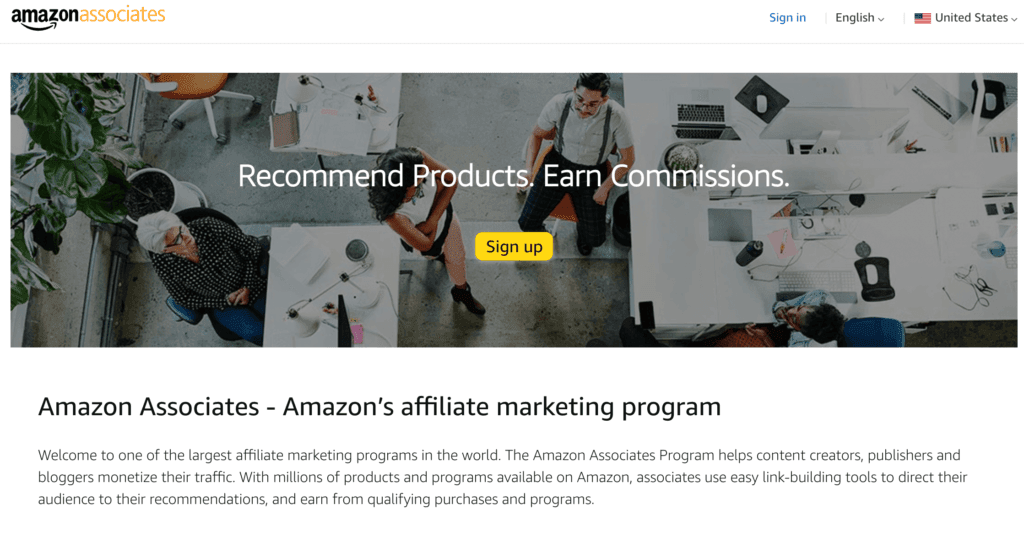 Amazon Associates is one of the most popular affiliate programs on the internet. This program is popular because Amazon is a top-rated, lucrative, and trusted platform for all kinds of products and services that are bought and sold.
Because people already know and trust Amazon, you're more likely to generate conversions when referring site visitors to this platform. Once you've led them to the website, Amazon takes care of the rest!
WP Engine
If your online audience comprises web designers, WordPress users, and online business owners, WP Engine has an affiliate program that you may be interested in.
With WP Engine, you have the chance to earn either $200 per signup or 100% of the customer's first monthly payment, whichever is the highest. Under the program, you have access to exclusive discounts you can share with your website visitors. You also have the ability to promote StudioPress themes, which can earn you 35% of referral sales. Last but not least, you get paid when you refer new affiliates to their program.
Leadpages Partner Program
Another excellent affiliate program for web designers, WordPress users, and online business owners is the Leadpages Partner Program. Leadpages is a robust landing page builder that helps online business owners create high-converting landing pages and drive sales.
Leadpages provides marketing education, tech support, and more to both customers and affiliates. That means you'll be able to confidently share this company with customers while bringing in up to 50% recurring commissions, as long as your referral is subscribed to the service.
Flywheel
If you don't want to limit your customers to just one or two options for WordPress hosting, Flywheel is a great company to add to your affiliate roster. The cool thing about this program is that happy customers can refer other online entrepreneurs to FlyWheel. And web designers can create demo sites for customers and make a commission when a customer signs up for the service.
As an affiliate, you can earn up to $500 in commission per referral. There is also no minimum threshold to take out a payment.
OptinMonster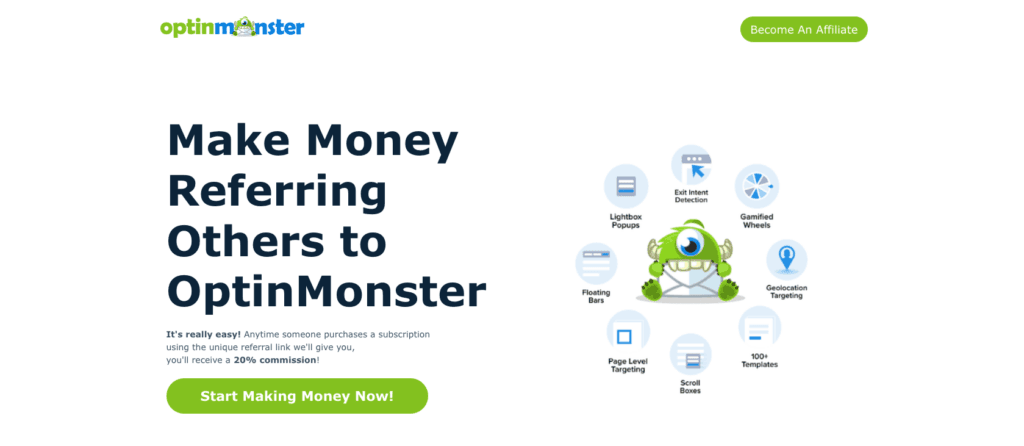 OptinMonster is one of the leading pieces of software available for lead generation. The platform allows users to create lightbox popups, sidebar forms, and more to attract and convert customers. Not only do they have an excellent product, but OptinMonster's customer service is highly rated.
By signing up for OptinMonster's affiliate program, you'll be able to promote this tool to your audience and make 20% from each sale you create.
Pretty Links
Pretty Links is a WordPress plugin that makes managing social links, redirects, and affiliate links much more manageable. This tool makes it simple for users to shrink, cloak, track, and share links. It combines the ease of use of a third-party solution with the power of a custom solution.
Under Pretty Links' affiliate program, you'll have the chance to earn payments at the first of every month. You'll also get resources to improve your affiliate marketing promotions, have the ability to track commissions and activity, and more. You can earn a 25% commission on the first sale with every customer.
Teachable
If you're interested in sharing a learning management system with your audience, you should seriously consider signing up for Teachable's affiliate program. Teachable is a tool that helps users create and sell online courses. Users can literally teach anything and share information with students quickly and easily with this platform.
As an affiliate, you'll receive a recurring commission of 30% when someone subscribes to the service. Teachable plans start at $29 per month and go up to $249 per month when billed annually, so there's opportunity to make some great passive income.
ShareASale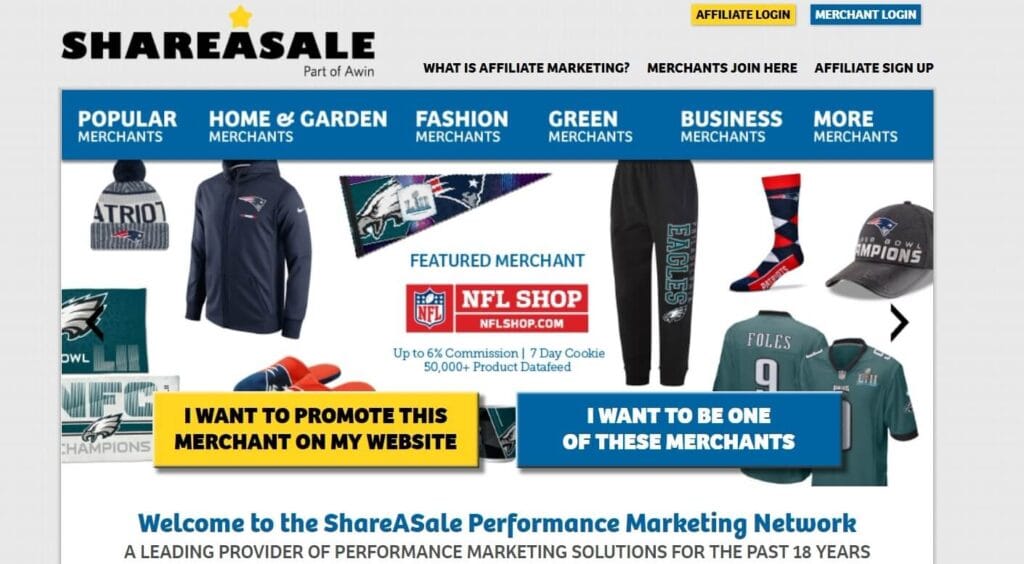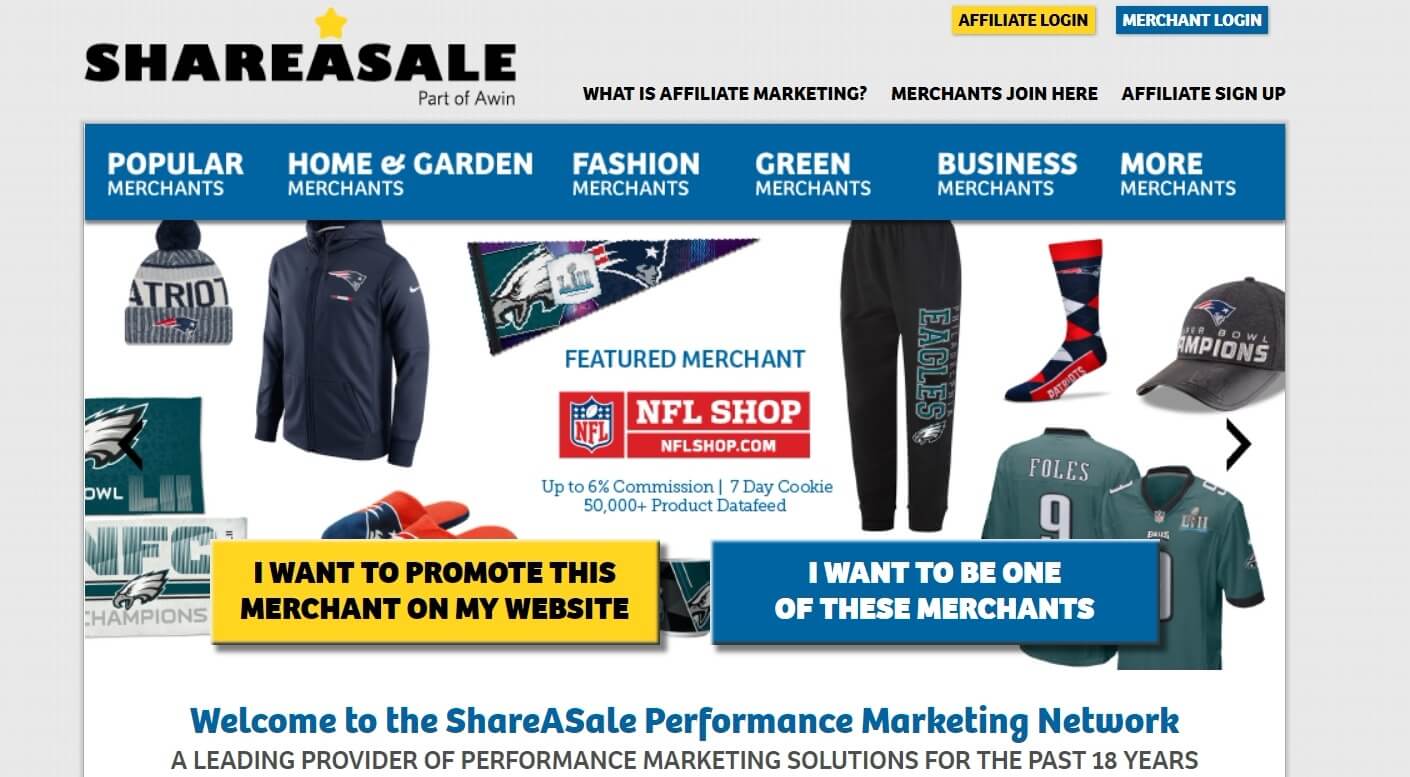 ShareASale is one of the most well-known and widely used affiliate programs on the internet. This program, like Amazon Associates, has numerous merchants to pick from and promote on your website. Some of the affiliate programs we've mentioned thus far also use ShareASale for their programs.
Signing up is free and extremely simple, and the interface is very user-friendly. ShareASale securely tracks your commissions and sends you a payment every month. Through their program, you'll have access to brands like Etsy, Reebok, Cricut, and more.
Constant Contact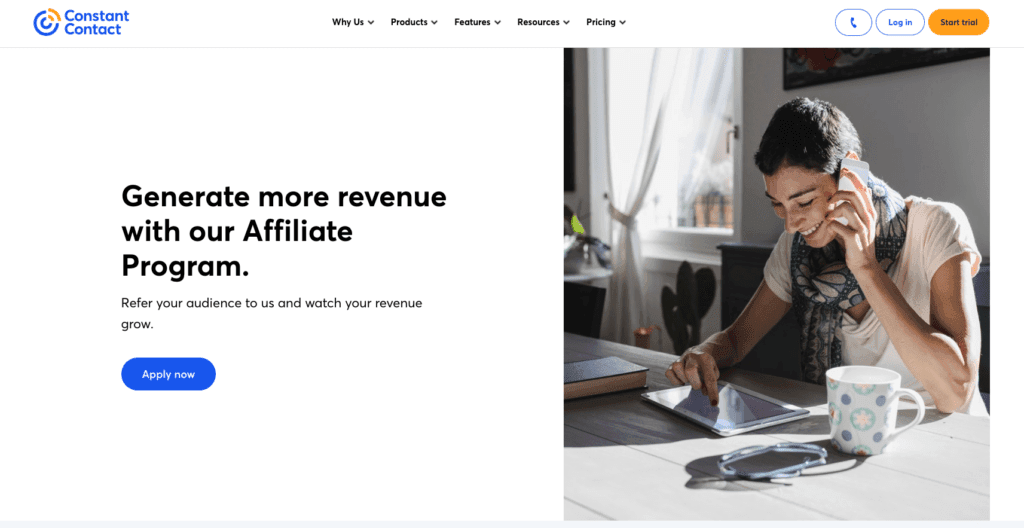 Are your website visitors searching for a powerful email marketing tool? Make sure to recommend Constant Contact. With this tool, users can create vibrant marketing campaigns that will engage and convert customers.
When you sign up for their affiliate program, you'll get promotional materials, a tracking dashboard, and personalized support. This program offers PPL and PPS structures, allowing you to earn $5 for every lead you send their way and $105 for every sale you generate.
MemberPress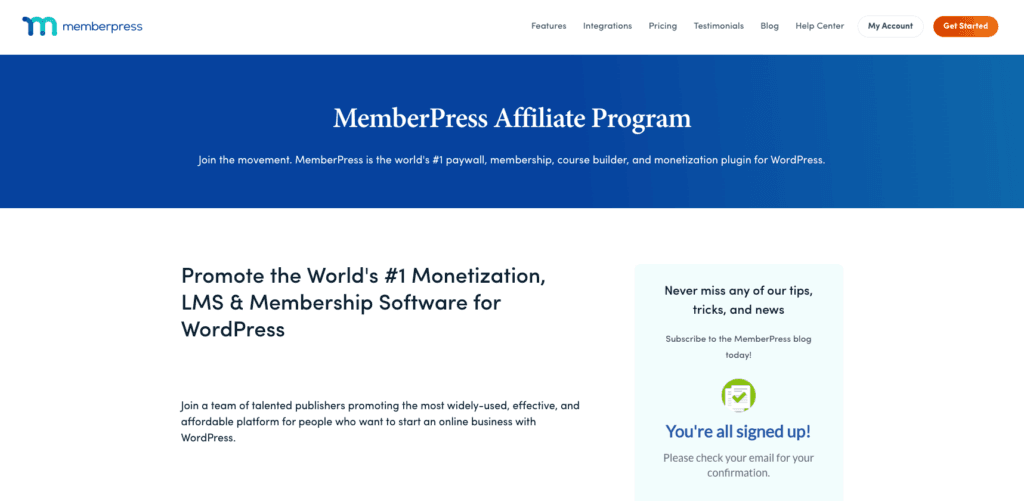 MemberPress is a WordPress membership plugin that makes it easy for users to create thriving membership sites. This software seamlessly integrates with payment gateways Stripe, PayPal, and Authorize.net to help online business owners get their membership businesses up and running in no time. It also comes with a built-in LMS so users can build and sell online courses.
The MemberPress Affiliate Program offers affiliates resources to improve their advertisements and encourage site visitors to click links. You can expect to earn a 25% commission on each sale that you generate.
Generating affiliate income doesn't have to be difficult or complicated. Make it easier by signing up for Pretty Links today!
Conclusion
It's no question that affiliate marketing is a reliable way to earn passive income as you build your business. The key is to align yourself with reliable, trustworthy affiliate programs you're confident sharing with your audience. Take a look at the affiliate programs we've mentioned above, and you'll be well on your way to generating the affiliate income you've been dreaming of.
To learn more about affiliate marketing, check out our posts on SEO tactics affiliate marketers need, how to manage your affiliate links, and how to create a buyer persona.
What are some affiliate programs you are excited about this year? Tell us about them in the comments below!
3 Comments
Fawole Ezekiel

March 9, 2021

Thanks for this great article. Great work..

Jenny Lincoln

May 26, 2021

Great tips!

Alicia Taylor

July 13, 2021

Great article! Good affiliate programs listed here, I have tried OptinMonster already. Currently also registered in Sellvia affiliate program and quite like it