How to Create a Strong Social Media Brand (3 Tips)
The rise of social media has given way to a new marketing environment. Your website was probably once the primary focus of your online branding efforts. However, today, the first introduction many consumers will have to your brand is through social media.
The good news is that social media can be a powerful tool to boost brand visibility and awareness. By building a strong social media presence, you can help your business stand out against competitors, attract the right audience, and increase engagement.
In this article, we'll discuss the importance of social media marketing and creating a consistent brand identity online. Then we'll provide three tips for creating and implementing a brand strategy across social media platforms. Let's get started!
The Importance of Social Media Marketing for Strengthening Your Brand
Social media marketing is completely transforming the online marketing landscape. Users are spending more time on social networks than ever before (over two hours per day). In turn, businesses are making their social strategies a priority.
Plus, these platforms are making it so that users are in control. Some social platforms, such as Twitter, YouTube, and Instagram, act as search engines within themselves. People can search hashtags and keywords for specific types of content they're interested in.
By optimizing your profiles and posts, you can target these users effectively. Building a strong social media brand lets you stand out among competitors. Plus, it can help boost brand awareness and increase conversions.
In order to create a strong social presence, your brand identity needs to be consistent. A cohesive style and strategy across platforms make you look more professional and credible, which ultimately can help you build a loyal following.
How to Create a Strong Social Media Brand (3 Tips)
Strengthening your brand identity puts you in a better position to capture the attention of your target audience. Let's take a look at three essential tips you can use to create an effective social media brand.
1. Be Authentic and Personable
Developing your brand voice is one of the most important steps in building a strong social brand. When done correctly, you can use your voice on social media to demonstrate your personality and attract target consumers.
Social media is also a great platform to connect and engage with your audience. This can help you improve customer service by promptly responding to and interacting with followers:
Many social media users today follow brands because they're interested in their products. However, users also contact brands on these channels for questions, concerns, and complaints. By keeping a finger on the pulse of social conversations, and more specifically, your mentions, you can showcase a helpful and personable side to your brand.
Above all, it's important to be as authentic as possible in these interactions. Not only does this promote trust, but it also helps you maintain a consistent voice across conversations and channels.
2. Keep Your Brand Style and Content Consistent
It's likely that your business is on multiple social media platforms. However, are you using a consistent style across each one?
While the type of content you post to each channel may slightly vary, the overall tone and style should be uniform. This is as true for your posts as it is for your social profiles.
For example, the avatars and header images used for each channel should be the same or at least similar. This helps users recognize you on multiple platforms, and builds your brand's overall recognition.
Let's take a look at Target's social media profiles as an example. This is what the company's Twitter profile looks like: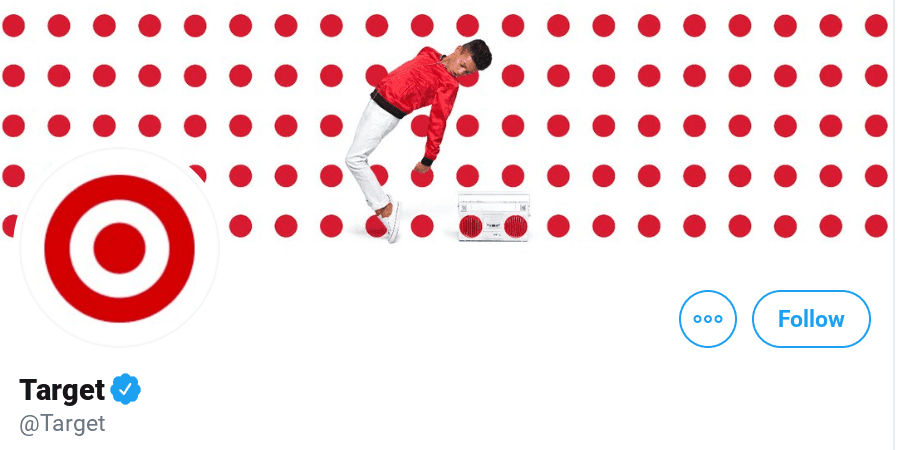 Now, if you go to its Facebook page, you see that the same images and logos are used:

Another way to keep your social branding consistent is to use shortened, branded links. Branded links include your business' name in the URL, and are more memorable and shareable than long, vague links.
To shorten and brand your links, you can use a tool such as our own Pretty Links plugin:

Using these types of links lets you create a similar aesthetic no matter what platform you're sharing content on. Plus, each branded link is an opportunity to promote your business.
Yet another way to keep your content consistent is to establish a regular posting schedule. A social media schedule makes it easier to keep track of posts across multiple networks, and time them for maximum engagement.
Creating and maintaining a consistent brand strategy isn't easy, of course. To keep everything organized, it's a smart idea to develop a brand style guide so that all your resources and guidelines are in one place.
3. Experiment With Different Types of Content
There are many different types of content you can post to social media, including videos, blog posts, links, images, and graphics. However, not all users prefer the same format. Therefore, it's recommended that you switch up the type of social content you post, and experiment to see what kinds your users respond most favorably to.
To do this, you can check the analytics page of each respective social channel you're using. For example, on Twitter, you can go to Settings > Analytics to filter posts based on impressions and engagement:
By tracking the performance of your content, you can also determine some of the best times to post. This information can help increase engagement and interactions.
In addition, it's important to keep in mind that certain content may be better suited for specific social media platforms. For example, visual content works well on Instagram, whereas Twitter can be useful for blog posts, Q&As, and other text-based content.
Conclusion
With today's consumers spending so much time on social media platforms, it's become more important than ever for businesses to focus on social branding. However, developing a strong presence requires more than simply creating accounts and posting occasionally.
As we discussed in this article, there are three tips you can use to create a strong social media brand:
Be authentic and personable.
Keep your brand style and content consistent across all platforms.
Experiment with different types of content.
Do you have any questions about social media branding? Let us know in the comments section below!