7 SEO Techniques to Get Your Website Thriving in 2022
We're well on our way into 2022. That means, it's time to re-evaluate your online business strategies – if you haven't done so already.
In this article, we'll share some of the tactics we saw to have the best impact on organic traffic in 2021 and that we're sure will bring even more opportunities in 2022. We'll also leave some resources to learn more about each strategy.
Be sure to save this article for future reference because there is a lot to unpack. With that being said, let's get to it!
7 SEO Strategies to Grow Your Website's Organic Traffic
In 2021, organic traffic grew by about 50% compared to 2020, and it doesn't seem like it's going to slow down in 2022. With so much potential reach, fine-tuning your search engine optimization (SEO) campaigns will definitely help you grow your business.
Although there are a lot of SEO techniques we could mention in this list, a great place to start working on your SEO campaign for 2022 is by taking a deep dive into your content.
1. Optimize, Prune, and Repurpose Old Content
Content audits are not a frequently discussed topic, but they can greatly benefit your SEO strategy. The idea behind these audits is to find which articles need to be updated (due to, for example, outdated statistics and news), optimized (as content that could rank better), or are not performing well and hurting your overall site. This process is what we know as content pruning.
When conducting your audit, keep the following questions in mind:
Which articles are on page 1 or 2 of SERPs but not getting any traffic? These pieces of content could provide an excellent opportunity for optimization.
Which pages have outdated statistics, advice, or news? These pages need to be updated to keep them relevant. Remember that for time-sensitive content, freshness is still a ranking factor. In addition, it's not just about what's on the page, but about external links too, so make sure you're linking to relevant and up-to-date content.
Which pages are not performing well at all? Think about pages that aren't ranking or gaining any backlinks. Once you identify these pages, there are two more questions you need to ask yourself:

Is this content critical for my website? If the page doesn't have any vital information on it, like details about your processes, products, or services, then it might be ok to let it go.
Is this piece shareable or have helpful tips? Sometimes, competition makes it too hard for a piece to gain relevant rankings, but this information can be repurposed into an eBook, social post, or other formats. You can also keep it on the site and optimize it even more, and share it to boost links – giving it a new opportunity to gain traction by building authority.
Suppose the answer to the last two questions is no. Then you probably have low-quality, thin content on your hands, and it would be a good idea to delete it.
The content pruning process is also a great opportunity to rethink search intent and optimize your content for it. If you update your old content from this perspective, you'll have a much higher success rate.
2. Improve User Experience
Google's latest and most talked about algorithm changes have one thing in common: user experience.
Google search's mission is to provide users with the most relevant and user-friendly answers to their queries, and user experience is a key component of this mission.
Here are a few things you can do to improve your site's overall user experience:
Update Your Website's Design
Although it won't directly affect your SEO – unless your current design makes it harder for crawlers and users to use your site – web design is a huge component of online experiences.
Your website's design encompasses everything you show to your users visually. If text is hard to read, the website's structure is hard to follow, or the overall aesthetic looks outdated, users won't trust the information and leave your page. This sends Google a clear signal that your content isn't good.
Another aspect of good web design is how it influences your conversion rates. Thrive published a quick checklist to improve web design worth exploring, and for inspiration, 99designs created a list of 2022 UX design trends with compelling examples you could be inspired by.
Design for Mobile First
Almost 61% of US traffic comes from mobile devices. So if your website isn't mobile-friendly, you're missing out on a big opportunity. In fact, Google made mobile-first indexing default for a while now, and, although you can set it back to desktop-first indexing, it's one of the most significant ranking factors.
To test if your website is mobile-friendly, we recommend that you:
Navigate your website using a mobile phone to feel the experience by yourself. Experience clicking on links and buttons, how disruptive (or not) pop-ups are, how easy it is to find specific information, and how easy your content is to read.
Use Google's mobile-friendliness test. It will provide you with interesting insights you can apply to your site to increase mobile performance from a technical perspective.
Improve Page Speed
There's no denying that page speed is more relevant than ever. When core web vitals were introduced, Google sent a clear message, and everyone in 2021 changed their strategies accordingly.
Of course, since then, we have seen that CWV has an impact, but it's not as big as we initially thought it would be. That said, these are metrics that very much represent how efficient your website loading speed is, and you should take care of them.
Loading speed is also a significant factor to consider for conversion optimization. A study from 2019 by Portent showed that "website conversion rates drop by an average of 4.42% with each additional second of load time".
To lower your website loading times, you could:
Compress and reformat images
Minify CSS and Javascript
Set images to lazy loading
Reduce Javascript execution times
Avoid redirect chains
Utilize caching and CDNs
Use CTAs Strategically
Calls to action (CTAs) are not just there to sell or promote a service. These short snippets of copy are a great tool to help users navigate your website. Think of the next question the user might have or which actions would help them achieve their goals after reading or landing on your page.
By creating a journey from page to page, you can guide users to solutions and, of course, convert them into paying customers.
3. Focus on Featured Snippets when Writing Content
Google is pushing more and more direct answers onto the SERPs, giving us a new opportunity to be at the top of the SERP – even if we're not ranking #1.
To take advantage of this, SEMrush, in partnership with Brado, published a great article on optimizing content for featured snippets, informed by studying over 46.1 million keywords on mobile and 160 million keywords on desktop in the US.
In essence, featured snippets can be a great way to build brand awareness and authority and attract more clicks for visitors ready to take action.
4. Create Data-Driven Content
Link building is one of, if not the most, challenging parts of SEO, but it's undoubtedly vital for organic growth as Google uses links as a huge ranking factor in its algorithm.
When thinking about link building, the first thing that might come to your mind might be guest posting, but there's another way.
Think about the last time you wrote a piece of content and linked to a resource. Why did you do that? In most cases, there are two main reasons we link to an outside source:
It is a relevant and authoritative guide that can give you (the reader) more context, strategies, or advice on the topic we're discussing.
It shows relevant data that supports my statements.
And that's where data-driven content comes into play.
For example, in the previous section, we linked to an article from SEMrush that presents both relevant data and practical tips. So it's no surprise that it has gained over 1.8 thousand links:
Fresh statistics from studies, surveys, and interviews are useful for professionals and writers to support their theories. Case in point, here's a step-by-step guide on writing data-driven content from our friends at G2.
5. Test Google Discover
A less frequently implemented strategy is using Google Discover to attract traffic. Yes, it's not traditional SEO traffic as it feels more like the kind of traffic you would get from social media – as stated in Moz's whiteboard presentation – but it still engages relevant visitors that can become followers of your site.
In other words, you can test Google Discover as a way to generate new users, increase brand awareness and, most likely, increase organic branded searches from users looking for more content from your brand.
Getting your content displayed on Discover is quite a complex process, so here's an in-depth guide on Google Discover optimization by WordLift.
Note: this could be a better strategy for news sites and content publishers, but it's still worth exploring getting some traction from the Discover page, no matter what industry you are in.
6. Improve Your E.A.T
E.A.T. stands for Expertise, Authority, and Trustworthiness, and it has a direct impact on your website's performance. However, it is not an individual ranking factor or an algorithm.
In reality, Google uses hundreds of tiny algorithms to collect information about your site and see whether you have a good or bad E.A.T.
You can think of E.A.T. as more of how Google perceives your website rather than a score, and there are clear steps you can take to send Google the signals it wants to see:
Add your company's website to relevant directories in your industry and ask your customers for positive reviews.
Earn high-quality backlinks from authoritative sources in your niche or industry, such as Hackernoon or Techcrunch for tech companies.
Leverage your team's expertise by creating author pages and content they wrote. Google likes to see recognizable experts on your website.
Find and answer your audience's questions by covering relevant topics in your industry. Building content hubs are a fantastic tool for building authority and attracting organic traffic.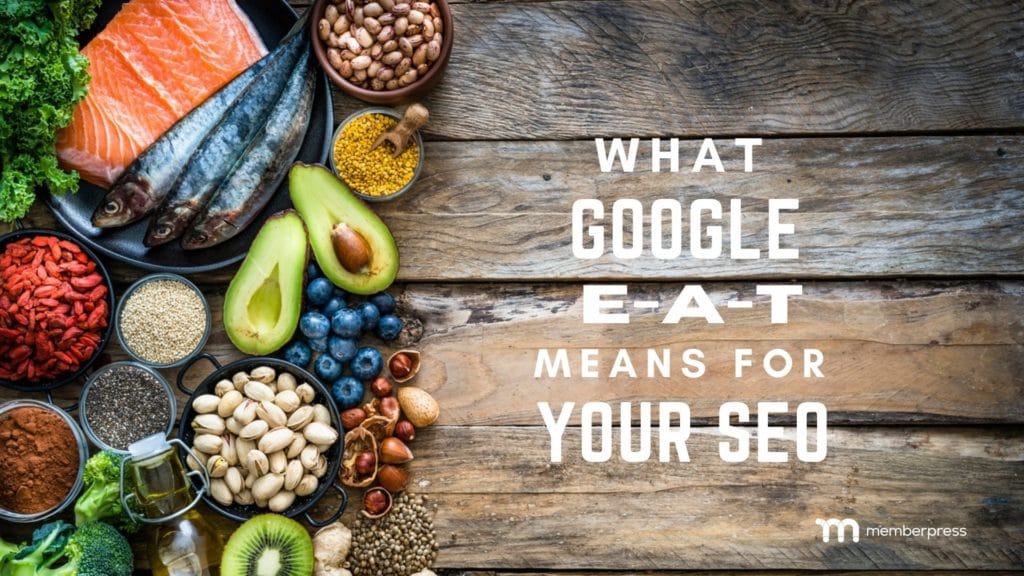 7. Satisfy Search Intent
There have been many discussions and articles written about search intent, but it has never been more critical than now. Google is getting exceptionally good at understanding what users are looking for, and you need to be good at it as well.
You don't want to be just one more answer for the user. You need to become the only answer they'll need in their journey.
When creating a new page with a keyword in mind, meditate on what the user is looking for. Do they want an answer that's a few lines long? Do they need a step-by-step process? Do they want to learn about a subject thoroughly?
If the intent is a mismatch, users will leave the website (if they even click, to begin with), signaling to Google that it is not the resource they're looking for. This back and forth testing is helping Google filter results quickly to find the best match possible.
That said, here's a step further: predict the user's next question or related search intent!
As previously mentioned, using strategic CTAs means understanding the best following action the user can take to solve a problem. Guiding the user through your website will increase the time spent on a page. You'll get more out of every visit and build a strong relationship with your potential customers.
For example, if they came to learn about how to build a landing page, what are the next resources you can share with them? You need to adopt this sequence of ideas to fulfill search intent and become the last click in your customer's journey.
8. Leverage User Generated Content (Bonus Strategy)
If you're thinking to yourself, "What the heck am I reading now?" you wouldn't be alone. However, user-generated content (UGC) has several benefits like:
Scaling new content production on the site
Gaining rankings for long-tail keywords
Uncovering new topics to cover
Increasing time spent on site and engagement
Social media mentions
However, it can be tricky to keep spammers and low-quality content from being added to the website as well. For that reason, having a strong moderation strategy for your user-generated content campaign is a must.
To help you kickstart your UGC campaign, here's a list of UGC moderation best practices we've put together after helping multiple brands implement this strategy.
Wrapping Up
You don't need to apply all of these SEO strategies at once to see results. We encourage you to test just two per quarter and monitor their impact on your organic traffic.
Remember that SEO is not a one-and-done strategy. You'll need to plan, implement, test, and tweak every technique to find the best results. Starting small will ensure that you (or your team) don't burn out by trying to figure out hundreds of different moving parts.
If you're lost, page speed optimization and content pruning are the two best strategies to begin with. They can be implemented quickly, and you'll see their impact reasonably fast compared to other techniques.
Sometimes we don't have the time to do everything ourselves, so feel free to hire a marketing professional using this simple guide. It's packed with great questions to ask, profiles to look for, and more.
If you liked this article, be sure to follow us on Facebook, Twitter, Pinterest, and LinkedIn! And don't forget to subscribe to our newsletter 😄
1 Comment
Acacious Technology

August 2, 2022

Thanks for sharing helpful informaTION!