How to Craft Landing Pages that Convert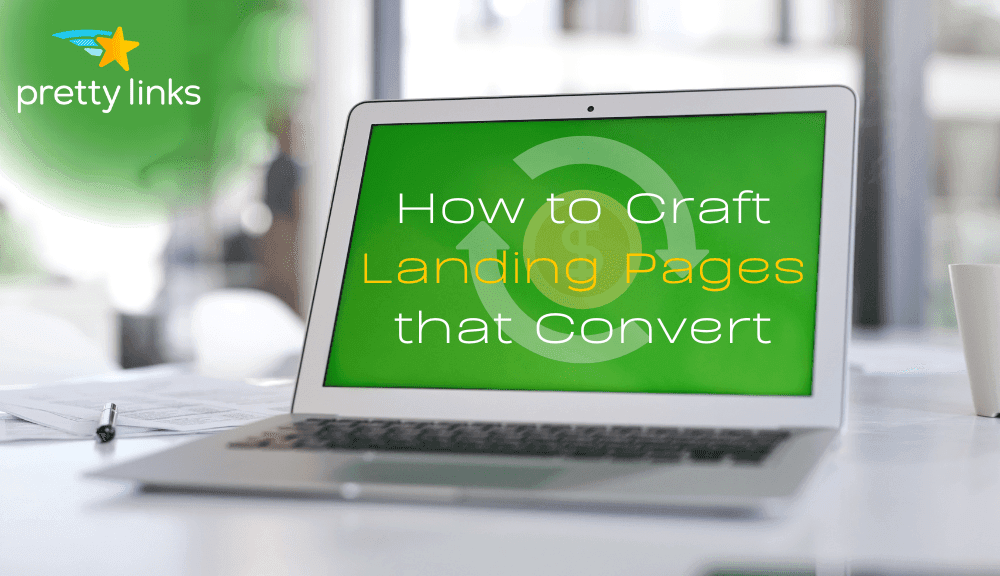 Why Don't My Landing Pages Convert?
The internet is distracting.
Even the most organized and focused of us can get lost deep in the throes of Reddit, Tumblr, and Instagram. When you're done scrolling for hours on a social network, you find yourself skipping merrily through blogs, articles, videos, ebooks, tutorials, and on and on and on. We're all so used to being stimulated, spending our days and nights on our phones and computers, that this process goes on non-stop.
There's a lot to digest out there, so attention spans dart in a million different directions. This chaotic reality is the landscape you have to navigate as a content creator, business owner, or marketer. It's a frustrating time for anyone trying to build an audience (regardless of your end goal). 
It can feel impossible to get your content in front of the right people amid all the noise. When you need site visitors and readers, attention is gold. When you need conversions, focus is platinum.
So, that brings up the big question: How do you get people to take action when you can't even get them to focus?
The answer rests in a commonly used marketing tool. To get the conversions you want, build an impeccable landing page, and make your leads pay attention.
What is a Landing Page?
A landing page is a single web page with a sole purpose. It gives you a simple way to zoom in on your product, service, or offering.
Landing pages take site visitors that are slightly interested and give them something to pause over. They pull relevant and valuable information about one topic and put it all in one distraction-less place. Conversion rates are typically high for well-made landing pages because these pages speak to the right audience about the exact thing they are interested in finding.
It's a bit of a science. You can set a well-made landing page up and let it do its magic for however long you need it to once you've cracked the code.
Landing pages can help achieve many different types of goals:
Event promotion and ticket sales
Increasing blog subscribers
Promoting an offering from your business or store
Promoting specific services or occasions
Spreading knowledge about a particular topic
Landing pages are one of the most effective ways to get your audience to perform a specific action. There's one call to action, one topic, and nothing to distract them from the task at hand. An effective landing page will pull the visitor in, give them a good talking to, lead them to action, and send them on their way satisfied.
We've talked before about optimizing landing pages. But how do you crack the code? What makes a landing page that converts? Following are a few tips and tricks.
Keep Your Landing Page's Message Clear and Consistent
Clear messaging is a huge factor in any effective marketing campaign, but it's one that a lot of people underestimate. From your graphics to your copy, people expect to find what they're looking for once they click through. If your advertising says one thing ("New product!") and your landing page shows something completely different ("Old product!"), you're going to get a lot of rolling eyes and higher bounce rates. 
To combat this, match the messaging of your ads to a T. This doesn't mean you need to duplicate the content. The ad itself has the sole goal of getting the click, so it might differ from the landing page to some degree.
That's okay! Just make sure that the overall topic, objective, and calls to action remain the same.
Another component of clear messaging deals with pricing. Make sure that the sale you're pushing on the ad is also available on the landing page — and with the same terms and conditions. And remember to check your dates! Sending people to an expired deal won't win you any friends or increase your conversion rates.
How clear messaging helps conversion rates: Clear messaging enables you to make the most of a prospect's time and actions. It also ensures that visitors already know why they're clicking through, and that means they're likely interested in what you're offering.
Keep Your Landing Page Design Clean and Simple
Follow the "rule of one" to increase conversions with any landing page you make. Remember, landing pages are there to encourage the user to do one thing. One.
This rule goes for every aspect of your landing page. The design should help the visitor focus on the action you want them to take and nothing else. The first thing most visitors will notice will be the design — the color choice, the images, the types of buttons, etc.
A successful landing page design will keep your visitor focused on the end goal. Are you trying to grow subscribers to your blog? There should be a clear subscriber form, front and center, without too much in the way to distract your reader.
While your navigation bar is essential on other parts of your site, it's just a distraction on a landing page. Get rid of it. Lock your viewers in with a design that moves them forward on the page naturally, and don't encourage them to visit other parts of your site.
Use compelling imagery to draw visitors in, especially above the fold. Your buttons should be easy to see and easy to click. Your headers should be compelling enough to make the reader stop and stay on your page.
Remember, landing page headers are bold announcements that are easy to scan. The first sentence that meets the user's eyes should be clear and powerful enough to incite action. Compliment the heading with a subheading that continues the conversation, sticking to the point but expanding convincingly.
Also, be sure to build a mobile-friendly landing page. Those compelling images and well-placed calls to action should be responsive and ready to work on small screens.
How landing page design helps conversion rates: The flow of your landing page will guide leads exactly where you want them to go. With great messaging, this flow will result in the action you desire.
Use Your Best Copy on Your Landing Page
Design is a significant component of any landing page, but your copy and messaging are what will drive leads to conversion.
What do you know about your audience? Use that information to craft a message that speaks to them directly. If you're dealing with a more relaxed crowd, then stiff corporate messaging might lose you valuable conversions. The same goes for informal copy in a professional space.
How great copy helps conversion rates: The messaging on your landing pages does most of the heavy lifting. Having compelling copy that is targeted and direct will further help you attract and keep the right visitors.
Use Powerful Calls to Action (CTA)
Let's expand on that compelling copy a bit.
If you want to create CTAs that work, you have to know your audience.
Knowing your audience helps you understand what offers will work in your favor. Do free trials move your leads? Will they hover over your Become an Expert button but bounce from the page if they encounter a simple Learn More? Don't be afraid to experiment to figure out what works best with your brand, your audience, and your goal.
What do you want your visitors to do? Answer this question before you start the copy, plan the design, or add one element to your landing page.
Your call to action also works hand-in-hand with the design of the page. Make sure your button copy has some relation to your header copy. Remember, the contents of the page should flow together to inspire conversions.
Finally, be clear with what you want. Are you announcing a new feature on your site but asking visitors to register for a webinar? Make sure everything is in line, and your conversions will increase.
How CTAs help conversion rates: When you know what you want to happen, you're better able to convey this to your leads. The easier you make it for them to understand the action they should take, the more likely they are to take it.
Split Test Individual Sections of Your Landing Page
A/B testing is your best friend when it comes to better metrics for landing pages. A/B testing helps you figure out what's working on a small scale, whittling the page down to only the components that improve your marketing efforts.
You'll want to split test other aspects of your marketing campaign as well, including your ad copy and sales pages. Testing can include the color of the buttons you're using, headlines, calls to action, and even the placement of certain words. Run your A/B tests simultaneously for the best results.
Pretty Links allows you to use branded links to understand user behavior better. The link shortener will enable you to see valuable analytics that can improve your marketing campaigns, including metrics on what people find interesting enough to click. This is vital information for split testing your landing pages.
How A/B testing helps conversion rates: Split testing can help you determine your best landing page design, speak directly to your audience, and know what works. While you'll likely split test multiple times before you know what works, it's an invaluable tool in your marketing playbook. Split test until you have a good idea of what's working for your audience and what isn't.
In Conclusion
The success of your landing page depends on compelling components that convert visitors. Keep your messaging, design, and calls to action clear but persuasive, and you'll see more clicks in no time.
Do you have a secret weapon for landing page conversions? Let us know in the comments.
If you liked this article, be sure to follow us on Facebook, Twitter, Pinterest, and LinkedIn! And don't forget to subscribe to our newsletter!