Rebrandly vs Bitly vs Pretty Links (What You Need to Know)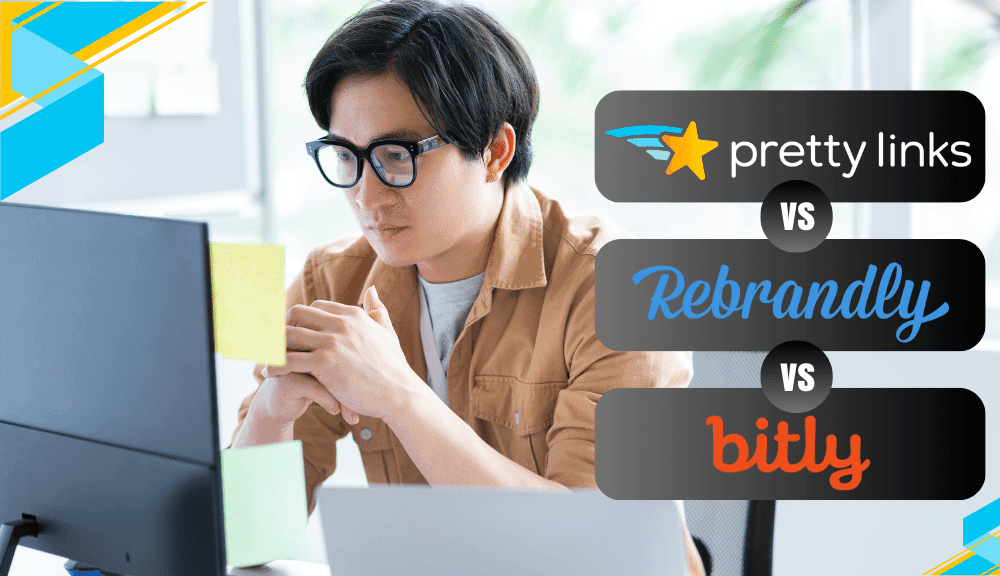 In a world of character limits and fleeting attention spans, shortening your URLs has become a must in online marketing.
Rebrandly, Bitly, and Pretty Links are 3 of the most popular link shortening tools on the market. If you're thinking about giving one of these heavy hitters a shot, first you need to find out what they bring to the mix.
Whether you're an affiliate marketer seeking to optimize your campaigns or a social media enthusiast aiming to share links with style, this blog will be your ringside seat to the ultimate clash of URL shorteners.
Get ready to witness a showdown like no other as we delve into what you need to know about these 3 link shortening powerhouses, including their features, ease of use, support, and pricing.
Features for Rebrandly vs Bitly vs Pretty Links
Some tools only help you shorten links, whereas others offer numerous extra features, such as link tracking, analytics, and more. As such, the first thing to consider when choosing a link shortener is what features it offers. Let's see how these tools compare!
Features: Rebrandly
Rebrandly is a link management service that enables you to shorten links, implement redirects, and monitor their performance using analytics. It's designed to be used with multiple websites and by teams, which means it offers a lot of collaboration features:
Moreover, with Rebrandly, you get to manage links for multiple domains. Furthermore, different teams can set up unique workspaces to monitor link performance and generate private and public reports.
Features:
Create branded, shortened links
Link management and link retargeting
API integration
Team collaboration
Link expiration settings
Click tracking
Automated and custom reports
Overall, Rebrandly's built from the ground up to facilitate link management for multiple domains. It can work if you're running a single website, but the platform shines when it comes to collaboration.
Features: Bitly
Bitly enables you to shorten, track, and share links online. The service is designed to make it easy for you to create short, branded links for websites and social media profiles.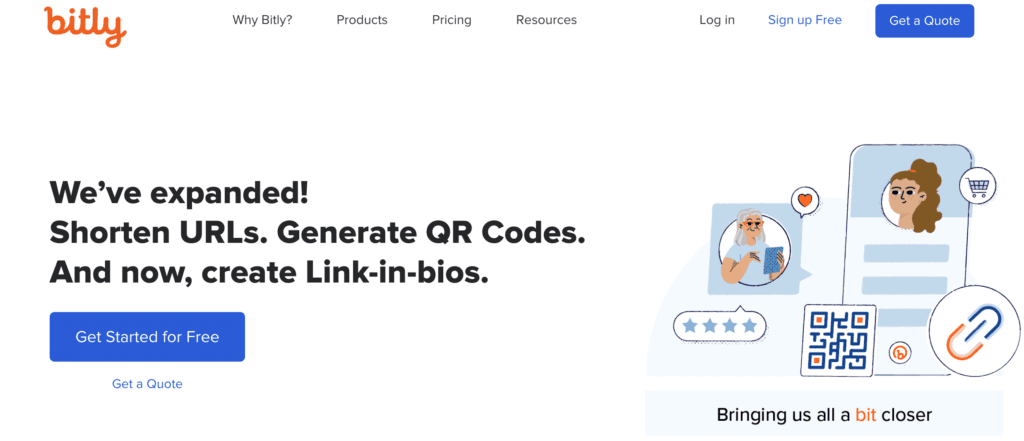 Bitly also focuses heavily on helping you generate QR codes. That means you can transform links into QR codes and customize their style using dozens of options. Moreover, Bitly supports dynamic QR codes, enabling you to update where they lead to without changing the code's design.
Features:
Link shortening and branding
URL redirects
Link tracking and analytics
QR code generation
Support for dynamic QR codes and tracking
Custom landing pages
If you use Bitly you'll also get access to the 'Link-in-bio' features. These enable you to build custom landing pages that can include profile pictures and a collection of links to your websites, social media profiles, and anywhere else you want to link to.
With Bitly, you get to track the performance of links, QR codes, and your Link-in-bio landing pages. All of that data can be used to generate reports and to gain insights so you can optimize your strategies.
Features: Pretty Links
Pretty Links is a WordPress plugin that enables you to shorten links, monitor their performance, and generate QR codes for your affiliate websites. With this tool, you get access to all of these features without leaving the WordPress dashboard: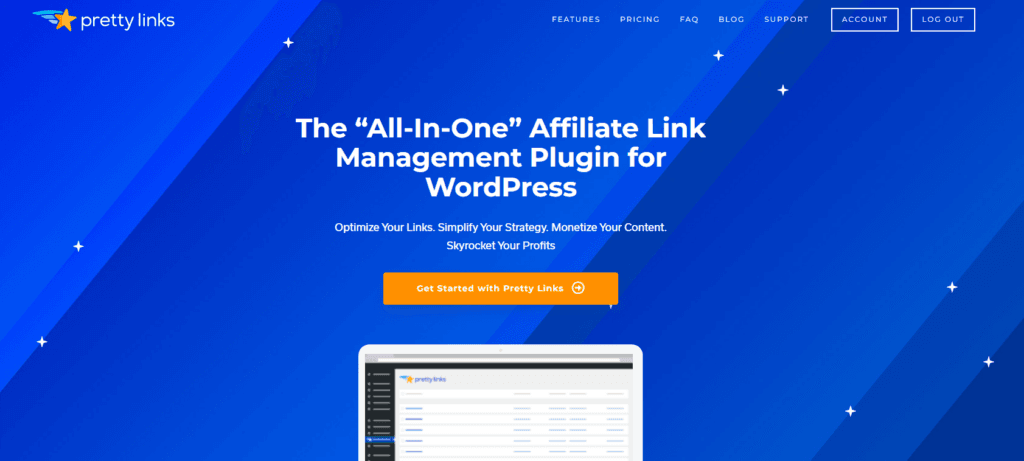 Additionally, with Pretty Links, you can create groups of links to categorize them. The plugin also enables you to configure redirects, tracking, and expiration dates for each link. On top of that, you can add scripts to individual links.
Features:
Link shortening and branding
Multiple types of redirects
Link groups, categories, and tags
Detailed reports for clicks and conversions
QR code generation
Create links automatically
Affiliate link disclosures and social sharing buttons
In short, Pretty Links offers a broad range of features designed to make life easy if you're an affiliate marketer.
Rebrandly vs Bitly vs Pretty Links Ease of Use
A platform can offer amazing features, but you won't be able to fully take advantage of them if it's over-complicated and hard to navigate. That's why we're comparing all 3 link shortening platforms in terms of ease of use.
Ease of Use: Rebrandly
Rebrandly's onboarding experience can vary depending on what kind of account you choose. That's because enterprise and business accounts get a dedicated onboarding experience.
Meanwhile, if you sign up for a free plan, you'll have to learn to use the platform on your own. That said, the signup process is pretty straightforward.
After you sign up for a Rebrandly account, the service will ask some basic questions about how you plan on using it and what type of business you're running. Then, it'll guide you toward creating your first branded links:
Choose the Create your first branded link option and Rebrandly will ask you for the destination URL. This is the link you want to shorten: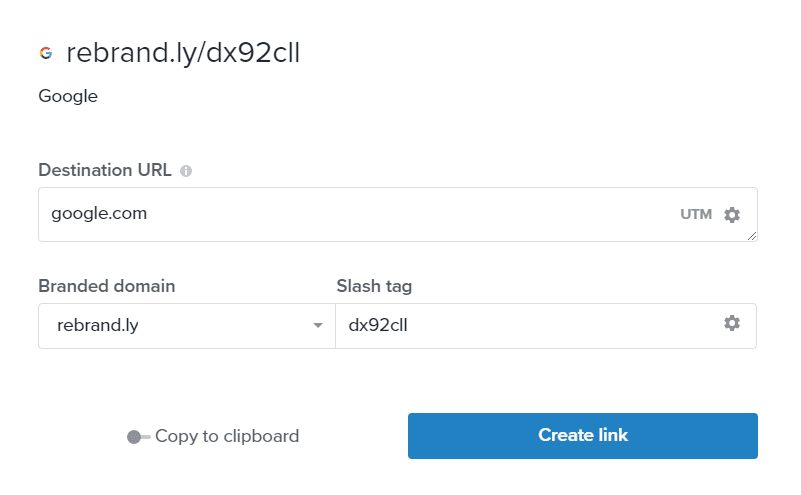 By default, Rebrandly will use its rebrand.ly domain. However, you can connect a domain you own to the service for better branding. Once you create a link, you can monitor its performance from the Links tab in the dashboard.
Ease of Use: Bitly
After signing up for a free Bitly account, you can access the service's dashboard. To shorten a link, go to Links > Create new:
Shortening links in Bitly is simple. Just enter a destination URL and set an optional title for the link (for internal identification). Then, select what domain to use and customize the link's slug: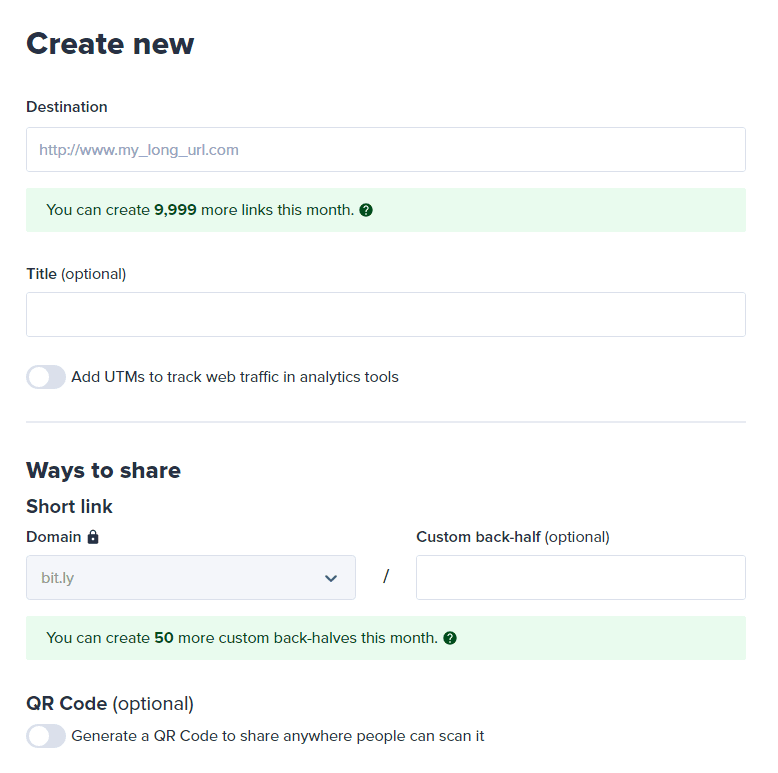 Keep in mind that free accounts can't use custom domains. However, you do get the option to generate QR codes for each link you shorten. After creating a link, you can find it in the Links tab within the dashboard, where you're able to monitor its clicks.
Ease of Use: Pretty Links
Since Pretty Links is a WordPress plugin, it's remarkably easy to set up. You can install the Lite version of the plugin in a matter of minutes. Once you do, the plugin walks you through a short tutorial that covers the basics of how to use it: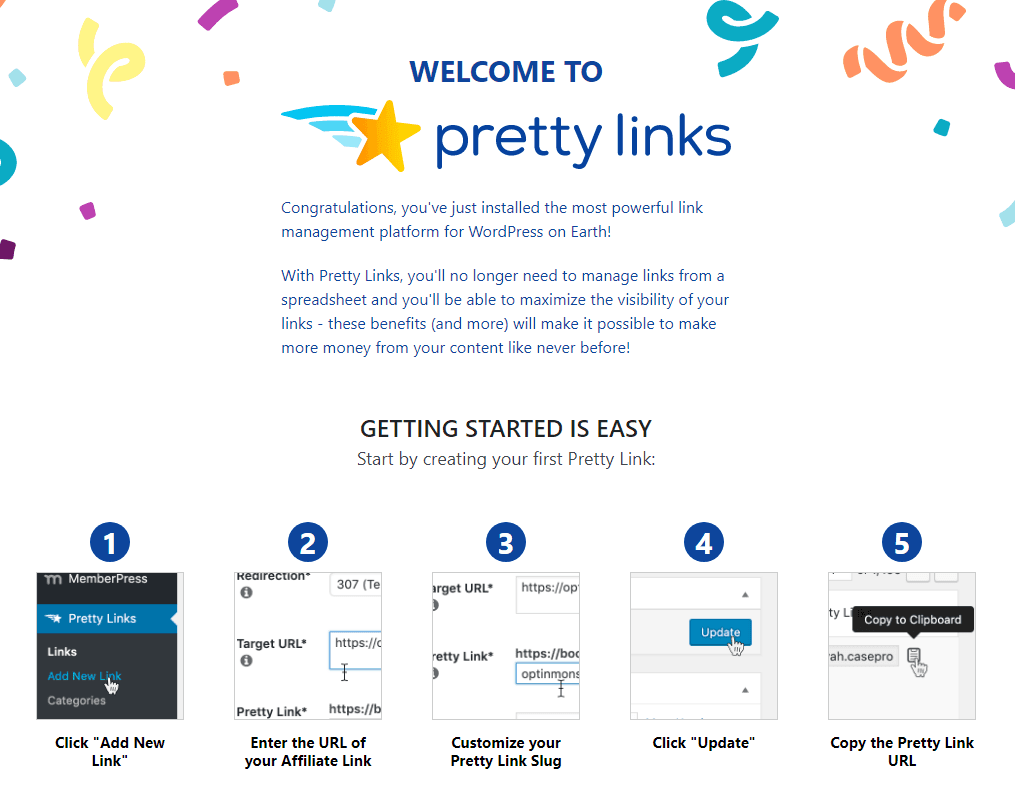 To get started using Pretty Links, go to Pretty Links > Add New in the dashboard. From here, you'll be able to set a title for the new link, choose a target URL, configure the type of redirection to use, and set the link's slug:
After you add a link, you'll be able to monitor its performance from the Pretty Links tabs. The Links tab also includes a full report that gives you an overview of clicks for all shortened links.
Rebrandly vs Bitly vs Pretty Links Support
If you're going to use a service to manage your links, it needs to offer outstanding support for those occasions where you run into errors or can't figure out how to complete a task. Here's how each service fares in this category.
Support: Rebrandly
As far as support goes, Rebrandly's free tier doesn't get you access to a ticket system or another way to reach out to official agents. Meaning, with a free plan, you'll need to make do with the platform's knowledge base for troubleshooting.
The good news is that the knowledge base is highly comprehensive. It includes hundreds of articles on how to use the service:
In our experience, Rebrandly does a fantastic job of showing you how to use its tools even if you're completely new to link shortening services. It clarifies a lot of basic terms and its tutorials are in-depth.
Support: Bitly
Bitly's free tier gives you access to an email ticket system. That means you can get support from dedicated specialists. However, premium users get access to a higher level of personalized support.
In terms of documentation, Bitly does a great job. It offers a comprehensive knowledge base that teaches you the basics of the service and how to fix any issues you run into. What's more, it has a dedicated section of resources for developers if you want to use the Bitly API:
Additionally, if you're more of a visual learner, Bitly offers a modest number of video tutorials and webinars you can access at any time. These are not as in-depth as the rest of their documentation, but their developer webinars are excellent.
Support: Pretty Links
Pretty Links offers support for all users, no matter their plan. The plugin also offers a comprehensive knowledge base that covers installation, configuration, report generation, troubleshooting, and more:
On top of documentation, we also publish regular blog posts that show you how to use Pretty Links in a wide variety of scenarios. These can help you implement link shortening and cloaking strategies to improve your business.
In terms of support, Lite users have access to the plugin's WordPress.org support forum and you can also submit questions through the website. If you paid for a Pretty Links license, you get access to priority support.
Rebrandly vs Bitly vs Pretty Links Pricing
Ultimately, your choice of link shortening service might come down to pricing. Therefore, in this section, we'll compare the value each platform offers versus how much it costs.
Pricing: Rebrandly
Rebrandly offers both free and premium plans. The free tier enables you to track up to 2,500 clicks per month for one website.
Meanwhile, premium plans start at $12 per month and cover most of the features we've discussed. The only outliers are the business and enterprise plans which also offer dedicated support: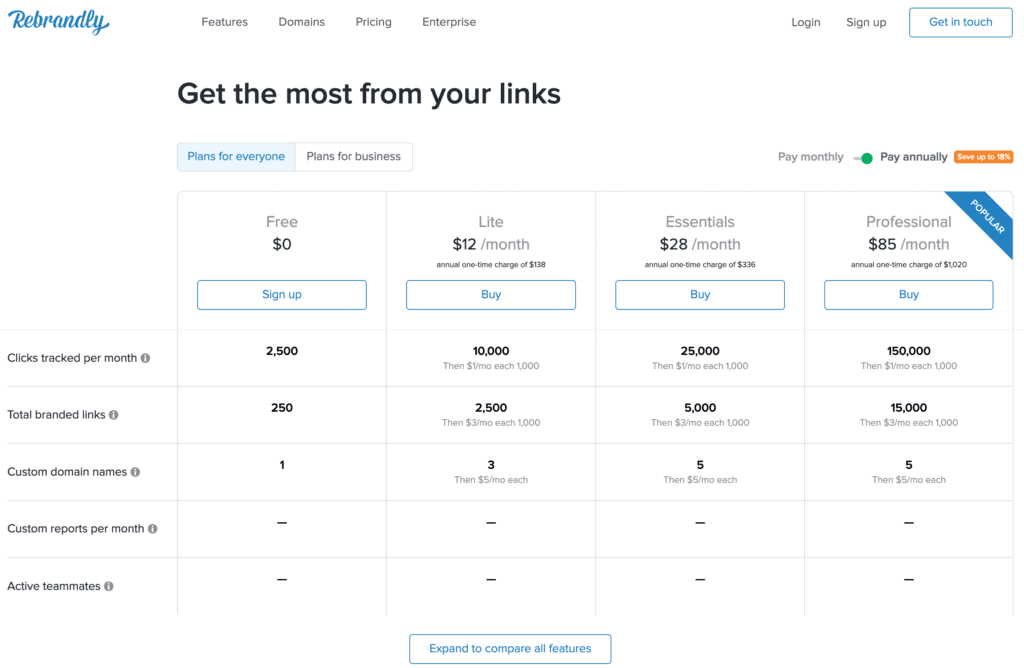 In terms of value, Rebrandly's Lite plan is a solid choice. It enables you to shorten up to 2,500 links for multiple websites. The business and enterprise plans are likely only worth it if you manage multiple websites and work alongside a team.
Pricing: Bitly
Bitly's pricing is somewhat complicated. The service offers a free tier, but it only enables you to shorten up to ten links per month. Therefore, the free plan probably isn't a viable option for any serious website.
Meanwhile, the platform's Starter plan costs $8 per month, but it's only available if you pay for the full year. If you want to pay month-by-month, you'll need to opt for the Basic plan, which costs $35 per month:
The Starter tier also has a conservative limit of up to 200 links per month. So, if you publish a lot of content, you might be forced to use a more expensive tier that can cover all of your links.
Pricing: Pretty Links
Since Pretty Links is a WordPress plugin, it follows the standard practice of charging for yearly licenses. These licenses start at $99.50 per year for one website and include support for unlimited links:
If you're looking for a link shortening service that doesn't limit the number of elements you can generate and track, Pretty Links is a fantastic option. However, it's important to keep in mind that you can only use Pretty Links with WordPress.
Conclusion
Link shortening can be extremely helpful for affiliate marketers, bloggers, and even social media influencers. However, you'd be missing out if you chose a tool that only provides link shortening. There are lots of services that offer this functionality plus much more. For instance, you can get analytics, advanced link settings, QR generation, and other useful features.
If you're still on the fence about which link shortener to use, here's a quick review of the features that make each of these tools stand out:
Rebrandly: This link shortening service also allows you to manage multiple domains and access useful collaboration tools.
Bitly: With this solution, you'll get link shortening, QR generation, and custom landing pages for social media.
Pretty Links: This plugin offers the best way to generate custom links if you use WordPress.
Where do you land between Rebrandly vs Bitly vs Pretty Links? Share your thoughts in the comments section below!
If you liked this article, be sure to follow us on Facebook, Twitter, Pinterest, and LinkedIn! And don't forget to subscribe in the box below.
1 Comment
DC Fawcett

May 25, 2023

Parameter forwarding and 4 way rotator are most important features for me. I tried bitly and didn't work. bitly forces you to buy the enterprise version to enable parameter forwarding. thats BS. I would love pretty links to have a hosted version so I don't have to deal with wordpress issues that keep popping up and breaking the links.