3 Different Types of Redirects (and How to Make One with Pretty Links)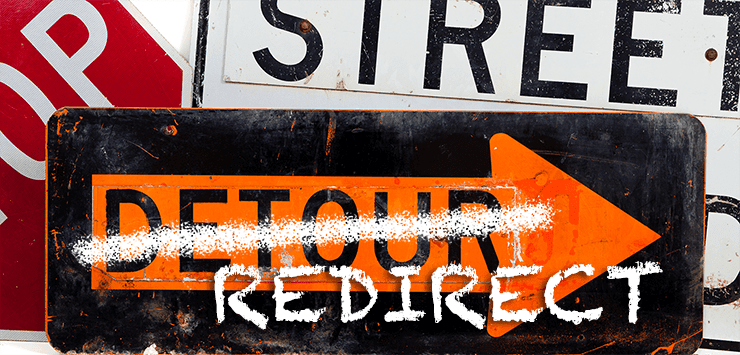 When creating shortened URLs in Pretty Links, you have a number of customization options. One option is the redirect type, which lets you choose the best type of redirect for each pretty link. However, it's only a useful tool if you know when and how to use it.
Knowing the various redirect types can ensure you're redirecting your visitors correctly. For example, some redirects are temporary, while others are permanent. Certain types enable you to track your redirects, while others are good for search engine optimization (SEO).
In this post, we'll first discuss why you may want to use redirect types. Then, we'll introduce three of the most common redirect types and explain how you can use them optimally. Finally, you'll learn how to set redirect types in Pretty Links – both for individual links and as a default setting. Let's get started!
Redirects Explained Types (and Why You Should Consider Using Them)
In a nutshell, a redirect sends a visitor from one web page to another. It encompasses two situations:
Redirection from one page of your website to another.
Directing visitors from one website (such as your old one) to an entirely different one.
Redirects are very useful if you've updated your content but don't want to lose traffic from old links. They're also helpful for A/B testing, or when you're running specific campaigns and want to send visitors to a special landing page.
There are various types of redirects, and all of them have different purposes. While some can be grouped together based on general purpose, there are still slight differences you'll need to consider.
3 Different Types of Redirects (and When to Use Them)
The redirect groups outlined below have one thing in common: they're all offered by Pretty Links! Let's take a closer look at the redirect groups and what they can offer.
1. Temporary and Permanent Redirects

You may sometimes come across a redirect notice, which will warn you that you're being redirected to a new website.
Temporary and permanent redirects are similar in many aspects, but with a slight difference – permanent redirects enable the passing of link juice. You should use a permanent redirect if the target URL is not set to change (for example, if you've permanently moved a web page).
However, you'll want to use a temporary redirect if you're unsure of the future URL status, or if you know the redirect is temporary (for example, when A/B testing or updating a live web page).
These are two redirect types you are likely to use often, so focus on using them correctly for the sake of your website's rankings.
2. Cloaked and Pretty Bar Redirects

The exclusive Pretty Bar feature of Pretty Links is one kind of cloaked redirection.
The main purpose of both cloaking and the Pretty Bar feature is to hide the link of the target URL. With cloaked links, you create a custom URL. With Pretty Bar, you essentially take the URL out of the picture and replace it with a graphic.
If you're an affiliate marketer, you'll want to double-check that you're allowed to cloak your links. Also, remember to keep your branding front and center. Properly brand your URLs, or use Pretty Bar (and be sure to include a logo and other eye-catching features).
Overall, we recommend you use these redirect types for your own campaigns (such as social media). They'll help keep the focus on your brand, and you don't have to worry about breaking program policies.
3. Javascript and Meta Refresh Redirects

This is just one example of a "meta redirect" code, which includes a five-second delay.
The goal of both JavaScript (which requires the user's browser to run it) and "meta refresh" redirects is to incorporate a time delay. With either of these in use, the web page will redirect (or refresh) on a recurring basis. We recommend using them on dynamic web pages, as a refresh will be required for new information to be displayed. Also, only use them when necessary, as random refreshes can be potentially bad for the user's experience.
On the whole, it's best to use this group of redirects sparingly given the impact to the user. You may find that other redirect types can still help you achieve your goals, without bothering the user unduly.
Bonus: Tracking Pixel Redirects

Tracking pixels can be added to web pages, emails, and even advertisements such as this one from Neil Patel.
A tracking pixel, while not technically a redirection, is a tool offered by Pretty Links under redirects for the sake of convenience. This is a very small dot added into the HTML of a web page, email, or advertisement.
When the tracking pixel is "pinged" through user interaction, the action will be recorded. This is useful to learn which of your pages, emails, and/or advertisements are performing well. Also, they can also help you track conversion goals if placed on pages such as newsletter landing pages or a shopping cart.
While you could use other forms of tracking (such as analytics), a tracking pixel is the simplest method when it comes to collecting basic information (such as the number of visitors to a web page).
How to Set a Redirect Type in Pretty Links
Pretty Links is a link shortener plugin with a variety of customization options, including link redirection. Setting a redirect type – whether within a new link or a previously created one – is simple.
Just follow the instructions for creating your own Pretty Links (or select an already-created link from the Pretty Links > Pretty Links section on your WordPress dashboard), and select the redirect type from the Redirection drop-down:

You can also set a redirect type for all future links created with Pretty Links by navigating to Pretty Links > Options > Links. From here, choose the default redirect type from the drop-down, and click Update.
Conclusion
As you build your linking strategy, there will be a few things you'll need to know. One is how to select the right redirect type for your needs, as well as how to use it accordingly.
In this post, we've introduced you to four redirect groups and explained when and how to use them. To quickly recap, the four main groups offered by Pretty Links include:
Temporary and permanent redirects.
Cloaked and Pretty Bar redirects.
JavaScript and meta refresh redirects.
Tracking pixel redirects.
Do you have any questions about how to use redirect types on your website with Pretty Links? Let us know in the comments section below!
If you liked this article, be sure to follow us on Facebook, Twitter, Pinterest, and LinkedIn! And don't forget to subscribe to our newsletter!