How to Make Money as a World Traveler (5 Affiliate Programs)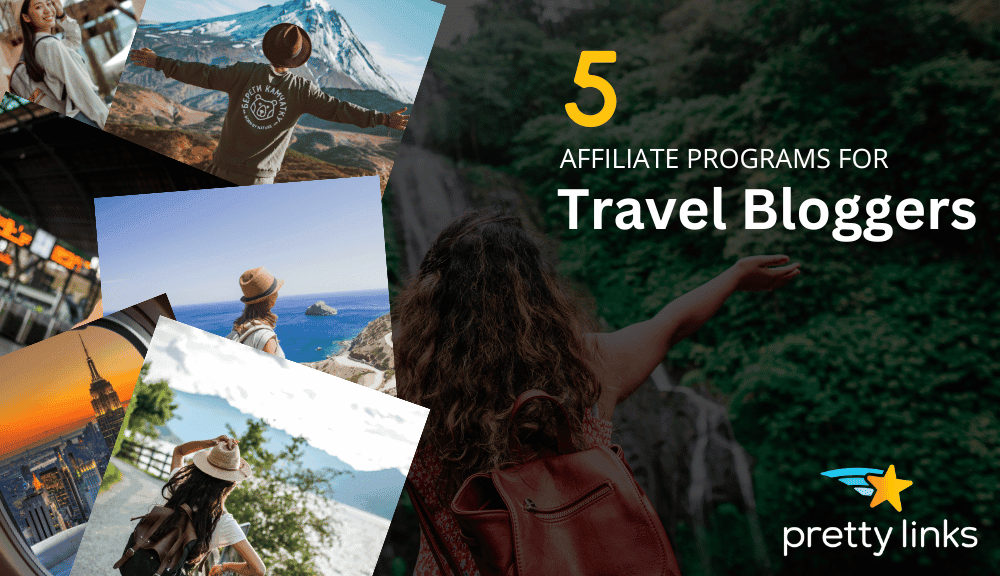 Monetize your adventures with affiliate marketing! Partner with a program that fits your wanderlust lifestyle…
Do you dream of traveling the world and making money at the same time? Well, it's not as far-fetched as you might think. Thanks to affiliate marketing programs, travel enthusiasts can earn a steady income no matter where the adventure takes you!
Affiliate marketing involves partnering with companies to promote their products or services – which can be anything from your must-have travel gear, to your favorite hotel stays, or your top-pick travel arrangements.
In exchange for your efforts, you receive a commission on any sales made through your unique affiliate link.
In this post, we'll delve into the travel niche and explain how it offers one of the best platforms for promoting affiliate products through blogging. After that, we'll introduce you to 5 renowned travel companies with incredible affiliate programs that you can apply to today!
Jet-Set to Profits: Why the Travel Niche is an Affiliate Marketer's Paradise
The travel niche boasts a global audience, eager for adventures, new destinations, and essential gear. It's a vast marketplace where everyone's looking to explore or shop. In the affiliate marketing world, tapping into this universal appeal is like having a passport to profits.
Broad Audience Base: From solo backpackers to luxury seekers, the audience spectrum in the travel niche is vast. This means a variety of products and services can be promoted, catering to diverse segments.
High Commission Rates: Many travel companies, especially in the luxury, hotel, and airline sectors, offer attractive commission rates. A single sale can generate significant income.
Evergreen Content: Travel experiences, reviews, and tips rarely go out of fashion. A well-written travel blog post or video can continue to generate revenue for years.
Diverse Product Range: The range of products and services to promote is vast – from travel gear, insurance, and tour packages to hotel bookings, flight tickets, and even language courses.
Personal Experiences: Sharing personal travel stories adds authenticity. Authentic content tends to have higher engagement, leading to better conversion rates.
If you're ready to turn your wanderlust into wander-BUZZ, the travel niche is your ticket to a thrilling affiliate marketing ride. And get this: your affiliate link could be the start of someone's next great adventure. How cool is that!
Meet Your New Travel Companions: WordPress + Pretty Links
Blogging is an excellent way to promote affiliate products because it allows you to create high-quality content that attracts targeted traffic to your website. Moreso, a blog gives you your very own platform to share your expertise, insights, and recommendations with your audience.
Because this is our blog, we recommend the most popular blogging platform there is: WordPress. Not only does this content management system (CMS) power nearly half of the websites online today, but it's also perfectly compatible with our Pretty Links plugin.

With Pretty Links riding shotgun on your travel blog, you can personalize affiliate links to match your blog name. That way, you don't lead readers astray with a strange and sketchy-looking link provided by the affiliate program you belong to.

Prettifying links isn't all Pretty Links can do. Included in our all-in-one link management solution is the ability to track your links, customize redirects to a global audience, autolink keywords, and so much more.
Choosing the Right Travel Affiliate Program Based on Your Audience
Travel affiliate programs offer fantastic opportunities for bloggers, social media influencers, and website owners to turn their love for travel into income by promoting travel-related products and services.
To make the best choice, consider various factors like commission rates, product offerings, support, and reputation. However, the most critical factor to ponder is your audience because you'll need them to interact with your affiliate links and products to generate income.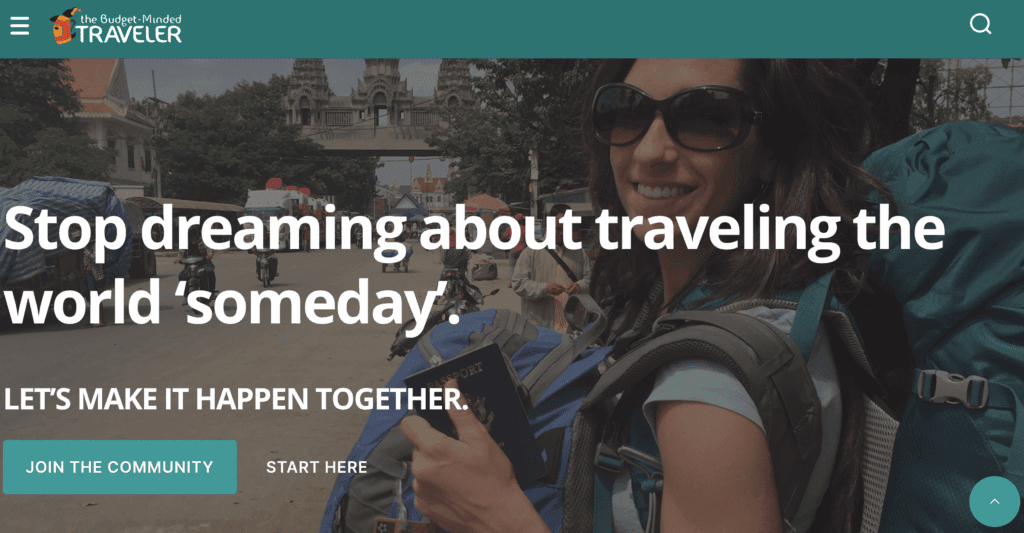 Therefore, it's important to evaluate what kind of travelers they are. Take a moment to think about the people you're writing for. They could look like:
Budget-Tight Students: If your target audience consists of budget-conscious students seeking affordable getaways, you should partner with affiliate programs that emphasize low-cost options, and possibly even offer student discounts.
Busy Moms Planning a Summer Vacation: For the moms who are meticulously planning a family summer getaway, your focus should be on family-friendly products and attractions. Promote options like child-friendly resorts, amusement parks, or accommodations with convenient amenities for parents and children.
Backpackers: To connect with this audience, it's a wise choice to partner with outdoor gear brands, camping equipment suppliers, and adventure solutions. Then for your content, you could share insights on durable backpacks, lightweight tents, and practical meal options for their rugged outdoor adventures.
Adventure-Seeking Solo Travelers: Lastly, consider the solo adventurers in your audience. These individuals crave unique experiences and may be more inclined to splurge on one-of-a-kind excursions or niche travel products. Align yourself with companies offering solo-friendly trips, solo traveler insurance, or gear tailored to solo explorers. Your recommendations can empower them to embark on thrilling journeys while ensuring their safety and convenience.
By tailoring your affiliate partnerships and content to cater to the specific travel needs and preferences of your readers, you can boost engagement and increase your earnings as a travel influencer.
5 Affiliate Marketing Programs for Travel Bloggers
Now that you know what to look for in a travel affiliate program based on your audience, it's time to find one for your blog! To help with your search, we've picked out 5 of the most popular options.
1. Expedia
Many travel bloggers choose to partner with Expedia, which is one of the most popular travel booking services. With the Expedia affiliate program, you can recommend hotels, vacation rentals, flights, cars, cruises, and activities:

Depending on which travel products you choose, you can make 2-6% in commissions. You'll also be able to access Expedia's product inventory, which includes over 35,000 activities, 500 airlines, and one million properties.
However, they only have a seven-day referral period. This means that once a visitor clicks on your Expedia affiliate link, they'll need to make a purchase within seven days for you to receive credit.
2. Booking.com
If you want to earn a higher commission, consider joining the Booking.com affiliate program. As you direct users to make travel accommodations through Booking.com, you can make 25% in commissions from these sales: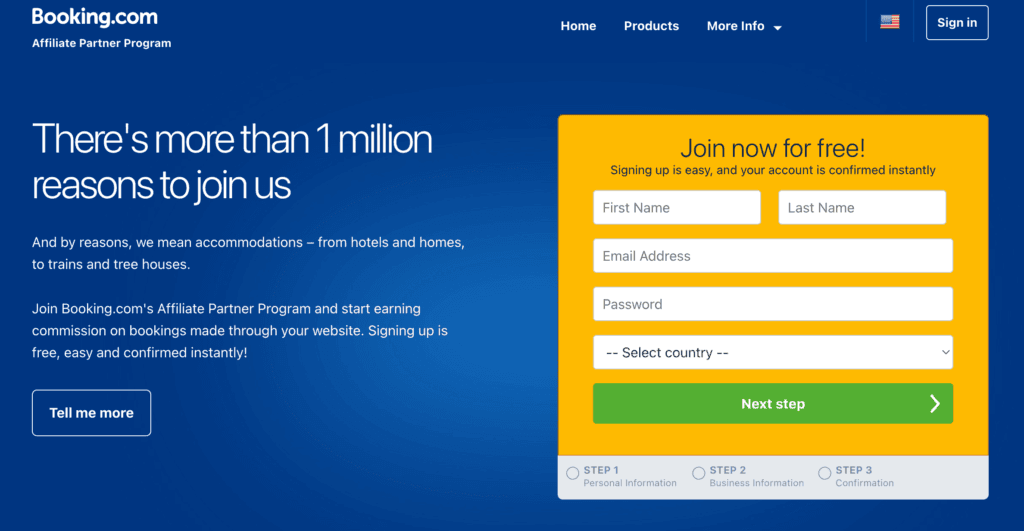 With over 29 million bookable rooms, Booking.com can provide a variety of options for your followers to choose from. Since about 1.5 million rooms are reserved daily, you'll have a significant opportunity to earn commissions.
Additionally, as you encourage more bookings, you can increase your payout rate to 40%. This makes Booking.com one of the highest-paying travel affiliate programs out there.
On the other hand, its cookie duration is limited to one session. That means, if users click on your affiliate link and leave without immediately booking, you won't earn a commission.
3. Amazon Associates
As a travel blogger, you don't have to limit your recommendations to car rentals and hotels. Since your audience also needs traveling items like luggage, you can sign up for Amazon Associates. This program will enable you to earn a profit when you promote necessary travel gear: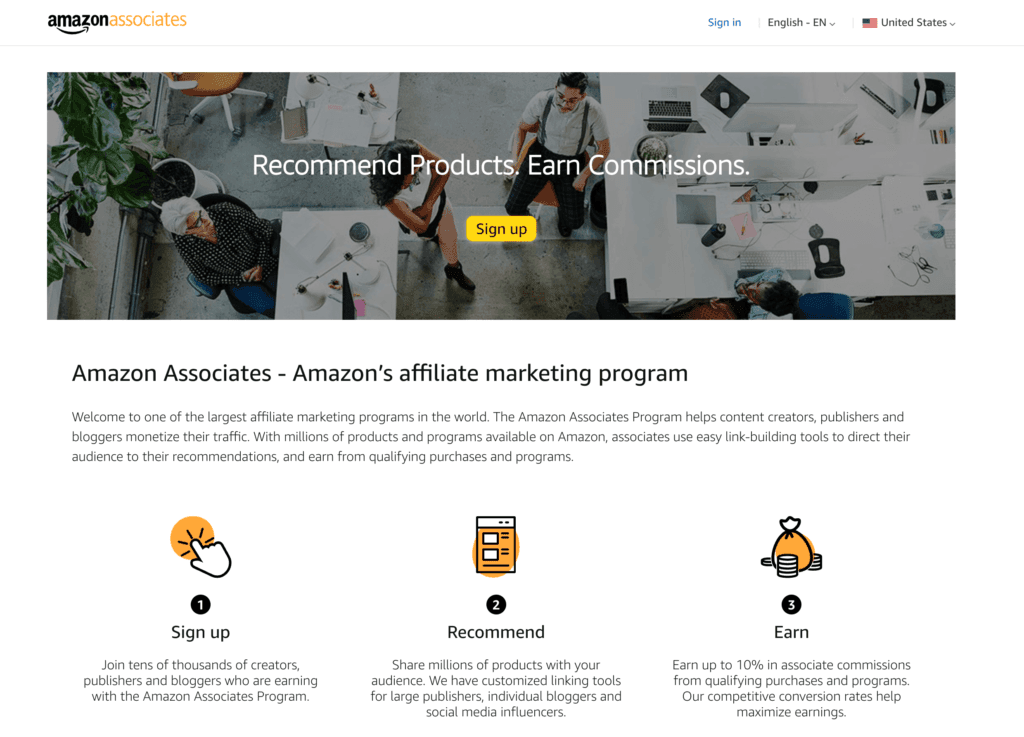 After you become an Amazon affiliate, you can share Amazon products and earn a commission from every sale. Usually, you can make a 4% payout, but this can vary for different product categories.
One main benefit of the Amazon Associates program is its product inventory. When going on flights, people may need new clothes, portable chargers, and any other helpful travel items. By sharing the right Amazon products, you can make traveling more convenient for your followers.
4. Travelpayouts
While the other options on this list are individual affiliate programs, Travelpayouts is an affiliate network. This service combines over 100 travel affiliate programs that specialize in everything from hotel bookings and car rentals to flights and dining experiences: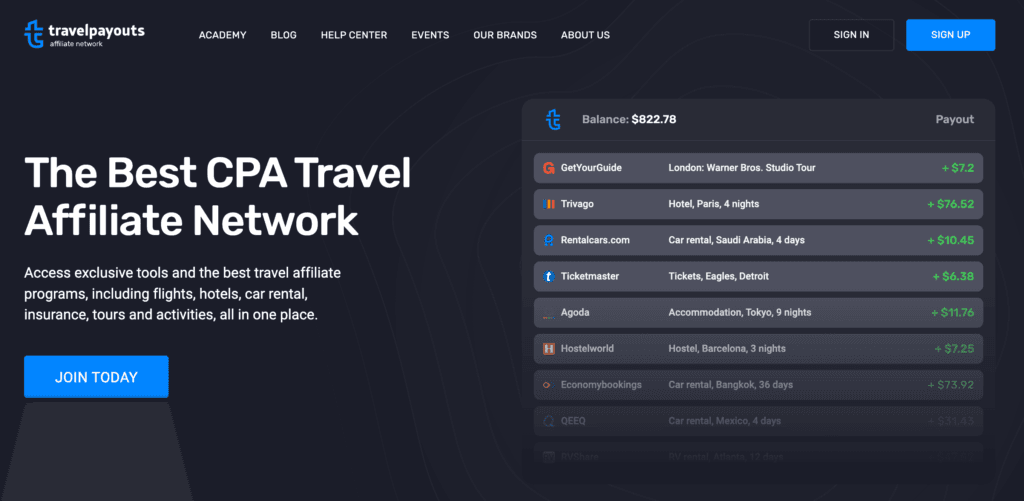 Once you sign up for Travelpayouts, you can join any of its travel affiliate programs. Doing so, you can earn up to 70% of the revenue you generate for the network. The more sales you make, the more you can increase your payout rate.
What's more, for most of the affiliate programs in Travelpayouts, the cookie lifetime lasts 30 days. This means that users can wait longer periods before purchasing, and you'd still earn a commission.
5. Viator
Often, traveling involves more than booking hotels and flights. When going on vacation, people likely want to have novel experiences. By partnering with Viator, you can recommend attractions, tours, and other amazing things to do: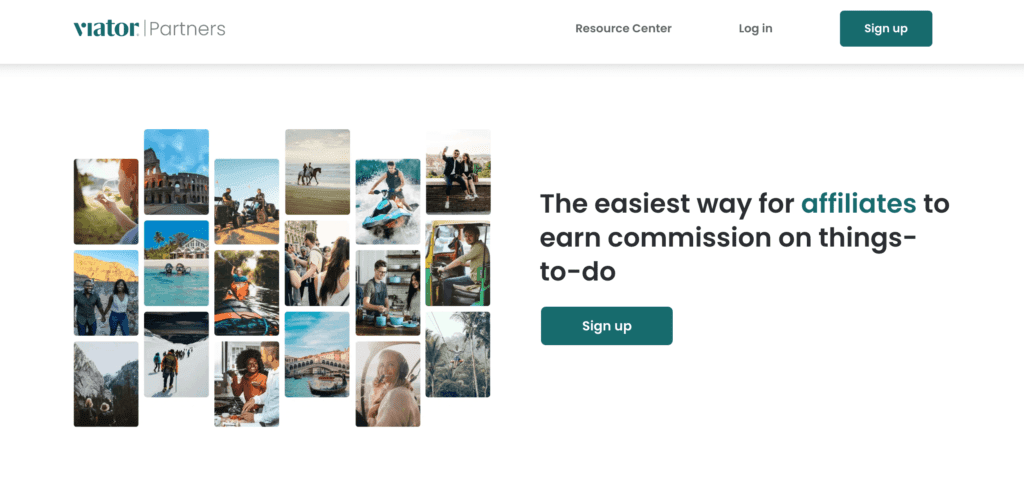 As a Viator affiliate, you can choose from over 300,000 products to share on your travel blog. These experiences are spread across 2,500 destinations. Depending on what your audience enjoys, you can link to walking tours, cooking classes, helicopter rides, and more.
With Viator, you can create a customizable widget and add it to your website. Every time your widget generates a sale, you'll receive 8% in commissions.
Plus, this affiliate program offers a flexible 30-day cookie window. Other benefits include 24/7 customer service and multilingual support.
Conclusion
Whether you want to share travel items, hotel locations, or flight discounts, you can probably find a travel affiliate program to monetize your recommendations. As a travel blogger, this can enable you to share helpful tips while earning a passive income.
To recap, here are some of the best affiliate marketing programs for travel bloggers:
Do you have any questions about finding the right travel affiliate program? Ask us in the comments section!
If you liked this article, be sure to follow us on Facebook, Twitter, Pinterest, and LinkedIn! And don't forget to subscribe in the box below.