How Pretty Links Compares to Bitly, TinyURL and Rebrandly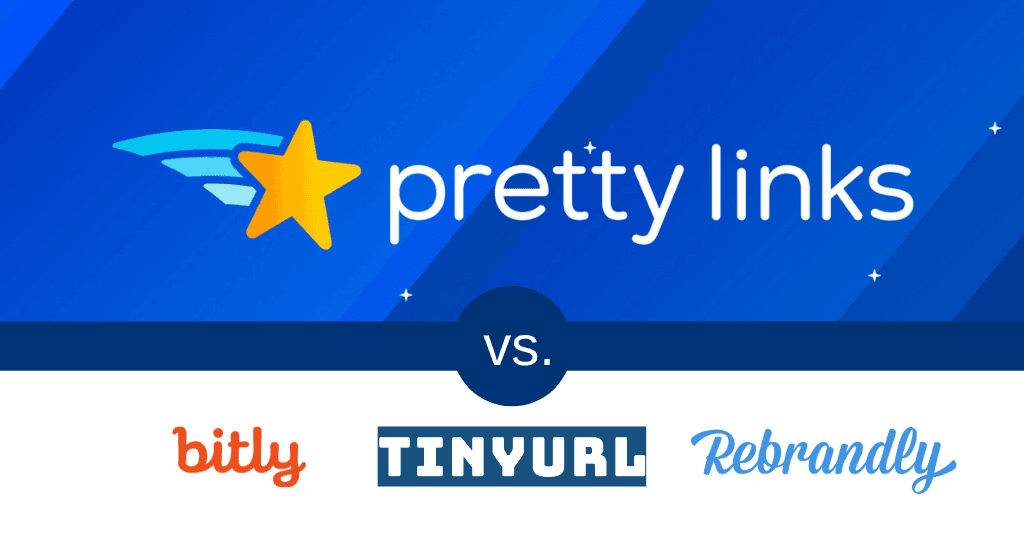 Link shorteners are an essential tool for affiliate marketers. You can use them to make your links more attractive, shareable, trackable, and much more. However, not all link shorteners are made equal, and some of them might not offer all of the features you're looking for.
Fortunately, there are plenty of link shortening solutions out there to choose from. To figure out which one is right for your business, it helps to compare your options and take a closer look at the different features and benefits.
In this post, we'll look at how our very own Pretty Links plugin compares to other popular link shorteners, such as Bitly, TinyURL, and Rebrandly. Let's get started!
What are Link Shorteners? (and Why You Might Want to Use Them)
Link shorteners (also known as URL shorteners and link compressors) are tools that take a long URL and turn it into a much shorter one. The main advantage of this is, it minimizes the link's character count.
Link shortening can be useful because many social media platforms have character limits. For example, Instagram bios are limited to 150 characters. If you want to include a link in your Instagram bio, you'll probably want it to be as short as possible. That way, you'll have more characters left over to add extra information.
That's not all link shorteners are useful for. They provide other benefits as well. For example, Pretty Links is an advanced link shortener that you can also use as a link cloaker, branded link creator, link tracking tool, code generator, and more: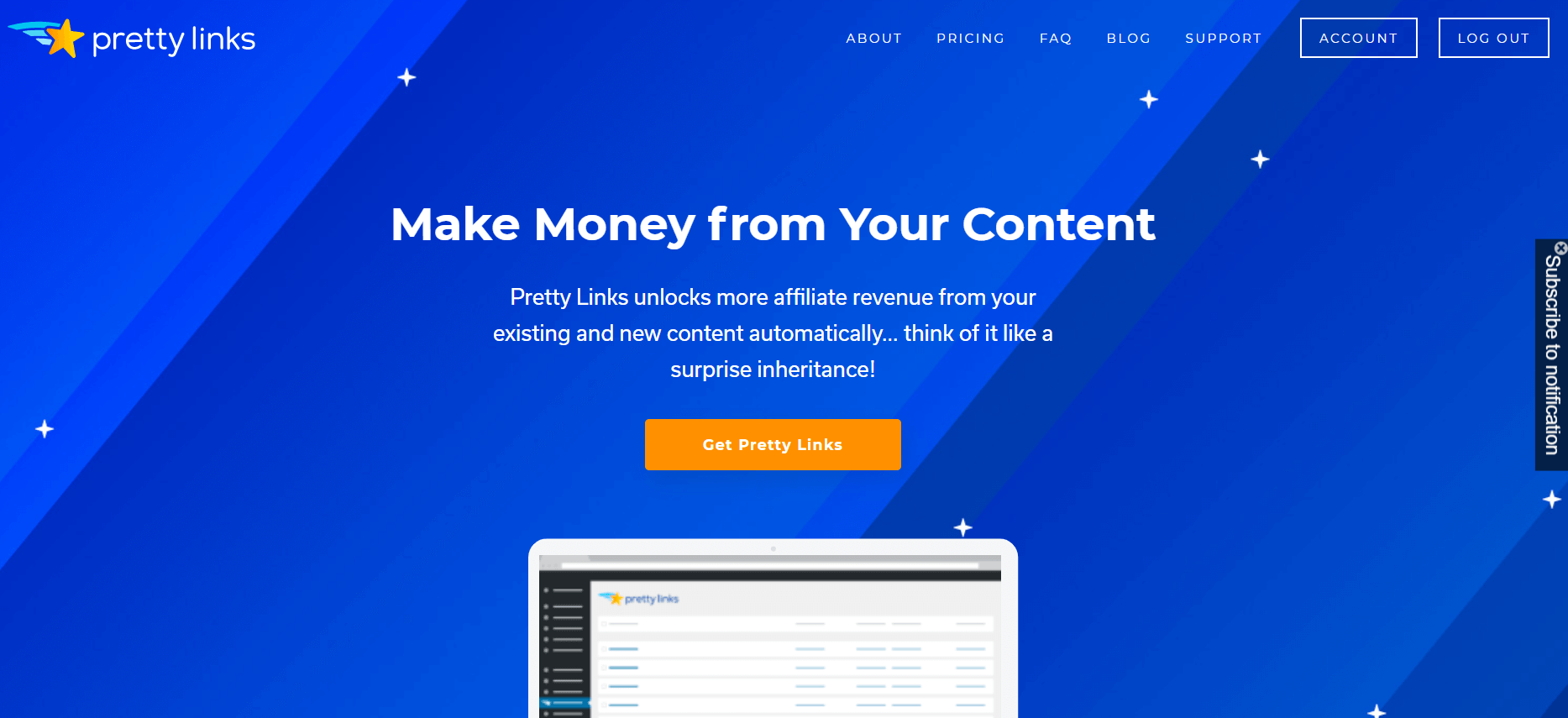 While we think Pretty Links is one of the best link shortening solutions on the market, it's not the only one. Next, we'll look at how it compares to other leading options and what makes our plugin different.
How Pretty Links Compares to Other Link Shorteners (4 Key Differences)
There are four main factors that make Pretty Links different from our competitors. We'll explore each one in detail, so you can understand how these characteristics will support your website goals.
1. Pretty Links Supports Branded Links
Unlike many other third-party link shorteners, you can use Pretty Links to set up your own branded short links. These include your website's domain, rather than the generic domain of the service you use.
For example, an unbranded link from a service like TinyURL will look something like this:

Pretty Links branded links, on the other hand, always include your website's domain at the start. They look like this:

While other link shorteners also offer this feature, Pretty Links is one of the only options with unlimited branded links as a standard option – even in the free version. Unlike Pretty Links, the free versions of Bitly and TinyURL don't support branded links, and the free version of Rebrandly limits you to just 500.
Plus, Pretty Links offers advanced branding features that many other link shorteners lack. For example, our exclusive Pretty Bar feature ensures that your brand name stays visible in the URL even after the user has clicked through to your site:

There are lots of benefits of branding your links, including greater brand awareness, link trust, and control. It can also improve your site's search rankings, which is essential for search engine optimization (SEO).
2. Pretty Links Offers Powerful Automation Tools
Pretty Links is one of the only link shortening solutions that offers powerful automation tools right out of the box. Other services like Rebrandly can integrate with automation tools such as Zapier and Zoho. However, with Pretty Links, everything you need is already part of the dashboard.
Pretty Links can automatically create short links for all of your pages and posts in WordPress, and tweet them to your Twitter account whenever you publish a new post. It can even automate the link insertion process thanks to the keyword replacement feature.
This tool enables you to automatically add relevant affiliate links to specific keywords in both new and existing blog posts. You can use it by navigating to Pretty Links > Replacements: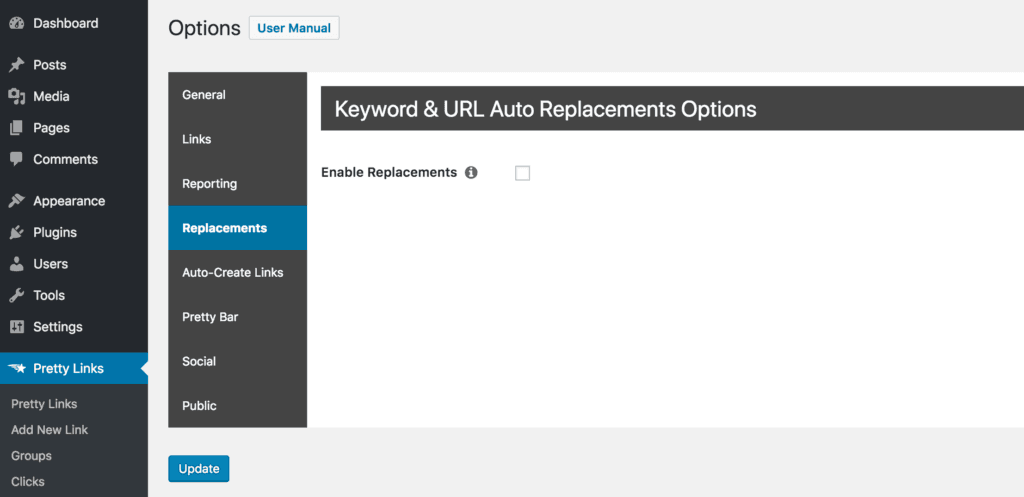 These automation tools can streamline a lot of the repetitive tasks affiliate marketers have to handle every day. By doing so, they can save you time and money.
3. Pretty Links Offers Extensive Link Tracking
Pretty Links offers a centralized interface to manage and track all of your links. Links across social media, URL redirects, affiliate links, etc., are all managed from your WordPress admin interface. You can see how many people are clicking on your links from within the Reports section, and monitor email open rates and visitor conversions:

We're not the only service to offer link tracking. Bitly, Rebrandly, and TinyURL all also provide data on clicks and other performance metrics. However, we do like to think our link tracking features are particularly insightful and user-friendly.
For example, you can use Pretty Links to set up split testing and compare the performance of different links. You can then use this data to optimize your future campaigns.
4. Pretty Links Offers Flexible Redirect Options
There are various ways to redirect links, depending on what you want to achieve. These include 301, 302, and 307 redirects. Each of these types sends your site's users from one page to another, and they are useful if you change your website or post URLs.
Pretty Links supports all of the primary redirect types. Unlike other link shorteners, you can use Pretty Links to create both server-side URL redirects, as well as advanced forms of redirection such as Javascript-based and Framed Cloak redirection. The other platforms only support server-side functionality.
You can find the link redirection tool by navigating to Pretty Links > Links > Redirection:

There, you can choose the redirect link type. In most cases, you'll probably want to use 301 permanent redirects. However, there are some instances in which temporary redirects like 302 or 307 might be more suitable. For example, you can use them when the resource URL is only changed temporarily, or when you don't want to pass link juice away from your website.
Conclusion
There are many link shorteners on the market, but it's important to choose one that fits your needs. In our opinion, Pretty Links is the overall best choice for most users. It offers more advanced features than other solutions and is ideal for affiliate marketers, bloggers, and social media influencers.
Here's a quick recap of the four key differences that separate Pretty Links from other link shorteners:
It supports branded links.
It has powerful automation tools.
It offers extensive link tracking.
It has flexible redirect options.
Do you have any more questions about how Pretty Links compares to other link shorteners? Let us know in the comments section below!
If you liked this article, be sure to follow us on Facebook, Twitter, Pinterest, and LinkedIn! And don't forget to subscribe to our newsletter 😄