3 Types of Brand Content to Post on Twitter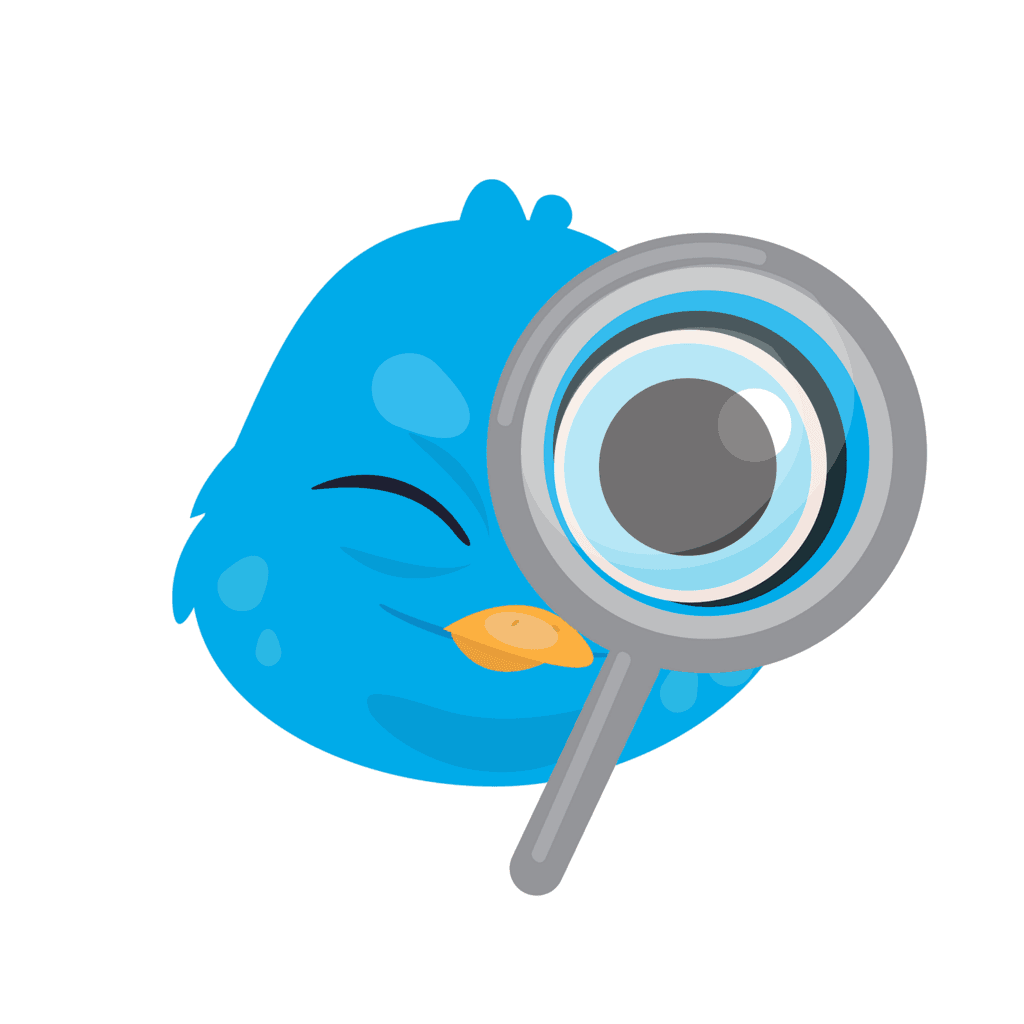 A social media presence is vital for any business. If your brand doesn't invest in digital marketing channels, you could lose out on traffic and click-throughs. Worse, you may find that your competitors fill the void you leave.
Twitter is a versatile platform for promoting your brand, especially since the content you post there can be text or media-based. Better still, it's one of the best ways for a business to actively engage with its audience.
In this article, we'll first look at the benefits of using Twitter. Then, we'll cover three types of brand content you can post on the platform. Let's get started!
The Benefits of Using Twitter for Your Brand
According to Twitter, there were 330 million monthly active users in 2019, including 145 million daily users. This is a significant reservoir of leads for your brand to tap into.
Therefore, it isn't surprising to learn that Twitter is popular with around 67 percent of business-to-business (B2B) brands. Twitter offers opportunities for audience engagement, prompting customer support, and overall growth.
Twitter is well-developed to communicate a strong brand message and identity. In fact, 77 percent of Twitter users have a more favorable opinion of companies that engage with consumers on the platform, such as by responding to tweets.
Although your text is limited to 280 characters, Twitter is still a flexible marketing channel. You can also share images, GIFs, and even links to your website.
This is where a link shortener can be an effective tool. It will not only save you characters, but also enables you to customize your URLs to match your brand identity.
3 Types of Brand Content to Post on Twitter
To benefit from Twitter, you must know the best ways to use it for your brand. Fortunately, there are a few types of content that can boost your business' social media presence.
1. Brand News to Inform Consumers of Upcoming Offers
Since the rise of the Internet, email newsletters have enabled brands to promote products, make announcements about events or major developments, and deliver relevant industry news. Social media has extended that practice.
With Twitter, you can distribute news to a larger audience by simply adapting relevant topics to the social media platform. Now, if you have a major announcement, you can post about it on Twitter alongside hashtags to generate click-throughs and encourage conversions.
Just as important, you can engage with your audience to generate hype. If you're going to unveil a new development, such as moving to a different location or adding to your services, Twitter can help spread the word.
Of course, brand news isn't solely about your business as a whole. You may have contests, giveaways, or other special deals you want to highlight. Twitter can be used to promote them.
Using Twitter can also benefit your link building strategy. External sources that direct users back to your site not only boost traffic but can also influence your credibility with search engines.
In addition to adding links in your tweets, you could also try putting them in your profile bio to further drive traffic. As we mentioned before, using a link shortener can help save space and refine your brand identity.
2. Questions to Engage Followers and Build Brand Awareness
Twitter can bridge the gap between brand and audience. That can be advantageous since being approachable can instill a sense of authenticity. One method that can drive quality engagement with your followers is posing questions to them.
Question posts can help you better understand the needs and values of your audience. These types of posts let you listen to constructive feedback and demonstrate that you are willing to take those perspectives onboard.
Questions can come in the form of standard tweets, which your audience can then respond to. Alternatively, you can utilize polls to gauge the appeal of specific answers.
Thankfully, Twitter makes creating polls a breeze. First, navigate to the Tweet field either on your browser or your mobile device. Then, select the button that resembles a horizontal graph, as seen below:
Once you do, you'll see a number of additional fields you can fill out, such as the answer options for your specified question. These are titled Choice 1, 2, 3, up to a maximum of four: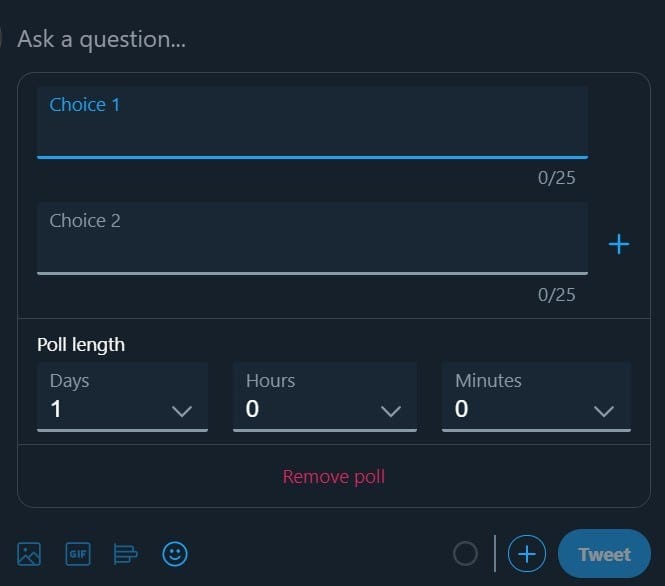 After that, your next step will be to decide how long the poll should remain active. You can configure it by days, hours, and even minutes, up to a total of seven days.
3. Blog Post Links to Drive Traffic to Your Site
We've already referenced how Twitter can drive traffic to your site. However, it's worth noting that it can be a particularly useful platform to promote new blog posts.
Even with Twitter's character limit, all that you may have to do is compose a snappy tweet to convince your audience to click through to your post. That not only provides you some exposure, but creates backlinks, too.
Once followers are on your site, they're free to read the post or continue navigating your content. If that happens, you could see a boost in your conversions. For instance, they may view or purchase products or subscribe to your email newsletter so as not to miss out on future articles.
Unfortunately, you may find it hard to make time to post regularly. If that's the case, consider using a WordPress plugin such as Blog2Social to streamline sharing.
Once you've activated it, navigate to Blog2Social > Social Accounts to connect to your social media accounts: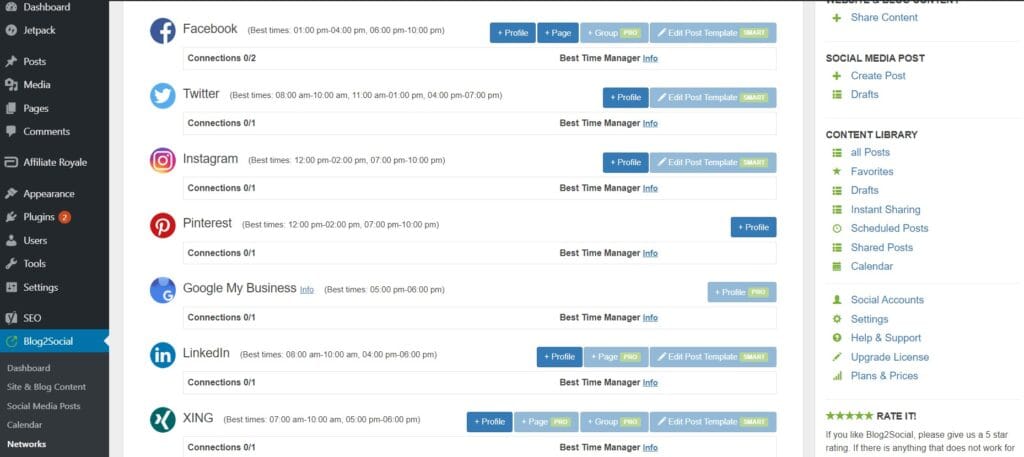 To share a post, go to Blog2Social > Social Media Post > Create Post: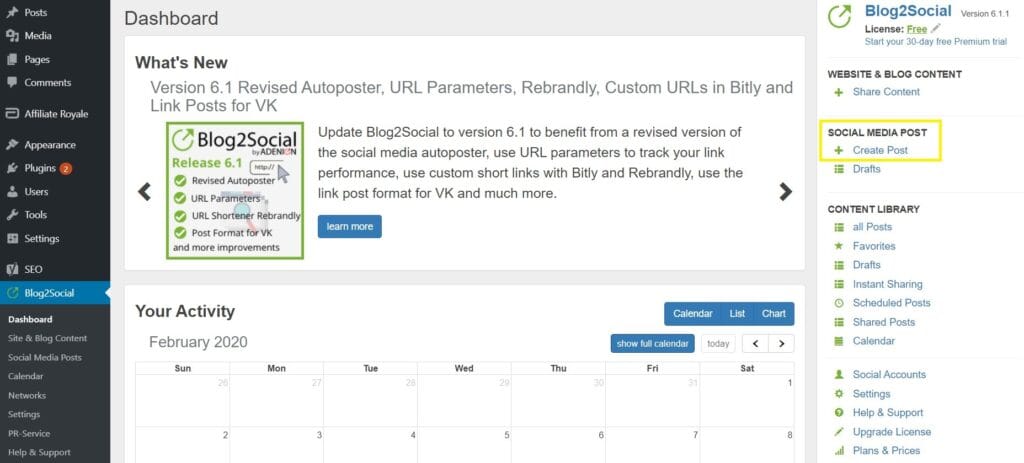 Then, enter the link you want to share on Twitter:

All that's left is to click on Continue, then select whether you'd like to post now, or later:
With the right tools, sharing content on Twitter is a breeze. Using both a link shortener and handy plugins, you can automate much of the process.
Conclusion
Twitter can be a valuable asset to your brand. By investing your time in certain types of content, you can build connections with your audience. In the process, you may not only humanize your brand, but encourage click-throughs and conversions for your business as well.
In this post, we covered three types of brand content you can share on Twitter:
Brand news to keep followers up-to-date about important company developments and deals.
Questions to engage with your audience.
Blog posts that can drive traffic from Twitter to your website.
Do you have any questions about posting brand content on Twitter? Let us know in the comments section below!