4 Tips on How to Make Your First Online Sale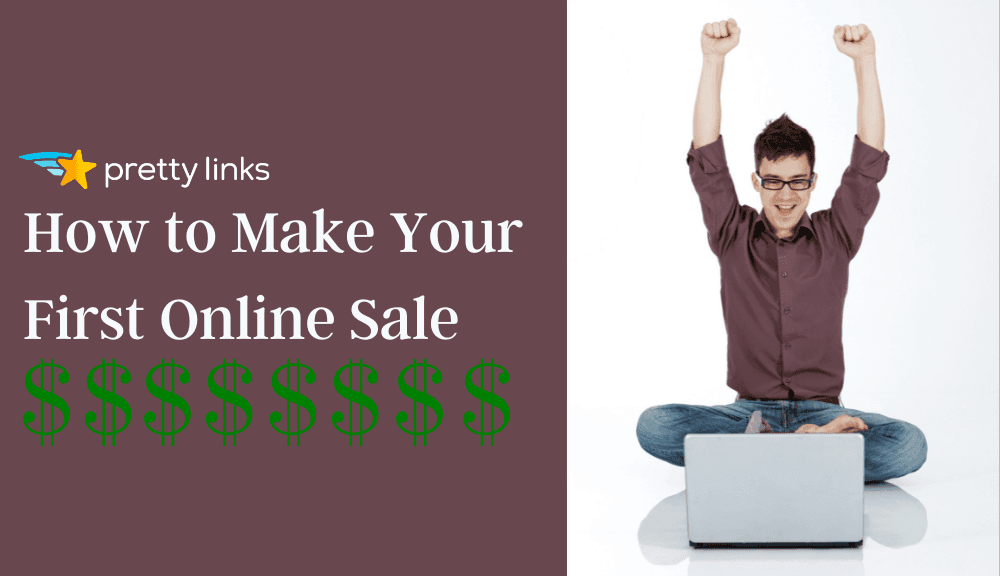 With U.S. affiliate marketing spending forecasted to reach $8.2 billion in 2022, your website could provide a valuable revenue stream. However, if you simply add the occasional affiliate URL to your site, you may struggle to make your first online sale.
Fortunately, there are various ways to encourage visitors to interact with your affiliate links and make purchases. With careful planning and the right tools, you should have no problems earning those first few click-throughs – and your first online sale.
In this post, we'll share four tried-and-tested ways to get visitors engaging with your affiliate links. If you've been running your website for a while, we'll even show you how to monetize your entire back catalog of content. Let's get started!
1. Write Product Reviews
More than 99.9% of consumers read reviews when shopping online. Evidence even suggests that customers value product reviews over factors such as price, free shipping, and even recommendations from friends and family.
Writing a positive review and then including a relevant affiliate link can be a great way to drive sales. However, it's essential to remain impartial and present your content as an unbiased and fair review:
A glowing, five-star recommendation is a surefire way to make visitors question your motives – especially when an affiliate link is involved. Visitors may decide that you're more interested in driving sales than helping them make informed purchasing decisions. This doubt can cause long-term damage to your reputation.
When writing your reviews, it's important to acknowledge a product's weaknesses. They can make your review appear more trustworthy.
In fact, over half of consumers are more likely to purchase a product with many reviews and an average rating than a product with few testimonials and an excellent rating. This statistic suggests that shoppers want to know the drawbacks of an item before buying it.
Some affiliate networks contain thousands or even millions of products. The obvious example is Amazon's affiliate network, which boasts over 75 million products:
We recommend focusing on select items so your audience believes you review products that you genuinely love. However, it's still wise to mention a few negative points.
When writing your reviews, don't forget to include an affiliate link disclosure. This statement informs visitors that you have a relationship with the brand, product, or service in question. People will find it easier to trust your opinion if you're upfront about your partnerships.
2. Create Product Roundups
Product roundups provide great opportunities to include multiple affiliate links in a single post. Immediately, these URLs can increase your chances of successfully converting visitors.
After all, different people look for varied features from products. Even a top-of-the-line, highly-rated digital camera won't be perfect for every single photographer:
Featuring multiple products in a single post can also be great for your search engine optimization (SEO). By targeting keywords for several products, you may rank for multiple phrases and attract a range of shoppers to your affiliate site.
When writing each product description, it may be tempting to focus on the features. This is particularly true when you're highlighting multiple products but want to limit the post word count.
However, to encourage visitors to convert, it's also wise to focus on how each product can benefit the customer. You might even suggest some scenarios where shoppers can use a particular product.
For example, you might point out that a specific digital camera is so easy to use that even children will be able to capture family memories. Another model might have ample built-in storage, making it perfect for vacations and day trips.
3. Insert Affiliate Links at Every Opportunity
Producing new content designed to drive conversions is a great way to secure those first sales. However, if you already run a blog or website, you may have a back catalog of content. You shouldn't overlook opportunities to add relevant affiliate links to these pre-existing posts.
Even if you've just created your site or blog, you may still miss opportunities to insert relevant affiliate URLs. With this in mind, you may benefit from a helping hand.
Our Pretty Links plugin can scan your entire site and insert relevant affiliate URLs automatically. This tool can simplify the process of adding affiliate links and boost your chances of securing those first sales.
To use the auto-insert feature, you'll need to identify relevant keywords for each affiliate link. Pretty Links will then analyze your posts and pages and add this URL to the associated keyword or phrase.
To start, you'll need to register your affiliate URLs. Navigate to Pretty Links > Add New in your WordPress dashboard, and then click on the Pro tab:
You can now add the keywords you want to associate with an affiliate URL. Pretty Links will then scan your site and add the link at every opportunity.
4. Consider Using a Link Cloaking Plugin
Your typical affiliate URL is complex, lengthy, and doesn't contain your site's branding. Security-conscious internet users may spot this strange-looking link and misidentify it as spam.
Affiliate URLs also contain a visible tracking code. Even if a visitor correctly identifies this as a legitimate affiliate link, they may still dislike the idea of being tracked. This hesitation can prevent your business from making that all-important first online sale.
To encourage click-throughs and sales, you may want to use a link cloaking plugin. Pretty Links can replace ugly affiliate URLs with shorter, neater alternatives.
To get started, navigate to Pretty Links > Add New. You can now choose which type of redirect you'll use for your cloaked link. For destination URLs that you might change in the future, we recommend opting for 307 redirects:
Alternatively, 301 redirects pass on "link juice". This makes them excellent choices for URLs that you're confident will remain unchanged.
Next, you can add your target URL, which is the original affiliate link. You can then enter the text that you'll use for your cloaked link. For the best results, consider opting for something short and descriptive.
Conclusion
Many people refer to affiliate marketing as passive income. However, if you want to earn your cut of 2022's predicted $8.2 billion affiliate spending, you'll need to actively encourage visitors to interact with your links – rather than stand idly by.
Let's quickly recap how to make your first online sale:
Write product reviews.
Create product roundups.
Insert affiliate links at every opportunity using our Pretty Links plugin.
Consider using a link cloaking plugin.
Do you have any questions about making your first affiliate marketing sale? Let's go over them in the comments section below!
If you liked this article, be sure to follow us on Facebook, Twitter, Pinterest, and LinkedIn! And don't forget to subscribe to our newsletter 😄