How to Launch a Website for Your Etsy Store (4 Key Tips)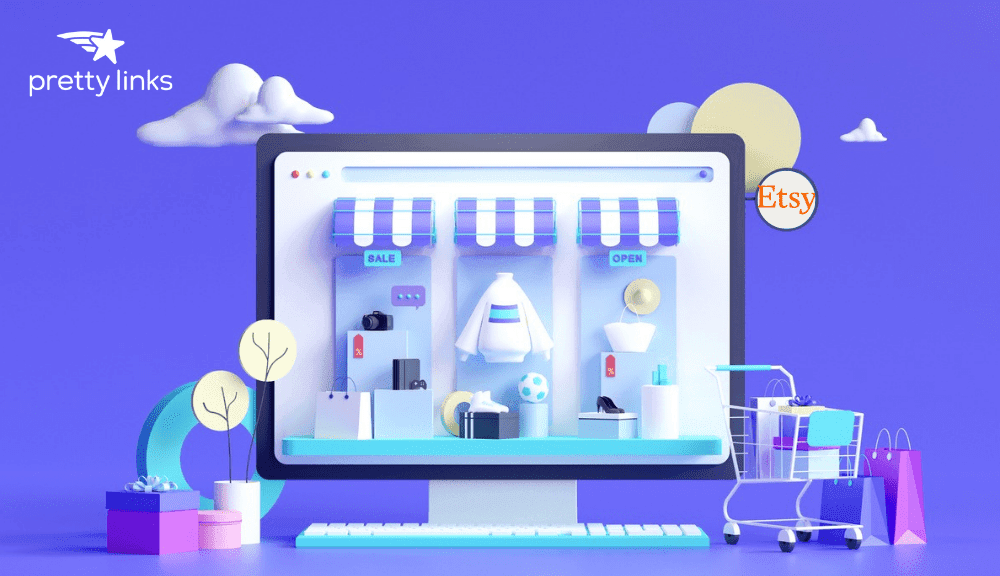 If you have physical goods that you make and sell, you can earn a lot of money through eCommerce marketplaces such as Etsy. However, if you're struggling to generate traffic to your online shop, you might want to consider creating your own website for the store.
Launching a website for your Etsy shop can help you attract new customers, collect leads, and strengthen your branding. Plus, creating a site to help integrate and promote your eCommerce business is a relatively simple and quick process.
In this post, we'll briefly discuss the benefits of creating a standalone website for your Etsy store. Then, we'll walk you through four key tips to help you get started. Let's jump right in!
Why You Should Create a Website for Your Etsy Store
Etsy is one of the best eCommerce marketplaces out there. However, as one of the most popular, it can also be highly competitive. This is one of the main reasons to consider creating a website for your Etsy store.
There are also several benefits of having your own site for your Etsy shop, such as:
Keep in mind, you don't actually need to sell products on your website. You can continue doing that through Etsy directly. Instead, you can simply use your website to display and promote your products, then point users back to Etsy to complete their purchases.
How to Launch a Website for Your Etsy Store (4 Key Tips)
Now that you better understand the benefits of creating a website for your Etsy store, let's take a look at how you can go about it. Below are four tips you can use to launch your site.
For this article, we'll assume you have already set up your Etsy shop. If not, that's where you'll want to start first.
1. Purchase Your Hosting and Domain on a Self-Hosted Platform like WordPress.org
There are a ton of different platforms you can use to create your own website. This includes all-in-one solutions like Squarespace and Shopify.
However, we recommend using self-hosted WordPress.org:
This open-source software is incredibly flexible and easy to use. There's also a ton of customization options to help you personalize and enhance your site.
One of the best parts of using WordPress is, you can also install the WooCommerce plugin to integrate full eCommerce functionality with your website.
Both WordPress and WooCommerce are free. The only costs you have to worry about in order to take your site live are a domain name and a hosting plan, both of which can be relatively inexpensive.
Some providers, such as GoDaddy, let you buy both at once. After you purchase your domain and hosting, you can follow your provider's instructions for setting up your WordPress installation. Most plans come with one-click features, so you can have your WordPress site up and running in no time.
2. Pick the Right Theme for Your Brand
With your WordPress installation configured, the next step is to pick out a WordPress theme. We recommend choosing one that reflects your existing brand on your Etsy store. This can help project a professional image and keep your aesthetic cohesive across your platforms.
There are many different places to purchase themes. However, you can start by browsing the free options in the WordPress Theme Directory:
You can browse available themes based on keywords or by using the Feature Filter. For example, we suggest applying the E-Commerce filter to help narrow down your options. When you find a theme that you like, you can simply activate it on your site.
3. Integrate Your Site with Your Etsy Shop
The next step is to start adding content. The posts and pages you include are completely up to you. For example, you may want to create an About Me page.
You'll likely also want to integrate your Etsy shop so you can display your products on your website. The easiest way to do this is to use the Etsy Shop plugin:
After installing and activating the plugin, you can navigate to Settings > Etsy Shop from your admin dashboard: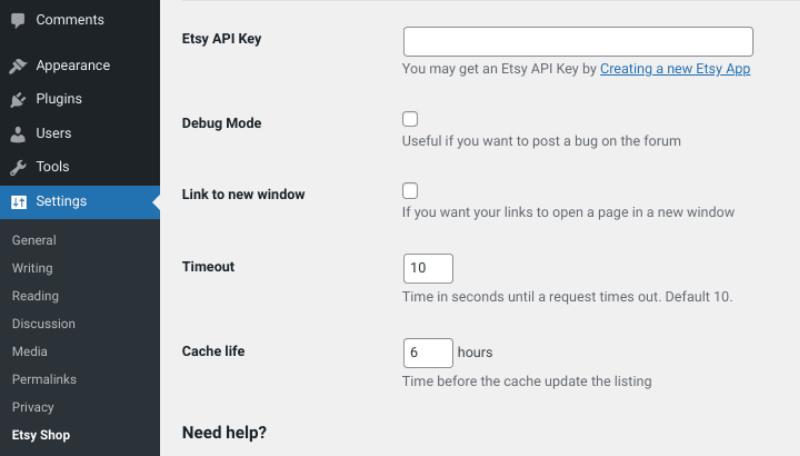 Here, you can enter your Etsy API Key in the provided field. If you're not sure what it is, you can follow the link below the text field to retrieve it from your Etsy store. Then you can follow the on-screen instructions to complete the setup and integration process.
4. Use Pretty Links to Create Short, Branded Links for Your Products
Once you have your WordPress site integrated with Etsy, the next step is to focus on promoting your products. One of the ways you can do that is by customizing your URLs to create branded versions, using our Pretty Links plugin:
Once installed and activated on your site, you can use this tool to brand and shorten your links, which makes them easier to share on social media. It also makes them look cleaner and more memorable to potential customers.
Shortening your URLs can also have SEO benefits, especially when you incorporate key terms and phrases. For a full tutorial, you can check out our guide on creating branded links.
Conclusion
If you're looking to be a successful ecommerce business owner, Etsy is an excellent platform to sell on. However, if you really want to take your brand to the next level, you might want to consider creating a standalone website for your Etsy store.
As we discussed in this post, there are four key tips you can use to launch your website for your Etsy store:
Purchase your hosting plan and domain on a self-hosted platform such as WordPress.org.
Pick a theme for your website that reflects your Etsy store branding.
Integrate your website and shop using the Etsy Shop plugin.
Use our Pretty Links plugin to create short, branded links for your Etsy products.
Do you have any questions about launching a website for your Etsy store? Let us know in the comments section below!
If you liked this article, be sure to follow us on Facebook, Twitter, Pinterest, and LinkedIn! And don't forget to subscribe to our newsletter 😄