Bitly vs TinyURL vs Pretty Links (Everything You Need to Know)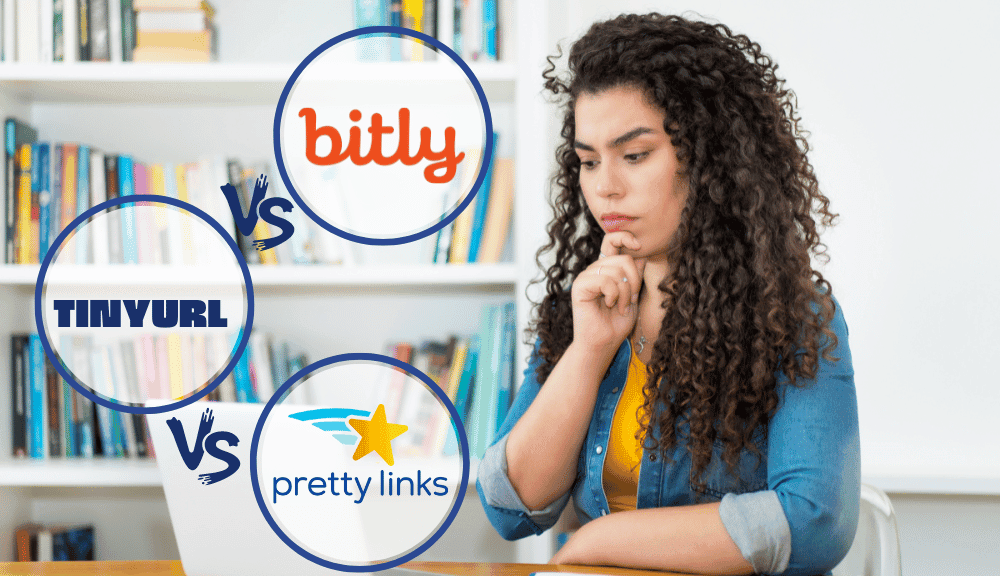 When it comes to URL shortening, there are three main contenders: Bitly, TinyURL, and Pretty Links. Each of these tools has its own set of features and advantages that can be useful for various purposes. So it's important to understand the differences between them.
Lucky for you, we've done the research to help you find the perfect link shortener that fits the needs of your business.
In this post, we'll provide a comprehensive comparison between Bitly, TinyURL, and Pretty Links. We'll take a look at what each tool has to offer and how they stack up against one another in the categories of features, ease of use, support, and pricing.
Let's dive in!
Features for Bitly vs TinyURL vs Pretty Links
When choosing a URL shortener, it's important to select one with powerful features that will help optimize your affiliate marketing campaigns. With that in mind, let's compare the main features included in Bitly, TinyURL, and Pretty Links.
Features: Bitly
Bitly is a link management tool that offers URL shortening and real-time analytics. With over 5.7 monthly active users, it's one of the most popular options for optimizing links.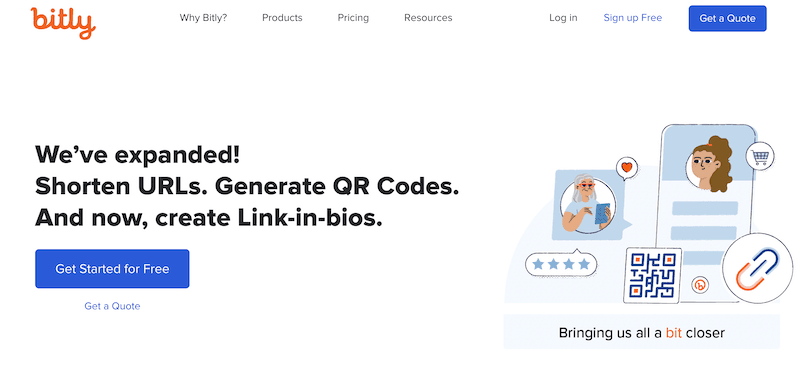 With Bitly, you can create custom domains and URL slugs. The software also comes with HTTPS encryption to protect your affiliate links from hackers. Besides shortening links, you can also create dynamic QR codes with audio, video, or PDF files.
Features:
URL shortening
Branded links
URL redirects
Ability to track clicks and shares
QR code generator
Social media bio links
Additionally, Bitly integrates with over 800 third-party platforms, including WordPress, HubSpot, and SproutSocial. This means that you can start using Bitly without disrupting your current workflow.
Features: TinyURL
TinyURL was launched in 2002, which makes it the oldest URL shortener. At the time, any link over 80 characters was unclickable or led users to 404 error pages. TinyURL was created to solve this problem.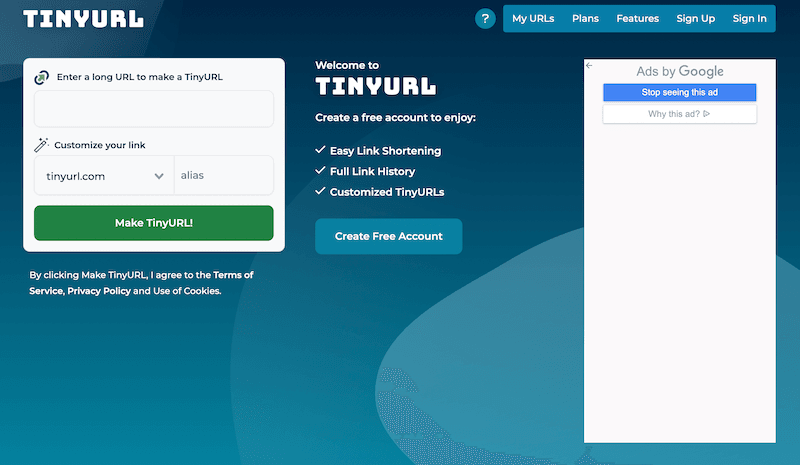 After signing up for a TinyURL account, you'll get access to a full-scale link management system. You can shorten affiliate links and remove any long URLs from your social media or email marketing campaigns. Then, TinyURL will provide extensive link performance analytics.
Features:
URL shortening
Branded links
Custom URL alias
URL tagging
Click tracking and traffic monitoring
The TinyURL dashboard makes it easy to create and manage shortened affiliate links. Since these will never expire, you can continually use them on social media, your blog, or an email newsletter.
Features: Pretty Links
At Pretty Links, we offer link management software for affiliates, bloggers, and anyone else who regularly shares URLs. With our plugin, you can shorten links, create redirects, generate QR codes, and much more!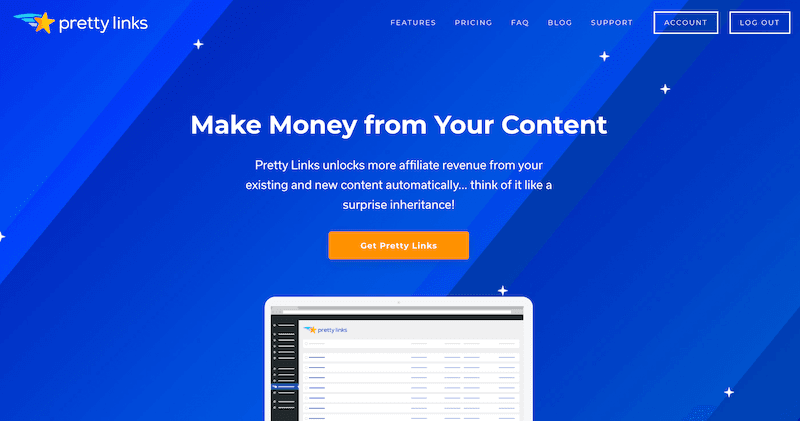 Compared to other URL shorteners, Pretty Links has many opportunities for automation. Rather than generating every link manually, you can automatically link certain keywords on your website. This will populate affiliate links in your website's pages, posts, custom post types, and comments.
Features:
Along with the extensive core features, Pretty Links also integrates with Google Analytics. This can give you more detailed reports on your affiliate traffic.
Ease of Use for Bitly vs TinyURL vs Pretty Links
A URL shortener can make all the difference when it comes to running a successful affiliate marketing business – as long as you know what you're doing. A complicated link shortening software could end up wasting your time and leave you feeling frustrated with your affiliate marketing efforts.
And you don't want that! So let's look at how Bitly, TinyURL, and Pretty Links compare in terms of user-friendliness.
Ease of Use: Bitly
To start using Bitly, hit the Get Started button on the company website. Then, you can create an account by entering a username, email address, and password: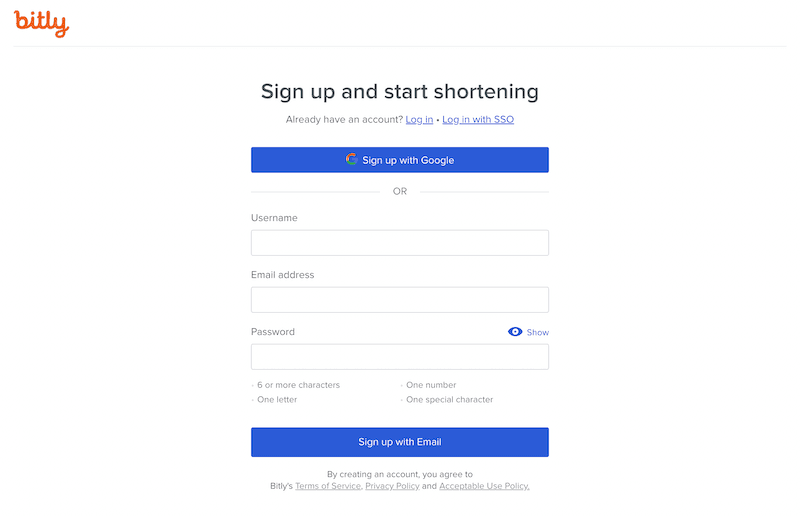 After this, you can access your Bitly dashboard. Here, click on Create new to customize your first link: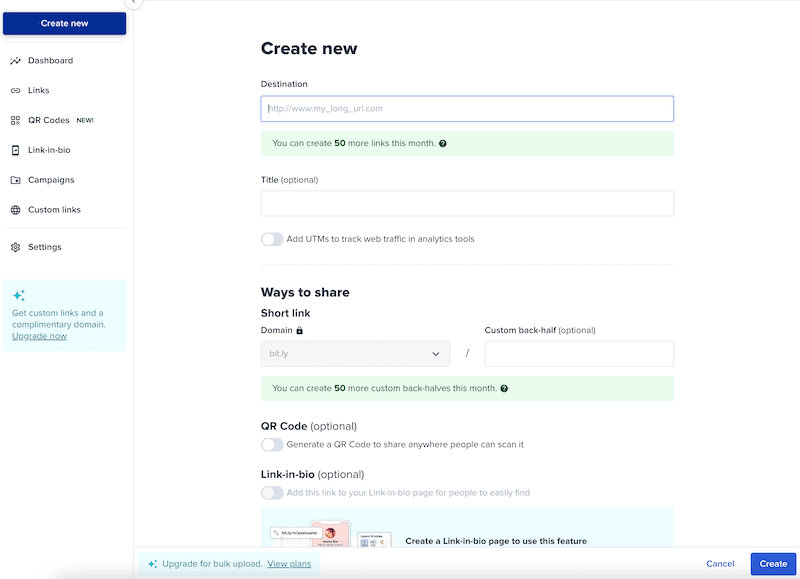 At the top of the page, paste the link's destination. Bitly lets you add a title and UTMs for third-party analytics tools.
If you have a paid subscription, you'll be able to choose a custom domain under Ways to share. Meanwhile, the free plan supports up to 50 custom back halves.
You can also create a QR code or link-in-bio page: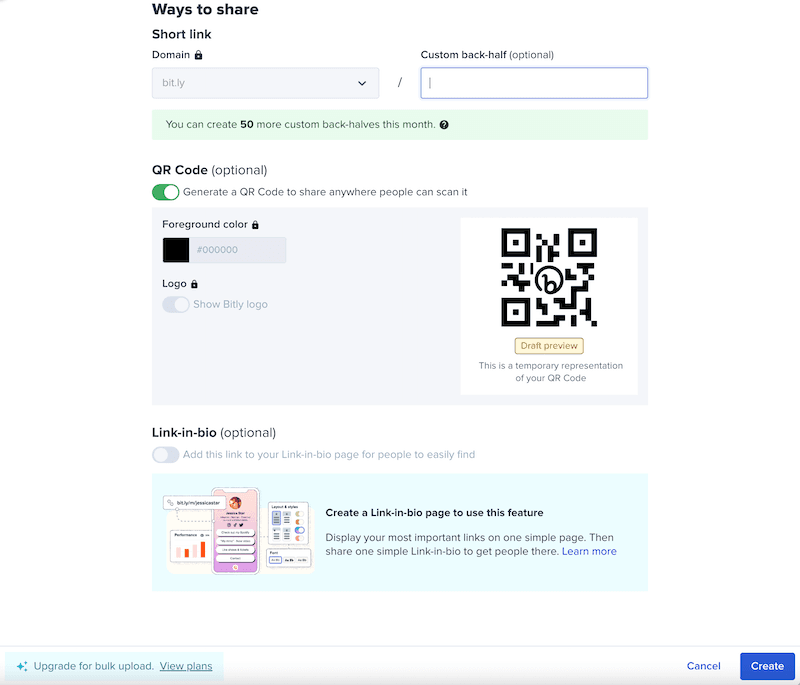 Then, you can view your new link under the Links tab. This will show you the new shortened URL, as well as its total clicks and engagement: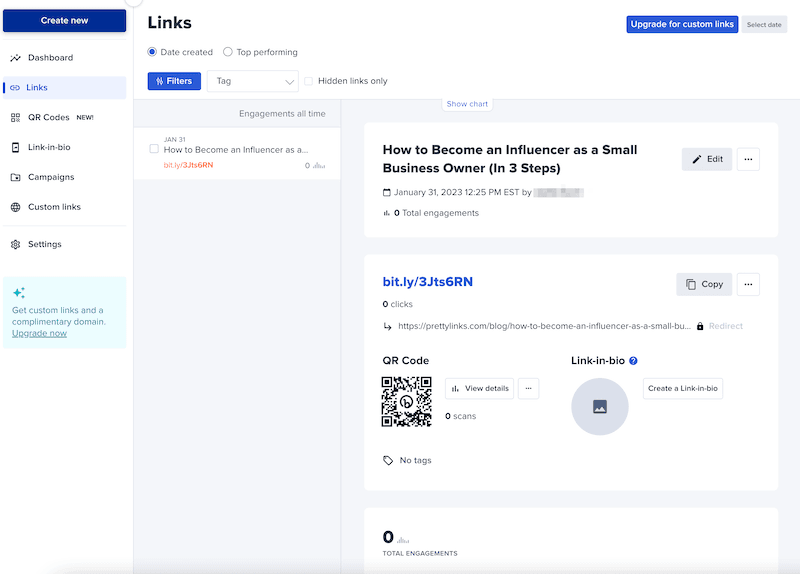 In general, Bitly is an easy-to-use URL shortener. Its dashboard is divided into clear tabs for managing links, link-in-bio pages, campaigns, QR codes, and custom links.
Ease of Use: TinyURL
If you want to use TinyURL, you can start by creating a free account. Simply type in your name, email address, and password: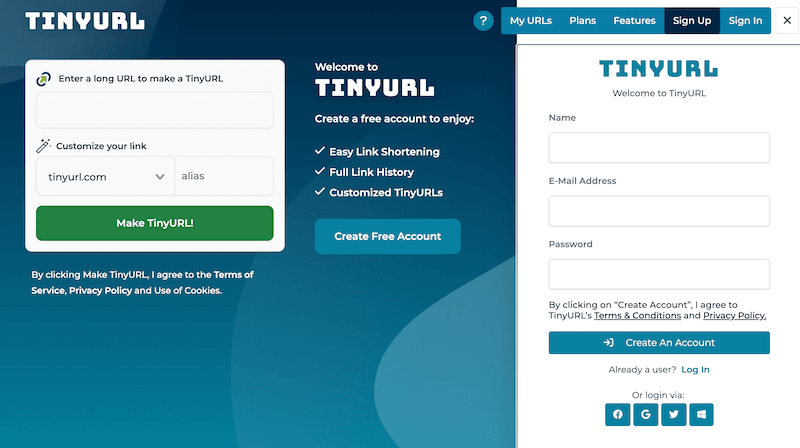 Once you verify your email address, you'll be redirected to the TinyURL app. Here, you can enter the original URL that you want to shorten.
Next, you can customize the shortened link. With a free account, you'll only have three default TinyURL domains to choose from: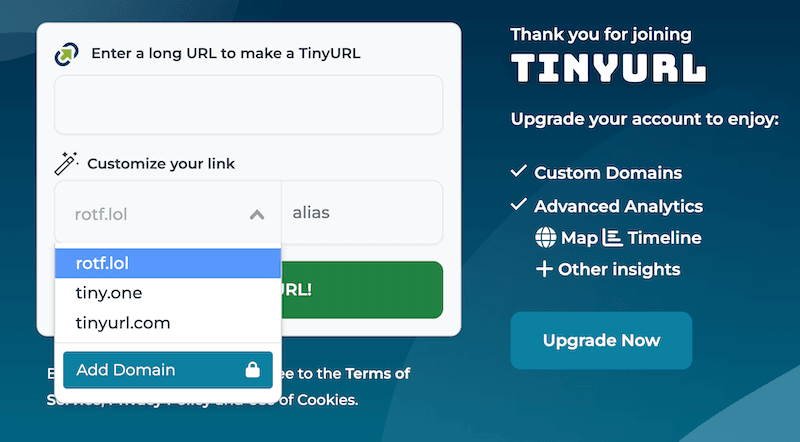 Lastly, add a custom alias. This is the last part of the URL after the backslash. When you're finished, hit Make TinyURL!
Now, click on My URLs. In the sidebar, you can view detailed link stats. Next to each URL, you'll see buttons for editing, sharing, renaming, or copying the link: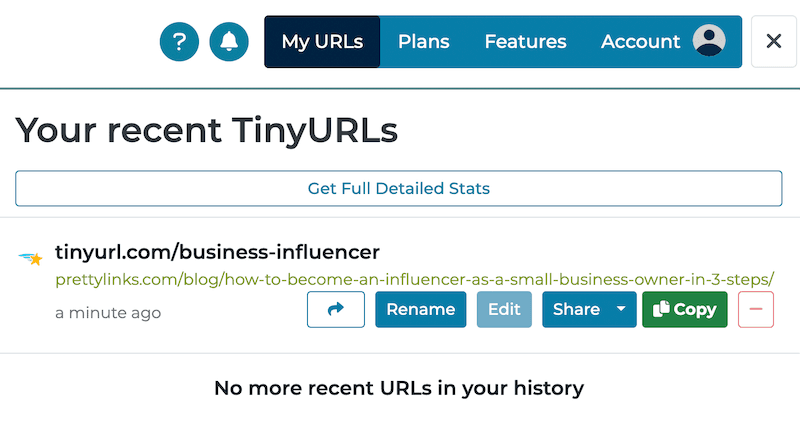 You can repeat this process to create multiple URLs. However, you won't be able to shorten links in bulk.
Ease of Use: Pretty Links
Pretty Links is a WordPress plugin, so it has the simplest installation process for WordPress business owners. First, install and activate the plugin on your site, and enter your license key: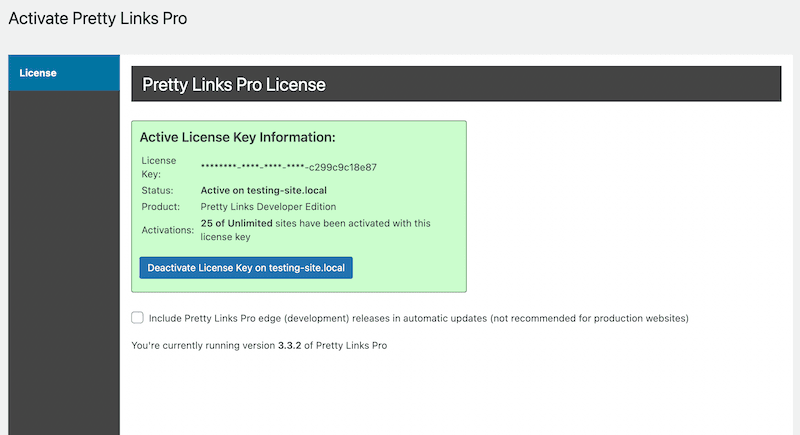 And just like that, you can start using Pretty Links! To create your first shortened link, select Pretty Links > Add New. Then, give the link a title and target URL: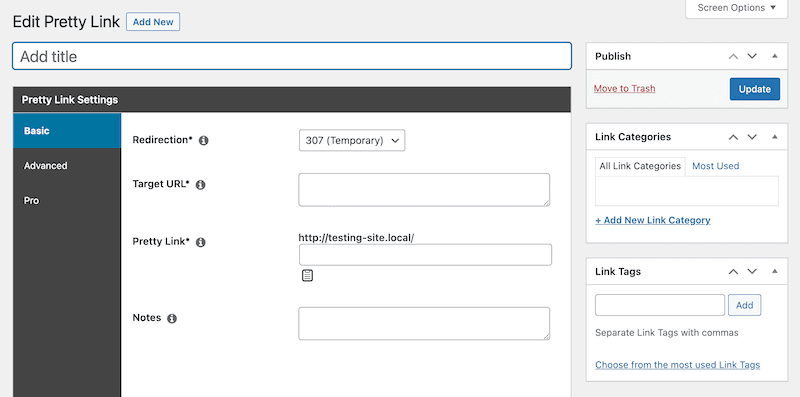 For the Pretty Link field, enter a custom slug. This is how the link will appear before users click on it. You can also choose from eight different redirect types to ensure that the link works correctly.
To set up keyword auto-linking, click on the Pro tab. Here, enter the keywords you want to associate with this link: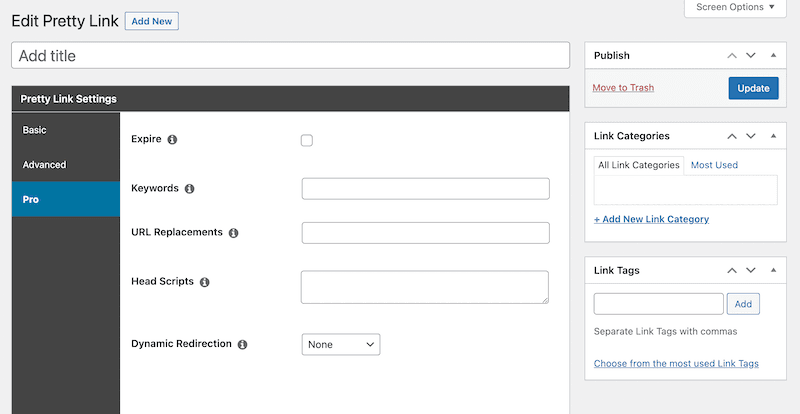 After you publish your links, the Clicks tab will give you an analysis of your engagement. You can view detailed information with IP addresses, timestamps, and referrers:
As you can see, Pretty Links enables you to create and manage links with just a few clicks. Again, since it is a WordPress plugin, you can access its features without having to leave your website's dashboard.
Support for Bitly vs TinyURL vs Pretty Links
When you have a question or concern, you'll want to be able to reach out to customer service. Let's discuss how Bitly, TinyURL, and Pretty Links stack up in terms of support.
Support: Bitly
Bitly has a help center. If you need to learn the basics of the software, you can check out relevant tutorials and Frequently Asked Questions (FAQs):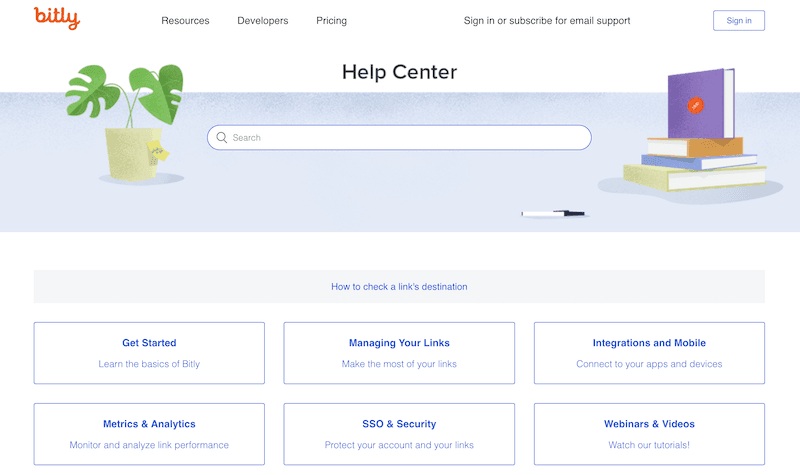 When you need to contact a service representative, you'll need to submit a request using your Bitly email address. However, email support isn't available for free Bitly plans. In this case, you'll need to fill out the contact form on the website.
Support: TinyURL
Similar to Bitly, TinyURL has a dedicated help page on its website. Here, you can search for a question, browse categories, or view common answers. The tutorials cover everything from creating new URLs to setting up your account's profile picture: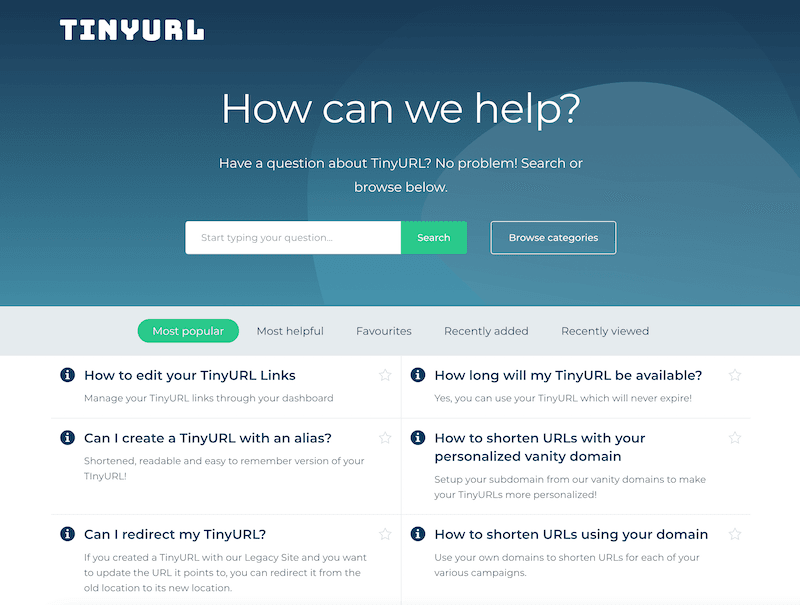 For additional assistance, feel free to submit a ticket. TinyURL will keep a record of your help tickets on your account page.
Support: Pretty Links
Pretty Links users can access the User Manual at any time. Here, you'll find information about installing and configuring the plugin, and more: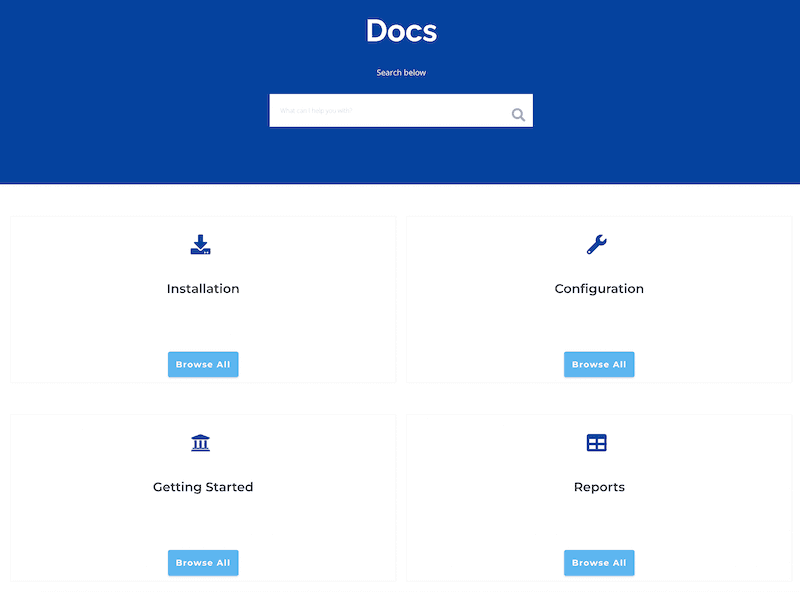 As a Pretty Links Pro customer, you can also submit a Premium Support Request. Anyone with an active license will be able to sign in and contact a service representative.
The Pretty Links blog is also a great resource to find answers to your questions. With topics ranging from WordPress business tips, popular affiliate marketing practices, and Pretty Links tutorials, you're sure to get the information you need – and you'll probably learn something new too!
Pricing for Bitly vs TinyURL vs Pretty Links
If you're just starting out as an affiliate, you're probably looking for an affordable tool. Let's compare the pricing for Bitly, TinyURL, and Pretty Links.
Pricing: Bitly
Bitly provides a free starter plan with a few basic features. With this option, you'll be able to shorten 50 links per month. However, your QR codes and bio links will display Bitly's branding: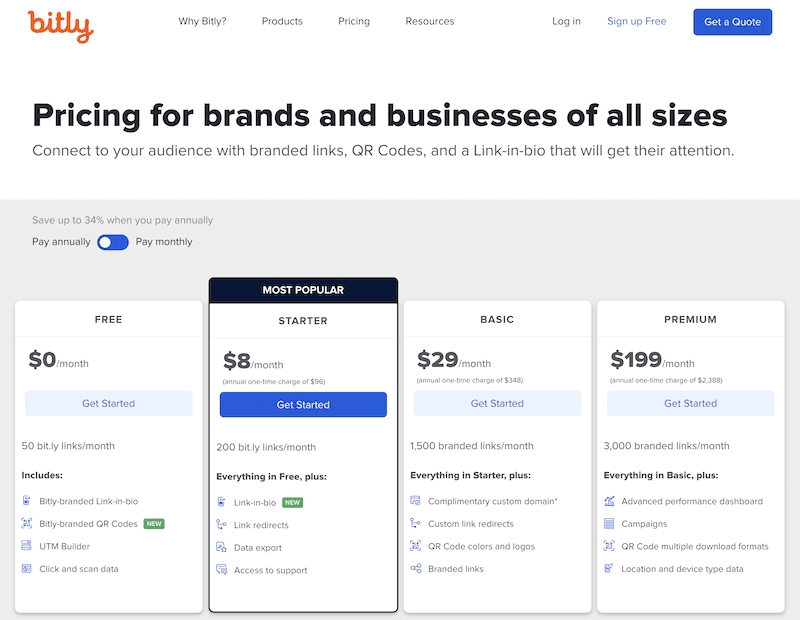 Premium subscriptions start at $8 per month. These come with data exports, link redirects, and over 200 monthly shortened URLs. Some of the most useful features like bulk shortening and link branding are only available with higher-tier plans.
Pricing: TinyURL
You can start using TinyURL for free. This plan includes link shortening for individuals. Plus, it enables you to customize links and even view your link history: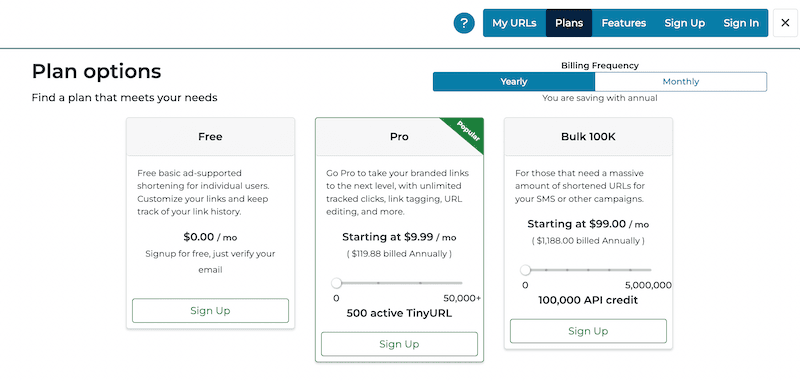 If the free plan doesn't meet your requirements, you can purchase TinyURL Pro starting at $9.99 per month. This can be an effective option if you need unlimited click tracking, link tagging, and URL editing. Plus, you can customize payments based on how many active URLs you plan to make.
Pricing: Pretty Links
Here at Pretty Links, we created a free version of our WordPress plugin. You can use this tool to easily shorten links, create redirects, and track clicks.
Meanwhile, Pretty Links Pro starts at $99.50 per year. This comes with keyword auto-linking, custom slugs, a variety of redirect types, and much more: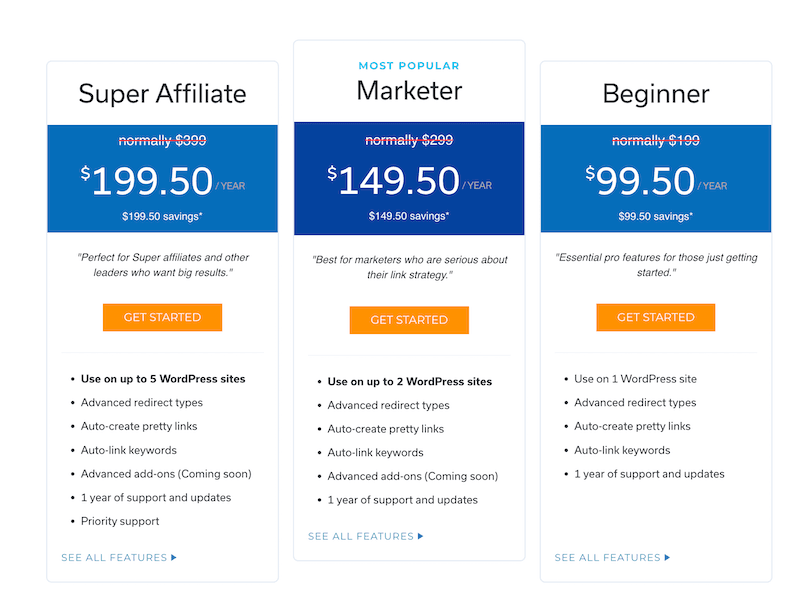 Using either TinyURL or Bitly, you'll have to upgrade to a higher plan to access the full range of URL shortening tools. At Pretty Links, the basic plan provides everything you need to optimize your affiliate links!
Conclusion
Affiliate links typically contain long character strings that can scare off potential customers. Fortunately, link shorteners can make your URLs look cleaner and improve your affiliate conversions.
To recap, here are the main differences between Bitly, TinyURL, and Pretty Links:
Bitly: A link management dashboard with a QR generator and link-in-bio pages.
TinyURL: A simple, easy-to-use tool for creating and sharing individual shortened links.
Pretty Links: A link shortener plugin that integrates with your WordPress site and automatically links target keywords.
Do you have any questions about Bitly, TinyURL, or Pretty Links? Let us know in the comments section.
If you liked this article, be sure to follow us on Facebook, Twitter, Pinterest, and LinkedIn! And don't forget to subscribe to our blog in the box below!
2 Comments
Johan Botes

March 3, 2023

Why don't you offer a free version like Bitly, TinyUrl etc for the non "blogging Addicts"?
Katelyn Gillis

March 10, 2023

Hi Johan, We do have a free Pretty Links version available via WordPress > Plugins. Just search for Pretty Links and you can download our "lite" version today to try!