How to Get Started With Email Marketing on Your WordPress Site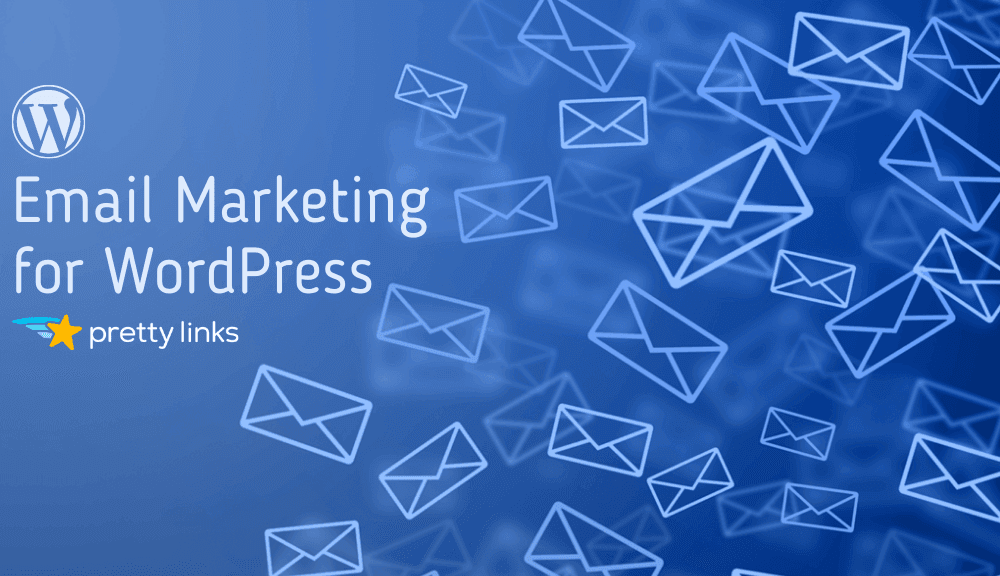 Once you have your WordPress site up and running, you might wonder how to get your eyes on it and build an audience for your products or services. With a vast array of marketing options out there, choosing the right strategy can seem overwhelming.
The solution, however, is surprisingly accessible. It involves an activity that 99% of consumers engage in at least once a day: checking their personal email accounts. Consequently, email marketing remains a top choice for businesses of all sizes, and often outperforms other potentially "flashier" marketing options.
In this article, we'll discuss the benefits of email marketing, and outline five steps to getting started with it. Let's jump right in!
Why You Might Want to Start an Email Marketing Campaign
Email marketing is the use of email messages to communicate with your target audience or customers. There are a number of reasons you might want to consider email marketing for your business, no matter what niche you happen to be in: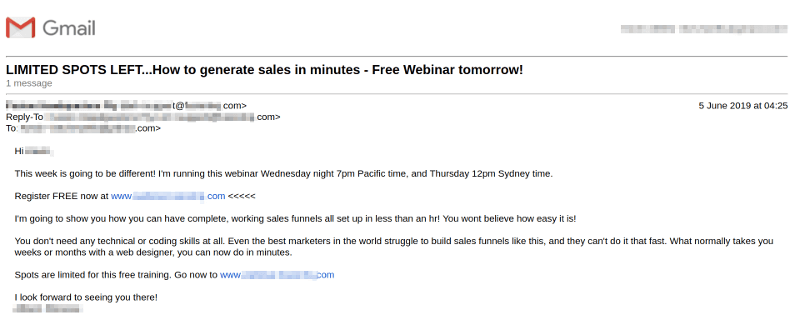 For example, using email to market your products or services has the highest Return on Investment (ROI) out of all the common techniques, on average yielding $38 generated for every $1 spent. That means you can do a lot with a relatively small marketing budget.
In addition to the financial benefits, using email to connect with your audience has various other advantages. You can:
However you choose to use email, the numbers demonstrate that it's an extremely effective strategy. So whether you are looking to drive conversions, get your message out there, or simply connect with your audience, starting an email campaign will likely be worth your time.
How to Get Started With Email Marketing on Your WordPress Site (In 5 Steps)
Now that you know more about why email marketing might be a smart move for your business, we're going to walk you through the five major steps required to implement an email strategy using your existing WordPress website. Let's start from the top!
Step 1: Set Measurable Goals
No matter what business you're in, if you are working on a marketing strategy, goal setting is vital to success. Having strong goals in place will also help you in the next step, where you'll need to select the best email application for your needs.
One of the easiest ways to get started is to use the SMART approach to setting goals. SMART stands for:
Specific
Measurable
Achievable
Relevant
Time-bound
These criteria create an easy-to-follow pathway through the goal-setting process. By keeping the SMART approach in mind, you can create goals that will help to guide your decision-making throughout your entire email marketing campaign. Fortunately, there are plenty of online templates that can help you do this.
Step 2: Choose an Email Marketing Platform
Now that you've set some SMART goals, you will need to choose an email marketing application. Your goals should help you identify what priorities you have for your campaign, so you'll know what features your email marketing application needs to have.
There are many email applications available that can be easily integrated with WordPress. Taking some time to evaluate the top options will help you hone in on the best tool for meeting your goals. If you're looking for a budget-friendly, all-around workhorse that plays well with WordPress, however, MailChimp is an excellent choice: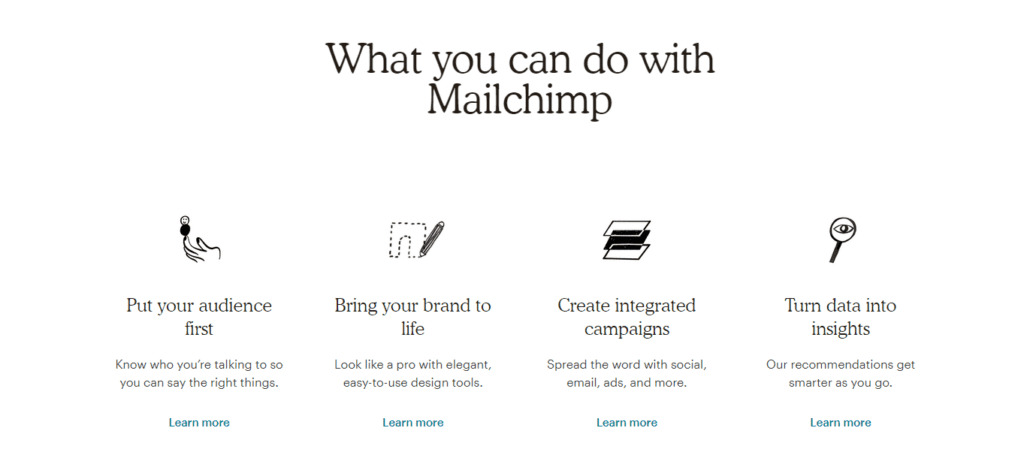 This platform offers email design templates, integration options for running campaigns on multiple platforms, and data analytics to help you maximize your email marketing efforts. Plus, it can be connected up to WordPress using a handy plugin:

We'll use MailChimp as our example throughout the rest of these steps, but keep in mind that this process works similarly regardless of the specific tool you choose.
Step 3: Build Your List of Subscribers
Once you select an email marketing application, it's time to start welcoming new subscribers to your email list. Building up your contact list will be essential to the success of your campaign, so you'll need to give website visitors an easy way to sign up.
With MailChimp, there are two approaches to using pop-up forms for collecting subscribers through your WordPress site. You can add the form to your site by connecting the two platforms in the MailChimp for WP settings, or you can use the WordPress Block Editor and select the MailChimp for WordPress Form block.
Either way, you'll be able to place a sign-up form on your website: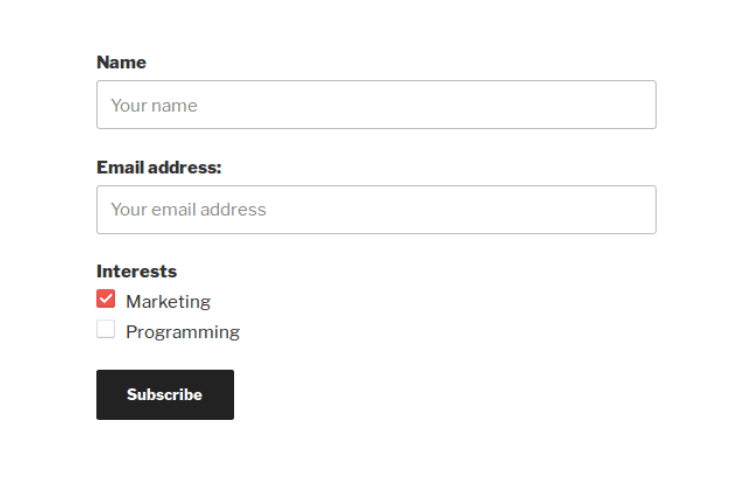 Make sure to add it somewhere prominent, such as on your home page or in your sidebar. Then you can let your subscription list build up a bit, and start sending out messages.
Step 4: Use Automation and Scheduling to Send Emails
One you have a handful of subscribers, you can start creating and sending emails. This is a quick and easy process, especially with a platform like MailChimp that offers pre-designed email templates.
While you can simply send emails manually, a smarter option is to automate your campaigns. This enables you to create triggers that will send targeted messages to your subscribers. For example, if one of your subscribers visits a certain page on your website, a trigger could send them an email with very specific messaging about their engagement with your site.
In addition to automating your campaigns using triggers, it's also a good idea to schedule them. This means creating campaigns in advance, and setting them to release at specific times to your selected mailing lists. This helps you minimize the time you spend managing your email campaigns, and send out messages at ideal intervals.
Automating and scheduling portions of your email marketing campaign can save you time, attract more subscribers, and convert leads into customers. The more you plan out your campaigns in advance, the better the results you're likely to see.
Step 5: Review the Data from Your Campaigns
Finally, it's not enough to simply send out emails and forget about them. You'll also want to track the effectiveness of your campaigns, so you know what's working and what isn't.
Depending on what platform you're using, you should have access to at least some analytics. The kinds of data collected through email campaigns typically focus on subscribers' interactions with your messages. For example, MailChimp will enable you to see how many subscribers have opened your emails, and the click-through rates for any links within.
All of this data can seem overwhelming at first. However, MailChimp offers some customizable settings that enable you to select what kind of tracking you want to enable or disable, beyond the basics. Being able to view this kind of data lets you analyze subscriber behavior and experiences, and determine how much return you're seeing from your investment in each campaign. All of this can help you make new, better marketing goals, and continue to evolve your email strategies over time.
Conclusion
Email marketing is an excellent way to maximize your marketing time and dollars. Following some simple best practices and choosing the right platform can result in an impressive ROI for your business, and help you build lasting relationships with your customers.
The five steps to launching an email marketing campaign from your WordPress site are:
Set measurable goals.
Choose an email marketing platform.
Build your list of subscribers.
Use automation and scheduling to send emails.
Review the data from your campaigns.
Do you have any questions about how to create a successful email marketing campaign? Ask away in the comments section below!