3 Most Commonly Made Affiliate Marketing Mistakes to Avoid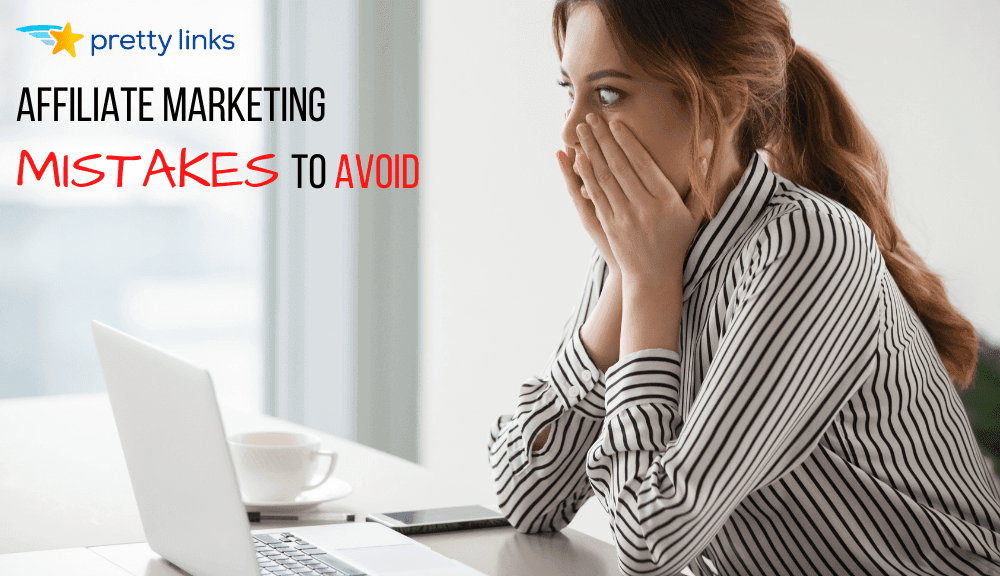 It can be discouraging if your affiliate promotions aren't generating consistent traffic, click-throughs, or sales. Although affiliate marketing can offer a steady passive income, it often takes time to identify techniques that convert.
Fortunately, you can improve your affiliate marketing strategy by avoiding some common mistakes. When you increase your website speed, prioritize search engine optimization (SEO), and shorten links, you can get the maximum benefit from your content.
In this post, we'll discuss why you should consider modifying your affiliate marketing approach. Then we'll cover the top mistakes affiliates make and what you can do to avoid them. Let's get started!
Why Improving Your Affiliate Marketing Strategy Is Important
If an influencer, blogger, or personal website owner recommends a brand's products, that's affiliate marketing. When an affiliate successfully directs traffic to a company's site, they gain a commission.
For example, Gear Up Hiking partners with Amazon's affiliate program. This review site recommends the best hiking and camping gear, which motivates its audience to buy certain products from Amazon. Then, Gear Up Hiking earns a portion of each sale: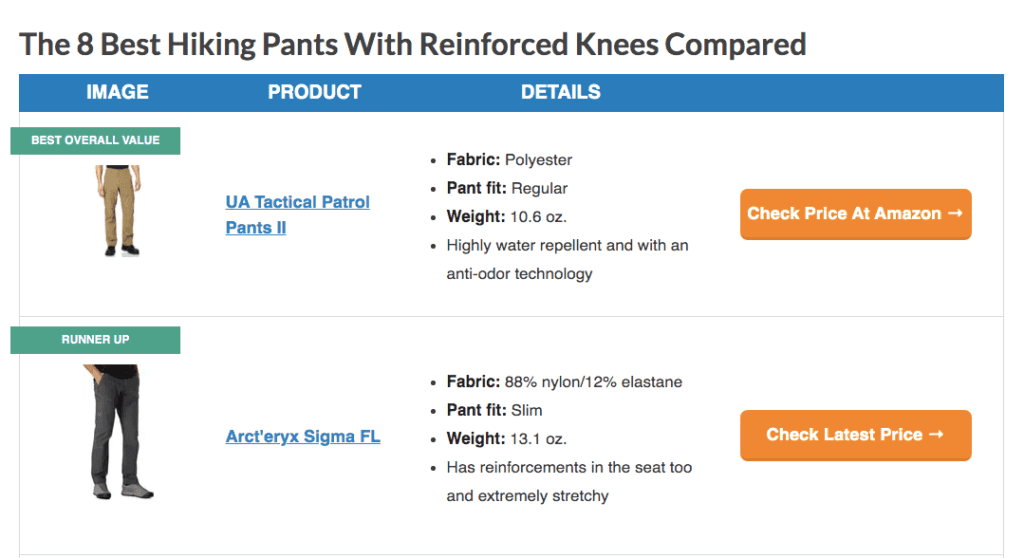 A well-performing affiliate website can generate high-quality leads and click-throughs for the brand you're promoting. That could mean lots of commissions for you.
However, if you're poorly executing your affiliate marketing, your efforts may fall flat. For example, you won't make a profit if no one can find your website. Alternatively, if your site's visitors are quickly leaving before clicking on any links, that also won't generate any revenue.
Therefore, you'd be wise to focus on strategy. If you want to run a successful affiliate business, you'll need to optimize your website, affiliate links, and as many elements of your business as you can. Fortunately, with the right tools, this should be an easy process.
3 Common Mistakes Affiliate Marketers Should Avoid
Let's discuss the top beginner mistakes that affiliate marketers make. That way, you can avoid them and improve your affiliate marketing strategy!
1. Ignoring Site Speed
The success of your affiliate marketing efforts can be affected by your website's speed. Many new affiliates tend to forget or even ignore this factor. This can hold back your business, because if visitors leave due to lagging web pages, they won't get a chance to click on any affiliate links.
In fact, poor website performance is one of the main reasons users leave websites. For pages that take longer than two seconds to load, bounce rates increase by 50%.
Therefore, it's important to know what's causing these issues. Slow loading times could be the result of large image files, poor server performance, suboptimal code, or too many active plugins.
Fortunately, you can test your website's performance easily with Google PageSpeed Insights. To use this free tool, simply enter your affiliate website's URL in the search bar and click on Analyze. Then it will give you a performance score out of 100:
This report will also provide you with additional insights. There, you'll likely see room for improvement. For example, under Opportunities, our results suggest eliminating render-blocking resources, serving images in next-gen formats, reducing unused code, and properly sizing images:
Let's look more closely at that last suggestion. One of the most common culprits behind poor website speed is large media files. However, you can easily optimize your images by compressing them.
To do this, you can use a solution such as TinyPNG:
You can drag and drop your WebP, JPEG, or PNG files directly into its compressor. This tool can quickly reduce image sizes without noticeable impacting quality.
2. Neglecting Search Engine Optimization (SEO)
Simply put, SEO is a collection of techniques used to increase your website's ranking in organic search results. Fine-tuning your SEO strategy can be the key to driving more high-quality traffic to your site.
That way, more visitors can easily access your relevant content instead of getting lost in a sea of search results. This may boost the click-through rate (CTR) on your affiliate links, which can translate to more sales for your affiliate brand and a higher commission payout for you.
There are many ways to perform SEO and make your affiliate website stand out in Google's search results. One simple method is to develop a keyword strategy. To start, you'll need to find relevant keywords for your niche.
Ideally, you should select keywords with high monthly search rates and low competition. This is because it can be harder to rank if you're targeting the most popular terms. You can use marketing tools such as Google Keyword Planner to conduct this research. Then, when you write your website content, incorporate these keywords throughout.
You can also improve your SEO by creating title tags and meta descriptions for your posts. Additionally, incorporating external and internal links in your content can boost your credibility and naturally keep people on your site longer.
All of these Google ranking factors can be difficult to navigate, but you can do so easily with All In One SEO (AIOSEO). This is a powerful WordPress plugin that you can use to streamline your SEO practices: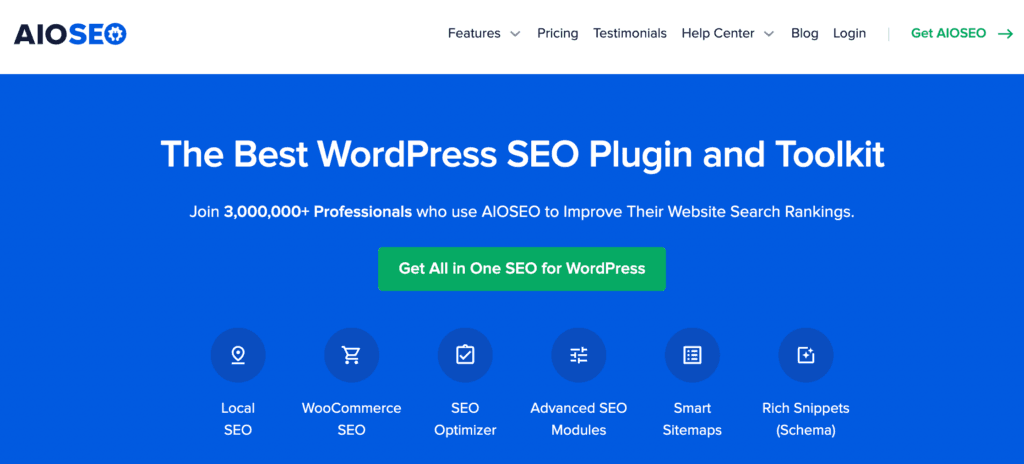 AIOSEO offers straightforward features such as readability checks, keyword analysis, and more. That means you can efficiently optimize your content so it appeals to search engines, even as a beginner.
3. Not Shortening and Cloaking Affiliate Links
Another factor to consider is the appearance of your affiliate links. Sometimes, long and complicated URLs can seem unreliable and untrustworthy. You'll want visitors to feel comfortable clicking on your links, so it's often best to shorten or cloak them.
Shortened URLs are links that trim down extra, unnecessary letters and numbers. By shortening links, you can create more attractive and memorable URLs.
This could be particularly beneficial in social media campaigns. Since social media posts are often limited to a certain amount of characters, reducing your affiliate link may be essential:
Link cloaking offers another great way to avoid complicated URLs. When you cloak a link, you can rebrand it while redirecting to the original web page. You can also protect your sensitive information by hiding your affiliate ID from harmful malware.
Similar to shortened links, cloaked links can be much more reader-friendly. You can even create a new link with custom business branding. This can increase its credibility, CTRs, and conversions.
To change the appearance of your URLs, you can use our own Pretty Links plugin:
Pretty Links is an affiliate link management tool for creating both shortened and cloaked URLs. With this plugin, you can transform any unappealing link into a clean, branded URL that is more memorable and shareable.
Conclusion
Affiliate marketing can be an effective way to develop a passive income, but you may lose out on profits if you fall into some rookie mistakes. As a beginner, you'll want to start your affiliate business off on the right foot.
Here are three ways you can avoid common mistakes:
Test your website's speed with Google PageSpeed Insights.
Improve your search rankings using the AIOSEO plugin.
Shorten and cloak your affiliate links with Pretty Links.
Do you have any questions about common mistakes affiliate marketers should avoid? Ask us in the comments section below!
If you liked this article, be sure to follow us on Facebook, Twitter, Pinterest, and LinkedIn! And don't forget to subscribe to our newsletter.