7 Reasons Why Visitors Might Be Leaving Your Affiliate Website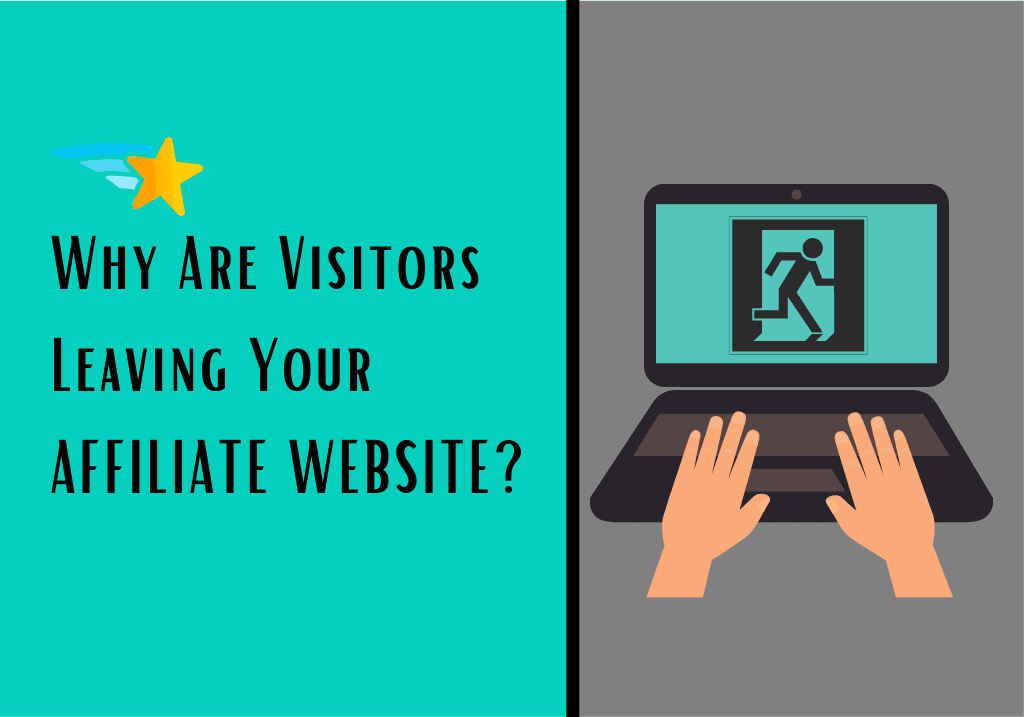 There are many reasons why visitors may be leaving your affiliate website. These can range from inaccurate search results, poor user experience, or many others. While website traffic does generally fluctuate, affiliate website owners feel it much more deeply.
If you've been struggling to retain visitors, it may be time to critically re-assess your affiliate website and focus on areas that can significantly impact it.
Here are some of the more common reasons why visitors leave your site and what you can do about it.
1. Poor Server Performance
Nobody likes a slow-loading website, especially those who are planning to spend money on the site. Website speed is one element that ties directly towards your conversion rate. Data indicates that websites that take more than 5.7 seconds to load, convert at a mere 0.6%. Improving speeds to less than 2.4 seconds can help triple your conversion rates by as much as 1.9%.
If you aren't sure how quickly your website is loading, it's time to do an assessment. You can easily test your site's loading speed by running a website speed test. The most basic tests will indicate your hosting server response time, an essential element since that relies on the quality of your web hosting service provider.
The ideal response time should be below 400ms, but of course, the faster it is, the better. If your speed tests consistently indicate higher response times, it may be time to consider upgrading your web hosting plan or simply moving to another hosting provider.
In the overall scheme of things, it's also a good idea to know what load your web hosting server is capable of handling. As loads increase, website performance tends to degrade. One way of estimating these failure points is by running a stress test with a tool like JMeter.
These tools mostly work by simulating increasingly heavy loads on websites and noting points at which performance degrades or the website entirely fails.
2. No Clear Call-to-Action
Nothing is worse than an affiliate website that successfully draws in readers but can't convert that traffic. To help solve this, you need to ensure that you have a clear call to action (CTA) in place – something that will make your readers want to take immediate action.
When writing a call to action, it's important to make sure that you:
Are specific on what action(s) you want your vistior to complete.
Offer benefits to increase the chances that a visitor will follow through.
Instill a sence of urgercy or Fear of Missing Out (FOMO) to encourge the visitor to "Act Now"
The content you produce can serve many purposes, such as educating or entertaining your readers. However, once that's over, visitors will leave unless there is a clear CTA that will prompt them into further interaction.
3. You're Over-Advertising
Ads are one way of driving revenue, but they're often counter-productive for affiliate websites – especially if you're overdoing them. While online users have gotten used to some level of advertising, having too many is a major turn-off.
Remember that your primary source of income is your affiliate marketing business. Keep your visitors happy and drive them towards your affiliate links. Bombarding them with ads that earn you pennies on the dollar is simply not worth the risk.
Most ad engines like Google Adsense also tend to degrade your website performance. Omitting those ads can also help boost your website speeds.
4. Clickbaity Titles
Crafting a click-worthy title is a great start to getting visitors to your site. More importantly, you also need to write up the perfect article to match. Unfortunately, some website owners get carried away and focus too much on drawing traffic with titles that end up being unsupportive clickbait.
Once visitors realize that your content doesn't match their expectations based upon your title, not only will they jump ship, but you will also lose credibility and user trust.
Do the groundwork and dig into the data to see what widespread interest you can target. From there, build powerful content that matches the search demand. You'll find this old-school method will work more effectively than the superficial draw of clickbait.
5. Poor Design and Aesthetics
Many hardcore affiliate markets focus so much on search engine optimization (SEO) that other areas risk falling by the wayside. One thing you need to remember is, your visitors are human. Building an aesthetically pleasing website may not score major SEO points, but it will help retain visitors.
It's very unfortunate when a website offers great content, but lacks in design elements. Because many would rather close the page and look elsewhere if the design is too ghastly or just looks awful.
6. Lack of Trust
Building trust with your visitors is essential if you want them to click on your affiliate links. Always ensure that you're providing them with crucial information. For affiliate websites, having an affiliate disclaimer is an essential step towards achieving this.
Website visitors have the right to know if you're going to earn money from their activities on your website. Aside from legal rights, it's also a decent thing to do and ethically correct. Disclosures can also offer your visitors more insight into your website and what you hope to achieve.
7. Security May Have Been Comprimised
Website security is something even the newest web audiences are more keenly aware of than ever. Many cybersecurity concerns can cause visitors to turn away if you aren't paying attention.
It starts with small, basic things like Secure Sockets Layer (SSL) certificates. Not only will the lack of one impact your search rankings, but visitors trying to open your web pages will notice the shortcoming immediately.
In worse cases, your website may have been hacked, resulting in possible warning notices sent to potential visitors. You'll lose many of these even before they've loaded the website.
Always ensure you've taken security measures into account. Scan for malware on your hosting plan regularly and always ensure you have backups in place.
Conclusion
If you're making changes to your website in effort to retain visitors, make sure you keep track of your findings along the way. Many things are trial and error and may not work as well as you intended. Keeping an eye on the figures can help you learn what is and isn't working.
To recap, we've listed seven common reasons why visitors are leaving your affiliate website, which includes:
Poor server performance
No clear call-to-action
Over-advertising
Clickbaity titles
Poor design and aesthetics
Lack of trust
Compromised security
Aside from the things on this list, what are other reasons visitors may abandon your affiliate website? Share your thoughts with us in the comments section!
If you liked this article, be sure to follow us on Facebook, Twitter, and LinkedIn! And don't forget to subscribe to our newsletter.