How to Avoid Amateur Affiliate Marketing Mistakes (3 Key Tips)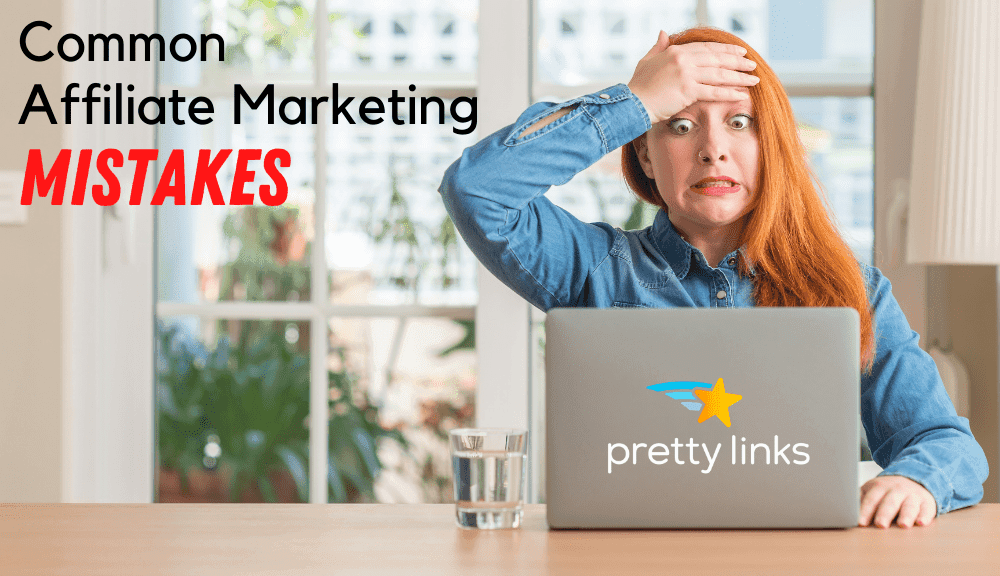 Affiliate marketing is an excellent way to generate income, whether it's a full-time job or a part-time gig. However, it can take a while to grow your business and start making decent money.
Knowing which affiliate marketing mistakes to avoid can help you make your journey more effective. With just a little bit of research and planning, you'll be better positioned to hit the ground running and be well on your way to a successful, lucrative affiliate marketing business.
In this post, we'll discuss some of the most common amateur affiliate marketing mistakes. Then, we'll provide you with three key tips to help you avoid them. Let's get started!
An Overview of Common Affiliate Marketing Mistakes
Whether you're a content creator or influencer, you have the opportunity to earn a steady income through affiliate marketing. However, doing so usually takes time. As with any new field, there is a bit of a learning curve involved.
The good news is, being such a large and expansive market, there are also plenty of resources to help you along the way. Affiliate marketing is made up of a large community of people from all industries and experience levels.
That said, there are a handful of common mistakes that many content creators tend to make, particularly when they first start out in affiliate marketing. Knowing what they are can help you avoid them yourself – ultimately saving you time, money, and energy in the long run.
Some of the most common mistakes include:
Trying to cast too wide of a net. When it comes to affiliate marketing, more doesn't necessarily mean better. Trying to promote too many brands or products can have a counterproductive effect. It prevents you from being able to truly hone in on one area and provide your audience with meaningful content.
Prioritizing selling rather than helping. Of course, you want your affiliate marketing to bring in revenue. However, the best way to generate interest and boost sales is to connect with your audience and provide authentic and valuable content. This is hard to do when your promotions are overly salesy.
Being sloppy with affiliate links. Your affiliate links are a critical part of running your affiliate marketing business. They're what earn you money, after all. However, if they're not properly optimized or placed, readers won't feel inclined to click on them.
These are just a few of many examples of amateur affiliate marketing mistakes. However, they all share one thing in common: a lack of planning.
How to Avoid Amateur Affiliate Marketing Mistakes (3 Key Tips)
Now that you have a better idea of some of the biggest missteps that new affiliate marketers make, let's take a look at how you can steer clear of them. Below are three key tips for avoiding amateur affiliate marketing mistakes.
1. Start With Specific Brands and Products
As a general rule of thumb, it's always smart to focus on quality over quantity. This means being strategic about which brands you work with and the products you choose to promote.
Start by thinking about companies you currently use and find out whether they offer an affiliate marketing program. You could also search for affiliate opportunities on sites such as ShareASale:
This will allow you to search for merchants based on your personal interests and hobbies. Remember, you can start small, then expand to incorporate new products as you grow more experienced and develop trust among your audience.
2. Focus on Producing Authentic Content
To really connect with your audience, it's important to be authentic. This is also why we recommended choosing brands and products that you truly like. That way, you'll be able to share your personal experiences in your content, which can make it easier to persuade visitors to purchase the affiliate products.
The type of content you produce will depend on your preferences. For example, if you feel that you excel at verbal communication, you might consider creating video how-tos or product reviews:
On the other hand, long-form articles and blog posts can also be an effective way to help generate site traffic and boost your search engine optimization (SEO). The important thing is, you choose mediums that you are most comfortable with.
3. Shorten and Brand Your Affiliate Links
As we mentioned earlier, your affiliate links are essential to earning commissions. Therefore, it's important to make sure they are strategically used throughout your content in order to encourage visitors to click on them.
Unfortunately, affiliate links tend to look long and somewhat spammy. The good news is that you can clean them up and make them easier to share by branding them. To do this, you can use our Pretty Links plugin:

Once you install and activate the plugin, you can shorten and brand your links directly from your WordPress dashboard:
Even if you don't brand your URLs, creating shortened versions can still help. For example, instead of "https://domain.com/post/UTM=ref$37/8!8790", your link would look something more like "yourbrand.com/ref".
This will also help you project a more professional image, and make your links more memorable for your audience.
Conclusion
If you're looking to make a little extra income, affiliate marketing is an excellent place to start. However, it can also be incredibly competitive, especially when you're first starting out. To help increase your chances of success, there are some common missteps you'll want to avoid.
In this post, we discussed three key tips you can use to prevent amateur affiliate marketing mistakes:
Start by picking a highly specific and narrow niche to focus on, with just a few products you're truly passionate about. You can always expand as you build your affiliate marketing business.
Focus on producing authentic, quality content. This can be blog posts, how-tos, tutorials, videos, or whatever type of content makes it easiest to help your customers rather than simply sell to them.
Make your affiliate links more memorable and easier to share by creating short, branded versions of them. You can do this by using our Pretty Links plugin.
Do you have any questions about affiliate marketing mistakes to avoid? Let us know in the comments section below!
If you liked this article, be sure to follow us on Facebook, Twitter, and LinkedIn! And don't forget to subscribe to our newsletter.
1 Comment
Hashlin

February 23, 2022

Good content. Keep up the great work. I have always avoided making these types of mistakes in my work.