Top 4 Tools for Social Media Managers to Increase Efficiency Now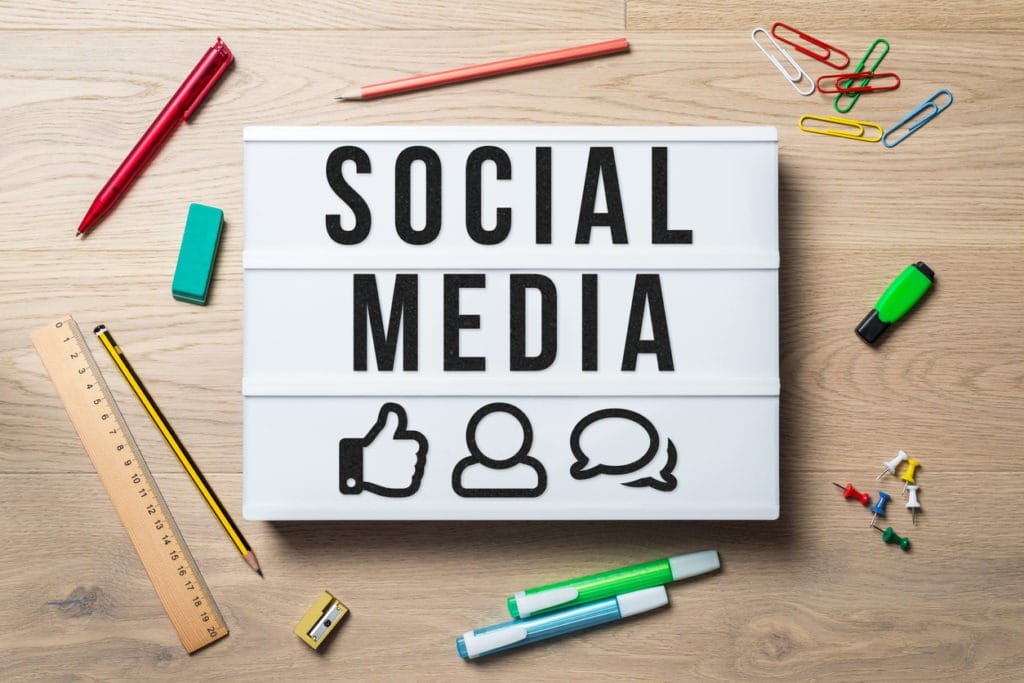 Social media managers need to wear a lot of hats. You have to respond to comments, schedule publications, keep followers engaged, and so much more. All in all, it's a job title that entails the work of several people. Without the right tools, it can be hard (if not impossible) to keep up with the long list of responsibilities.
Because you have to divide your attention among so many tasks, it only makes sense that you use a diverse roster of tools to help you do your job efficiently. If you're the kind of person who's comfortable using different types of software, your job as a social media manager will become much easier.
In this article, we'll introduce you to four top tools for social media managers (including some alternatives for each). We'll discuss how they work and under which circumstances to use each tool. Let's get to it!
1. Buffer (All-In-One Social Media Management)

The core of your work as a social media manager will involve publishing posts, engaging with users, and even collaborating with members of your team. With Buffer, you can plan and schedule content across various social media platforms, including Facebook, Instagram, Twitter, and LinkedIn.
Buffer enables you to cross-post content across multiple platforms and see all of your social media engagements in a single dashboard. You can draft posts, pass them on to other team members for approval, and schedule them using a user-friendly calendar.
Depending on what Buffer plan you choose, you can also gain access to analytics, a hashtag manager tool, and a shop manager (for Instagram). Although Buffer isn't the only all-in-one social media management tool you can use, it's our recommended pick when it comes to user-friendliness.
Price: Buffer offers a free plan, with premium options starting at $15 per month.
Similar tools: If you're not a fan of Buffer, some similar tools that we recommend include Hootsuite, Sprout Social, and Agorapulse.
2. Sendible (Social Media Management for Agencies)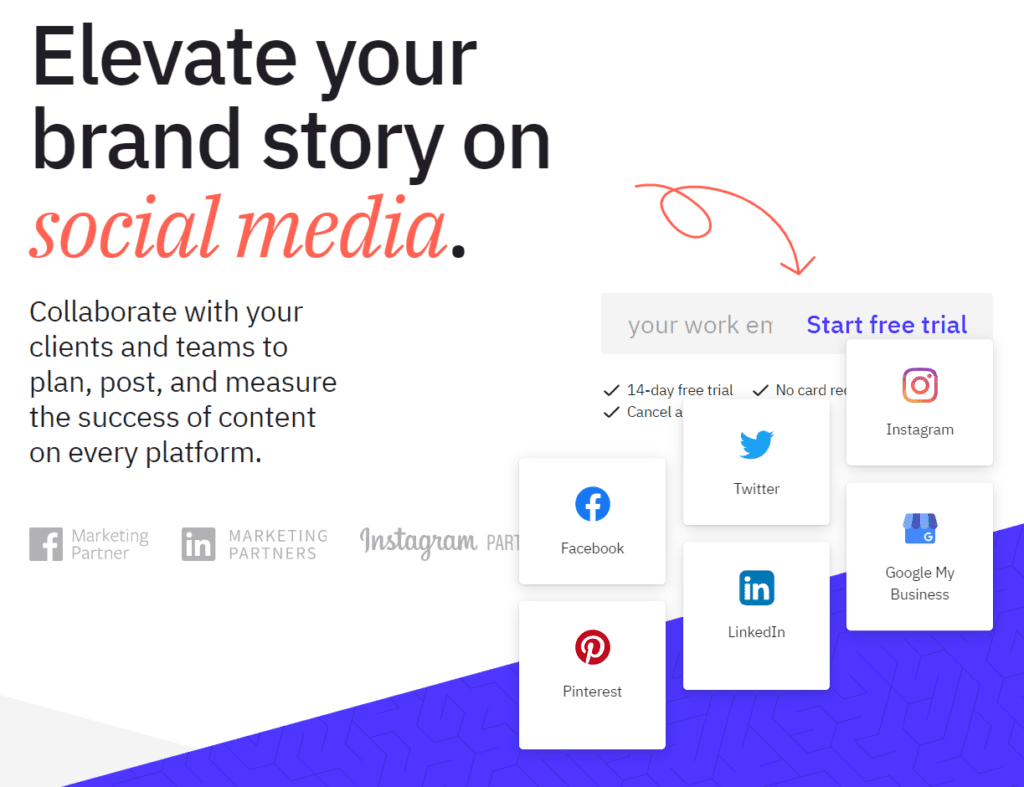 If you manage social media for multiple clients, you might love Sendible. Where Buffer is designed to handle multiple social media accounts for a single business, Sendible offers several tools that are better suited for agency work.
With Sendible, you can collaborate with a team and clients to manage social media accounts across multiple platforms. These include Twitter, Instagram, LinkedIn, Facebook, and Pinterest. Sendible also offers integration with Google My Business, which makes it perfect for managing social media for clients with a local presence.
Sendible enables you to plan and schedule posts across platforms, run publications for approval past your team and clients, and manage responses. It also offers in-depth engagement reports that enable you to check how well your publications are doing across different social media sites.
Price: Sendible plans start at $29 per month.
Similar tools: Most other social media management tools focus on individual accounts. Two other platforms that offer similar functionality to Sendible include SocialHub and SocialPilot.
3. CoSchedule (WordPress and Social Media Content Scheduling)

If you're using WordPress and you manage social media accounts for that website, you could benefit from a tool (or in this case, a plugin) that enables you to engage with both sets of tasks at once. CoSchedule is a plugin that adds a content calendar to your WordPress dashboard. Using that calendar, you can schedule posts, assign them to specific authors, and otherwise collaborate on content.
What makes CoSchedule special is, it also enables you to schedule social media publications on top of managing WordPress content. With this tool, you can program content to post whenever you publish new content on your site. You can also manage a calendar that combines all of your accounts across platforms.
Using CoSchedule, you can get a complete overview of all the content coming up for your blog and social media platforms. You'll be able to track progress on key tasks, automate social media workflows, and much more.
Price: The CoSchedule plugin is free, but plans start at $29 per month.
Similar tools: If you're using WordPress, you might also consider PublishPress if you're looking for a content calendar plugin. However, CoSchedule is perhaps the only plugin that combines both content scheduling and social media management functionality.
4. Pretty Links (Affiliate Link Management)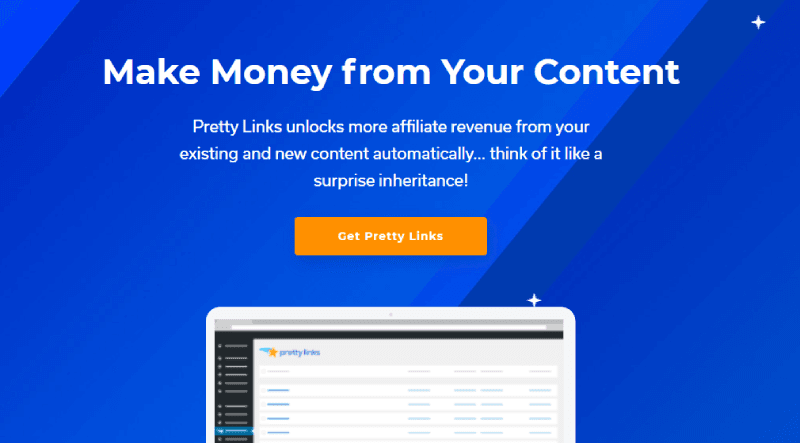 If you're using social media to promote third-party products, you could benefit a great deal by using an affiliate link management tool. Pretty Links is our WordPress plugin that enables you to shorten affiliate links and implement multiple types of redirects depending on your goals.
Using Pretty Links, you can generate cloaked links for all of your affiliate URLs. The plugin lets you track clicks of each link you generate and use on your website, email campaigns, and social media.
If you monetize your WordPress website using affiliate marketing, you could be missing out by not using social media to also promote those links. An affiliate link management and cloaking tool such as Pretty Links will make tracking affiliate links across platforms much easier.
Price: Pretty Links licenses start at $79 per year.
Conclusion
As a social media manager, you have to juggle so many tasks that doing everything manually is nearly impossible. However, there's no reason to try and do everything yourself when there are many amazing tools for social media managers that you can use.
Depending on what tasks you want to prioritize, here are the four top tools for social media managers that we recommend:
Do you have any questions about which social media tools you should be using? Let's talk in the comments section below!
If you liked this article, be sure to follow us on Facebook, Twitter, and LinkedIn! And don't forget to subscribe to our newsletter.
1 Comment
Scovelo Consulting

November 29, 2021

Helpful blog