How to Use Long Tail Keywords in Your Affiliate Marketing Strategy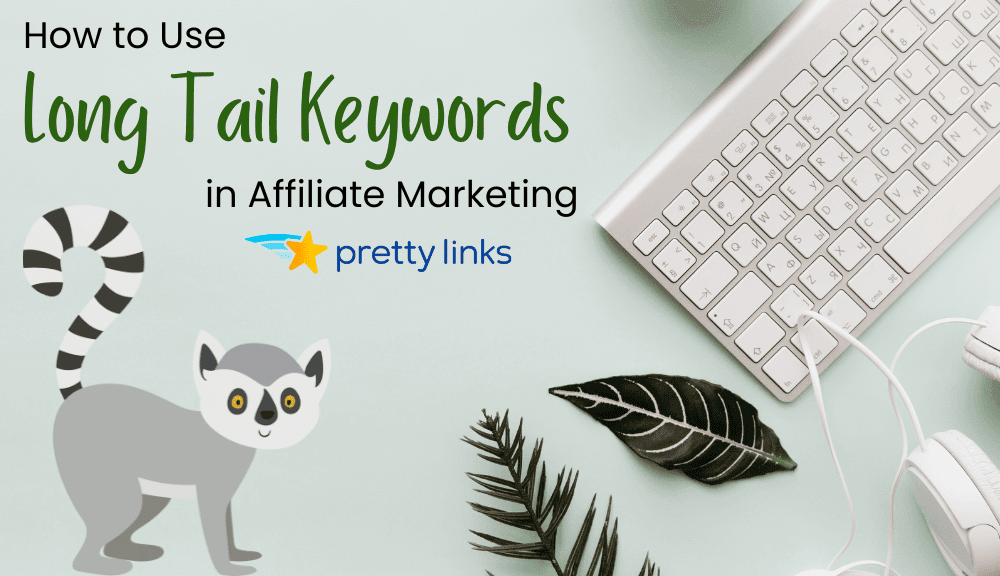 Let's talk about what really matters when it comes to your success as an affiliate marketer – getting your site to the top of those search engine results pages. Because let's face it, if your website isn't ranking high, then you're missing out on a ton of potential customers.
But here's the thing – there's a super powerful search engine optimization (SEO) technique that many marketers don't know about: long tail keywords.
Yep, you heard that right. Long tail keywords can help take your website from "meh" to amazing in no time! And like we said, not many people have caught on to this game-changing technique. So you can totally get ahead of the curve.
In this post, we're going to spill the beans on long tail keywords and reveal why these bad boys are essential for boosting your site's search engine rankings. We'll also go over 3 killer tips on how to optimize your long tail keywords to help get your site noticed by the right people.
Then to wrap things up, we'll show you how to use Pretty Links to track your long tail keyword affiliate links and gain valuable insights into how your efforts are impacting conversions. Let's dive in!
An Introduction to Long Tail Keywords
Long tail keywords are an effective way for content marketers to target specific audiences. They typically consist of 2 to 5 words and provide a more specific search term than generic one-word keywords.
By using long tail keywords, marketers can reduce competition and increase the chances of content ranking higher in search engine results.
For instance, a simple Google search for the keyword "paleo" yields over 140 million results, making it challenging to rank high in the search results:

However, by using a more specific long tail keyword like "easy paleo recipes for beginners", the number of results reduces significantly, allowing marketers to compete with fewer websites and increase the chances of ranking higher:

Long tail keywords offer a dual benefit of increasing your visibility in search engine results pages (SERPs) while also allowing you to target your audience more effectively.
Additionally, long tail keywords help attract a more qualified audience by targeting individuals who are more likely to convert into customers.
How to Use Long Tail Keywords Effectively (3 Tips)
Ready to make the most of long tail keywords? Check out these 3 strategies to ensure your content is effectively optimized and get your search engine rankings on the rise!
1. Know Your Target Audience
When it comes to creating content, you need to know who you're creating it for – aka, your target audience. They're the ones you want to find you.
If you've never considered your target audience, it's time to get started. The process of finding and getting to know them is quite simple:
Step 1: Do some research. Check out what your competitors are doing. Think about the kind of traffic they're attracting and what those visitors are looking for.
Step 2: Put yourself in your customers' shoes. To understand what your ideal audience is searching for, you need to understand their struggles. Use audience demographics to consider what your target audience may need help with.
While long tail keywords will improve your website's SERP ranking, they're also used by people to find the answers to their problems. This is a helpful consideration when choosing keywords to attract potential customers.
2. Utilize Low-Competition Keywords
If you're going to use keywords to get your website noticed, you need to make sure they pack a punch! That means finding ones that not only speak to your target audience but also have low competition and high search volume.
Fortunately, finding low-competition keywords in your niche can be broken down into 3 easy steps:
Step 1: Search a niche keyword you want to rank for. Let's use "paleo", as we did in the example above.
Step 2: Scroll to the bottom of the SERP, and look for a "Related Searches" section.
For "paleo", we see "5 minute paleo meals", "easy paleo dinner recipes", and "easy paleo meal prep":
These examples represent the type of specific, targeted phrases that can make up effective long tail keywords.
Step 3: Use Google Keyword Planner to perform research.
Enter the long tail keyword of choice into the Google Keyword Planner. You want to focus on the Competition column, as well as Avg. monthly searches. The lower the competition and the higher the average monthly searches, the better: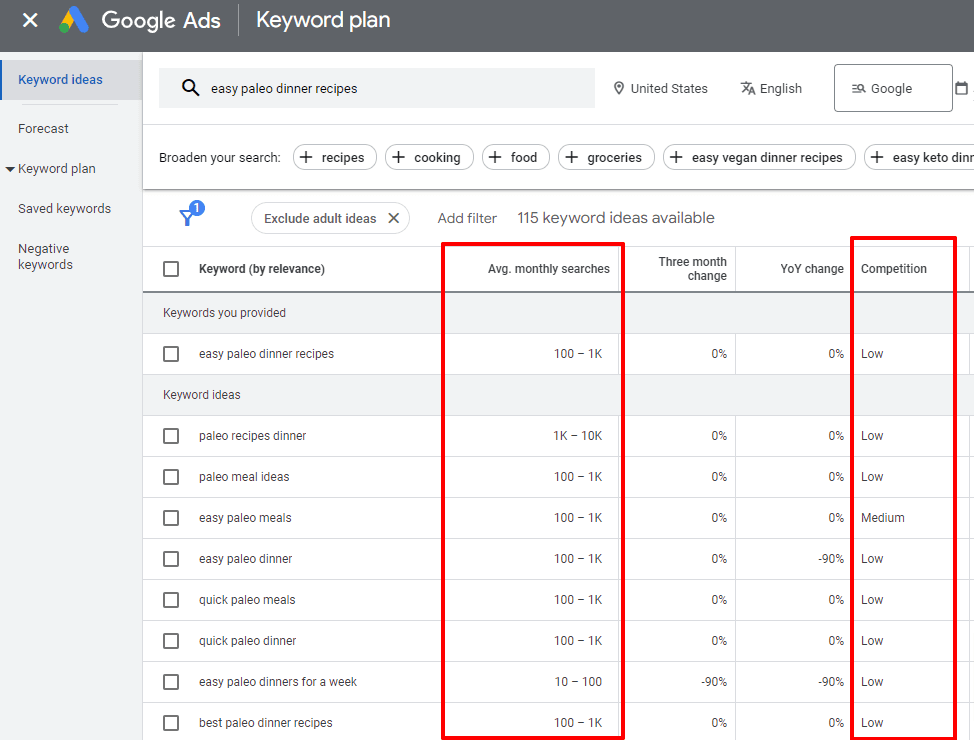 Another great keyword research tool is Keywordtool.io. When you search just one keyword phrase, this tool pulls up hundreds of variations you can then further research to determine competitiveness.
3. Integrate Long Tail Keywords Into Your Content
Your main focus should always be on quality. This can sometimes make it difficult to incorporate keywords, because sometimes they can come across as unnatural.
But don't worry, you don't have to sacrifice one for the other!
When you create content around pre-selected keywords, you're better able to naturally incorporate them into your content. Here's how:
Create a compelling headline. Choose long tail keywords that can be easily turned into compelling headlines, and use them to the fullest.
Use the keyword to guide your writing. This makes it easy to naturally incorporate the keyword, instead of shoving it into any ol' place after the content has already been created.
With long tail keywords integrated into your website's content, you increase your chance of ranking higher on SERPs and boosting visibility.
How to Use Pretty Links to Track Long Tail Keywords
Once you're using long tail keywords in your content, it's important to track the results of your efforts. This is where a link tracking tool comes in super handy. By using such a tool, you can measure the effectiveness of your keywords, track clicks on your links, and gain insight into the behavior of your audience.
Our Pretty Links WordPress plugin allows you to track clicks on your links, while also providing detailed analytics on how users are engaging with your content.
To get started, install Pretty Links on your WordPress site and create custom links for your long tail keywords. For example, suppose you're working on optimizing a blog post for the long tail keyword "easy paleo dinner recipes" while also trying to optimize a related affiliate link.
Simply create a pretty link that includes the long tail keyword in the prettier-looking affiliate redirect, such as "yoursite.com/easy-paleo-dinner-recipes-book":
PLUS, with the Pretty Links Product Display Add-on, you can create a visual representation of your affiliate product to post within your blog too: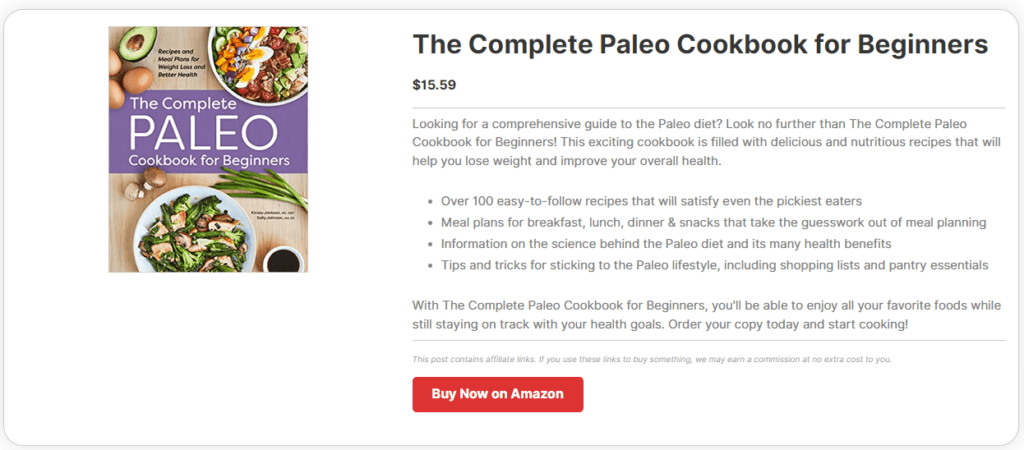 Once you've created and used the pretty link in your content, you can start tracking clicks using the Pretty Links dashboard. Simply log in to your Pretty Links account and navigate to the "Clicks" tab:
Here, you'll see how many clicks your long tail affiliate link has received, as well as other data such as the location of the clicks.
Conclusion
With the right implementation, long tail keywords can help content marketers target their audience more effectively and increase their website's visibility.
Additionally, using a link tracking tool like Pretty Links can provide valuable data on the effectiveness of your long tail affiliate keyword strategy.
By following the tips provided in this post and utilizing the power of Pretty Links long tail keyword tracking, you can increase your chance at success in the competitive world of affiliate marketing.
Do you have any questions about long tail keywords and how to use them effectively for affiliate marketing? Let us know in the comments section below!
If you liked this article, be sure to follow us on Facebook, Twitter, Pinterest, and LinkedIn! And don't forget to subscribe to our newsletter!