3 Ways to Craft Interactive Blog Posts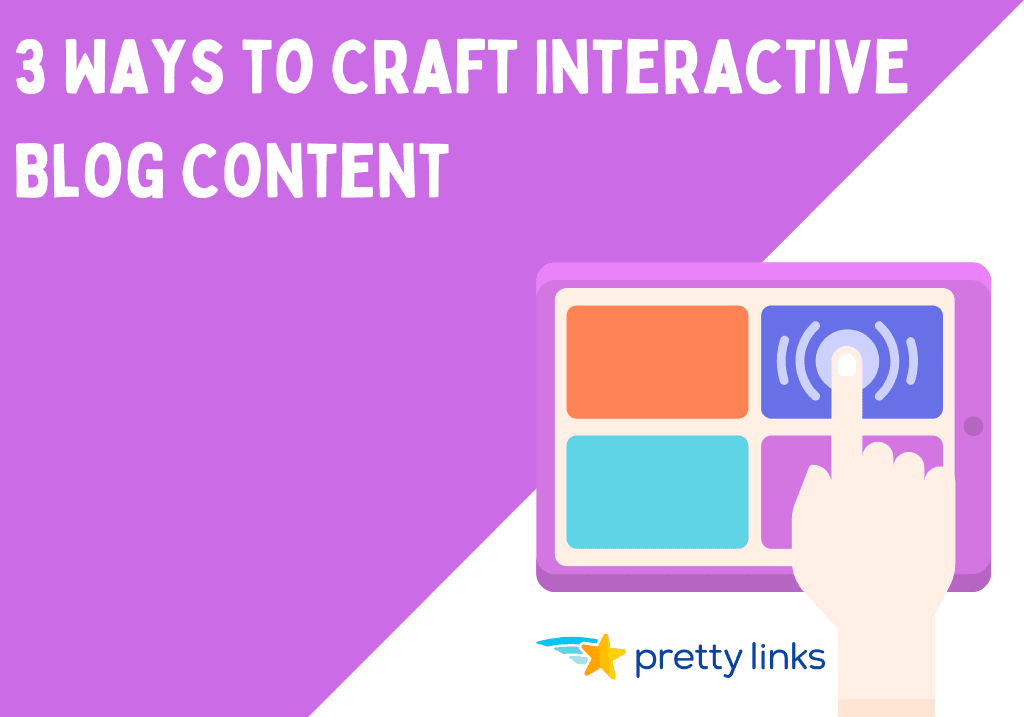 Blogging is a great way to drive traffic to your affiliate website. However, with more than 600 million blogs on the web, you're facing some stiff competition.
That's where interactive content comes in. By transforming your static blog into an engaging, dynamic experience, you should have no problems holding the reader's interest – no matter how many other sites are clamoring for their attention.
In this post, we'll discuss why interactive content may be the secret to affiliate marketing success. We'll then share three ways to upgrade your blogging game. Let's get started!
What is an Interactive Blog Post (and How Can it Benefit Your Site)
It's difficult to know exactly how many blogs exist. However, if you look at Internet Live Stats, you can view the number of blogs published today. You can also see how quickly this number is rising! 
With so much content to choose from, you'll need to work hard to hold your audience's attention. Fortunately, adding interactive elements to your blog posts can immediately make your content more engaging.
In their Content & Buyer's Journey Benchmark Report, Demand Metric discovered that over half of the participants were unhappy with the interactivity of online content. The study also found that interactive content drives around twice as many conversions compared to its static equivalent. That could be a lot of additional clicks for your affiliate links.
There are many ways to add interactive content to your blogs. For this reason, you may want to experiment with different techniques to see which ones deliver the best results for your particular affiliate website.
When testing various techniques, it's wise to monitor what impact they have on your audience. You can track visitor behavior using a tool such as Google Analytics: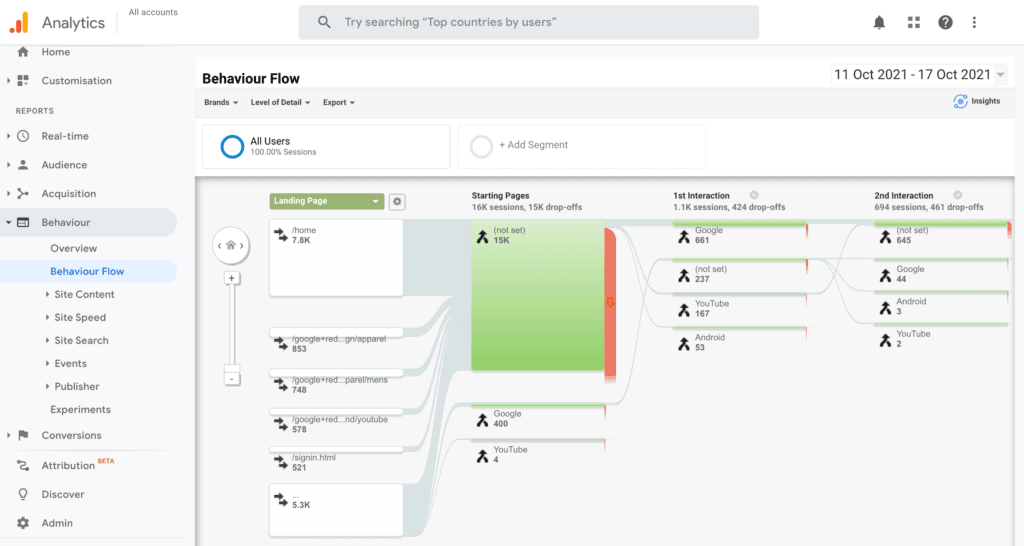 As an affiliate marketer, you naturally want visitors to interact with your links. Our Pretty Links plugin provides a central location to view all of the clicks on your URLs.
By monitoring engagement with your affiliate links, you can pinpoint the interactive content that delivers the best click-through rates (CTRs). You can then use this insight to optimize your content marketing strategy for even higher CTRs.
3 Ways to Craft Interactive Blog Posts
Your audience wants more opportunities to interact with your content, and you want to boost conversions. Here are three ways to craft interactive blog posts that will help keep everyone happy!
1. Write Quizzes
After answering a few questions in a quiz, we usually feel compelled to continue until the end. Therefore, quizzes can easily increase the amount of time visitors spend on your website.
A high average session duration indicates to the search engines that your site is providing a good user experience. In turn, it can often boost your rankings and earn you some additional traffic. 
Quizzes come in all shapes and sizes. For example, you might create a short pop quiz to test the visitor's knowledge or reinforce learning: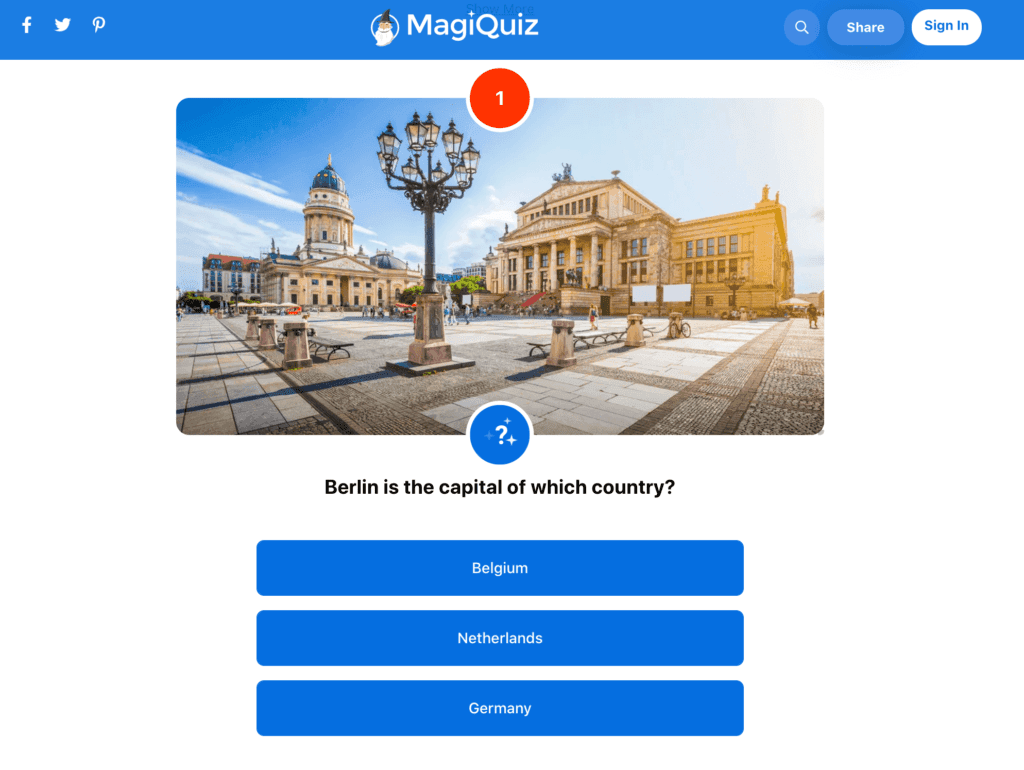 Furthermore, you might also use quizzes to assess the visitor's requirements. You can then suggest their perfect affiliate product and convert that reader into a paying customer: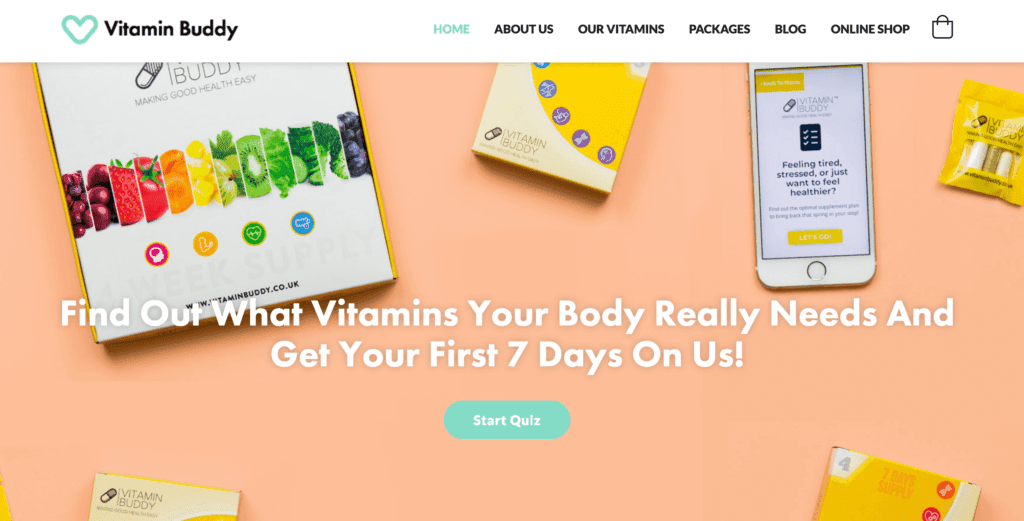 Additionally, many sites use quizzes to encourage social shares. BuzzFeed is famous for its viral quizzes: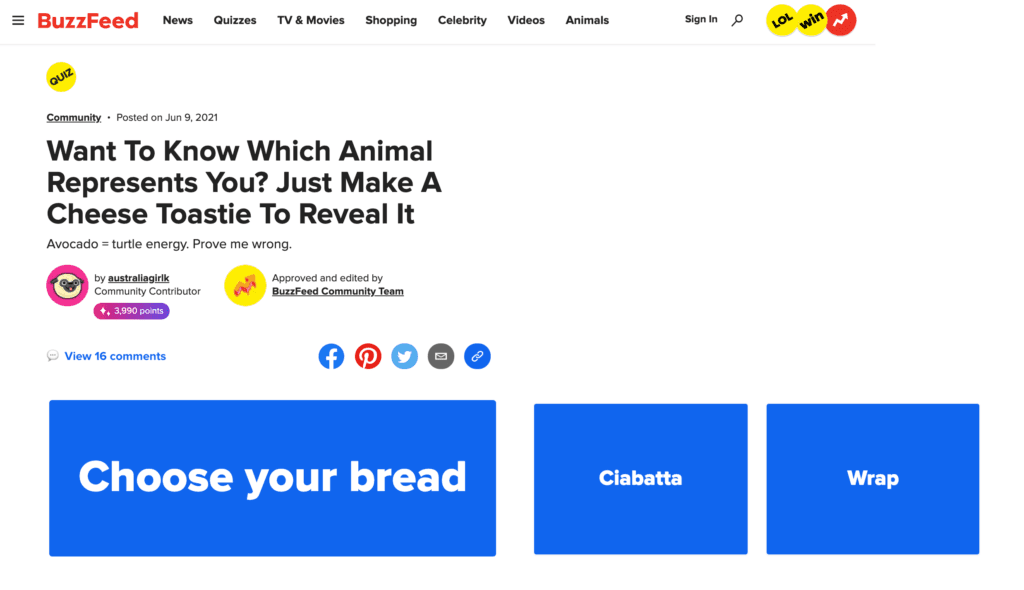 Regardless of how you plan to use this popular technique, you can create your quizzes with a plugin such as Quiz and Survey Master. As a bonus, this plugin integrates with a range of email automation software, including the Mailchimp platform. As such, it enables you to collect visitor email addresses, which is excellent for lead generation. 
2. Embed Videos
In 2020, internet users watched over 12.2 billion minutes of video. That equates to 23,211 years' worth of content! Video is hugely popular. In fact, evidence also suggests that people spend on average 2.6x more time on pages with video than without.
It's easy to embed videos in your WordPress site. To start, add a Video block in the page editor: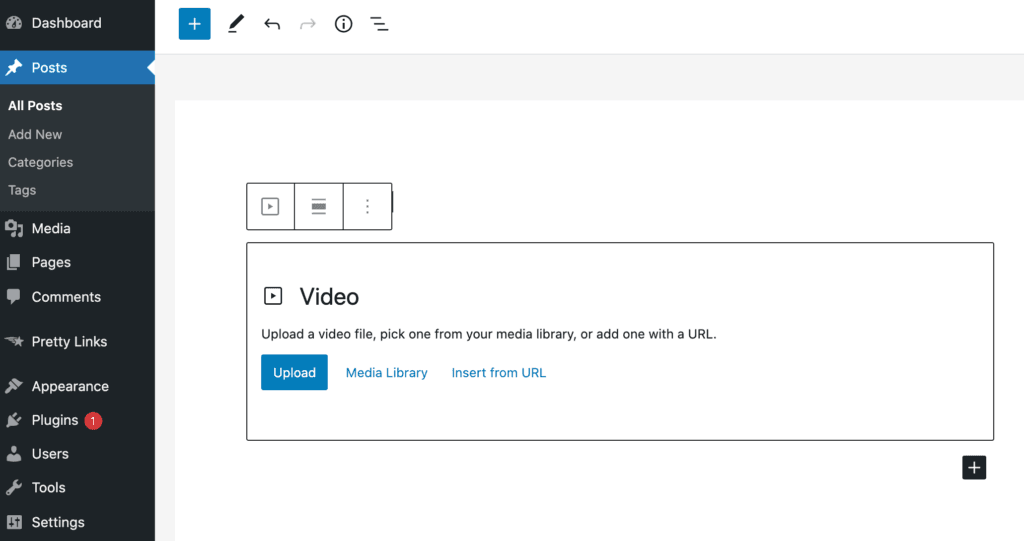 Then, upload your video in the standard WordPress Media gallery. You can even auto-embed clips from external platforms. For example, you can insert any YouTube video using the built-in YouTube block: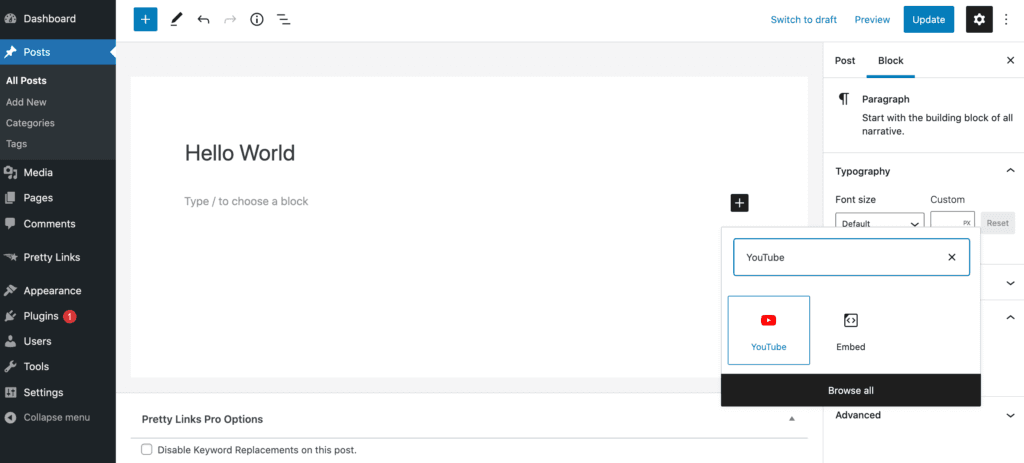 In this block, paste the video's URL, and then click on Embed. WordPress will now fetch the embed code and display the YouTube video in your webpage: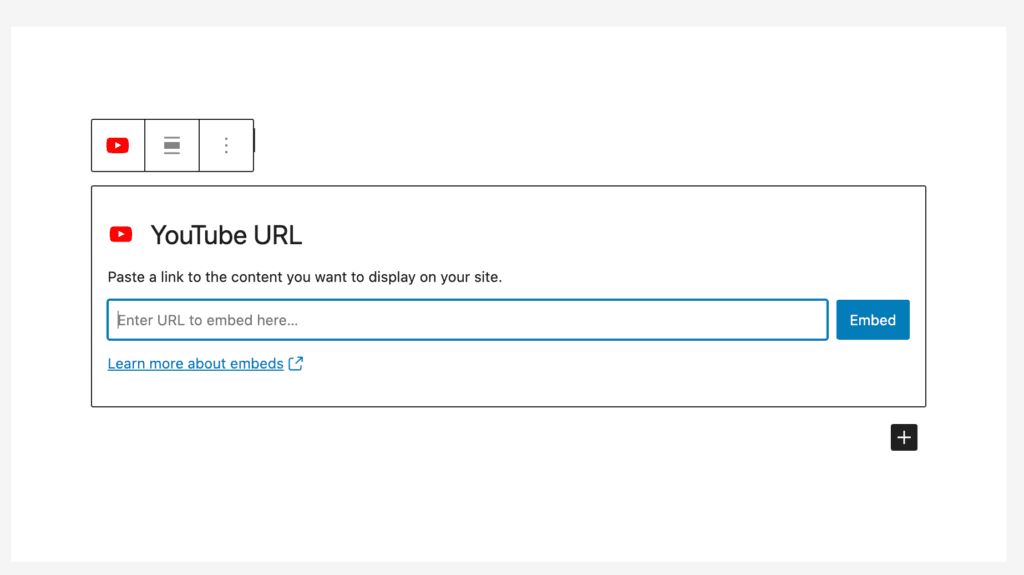 Despite the widely-held belief that attention spans are shrinking, the 2021 State of Video Report discovered that long-form video is gaining traction. With this in mind, you may want to consider using longer clips to increase visitors' average time on your website.
3. Make Your Charts and Graphs Interactive
Facts and figures can be powerful tools for driving conversions. However, lists of numbers and statistics aren't particularly engaging.
This is where data visualization comes in. This process involves turning numbers into graphics, such as charts, professionally designed infographics, and graphs. These visuals can help visitors understand the information you're sharing.
You can take your data visualization to the next level by making these graphics interactive. Doing this can promote a deeper understanding by encouraging visitors to explore the data independently. It can also make dry facts and figures more compelling.
You can create interactive graphics using a plugin such as Visualizer. With this tool, you can generate a range of cross-browser, mobile-responsive charts, graphs, and tables:

The free plugin includes line, area, bar, column, pie, bubble, and scatter charts. After creating these graphics, you can encourage visitors to interact with them by adding a range of interactive capabilities. For example, you can use sorting, search, and pagination.
Conclusion
Bloggers use WordPress.com to publish 70 million new posts every month – and that's just a single platform! With readers spoiled for choice, you'll need to work hard to make your content stand out from the crowd.
Let's quickly recap three ways to wow your audience with interactive blog content:
Write quizzes
Embed videos
Make your charts and graphs interactive
Do you have any questions about creating interactive blog posts? Let us know in the comments section below!
If you liked this article, be sure to follow us on Facebook, Twitter, Pinterest, and LinkedIn! And don't forget to subscribe to our newsletter 😄
1 Comment
Peter Parker

March 28, 2022

You always come up with new ideas. Thanks for publishing valuable information.