3 Affordable Outsourcing Tasks for Your Online Business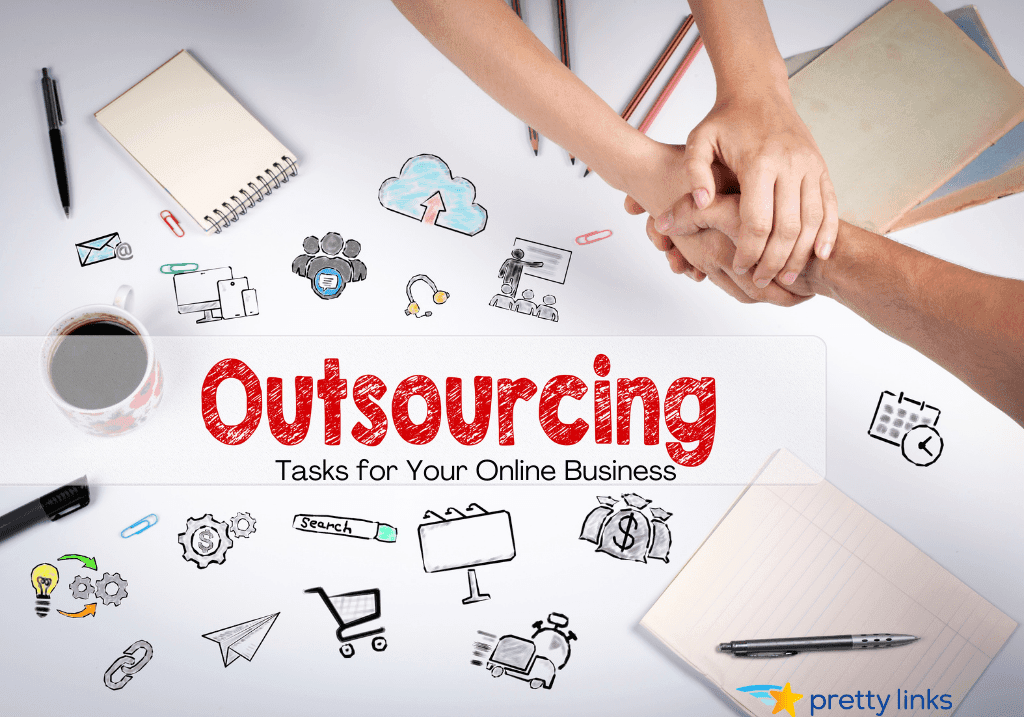 Affiliate marketing is often referred to as passive income. However, don't let this passive label fool you – running a profitable affiliate business isn't always easy.
Fortunately, help is at hand, even if you're a solo entrepreneur. You can invest more time and energy in growing your business by outsourcing time-consuming, frustrating, or just tedious tasks.
In this post, we'll look at why outsourcing may be the best-kept secret to affiliate marketing success. We'll then share three affordable outsourcing tasks for your online business. Let's get started!
An Introduction to Outsourcing (and How It Can Benefit Your Affiliate Business)
Outsourcing is where you hire a third party to perform a task for you. It may be a one-off job, such as designing the logo for your brand-new affiliate site. Alternatively, it can be an ongoing process, such as monitoring your website's performance.
Outsourcing is popular with business owners because it's typically more affordable than hiring a full-time employee to complete the same work in-house. It can also be a quick and easy way to access expertise in a specific area. Therefore, it can give you an edge over the competition without investing in lengthy and expensive employee training.
By outsourcing work to a third party, you can also free up a significant amount of time to invest in other tasks. This strategy can be valuable when you're outsourcing work that falls outside your area of expertise. In this scenario, working with an outside party enables you to focus your efforts on processes that require your specialized skills.
3 Affordable Outsourcing Tasks for Your Online Business
By strategically enlisting the help of a third party, you can focus on growing your affiliate business and generating sales. However, some tasks are better suited for outsourcing than others. With that in mind, here are three affordable outsourcing tasks for your online business.
1. Search Engine Optimization
Search engine optimization (SEO) has become an essential part of running an online business. Over 53% of all web traffic comes from organic search, and 39% of online purchases are influenced by a relevant search. Therefore, your position in the search results has a significant impact on your bottom line.
SEO is crucial, but it's also a vast topic. To make matters worse, it's a highly competitive and fast-moving industry. If you want to drive traffic to your site over the long term, then you'll need to continuously monitor and refine your SEO.
To further complicate matters, search engines have a frustrating habit of modifying their ranking criteria. Essentially, SEO isn't a one-time job – it's an ongoing commitment.
For this reason, many businesses choose to outsource their SEO. You could use a platform such as Fiverr to find specialists: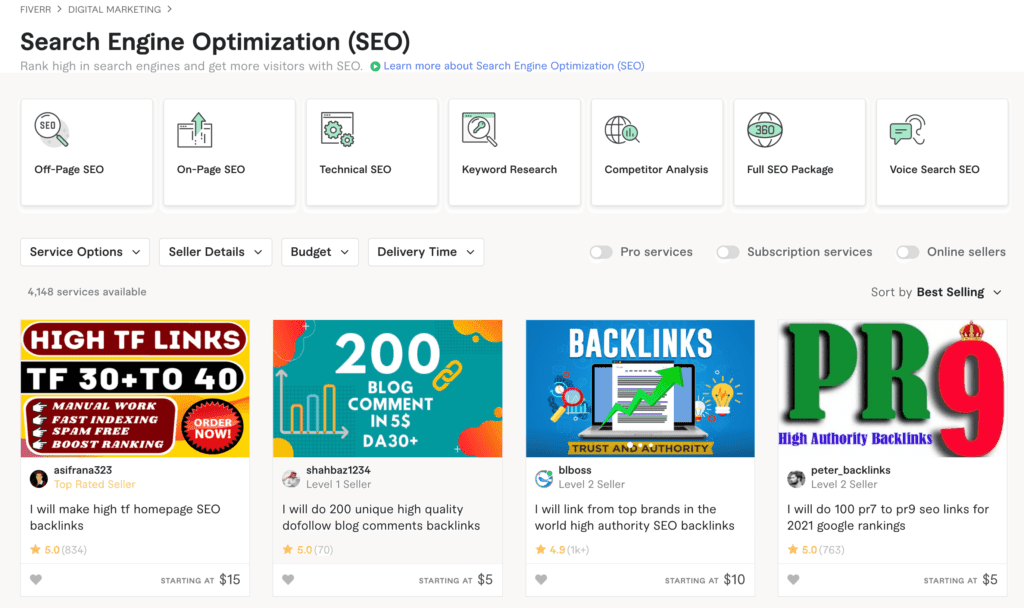 Using a freelancer immediately frees up a considerable amount of time. However, it also means you're benefiting from SEO expertise.
Optimizing for search engines can sometimes feel like playing a guessing game where the goalposts are constantly moving. An SEO expert will have the in-depth knowledge you need to remain at the cutting-edge of this challenging industry.
At the time of writing, the best-selling SEO services on the Fiverr online marketplace ranged from $5-250. These packages include everything from straightforward site analysis, to content creation, and placing valuable links on third-party authority sites.
2. Social Media Management
Social media marketing is essential for building your brand and driving traffic to your affiliate site. You can also generate sales directly from your social profiles by posting affiliate links to your accounts.
There's even software that's designed to help you create shorter, more shareable affiliate URLs, such as our Pretty Links plugin:
Managing your social accounts can be a time-consuming process. This is especially true if you operate across multiple platforms, as each one is unique. If you're going to get the most out of your social presence, you may need to create unique content for each account.
Social media is also highly time-sensitive. If a customer reaches out to one of your profiles, they will often expect an immediate response, regardless of the date and time.
Managing your social accounts effectively can be a 24/7 job. For this reason, many businesses outsource this task to professional third parties:
By partnering with an experienced social media manager, you can ensure you're getting the very best out of your accounts. According to Fiverr, you can purchase a promotion on various third-party social media profiles for as little as $5.
Alternatively, suppose you've just created a new social account. In that case, you might hire a specialist to help you attract your first followers. These services are typically priced at less than $100.
3. Translating Your Affiliate Content
As an online business, you can promote your affiliate links to people around the globe. To make the most out of this opportunity, you may want to provide your content in multiple languages. With 74% of internet users speaking a language other than English, multilingual content may be the key to boosting your sales.
Even if some of your audience is multilingual, shoppers generally want to read in their native tongue. In fact, 65% of consumers prefer to access content in their first language. Therefore, providing translations can give you a significant advantage over your competitors.
When deciding which languages to target, we recommend using a tool such as Google Analytics. Its dashboard shows where your audience is located. Armed with this insight, you can start to pinpoint the languages that may be particularly lucrative for your affiliate business:
Unless you're a master of multiple languages, you'll likely need to enlist the services of a translator. While you could run your text through an automated tool such as Google Translate, this often results in awkward and unnatural-sounding text.
To provide a five-star experience for your international customers, we recommend partnering with a professional translator:
Once your partner has provided the translations, you can add them to your site using a multilingual plugin. Polylang is a popular option, and it also has full support for right-to-left (RTL) language scripts.
You'll find a wide range of translation services on the Fiverr website, all priced at $5. With a massive variety of services on offer, you should have no problems finding someone who will translate your content into the desired language.
Conclusion
Despite everything you may have read, affiliate marketing isn't a "sit and forget" business. If you're struggling under the weight of your to-do list, outsourcing may be the answer.
Let's quickly recap three tasks that you may want to consider outsourcing:
Search engine optimization (SEO)
Social media management
Translating your affiliate content with a translator
Do you have any questions about how outsourcing can benefit your affiliate site? Let us know in the comments section below!
If you liked this article, be sure to follow us on Facebook, Twitter, Pinterest, and LinkedIn! And don't forget to subscribe to our newsletter 😄