Rebrandly vs Short.io vs Pretty Links (A 3-Way Comparison)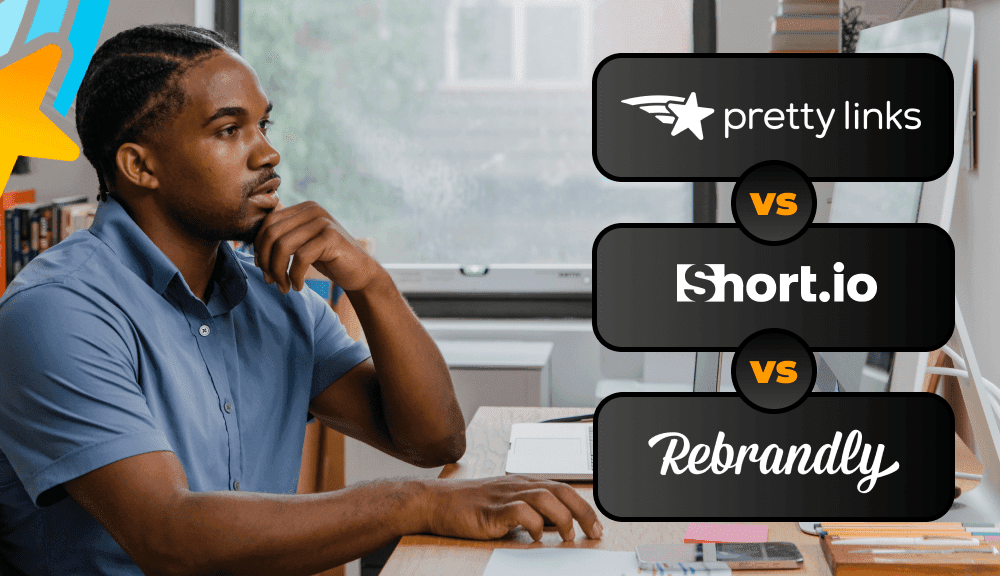 Looking to spruce up your WordPress site with a link-shortening tool? There's a bunch of options out there like Rebrandly, Short.io, and Pretty Links. Each one's got something special to offer, but figuring out which one's the best for you might seem like a puzzle.
Don't worry, we got your back! We've rolled up our sleeves and dug into these 3 tools to give you a clear comparison. By the time you finish reading this, you'll have a solid understanding of what Rebrandly, Short.io, and Pretty Links bring to the table, and you'll be able to pick the one that fits your link managing needs.
Here's what we'll cover:
Features: What makes each tool unique? We'll break down the special features that set them apart.
Ease of Use: Nobody wants to wrestle with complicated software. We'll tell you how user-friendly each of these tools is.
Support: Need help? We'll let you know what kind of support you can expect from each tool.
Pricing: Money matters, right? We'll give you the lowdown on how much each tool will cost you.
Ready to find the perfect link-shortening tool for your WordPress site without getting bogged down in tech jargon – you're in the right place. Settle in and let's dive into this easy-to-follow guide. By the end, you'll be ready to make a decision that'll make managing your website's links a breeze!
Features for Rebrandly vs Short.io vs Pretty Links
Not all link-shortening services are cut from the same cloth. Here's the lowdown on these 3 options, so you can see what they're packing in terms of features. Take a peek and get the scoop on how each of these services brings something different to the table for shortening links.
Features: Rebrandly
Rebrandly is a link management service that enables you to shorten links, set up redirects, and track link performance using analytics. Additionally, if you're part of a team, Rebrandly offers many collaboration features designed to help you manage multiple domains. The tool can also generate both public and private reports for monitoring link performance:
With Rebrandly, you'll get access to performance metrics broken down by platform. This feature makes it an ideal tool for using branded links beyond your website, such as in email campaigns or social media.
Features:
Shorten and brand links.
Manage links for one or more websites.
Access an API integration.
Collaborate with your team.
Configure link expiration settings.
Automate custom reports.
This feature set makes Rebrandly shine when managing links for multiple domains. Moreover, the service offers flexible pricing plans, which we'll explore later in this article.
Features: Short.io
Short.io is a flexible link-shortening and branding platform. The tool enables you to shorten links using custom domains, and you can configure how those links behave based on user location and device type:
Links created using Short.io can have custom expiration dates, and you can use the service to generate QR codes as well. The platform also offers password protection if you want to share links privately.
Features:
Cloak links.
Use a custom domain for your links.
Manage links for multiple websites.
Generate QR codes.
Track link performance.
Password-protect links.
Integrate the tool with other platforms, including Slack, Zapier, and Google Analytics.
One of Short.io's primary benefits is its roster of integrations. The platform works with many of the most popular collaboration tools, making it easy to share information about link performance with your team members.
Features: Pretty Links
Pretty Links is not just a standalone platform but a WordPress plugin. Our tool enables you to shorten links and monitor their performance for any type of website, particularly affiliate marking sites: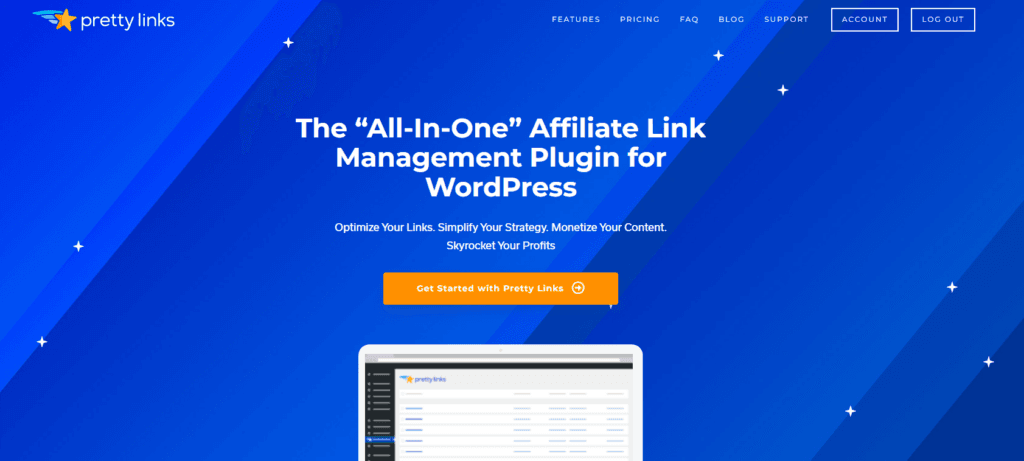 You can use Pretty Links to shorten as many links as you need and create eye-catching product displays to give them even more of a POP! Plus, our plugin includes link categorization tools to help you keep track of every element, as well as configurable expiration settings.
Features:
Shorten and brand links in WordPress.
Implement multiple types of redirects.
Organize links by groups, categories, and tags.
Generate link reports.
Customize Product Displays
Create QR codes.
Integrate the plugin with Google Analytics.
Generate link disclosures and social sharing buttons.
If you use WordPress, Pretty Links is one of the best options at your disposal. Since it's a plugin, its integration and setup are seamless compared to a third-party platform.
Ease of Use for Rebrandly vs Short.io vs Pretty Links
Ease of use or onboarding is critical to a good link-shortening platform. The easier to use the service, the less time you'll need to spend learning the documentation or training your team on how to use it. Let's discuss how these platforms compare in terms of user-friendliness.
Ease of Use: Rebrandly
When you sign up for a Rebrandly account, the service asks how you plan on using it. That's to say, if you're an affiliate, run a social media account, or other similar options. Then Rebrandly will prompt you to start by creating a branded link or setting up a custom domain:
It's important to note you can only use a branded domain with Rebrandly if you pay for a premium account. The base version of the plugin only works with Rebrandly URLs, which look like this:
Additionally, the platform lets you choose from a list of custom Rebrandly domains and set custom slugs.
Ease of Use: Short.io
You can create an account with Short.io for free. When you do so, the platform will automatically assign you a free domain for link shortening. However, this domain is meant more for testing purposes since it's usually not too brandable:
When you access the Short.io dashboard, the platform will prompt you to connect a custom domain with the service.
Once you've decided which domain to use, just enter a link in the dashboard, and Short.io will automatically shorten it. During this process, you can choose the URL slug and configure targeting options depending on the location and operating system:
After creating a link, you'll be able to monitor it from the BRANDED LINKS tab in the dashboard. Alternatively, the STATISTICS tab provides more in-depth link performance reports.
Ease of Use: Pretty Links
Setting up Pretty Links is remarkably easy. You can activate the Lite version of the plugin and start using it without a license. As soon as you activate the plugin in your WordPress dashboard, you'll enter our Setup Wizard which will walk you through the 5-step process of getting started, including:
Choosing which features you want to enable
Creating your first short link
Setting up your first link category
Then, to create additional short, branded links, head to Pretty Links > Add New in the dashboard. The link editor will enable you to set a title for the link, choose which type of redirection to use, and set the target URL. You can also configure the link slug and add notes for it:
Support for Rebrandly vs Short.io vs Pretty Links
When using a third-party service for your business, you'll need access to speedy and helpful customer support if issues arise. With that in mind, we'll analyze the support options of all three link-shortening platforms in this section.
Support: Rebrandly
A basic Rebrandly account gives you access to two support channels. The first is email ticketing. You can submit a ticket at any time from the Rebrandly website or use the live chat option, which you can access by clicking on the chat icon at the bottom lower-right side of the page:
On top of tickets and live chat, Rebrandly also offers access to a comprehensive knowledge base. Here, you'll find a massive library of articles covering how to use every aspect of the service. Overall, the knowledge base offers a great first line of troubleshooting, and you can contact the support team if you have any issues that you can't fix on your own.
Support: Short.io
Short.io doesn't offer a ticketing system. Instead, the platform has a live chat option, which you can access from any page. In most cases, it enables you to connect with a support agent within minutes:
Aside from live chat, Short.io has a support knowledge base for users. The library covers a broad range of troubleshooting topics. However, the quality of entries tends to vary a lot, which means the knowledge base isn't always a reliable source for solving technical issues.
Support: Pretty Links
Every Pretty Links user has access to support options, regardless of whether they use the Lite version of the plugin or have a premium license. Lite users can contact the developers directly from the plugin's WordPress.org support forum.
Alternatively, paying for a premium license gives you access to priority support via a ticket system. Either way, you'll get a response direct from the developers.
On top of tickets, you can also refer to our User Manual. This resource library includes articles covering everything from plugin installation to report generation and troubleshooting.
Pricing for Rebrandly vs Short.io vs Pretty Links
Ultimately, choosing a link-shortening platform might come down to price. All of the options we're discussing offer free tiers, but some restrict advanced features to premium plans. Here's what you need to know in terms of pricing.
Pricing: Rebrandly
The free Rebrandly tier offers support for up to 2,500 clicks per month. Those clicks can be distributed across all the links you want. Paid plans start at $12 per month and offer support up to 10,000 clicks in the Lite tier: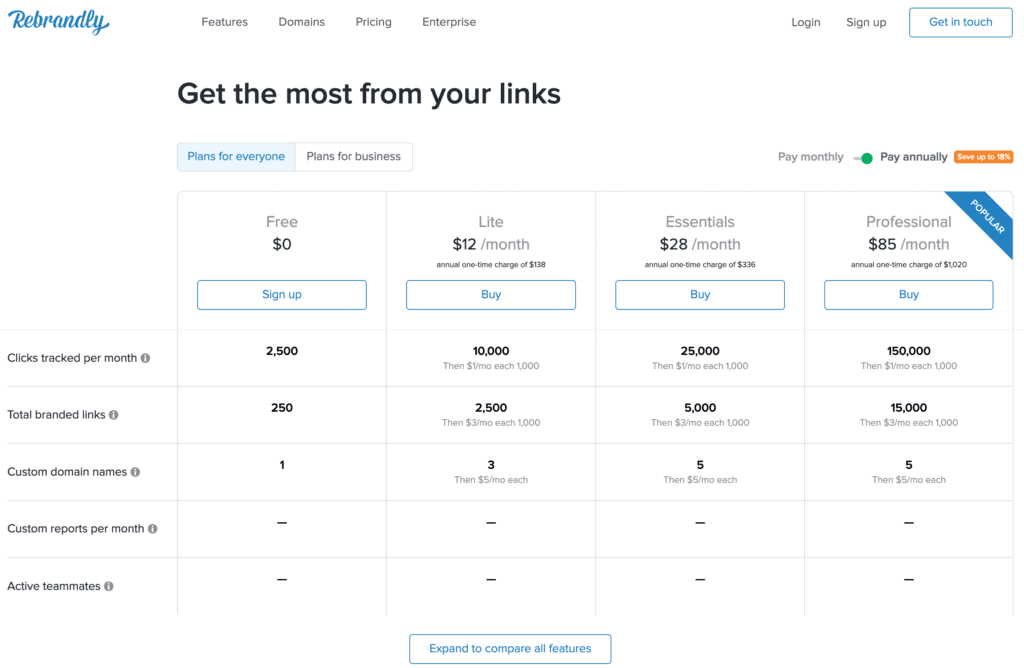 The Lite plan should be sufficient unless you manage a broad website roster. In that case, you'll need to opt for one of Rebrandly's pricier tiers.
Pricing: Short.io
The free version of Short.io is one of the most generous when it comes to how many links you can shorten. That tier supports up to five custom domains and 1,000 branded links. Plus, it supports tracking for up to 50,000 clicks:
The only downside of the free Short.io plan is it doesn't offer any of the platform's advanced features, such as geo-targeting and OS-specific configuration. For access to these settings, you'll need to sign up for the Personal plan and above.
Pricing: Pretty Links
You can use the Lite version of Pretty Links for free. However, if you want access to our plugin's full set of features, you'll need to sign up for a Beginner plan or higher. The Pretty Links Beginner plan starts at $99.50 per year:
Compared with other services, Pretty Links doesn't limit the number of links you can shorten. However, it only works with WordPress websites, unlike Rebrandly and Short.io.
Conclusion
If you're an affiliate marketer, we recommend using a link-shortening service. However, link shortening and cloaking can also be helpful for other types of websites and social media. Many of the most popular link-shortening services on the market also provide you with other functionality, including in-depth link analytics and retargeting.
To recap, here's a quick breakdown of Rebrandly vs Short.io vs. Pretty Links:
Rebrandly: This tool is a good option if you need to manage links for multiple websites, and it gives you access to collaboration tools.
Short.io: This platform enables you to configure links for different behaviors depending on the user's location and device type.
Pretty Links: This plugin is your best option if you use WordPress, and it enables you to shorten an unlimited number of links.
Where do you land between Rebrandly vs Short.io vs Pretty Links? Tell us what you think in the comments section below!
If you liked this article, be sure to follow us on Facebook, Twitter, Pinterest, and LinkedIn! And don't forget to subscribe in the box below.