How to Prevent Affiliate Marketing Fraud on Your Site (3 Ways)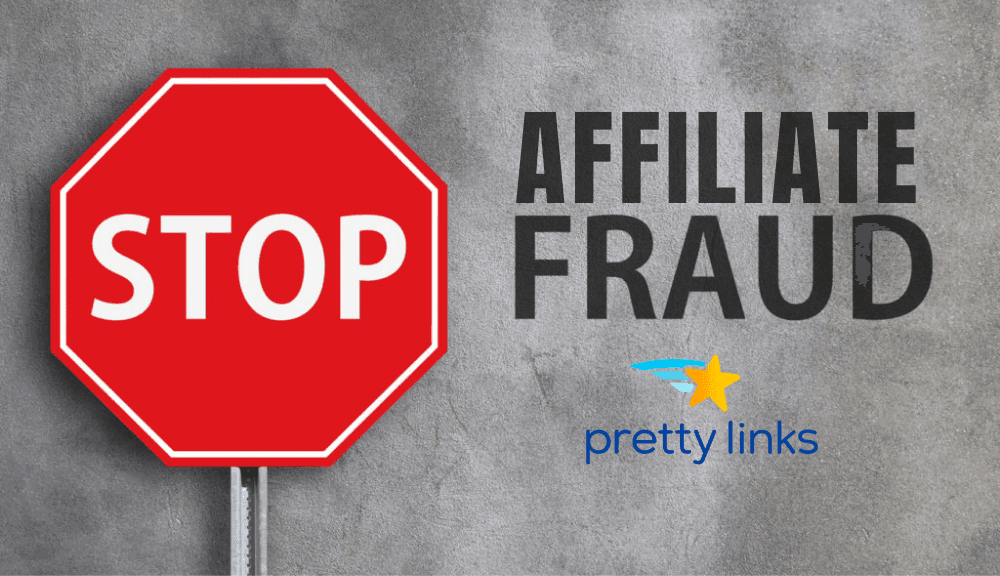 As an affiliate marketer, your online reputation is an important part of your business. The last thing you want is for your website to be involved in affiliate marketing fraud, as it can cost you money and make it difficult to continue running a reputable program in the future.
The good news is, there are steps you can take to protect your site from affiliate theft. By closely monitoring your own links, as well as those used by your affiliate partners, you can stay ahead of potential problems.
In this post, we'll explain what affiliate marketing fraud is and the different varieties it might come in. Then, we'll share three ways to prevent this kind of activity on your site. Let's get started!
An Introduction to Affiliate Marketing Fraud
Affiliate marketing fraud covers any sort of activity used to fraudulently collect commissions. According to a study in the Journal of Cybersecurity, these activities can have significant financial consequences for retailers using an affiliate program.
This type of fraud can come in a few different forms. One of the more common ways is cookie stuffing. With this technique, an affiliate places a lot of third-party cookies for different retailers in a visitor's browser. This results in multiple commissions for the fraudster if the visitor makes a purchase from any of those sites.
Another tactic is when clicks are diverted from an honest affiliate's site. Users end up redirected to the bad actor's site, who then receives credit for any purchases made.
Yet another form of affiliate fraud involves using a stolen credit card. The fraudster will use the stolen card to make a purchase through their own affiliate links. In many cases, you'll have paid out the commission before you realize you've been deceived.
In addition to taking a financial hit, if you're involved in fraud, you may find it more difficult to recruit high-quality affiliates. Bad news travels fast, and if honest affiliates have missed out on commissions through your program, they'll likely share this with their peers.
In the case of credit card fraud, you may find that you run into problems with your payment processor. Since they will end up having to refund fraudulent charges, it may be difficult to convince them to continue working with you.
How to Prevent Affiliate Marketing Fraud on Your Site (3 Ways)
While the threat of fraud can be scary, there are a few ways you can protect yourself. Let's take a closer look at these strategies.
1. Cloak Your Links
Link cloaking involves shortening and branding your URLs. This is frequently used to make long links less cumbersome to work with and remember. However, cloaking can also help to protect your affiliates by obscuring their affiliate ID. With this information hidden, it's less likely that fraudsters will be able to hijack commissions.
Our Pretty Links plugin enables you to easily cloak your links. Once you've installed and activated our plugin, navigate to Pretty Links > Add New from your WordPress dashboard:

From this screen, you can choose your redirect type and enter the link you'd like to cloak. In the Pretty Link field, you can type in your cloaked link. Once you're happy with how your link looks, click on the Update button to save it.
2. Evaluate New Affiliates
If you bring new affiliates into your program, their behavior will ultimately reflect on your brand. Therefore, it's a good idea to do some investigating when onboarding new partners.
The first step is to check out their websites. If you see that they tend to market a wide variety of products with no discernible niche, that's a red flag. While it might not necessarily indicate a potential for fraud, you likely won't want them in your network.
Another potential cause for concern is if the affiliate doesn't have an email address that matches their website's URL. If they're using a generic Gmail or Yahoo address, you may want to proceed with caution.
Once you've done your homework, you may want to use Easy Affiliate to approve your new affiliates:

This plugin helps you set up a self-hosted affiliate program and manage your members more efficiently. It also comes with an advanced security system to ensure that your program is protected against cyber attacks.
3. Monitor Affiliate Links
Part of staying ahead of affiliate marketing fraud is knowing where your visitors are actually coming from. As we mentioned earlier, fraudsters can make it look as though clicks are coming through their links. If you have suspicions about a particular affiliate, you can monitor their links to find out if the clicks are legitimate.
Once again, you can handle this task with the Easy Affiliate plugin. In the Affiliates dashboard, you'll see a list of your members along with their clicks and commissions:

If you notice a sudden surge of activity, you may want to investigate further. For added security, Easy Affiliate even offers a Fraud Prevention Add-on.
Conclusion
Involvement with affiliate marketing fraud can be devastating to your online reputation. Fortunately, by being proactive, you can protect yourself and your business from a potential disaster.
Let's recap the three tips we shared for preventing affiliate marketing theft:
Cloak your links, using Pretty Links.
Evaluate new affiliates with Easy Affiliate.
Monitor affiliate link activity to ensure that the clicks are legitimate.
Do you still have questions or concerns about affiliate marketing fraud? Let us know in the comments section below!
If you liked this article, be sure to follow us on Facebook, Twitter, Pinterest, and LinkedIn! And don't forget to subscribe to our newsletter 😄