How to Prepare for a Cookieless Future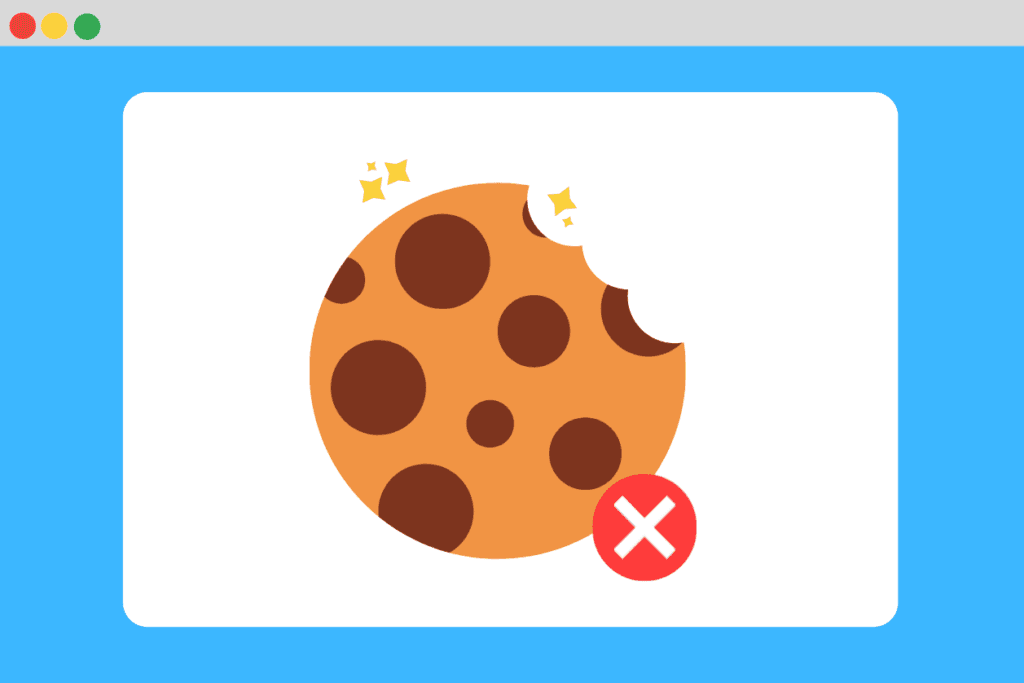 If you work in affiliate marketing, you may be aware that Google plans to phase out third-party cookies by 2022. Given that Chrome is currently the most commonly-used browser worldwide, accounting for over 60% of the market, you might be a bit concerned about the implications of this cookieless future.
Although Google's cookie ban is set to bring about some changes to the affiliate world, there is no real cause for concern. Alternatives to third-party cookie tracking already exist. Plus, as an affiliate marketer, there are several things you can do to minimize the impact of this development on your business.
In this article, we'll look at how a cookieless future will affect affiliate marketers and what you can do about it. Let's get started!
How Third-Party Cookies Work (and Why They Matter for Affiliate Marketers)
Unlike first-party cookies, which only track a user's activity on a given website, third-party cookies track a user's movement across different websites. They are normally placed in the browser by advertising agencies to collect information about the user's behavior on the web. This data helps advertisers create campaigns that target the right people.
In affiliate marketing, cookies are often used to track transactions between publishers/affiliate marketers and merchants. When you join an affiliate network, such as ShareASale or CJ Affiliate, you can sign up to different affiliate programs offered by its merchants/advertisers:
As an affiliate marketer, you promote the merchant's products by embedding affiliate links and ads in your content. When a web user clicks on one of your URLs, they are redirected to the merchant's website via the affiliate network's ad servers, and in the process, a third-party cookie is dropped in the user's browser through the embedded content.
If the user makes a purchase on the merchant's website, the publisher earns a commission from the sale. This is because the third-party cookie enables advertisers to track the user's actions across websites and attribute the sale to the publisher that sent the user to the merchant's page. However, this tracking process is set to change as we move towards a future without cookies.
Why the Future Is "Cookieless"
Google's ban on third-party cookies comes amid growing calls for greater privacy and transparency on the web. Browsers such as Apple's Safari and Mozilla's Firefox already block third-party tracking cookies. Meanwhile, the introduction of data protection acts such as the General Data Protection Regulation (GDPR) and the California Consumer Privacy Act (CCPA) has given internet users more control over how their data is collected and processed.
Therefore, it comes as no surprise that Google has decided to follow suit. With the focus shifting towards guarding user privacy on the web, it's safe to say that third-party cookies are on their way out for good. This means that advertisers and affiliate networks will need to employ tracking mechanisms that comply with strict privacy regulations and adapt to a cookieless future.
What a Cookieless Future Means for Affiliate Marketers
A cookieless future may sound like a problem for affiliate marketers. Without third-party cookies, the advertiser or merchant might be unable to determine where sales are coming from, which could result in a loss of revenue.
However, there is some good news. Not all affiliate networks use third-party cookies to track and attribute sales. Since Google's cookie ban announcement in 2020, some programs have switched to server-to-server tracking. Others have developed their own alternatives to cookie tracking.
For example, the popular affiliate network Awin uses bounceless tracking, which sends each user from a publisher's page directly to a merchant's page without redirects (and therefore without cookies). It is also worth noting that Google is working on its own alternatives to third-party cookies: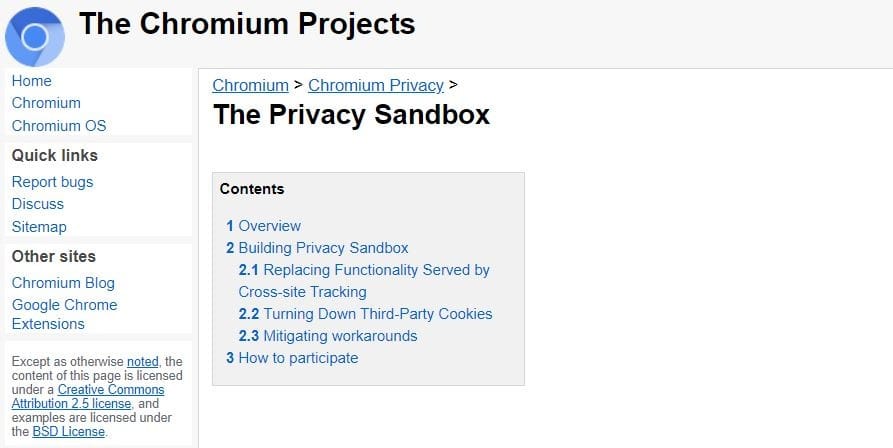 The Google Privacy Sandbox initiative aims to replace cookies with different Application Programming Interfaces (APIs) that will enable advertisers to collect data without infringing on user privacy.
How to Prepare for the Ban on Third-Party Cookies (3 Tips)
Are you still worried that this cookieless future might affect your affiliate income? Let's look at some of the things you can do to minimize your losses.
1. Take Stock of Your Affiliate Memberships
It might be a good idea to put together a list of the affiliate networks and programs you're currently using and find out what tracking mechanisms they currently have in place. That way you'll get a clearer picture of the impact this cookieless future may have on your affiliate income.
After that, you can consider abandoning or reducing your reliance on networks and programs that haven't yet adopted alternatives to third-party cookie tracking. In exchange, you can prioritize those that have.
2. Focus on Products That Are Popular with Your Audience
This transition to a cookieless world offers an opportunity to rethink your marketing strategies. As a publisher, you might want to find out which products on your site are generating the most revenue, and plan your content accordingly.
You can use Google Analytics to see what products your readers are clicking on, and use link management tools such as the Pretty Links plugin to manage your affiliate links and analyze their performance: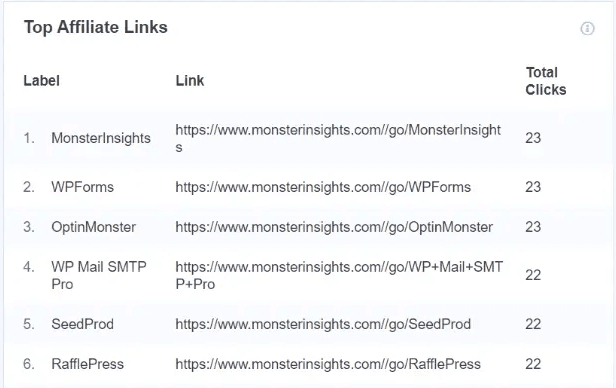 From now on, you can focus on affiliate programs that use cookieless tracking and sell products that your readers are likely to buy. This tailored approach may help you increase your affiliate income and future-proof it.
3. Explore Alternative Income Streams
If you think this cookieless future will cause a drop in your affiliate profits, you might want to consider exploring other income streams to combat your losses. For instance, you could create an online course, add a shop on your website, or host webinars.
You could also reach out to your favorite brands and discuss other means of collaborating with them (besides joining their affiliate programs). Some ideas to consider include paid product reviews and giveaways for your audience.
Conclusion
For years, third-party cookies have enabled advertisers to track the behavior of users across the web and offer commissions to affiliate marketers who send customers to their product pages and generate sales. As a result, many affiliates are worried that Google's ban on third-party cookies will affect their revenue from affiliate marketing.
As an affiliate marketer, here are some actions you can take to prepare for this cookieless future:
Take stock of your current affiliate memberships, and prioritize programs that have switched to cookieless tracking.
Find out what affiliate products are performing well on your site, and tailor your content accordingly.
Explore alternative income streams, such as course creation and paid product reviews.
Do you have any questions about the impact of this cookie ban on affiliate marketing? Let us know in the comments section below!
If you liked this article, be sure to follow us on Facebook, Twitter, and LinkedIn! And don't forget to subscribe in the box below.
4 Comments
Susanne Jakobsen

June 7, 2021

I have seen examples of webshops which are NOT placing the id of the referring publisher in the mandatory first-party cookie. Instead the id has been placed in one of the cookies which can easily be deselected by the visitor. This can cause missed sales, especially when the visit and the sale doesn't take place in the same session.

Daniel Nash

December 16, 2021

Hi John Not so much a question as a congrats on an excellent post. Great ideas on point 3, a couple of which I have been exploring recently. Thanks for the information and thanks for sharing.

Calvyn

May 2, 2022

Is there any example of company (use case) that already works out from 3rd party cookies right now?

Jori

June 15, 2022

How does an advertiser track visitors that revisit their website after clicking the affiliate link for the first time in the cookieless world? Cookie duration is not relevant anymore? Thank you!