How to Create Instagram Shopping Posts to Convert Sales
Online shopping is nothing new. It's been around since the 1960s. Since the late 90s, websites like Amazon and eBay have dominated the online shopping space, while solo brands followed suit soon after with their own online shopping platforms.  
But Instagram brings the shopping experience to a whole new level for business owners, with its billion-strong user base, impressive advertising tools, and seamless buying experience.
From brand discovery to product research and checkout, Instagram users can now do it all in one place. If you haven't set up your digital storefront just yet, you're missing out on the 800 million users who are eagerly waiting to shop. 
In this article, we'll list some helpful tips to help you create Instagram shopping posts that actually convert.
Tip #1: Go Live
Live shopping might sound like a very old-school school approach to selling, but it's far from being over. In fact, eCommerce live streaming is experiencing explosive growth in China, with an estimated revenue of $60 billion annually. It won't be a surprise if the trend starts picking up in the rest of the world soon.
There are so many advantages to selling live. You can: 
Show your customers how to use your product (via live demo)
Answer questions and educate your customers about your products to help them be confident in their purchase
Launch your new products
Instagram Live, in particular, allows you to tag products from your product catalog, while viewers can click on the screen and purchase items on the spot. One of the best things about going live is, Instagram puts you ahead and on top of all your follower's feeds, making it close to impossible to miss. 
Of course, the unspoken rule about selling on Instagram is that hard-selling is frowned upon. So, even if you're live with the intention to sell your products, it's important to bring value to your audience. Tell a story, give product tutorials, or host a candid Q&A session, etc. Most of all, give your audience a reason to attend your live broadcast. 
On one of Glossier's (@glossier) live shopping sessions, they invited a licensed aesthetician to talk about all things serums. During the broadcast, viewers were able to shop the three Glossier serums by clicking the Shop icon.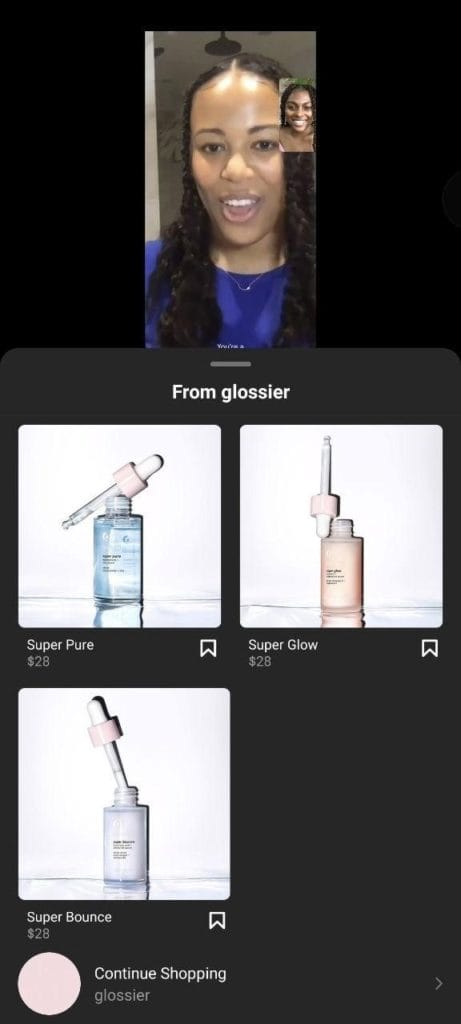 It might be a good idea to surprise your audience with a flash sale exclusive to live attendees. Word will get around fast, and your next live session will surely have a bigger audience. 
Tip #2: Show Your Products "Real World" Scenarios
Take a break from the flat lays and straightforward studio shots. You want your customers to envision how your products will look in the real world or on themselves. Post relatable shots with models that look like your ideal customers or better yet, gather user-generated content (UGC) for your feed.
Outdoor brand Yeti (@yeti) regularly posts photos of their customers on their feed while making sure that their products are appropriately tagged. These types of shots are an effective way to demonstrate the different uses of Yeti products without being overly promotional. Since these photos are sourced from customers, the brand spends less time and resources setting up photoshoots.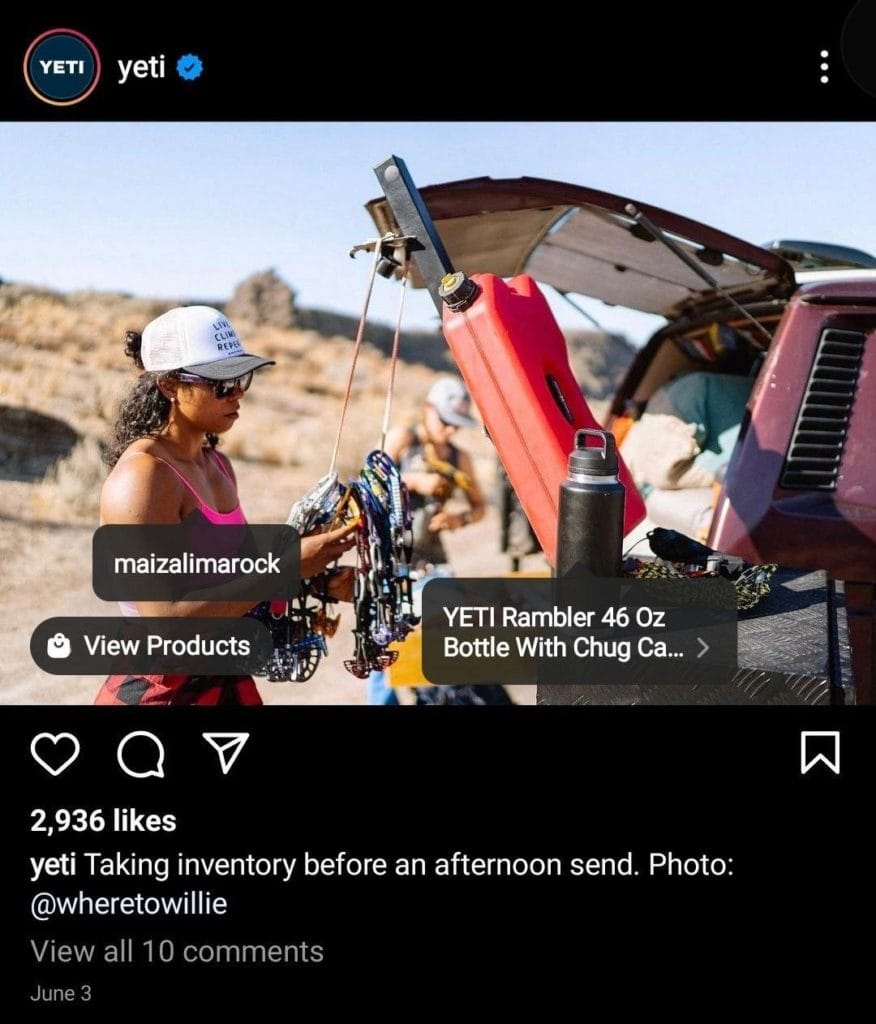 UGC is great for shoppable content because it shows that your customers are willing to vouch for your products. It's also a way to show your customers that you value them. UGC is found to be 42% more effective than regularly branded content, which means the more UGC you have, the higher chances of converting a follower into a customer. 
While price is the first consideration for shoppers, 89% of consumers also see reviews as an essential resource when buying something. Think of it as modern-day word-of-mouth; customers are more likely to believe a friend than a brand that's just trying to make a sale. 
Extra Tip: To make sure your UGC is still on-brand but not heavily edited, use apps like Instasize to make adjustments to lighting or add a subtle filter. 
Tip #3: Don't Forget Your Call to Action
While you may feel that your images can speak for themselves — especially now that you have the Tag Products option — a call to action (CTA) is still vital. What do you want your followers to do after seeing your photo? 
A simple "tap on the photo to learn more" could do wonders for your conversation rates. Don't expect your followers to take action if you don't show them how. Since Instagram is an app with neverending distractions, make sure to keep your CTAs straightforward and snappy. 
Clothing brand COS's (@cosstores) CTA still directs customers to the link in bio, even if they've set up an Instagram shop. This might be because the brand wants to lead the customers to the Summer Arrivals landing page rather than the general website.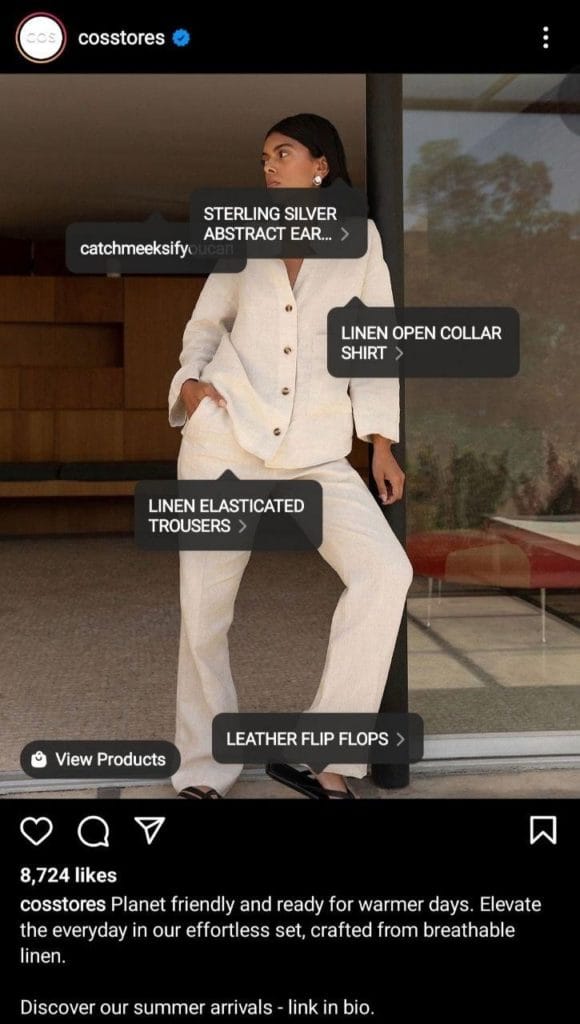 The above example is a perfect example of "if you don't ask, don't expect". Without reading the CTA, the natural response might be to just view the products through the brand's Instagram Shop.
Conclusion
Today, there are more than 200 million businesses on Instagram that people visit every day. To help get your products moving on this social platform, we've listed three key tips you should keep in mind: 
Go Live
Show your products in real-world scenarios
Include a call to action
With these tips, you can stand out on this crowded platform and convert your followers into loyal customers.
If you liked this article, be sure to follow us on Facebook, Twitter, and LinkedIn! And don't forget to subscribe to our newsletter.