3 Elite Cookie Consent Plugins (and Why You Need One for Your Affiliate Site)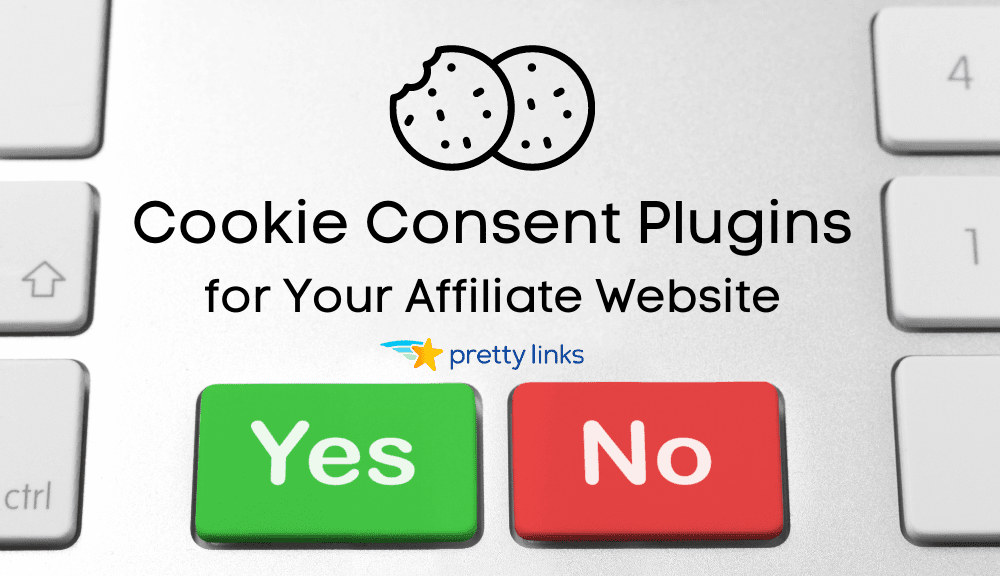 It shouldn't come as a surprise that there are many options for WordPress cookie consent plugins. Most of them offer similar functionality, but not all of them are designed with affiliate marketing in mind.
That's an important differentiation in this business, because affiliates have additional responsibilities to users when it comes to protecting their data.
As an affiliate marketer, you'll need to use plugins that adjust to different regulations to help you manage user data efficiently. Choosing a user-friendly plugin may also help you convince visitors to consent to cookies, which are a critical component of any affiliate operation.
In this article, we'll talk about why cookie consent plugins are so important for affiliate marketers. Then, we'll introduce you to 3 of the best plugins you can use for your WordPress website. Let's get to it!
Why Affiliate Marketers Should Use Cookie Consent Plugins
WordPress websites use cookies by default. Modern international regulations require you to display cookie consent notices that give visitors the choice of opting out of this type of tracking: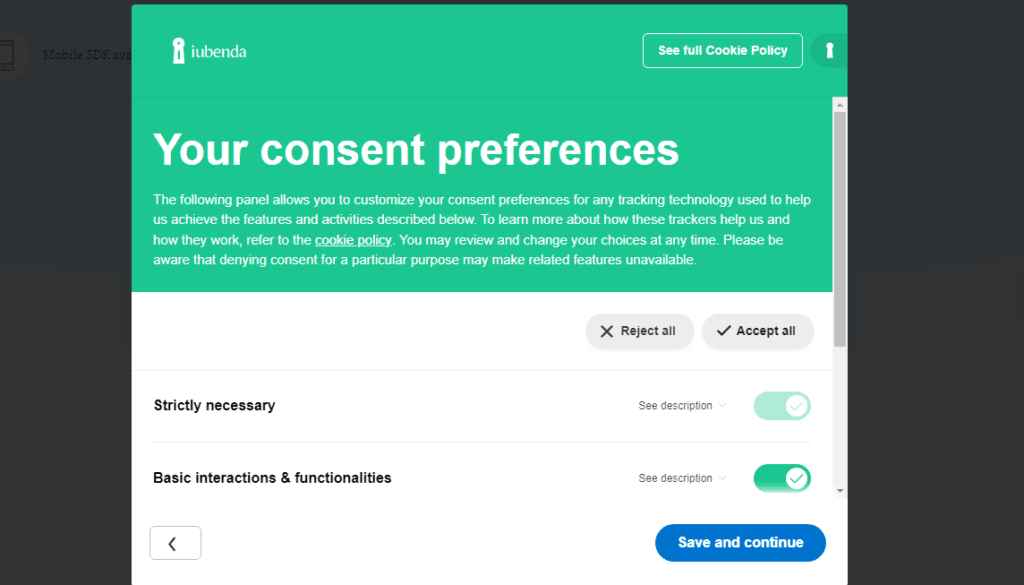 What regulation applies to your website will depend on its jurisdiction.
The General Data Protection Regulation (GDPR), in particular, imposes strict requirements for how different types of operators need to handle user data. Failure to comply with this type of regulation can result in steep fines.
The GDPR classifies affiliate marketers as "data controllers". That means you handle both private user information and control the way in which it's used. It sounds like a small distinction, but the GDPR requires data controllers to meet very specific security standards, which include:
Ask for consent to handle user information
Only retain information for explicit purposes (that users agree to)
Protect any private information you collect from users
Only collect relevant data from visitors
Only store personal data for as long as it's required
Cookies fall under the umbrella of personal information or identifiers. As an affiliate, that means you'll need to ask for consent to collect them and explain why you need them: to track sales, not store information you don't need. Be sure to highlight that you will discard cookies after their purpose is fulfilled.
The right cookie consent plugin should enable you to meet all of these requirements with minimal configuration on your end.
Moreover, you might need to comply with other regulations depending on your site's jurisdiction. The GDPR is only the best-known example, but a good cookie consent plugin will allow you to adjust to other international regulations as well.
3 Best Cookie Consent Plugins for Affiliates
There are a lot of cookie consent plugin options beyond the 3 we're going to introduce you to here. Our picks focus on the best options for affiliates, considering the strict requirements you need to meet for data regulation and protection. All of these plugins offer both free and premium versions.
1. iubenda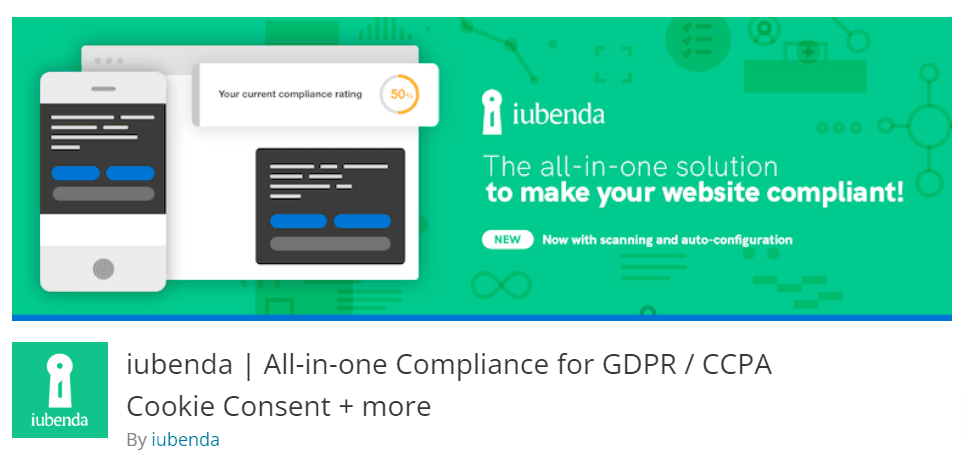 iubenda is an all-in-one compliance solution that enables you to generate cookie consent banners and notices, as well as privacy and cookie policy pages. You can also use iubenda to help you create terms and conditions pages.
The goal of this plugin is to make it as easy as possible to help you set up all the elements a modern website needs in terms of compliance. Once you activate the plugin it will scan your site to detect what changes you need to make to comply with different regulations, including the GDPR, the ePrivacy directive, the LGPD, the CCPA, and several others.
As far as cookie consent goes, the plugin enables you to configure banners in any way that you want. You're able to modify the cookie banner's location, its design, add your logo, and more.
Furthermore, with iubenda, users get to choose what data they want you to have access to. This is great because it gives you more opportunities to get much-needed user consent.
You can also configure the lifetime duration of cookies, and the plugin enables you to block third-party scripts for services such as Facebook and Google Analytics. Due to its comprehensive compliance options and advanced configuration potential, iubenda is our top choice for cookie consent plugins.
2. Real Cookie Banner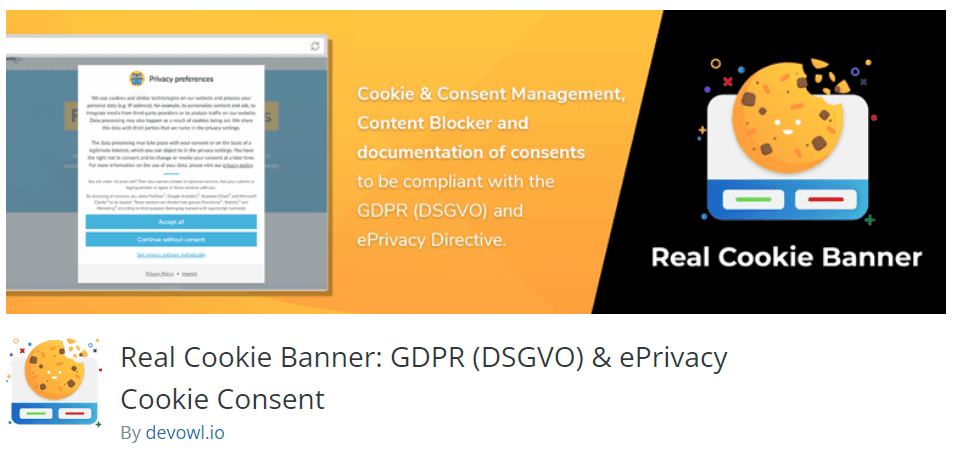 Real Cookie Banner enables you to quickly set up a cookie consent banner or overlay for your website. The consent is designed to comply with both the GDPR and ePrivacy regulations.
One standout aspect of Real Cookie Banner is, the plugin enables you to choose from a broad range of banner designs. Some cookie consent banner designs are only available for premium users. Even so, the plugin enables you to customize aspects of the template you choose, which gives you control over its style.
At any point, the plugin also allows you to review and manage the information of users that agree to data collection.
The free version of the plugin doesn't block most third-party service scripts automatically. That means you'll need to configure the plugin manually to block data collection from services such as Google Analytics.
3. Beautiful Cookie Consent Banner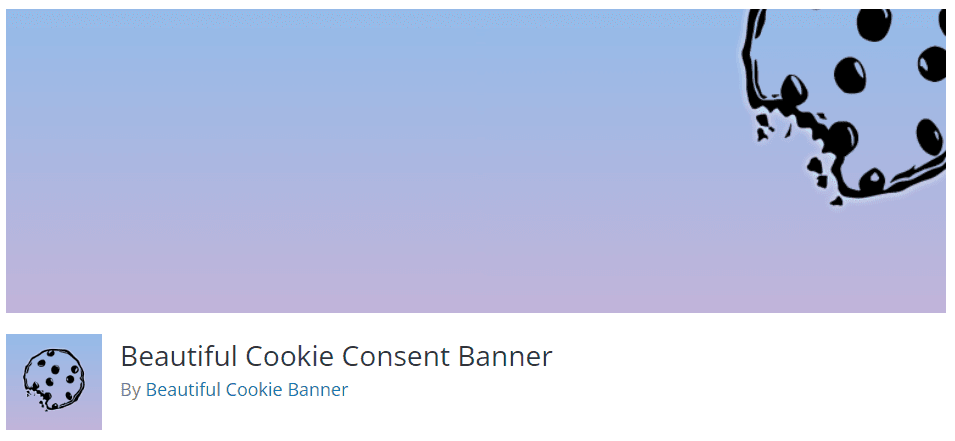 If you want a straightforward cookie consent plugin, Beautiful Cookie Consent Banner could be a good option for your website. The plugin enables you to choose from multiple types of cookie consent options that adjust to different regulations.
Beautiful Cookie Consent Banner doesn't include a setup wizard, but the plugin is fairly easy to configure. Many of its configuration options are focused on helping you customize the style of the plugin and ensuring it's responsive, so it displays perfectly on all devices.
You can customize the text of the cookie banner, but the plugin doesn't include pre-configured options for any of the major regulations that pertain to data protection. That means you'll need to understand how the regulations that apply to you work and how to configure cookie banners to comply with them.
Conclusion
Every WordPress site collects cookies. If you run an affiliate business, it's essential that you comply with regulations that protect user privacy and data, such as the GDPR. Since you use your website to generate income, it's a smart move to cover yourself from potential fines. Moreover, displaying a cookie consent banner shows users you care about their privacy.
Not all cookie consent plugins are good options for affiliate marketers, though. That's because you need to treat user data more carefully than "regular" websites. Therefore, we recommend choosing from one of the three following plugins:
iubenda. This plugin is our top pick because it enables you to create customizable banners that comply with all the major privacy regulations. It's super easy to use and, it helps you design privacy and cookie policies on top of terms and conditions pages.
Real Cookie Banner. With this plugin you get access to a broad library of cookie consent banner templates. If you know what you're doing, you can also configure your cookie policies to comply with many privacy regulations.
Beautiful Cookie Consent Banner. This plugin gives you full control over your cookie banner style and it lets you configure your policies manually. It doesn't offer any options that are designed to accommodate specific regulations.
Do you have any questions about how to choose a cookie consent plugin as an affiliate? Let's talk about them in the comments section!
If you liked this article, be sure to follow us on Facebook, Twitter, Pinterest, and LinkedIn! And don't forget to subscribe in the box below.